This Rhubarb & Ginger Crisp is an easy, fresh & tasty dessert for just 5 SmartPoints on Weight Watchers Blue, Purple and Green plans .... and that includes the ice cream!
The Rhubarb is roasted with stem ginger until tender and then topped with crushed shortbread biscuit.
A wonderfully tasty Weight Watchers dessert recipe idea.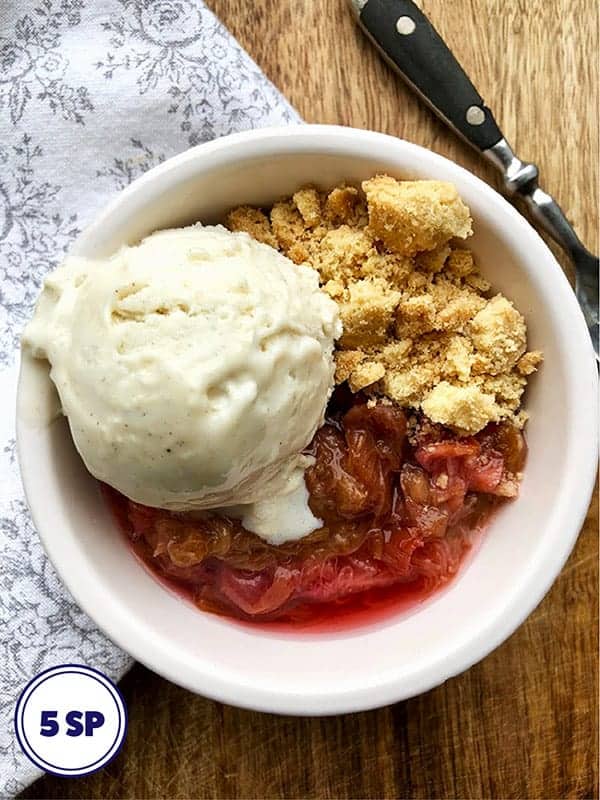 This Rhubarb & Ginger Crisp is an easy low SmartPoint Weight Watchers dessert which I make whenever rhubarb is in season.
The roasted rhubarb and ginger keeps well in an airtight container for a week. I make up a batch, pop it in the fridge and eat it over the week either as this dessert or mixed with fat free yogurt for breakfast.
This post may contain affiliate links. As an Amazon Associate I earn from qualifying purchases. Visit this page to see what that means.
I used this Waitrose Stem Ginger in Syrup for this recipe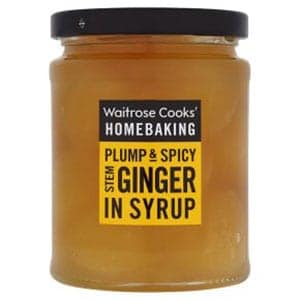 But the Opies Stem Ginger in Syrup is equally good and is also available from Amazon here.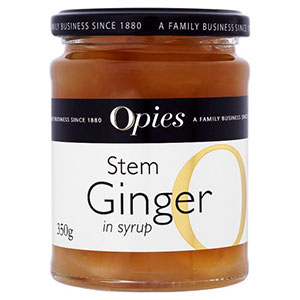 You only use one 'ball' of the ginger in this Weight Watchers recipe so the jar should last you some time!
Do make sure though that you drain off the syrup before adding it to the rhubarb, as it is very high in SmartPoints.
You can see from the picture below, I chopped the rhubarb into pieces approximately 5cm long.
For the thicker stems of rhubarb, I also sliced them in two length-ways before placing in the roasting tin.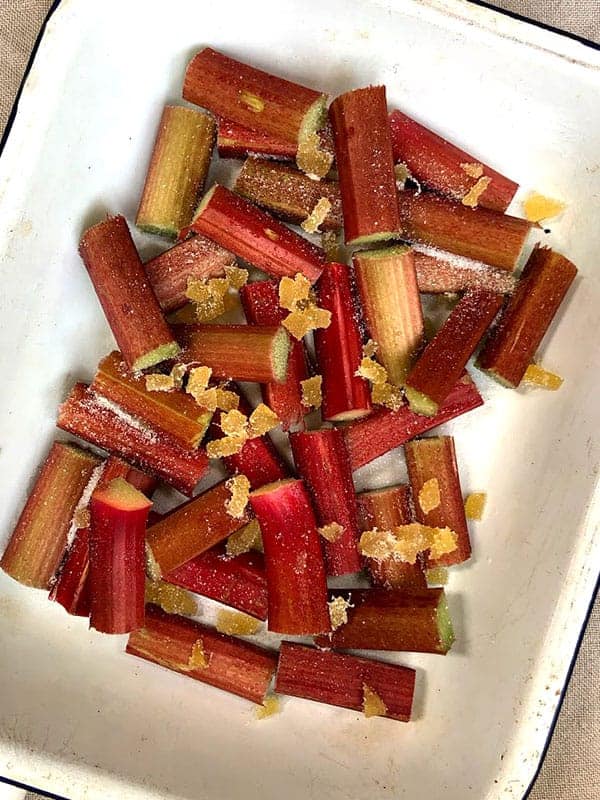 For each portion of this Rhubarb and Ginger Crisp, I crushed one and a half Gullon Sugar Free Shortbread biscuits and sprinkled it over the top. This worked out as 1 SmartPoint per portion for the biscuit topping.
Now, moving on to the ice cream!
Have you tried Halo Top Ice Cream? If not, and you can find it in a store near you, you really should try it!
It is delicious! You would never know that you are eating a low fat ice cream.
It comes in a whole bunch of flavours including Red Velvet, Mint Chip, Peanut Butter Cup and Cinnamon Roll.
The Vanilla Bean Halo Top ice cream is my favourite (although I still have a lot of flavours to try 😉 )! and it works out as 3 SmartPoints for 150ml of it.
If you are looking for alternative Weight Watchers friendly ice creams, take a look at this list of Low Point Ice Creams
Ways to reduce the SmartPoints in this recipe
Omit the ginger and save 3 SmartPoints for the whole recipe
Use less than 150ml of Halo Top ice cream. A small - medium scoop of Halo Top is most likely less than 150ml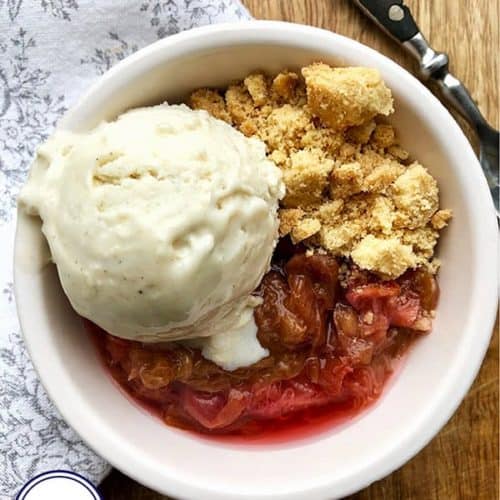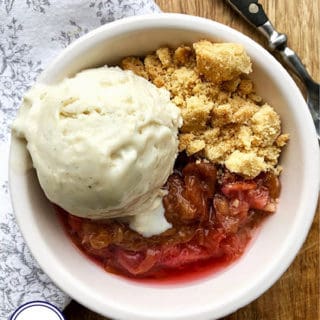 Rhubarb Crisp
This Rhubarb Crisp is just 5 SmartPoints per portion on Weight Watchers Flex / Freestyle program. This includes a portion of low fat vanilla ice cream!
Ingredients
3¼

cups

rhubarb

chopped into 5cm lengths

1

tsp

stem ginger in syrup

drained of syrup and chopped

1

tbsp

granulated sweetener

6

sugar free shortbread

I used Gullon

4

scoop

low fat vanilla ice cream

I used Halo Top Vanilla Bean
Instructions
Preheat the oven to 200oC / 400oF /Gas Mark 6. Place the chopped rhubarb in a roasting tin. Sprinkle with granulated sweetener and the chopped stem ginger. Cover with kitchen foil and bake for 10 minutes.

Uncover, use a spatula to move the rhubarb around a bit and roast for another 15 minutes, uncovered. The rhubarb should be tender by this time. If not return to the oven for another 5 minutes.

Split the rhubarb between 4 bowl and top with 1 ½ crushed shortbread biscuit per portion and a scoop of low fat ice cream.

The rhubarb will keep for 1 week in the fridge if stored in an airtight container.
Notes
Please be aware that the nutritional information below has been automatically generated and does not account for variations in product brands and types, weights of individual ingredients etc.  It should therefore be considered as an estimate.
PointedKitchen.com has calculated Weight Watchers Smart Points based on the individual ingredients used to make this recipe and not from the following nutritional information.
PointedKitchen.com is not responsible for any loss or damage relating to your reliance on this nutritional information.
Nutrition
Nutrition Facts
Rhubarb Crisp
Amount per Serving
% Daily Value*
* Percent Daily Values are based on a 2000 calorie diet.