If you love french toast you will love these French Toast Crumpets!
They are just 3 SmartPoints per crumpet on the Weight Watchers Blue, Purple and (old) Freestyle plan.
If you are following the WW Green plan they are 5 SmartPoints per crumpet.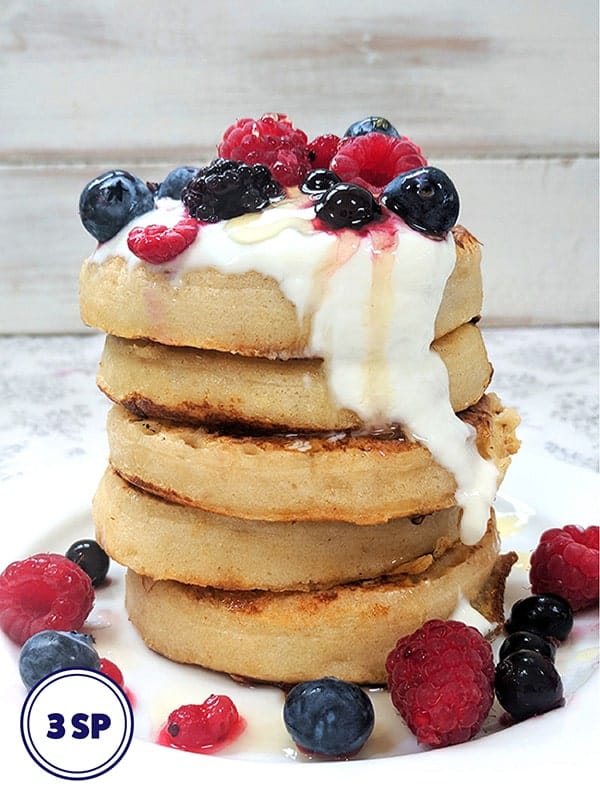 A perfect Weight Watchers breakfast recipe. Tasty french toast crumpets served with fat free yogurt and berries and drizzled with sugar free syrup!
Don't these French Toast Crumpets look great.
They taste great too and make a tasty, low SmartPoint breakfast or brunch.
They are so good that I will often have 2 😉 for just 6 SmartPoints!
I know that English crumpets can be quite difficult to find in the USA but I believe that Walmart stock Farm Country Fat Free Crumpets.
I can not vouch for how they taste but they are just 2 SmartPoints per crumpet, so fewer points than the ones you get in the UK!
In the UK there are lots of brands of crumpets, but these Warburtons Crumpets are my favourite.
When making this recipe it is important to soak the crumpets for a good 10 minutes in the egg mixture as this allows them to soak it all up and gives the French Toast Crumpets a great taste and texture.
I topped the crumpets with fat free yogurt and berries but also with just a drizzle of sugar free syrup for sweetness. It just looked so pretty to serve that way 😀
Obviously, you can omit the yogurt and berries if you just want syrup or visa versa, but I do believe all three make this such a tasty and decadent breakfast!
One note, make sure that if using syrup you use a zero SmartPoints one.  
Smuckers Sugar Free Low Cal Breakfast Syrup is 0 Smartpoints for 30 ml.
Why not look at this list of Low SmartPoints Pancake Syrups for a little inspiration of other syrups that you could use!
I hope that you enjoy this recipe for another low SmartPoints Weight Watchers breakfast, and as always if you try it please let me know what you think of it!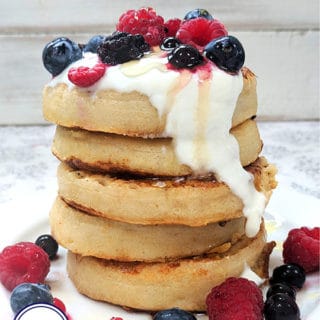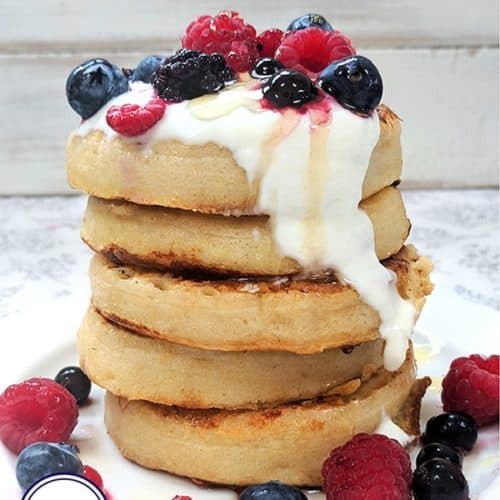 French Toast Crumpets
These French Toast Crumpets are just 3 SmartPoints per crumpet on Weight Watchers Freestyle / Flex plan
Ingredients
2

eggs

4

tbsp

skimmed milk

2

tbsp

sweetener

2

pinches

cinnamon

6

crumpets

I used Warburtons

¾

cup

fat free yogurt

fresh berries

sugar free syrup

spray oil
Instructions
Whisk the eggs and milk in a bowl with the sweetener and cinnamon. Pour into a dish that is just big enough to fit all of the crumpets. Place the crumpets in the egg mixture for 5 minutes then flip to soak the other side. Leave for a further 5 minutes.

Heat a large non stick frying pan over a medium heat. Spray with oil and add the crumpets (in 2 batches). Cook for 2 - 3 minutes each side. You may need to use some more spray oil between batches.

Serve topped with fat free yogurt and fresh berries and drizzled with sugar free syrup.
Notes
Please be aware that the nutritional information below has been automatically generated and does not account for variations in product brands and types, weights of individual ingredients etc.  It should therefore be considered as an estimate.
PointedKitchen.com has calculated Weight Watchers Smart Points based on the individual ingredients used to make this recipe and not from the following nutritional information.
PointedKitchen.com is not responsible for any loss or damage relating to your reliance on this nutritional information.
Nutrition
Nutrition Facts
French Toast Crumpets
Amount per Serving
% Daily Value*
* Percent Daily Values are based on a 2000 calorie diet.