This Mango Yogurt Parfait is just 3 Smart Points per portion on Weight Watchers Blue, Purple & Freestyle plans.
It is 5 SmartPoints per generous portion on the WW Green plan.
It is made with light mascarpone and Greek yogurt and is topped with sweet, fresh mango.
It is then decorated with pomegranate seeds for a bit of colour and crunch.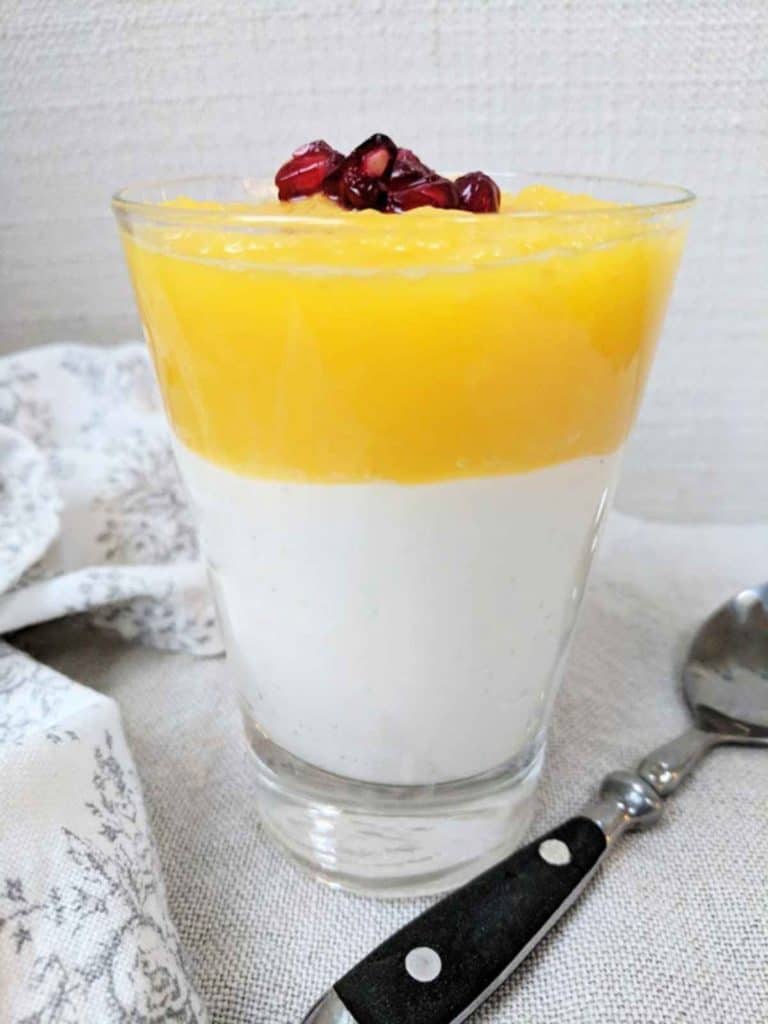 I love dessert!
My love for dessert is probably the biggest reason that I needed to start on my WW adventure!
One thing I worried about when I started on my Weight Watchers journey was having to say goodbye to desserts!
But I haven't had to say goodbye to desserts 😀 .
As anyone who is familiar with Weight Watchers knows, no food is off limits.
Obviously, thick & creamy, sugar-laden desserts are going to have high point values but if you have a craving and have the points free then go ahead and eat it!
However, realistically, people following WW adapt their eating so that they don't eat many creamy high sugar desserts - its just not worth it.
Knowing this, it has been lovely playing around with old tried and tested recipes and making them more Weight Watchers friendly.
But it's also nice to develop new recipes!
This Mango Yogurt Parfait recipe was developed when I was craving dessert and decided to do a Masterchef type invention test.
I had some left over light mascarpone in my fridge from making some Chicken with Tomato & Mascarpone the night before.
I also had 0% fat Greek yogurt (who doesn't if they are following WW) and some mango. So this quick, easy and very very tasty dessert was developed.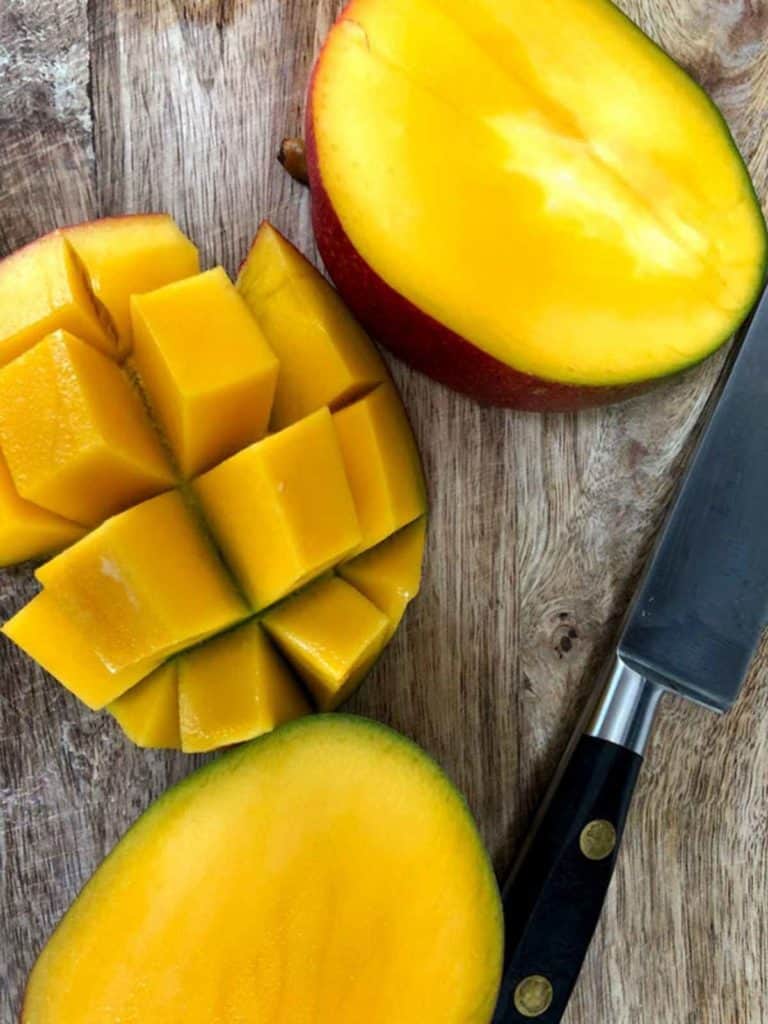 It lovely, very rich and decadent!
The bottom layer is thick and creamy with just a hint of sweet vanilla.
It is then topped with sweet pureed fresh mango & just to add a bit of crunch (& colour) I added a few pomegranate seeds to the top.
It looks pretty doesn't it?
Alternatives to try
Use coconut flavouring rather than vanilla bean paste for a tropical taste (this is seriously good!!)
Use pureed papaya for Papaya Yogurt Parfait
More Weight Watchers Dessert Recipes
This Lime Fluff is zero SmartPoints on the Blue and Purple plans and is 1 SmartPoint if you are following the Green plan.
This Pistachio Crunch is one SmartPoint per portion if you are following the Blue or Purple plan or is 3 SmartPoints per portion if you are following the Green plan.
One of my favourite WW desserts is this Lemon Pudding - it's 4 SmartPoints per generous portion on WW Blue and Purple plans and 5 SmartPoints on the Green plan!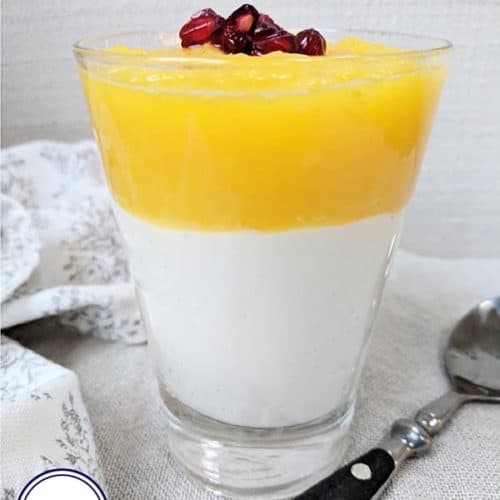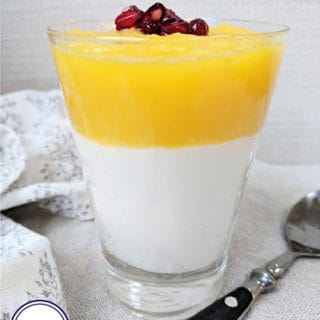 Mango Yogurt Parfait
3 Smart Points per portion on Weight Watchers Flex / Freestyle
Ingredients
2

cups

fat free plain greek yogurt

½

cup

lighter mascarpone

2

tsp

vanilla bean paste

1

large

mango

2

tbsp

pomegranate seeds
Instructions
Cut the mango into small chunks. Place in a small bowl and puree using a hand blender. If you do not have a hand blender then you can use a food processor, blitzing for short blasts till you get a consistency that you want. Set aside.

In a bowl, mix the yogurt, mascarpone and vanilla paste together until fully combined.

Spoon the parfait mixture into four glasses and top with the mango puree. Decorate with pomegranate seeds.
Notes
Please be aware that the nutritional information below has been automatically generated and does not account for variations in product brands and types, weights of individual ingredients etc.  It should therefore be considered as an estimate.
PointedKitchen.com has calculated Weight Watchers Smart Points based on the individual ingredients used to make this recipe and not from the following nutritional information.
PointedKitchen.com is not responsible for any loss or damage relating to your reliance on this nutritional information.
Nutrition
Nutrition Facts
Mango Yogurt Parfait
Amount per Serving
% Daily Value*
* Percent Daily Values are based on a 2000 calorie diet.