These homemade BBQ Baked Beans are zero Smart Points on Weight Watchers Blue, Purple and Freestyle plans.
They are 3 SmartPoints per portion on Weight Watchers Green plan.
With beans being zero heroes on the Blue & Green plans I have been experimenting with lots of beans recipes and have developed a new found love for these healthy, filling and tasty foods.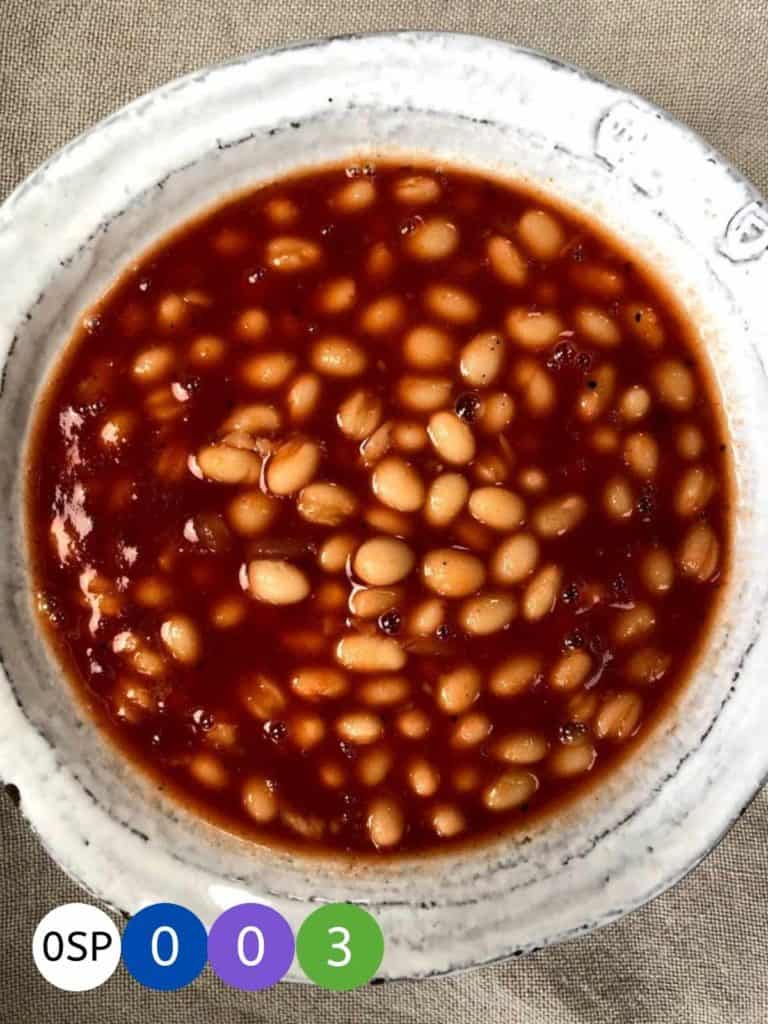 A few weeks ago I posted a recipe for Zero Point Baked Beans which I think taste very similar to Heinz Baked Beanz.
They are my go to Baked Beans if I am wanting a simple beans on toast lunch or am wanting a Weight Watchers full English breakfast.
If you like Heinz Barbecue Beanz then these easy beans will appeal to you.
With Heinz Barbecue Beanz being 6 Smart Points for half a large can, these homemade zero point BBQ Baked Beans may become one of your staple recipes.
They are really simple to make, and like the Zero Point Baked Beans they can be kept in the fridge for a couple of days for tasty lunches, jacket potato fillings etc.
I have made these BBQ Baked Beans using haricot beans but you could use cannelloni beans if you prefer.
Alternatively, you could use a five bean mix or butter beans if you want something a little different.
I used Weight Watchers Zero Point Smokey BBQ Sauce that I had brought in one of my meetings in this recipe.
If you are unable to find this sauce, you could use an alternative BBQ sauce such as Heinz Classic BBQ Sauce but do be aware that this may increase the points.
Swapping the Weight Watchers Zero Point Smokey BBQ for Heinz Classic BBQ Sauce increased the Smart Points by 1 meaning that the whole recipe was 1 Smart Point. Not a lot of points for a HUGE amount of beans!
ALTERNATIVES FOR THIS RECIPE!
Use different kinds of beans such as butter beans, five bean mix or cannellini beans.
Use 15g of Heinz Classic BBQ Sauce instead of the WW BBQ sauce for 1 Smart Point.
More Weight Watchers Bean Recipes
If you are looking for WW friendly bean recipes why not take a look at this popular recipe for Mexican Bean Salad or how about this Chipotle Chicken Casserole recipe that it is full of beany goodness!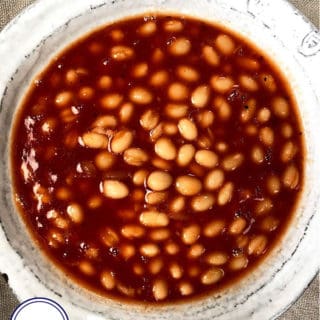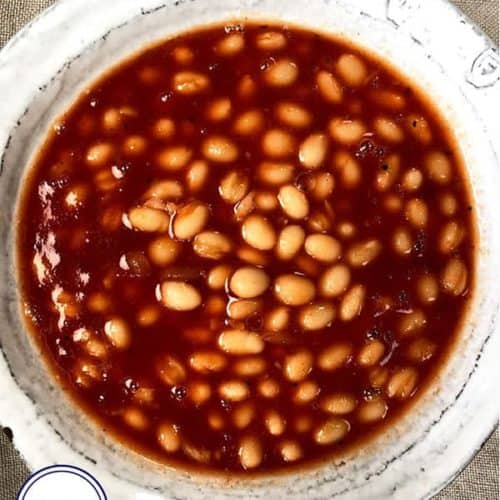 BBQ Baked Beans
Zero Points on Weight Watchers Flex / Freestyle
Ingredients
1⅓

cups

haricot beans

(drained weight)

⅔

cup

passata

1

sachet

Weight Watchers Smokey BBQ Sauce

1 tablespoon SF BBQ sauce

salt

(to taste)

pepper

(to taste)

1

tsp

sweetener
Instructions
Drain the haricot beans but do not rinse them and place them in a small saucepan.

Pour over the passata, add the sachet of BBQ sauce, salt, pepper and sweetener.

Bring the beans to a boil, then reduce the heat and simmer for 20 minutes. If you like a thicker sauce, you can reduce further for another 10 minutes.
Notes
Please be aware that the nutritional information below has been automatically generated and does not account for variations in product brands and types, weights of individual ingredients etc.  It should therefore be considered as an estimate.
PointedKitchen.com has calculated Weight Watchers Smart Points based on the individual ingredients used to make this recipe and not from the following nutritional information.
PointedKitchen.com is not responsible for any loss or damage relating to your reliance on this nutritional information.
Nutrition
Nutrition Facts
BBQ Baked Beans
Amount per Serving
% Daily Value*
* Percent Daily Values are based on a 2000 calorie diet.