These tasty, filling, Zero Point Baked Beans are perfect for anyone following the Weight Watchers Freestyle plan.
They are zero SmartPoints on WW Blue and Purple plans.
If you follow the WW Green plan a serving of these Baked Beans work out at 3 SmartPoints.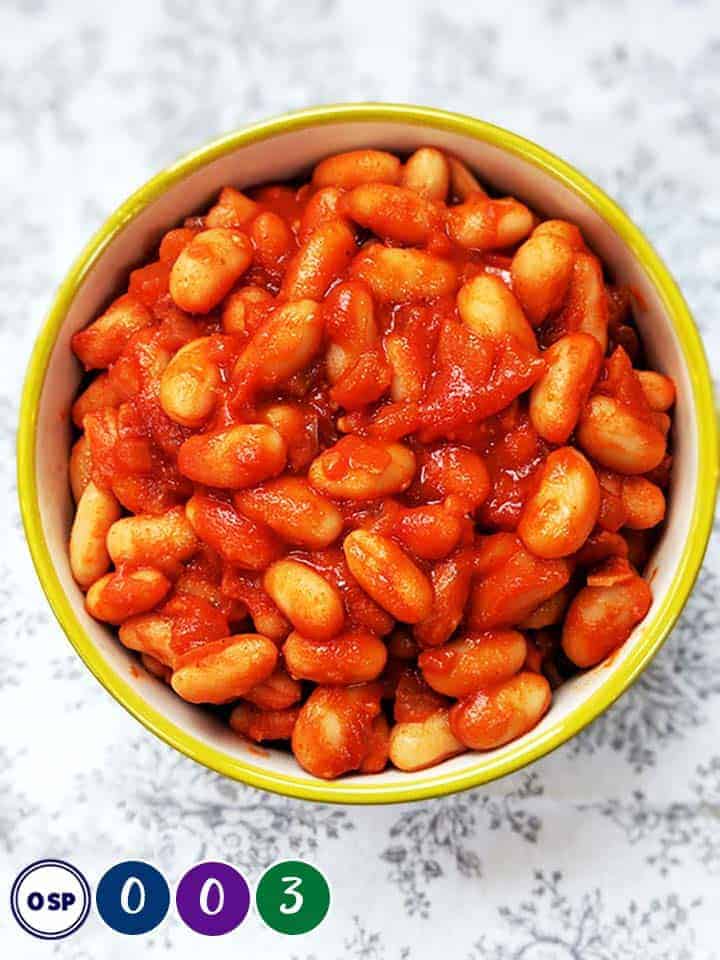 They are easy to make and of all the homemade baked beans that I have tried whilst following the WW plan, these are by far the best ones I've made!
Baked Beans on toast is now back on my lunch time menu thanks to this Weight Watchers friendly recipe. Yay!
There are a number of zero point baked beans recipes doing the rounds of the internet. This is one of them - with a few tweaks to make them even tastier.
I have tried quite a few of the recipes for homemade baked beans, including these BBQ Baked Beans.
However, this recipe is my favourite by far and in my opinion, is the closest in taste to Heinz baked Beanz.
Most commercially made baked beans are made with haricot beans but I've also used cannellini beans to make this recipe before.
Play around with different beans to see what you prefer.
How Many SmartPoints in Baked Beans
Heinz Baked Beanz are 3 Smart Points for 3 tablespoons on the myWW Blue & myWW Purple plans.
I don't know about you but I would never have just 3 tablespoons of baked beans!
As I am sure you know Weight Watchers changed their program at the end of 2019. It now includes 3 individual plans, giving anyone following the WW program lots of choice about how they use their SmartPoint allocation.
Using the official WW recipe builder I have worked out the SmartPoints for these Baked Beans for each of the plans.
myWW Blue plan - 0 SmartPoints per portion
myWW Purple plan - 0 SmartPoints per portion
myWW Green plan - 3 SmartPoints per portion
Freestyle plan - 0 SmartPoints per portion
With these homemade baked beans you can pile a great heap of them on top of 2 pieces of toasted Weight Watchers bread for a total of 3 Smart Points if you are following Freestyle plan or the Blue or Purple plan.
If you can't find WW own brand bread, you may be interested in this list of Low Point Breads (USA) or this list of Low Smart Point Breads UK.
Add one of these Low Point Cheeses grated on top of that and you've got yourself a tasty and very British lunch.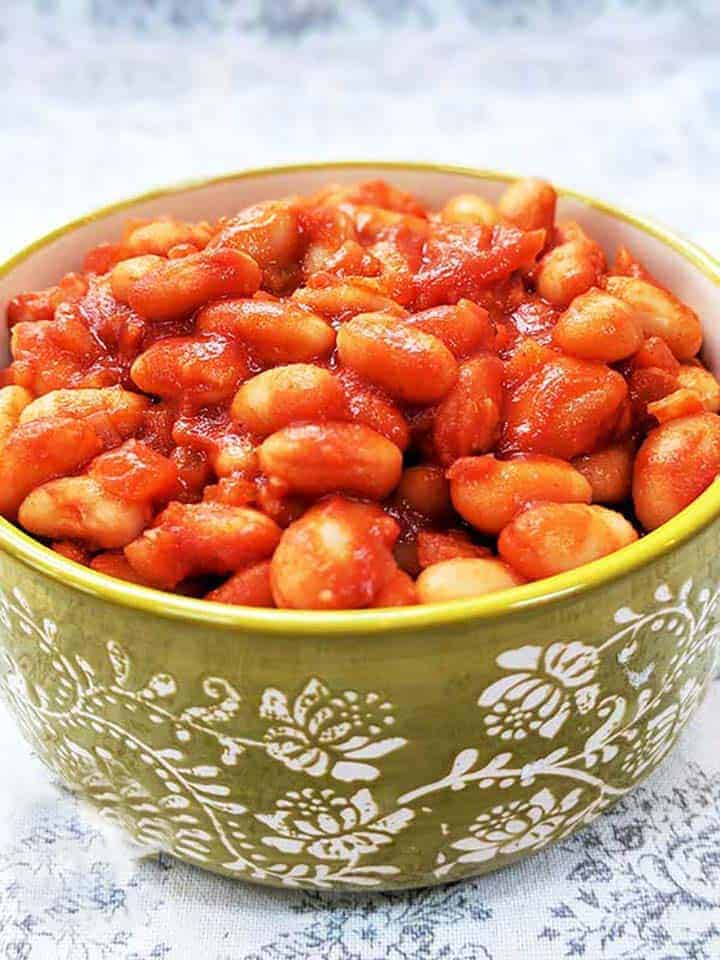 I know making these beans is more hassle than just opening a tin of beans but you can cook up a batch and keep them covered in the fridge for 3 - 4 days.
They can also be portioned up and placed in the freezer for easy baked beans whenever you fancy!
Give them a go! They really are good.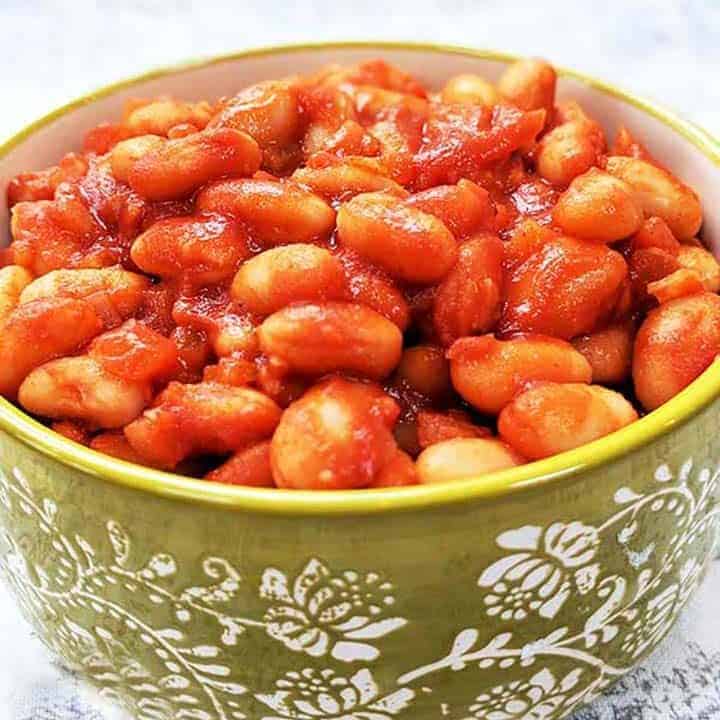 Zero Point Baked Beans
These tasty and simple to make Baked Beans are Zero SmartPoint on Weight Watchers Freestyle plan. They are also zero SmartPoints on WW Blue and Purple plans and 3 SmartPoints on the WW Green plan.
Ingredients
1

can

navy beans / haricot beans / white beans

(400g) drained NOT rinsed

1

small

onion

chopped finely

½

cup

passata / tomato sauce

(250g)

¼

cup

water

(50ml)

½

bouillon cube or stock cube

crumbled

2

cloves

garlic

crushed

¾

tsp

paprika

heaped

¾

tsp

mustard powder

1 - 2

tsp

sweetener

I used Sukrin
Instructions
Place the chopped onion in a large frying pan with a splash of water and cook over a medium heat until softened.

Add the garlic and cook for another 1 - 2 mins. You really don't want the onion or garlic to catch on the bottom of the pan so if you think it may, add another splash of water to prevent it from doing so. 

Add the mustard powder, paprika, crumbled stock cube and sweetener and mix.

Add the passata/tomato sauce, the water and the drained beans and mix. Leave to reduce, stirring occasionally, for approx 10 minutes or until you get the desired consistency. 

Serve as you normally would baked beans!
Notes
Please be aware that the nutritional information below has been automatically generated and does not account for variations in product brands and types, weights of individual ingredients etc.  It should therefore be considered as an estimate. PointedKitchen.com has calculated Weight Watchers Smart Points based on the individual ingredients used to make this recipe and not from the following nutritional information. PointedKitchen.com is not responsible for any loss or damage relating to your reliance on this nutritional information.
Nutrition
Nutrition Facts
Zero Point Baked Beans
Amount per Serving
% Daily Value*
* Percent Daily Values are based on a 2000 calorie diet.