This Prawn Marie Rose Open Sandwich is just 5 Smart Points on the Weight Watchers Flex / Freestyle program. This 1960's classic makes a fantastic low point topping for an open sandwich.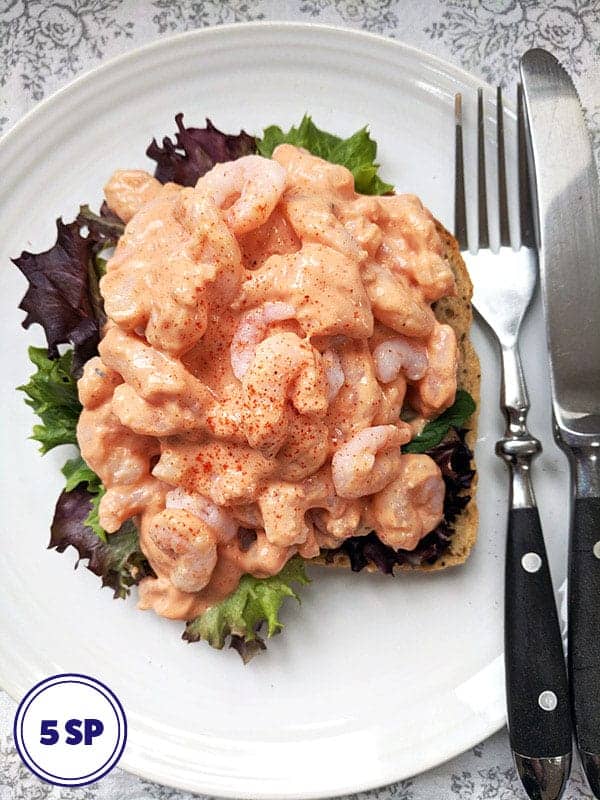 With prawns being zero heroes you can mix them with a creamy marie rose sauce and pile them on top of a piece of granary bread for a tasty and filling Weight Watchers lunch.
One of the secrets for a really tasty prawn marie rose open sandwich is to use fresh prawns. The prawns are plumper, more tasty and less watery than frozen prawns.
Obviously, if you can't get your hands on any fresh prawns, then frozen prawns are more than adequate for this recipe!
Just don't bung them in the microwave to defrost they can become a watery mush!
The best way to defrost frozen prawns is mix a couple of teaspoons of salt in a bowl of cold water and plunge the frozen prawns in there for 15 - 20 minutes or until they have defrosted. Drain the prawns well before mixing them with the marie rose sauce.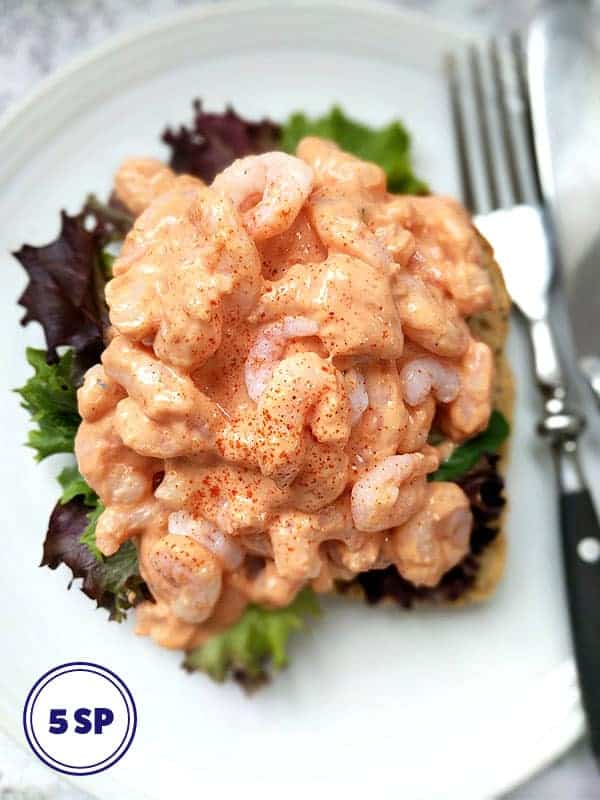 For this Weight Watchers friendly marie rose sauce I used a teaspoon of Worcestershire sauce as well a dash of tobasco and some smoked paprika and cayenne pepper.
This gives the sauce a subtle 'kick' without making it so spicy that the taste of the prawns are lost.
A simpler version can be used by just mixing tomato ketchup with mayonnaise but if you really want a sauce to compliment those prawns then this sauce is the way to go!
Ways to reduce the Smart Points in this Recipe!
Use Weight Watchers Sliced Brown Danish Bread (1 SP per slice)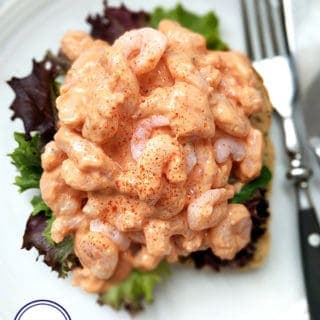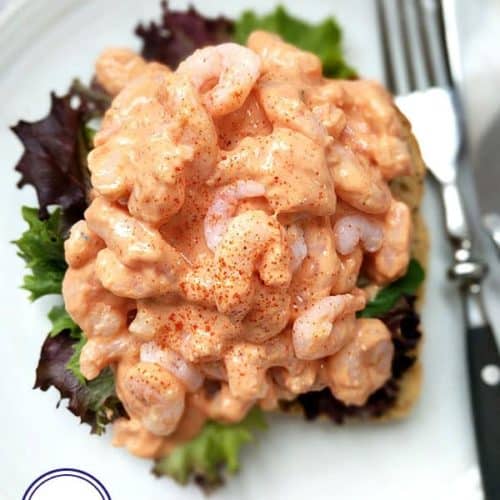 Prawn Marie Rose Open Sandwich
5 Smart Points per sandwich on Weight Watchers Flex / Freestyle
Ingredients
2

cups

prawns

½

tbsp

Worcestershire sauce

2

tbsp

Heinz Reduced Sugar Ketchup

4

tbsp

Light Mayonnaise

2

drops

tobasco

1

pinch

smoked paprika

1

pinch

cayenne pepper

1

pinch

salt

1

pinch

black pepper

1

squeeze

lemon juice

2

slices

bread

I used M&S super seeded

1

handful

lettuce leaves
Instructions
In a bowl mix the mayonnaise, tomato ketchup, Worcestershire sauce, tobasco, smoked paprika, salt, pepper and lemon juice together until well blended.

Add the prawns and mix so that all the prawns are covered with the marie rose sauce.

Place a piece of granary bread on a plate, add some lettuce leaves and pile the prawns on top.

Serve with a pinch of cayenne pepper for an extra kick!
Notes
Please be aware that the nutritional information below has been automatically generated and does not account for variations in product brands and types, weights of individual ingredients etc.  It should therefore be considered as an estimate. PointedKitchen.com has calculated Weight Watchers Smart Points based on the individual ingredients used to make this recipe and not from the following nutritional information. PointedKitchen.com is not responsible for any loss or damage relating to your reliance on this nutritional information.
Nutrition
Nutrition Facts
Prawn Marie Rose Open Sandwich
Amount per Serving
% Daily Value*
* Percent Daily Values are based on a 2000 calorie diet.