This filling & tasty Mexican Bean Salad is simple to make and is just 2 Smart Points per serving on Weight Watchers Freestyle plan.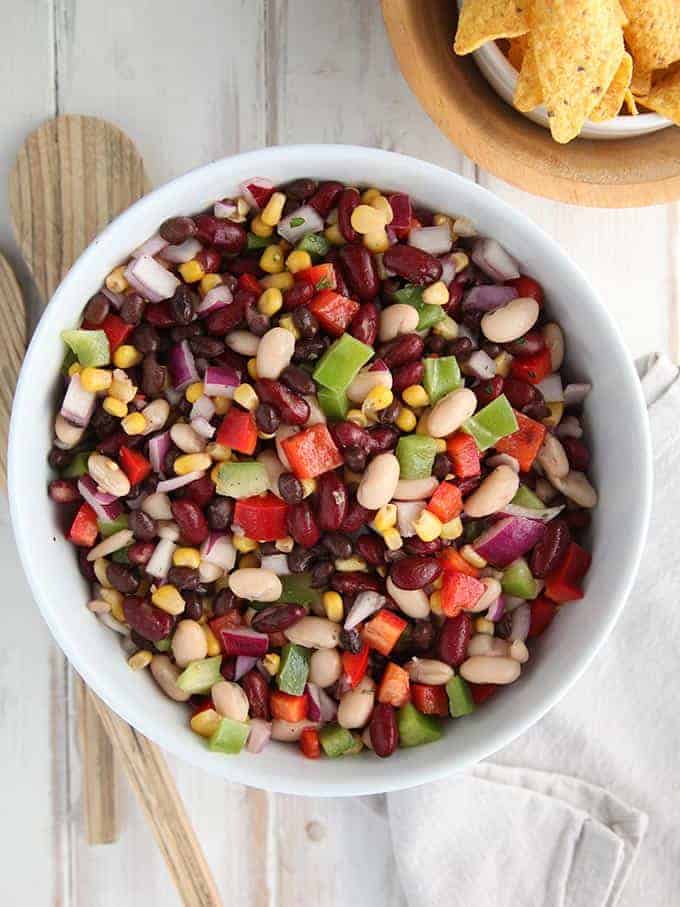 I love this salad, it's fresh, tasty and so easy to make. It makes a perfect accompaniment to grilled chicken and meat cooked on the BBQ. It really is a perfect Weight Watchers salad recipe.
This protein packed salad is crammed full of beans & veggies and covered in a tasty Mexican spiced dressing.
It's tasty, easy to make and will keep you full and satisfied for hours after eating it.
I made this dish a couple of times over the summer to take along to BBQ's that I had been invited to.
Nobody guessed that it was a WW recipe and they all dug into it, many going back for second helpings and one or two for thirds!
Taking along a low Smart Point dish like this meant that I had something that I knew was low in points that I could fill up on.
It saved me from myself and stopped me from cramming my plate full of high point meats and side dishes.
Another benefit of this recipe, is that it can be made the day before.
Infact, it may even taste a little bit better the day after making. All the lovely spicy flavours from the dressing have time to soak into the beans! Yum!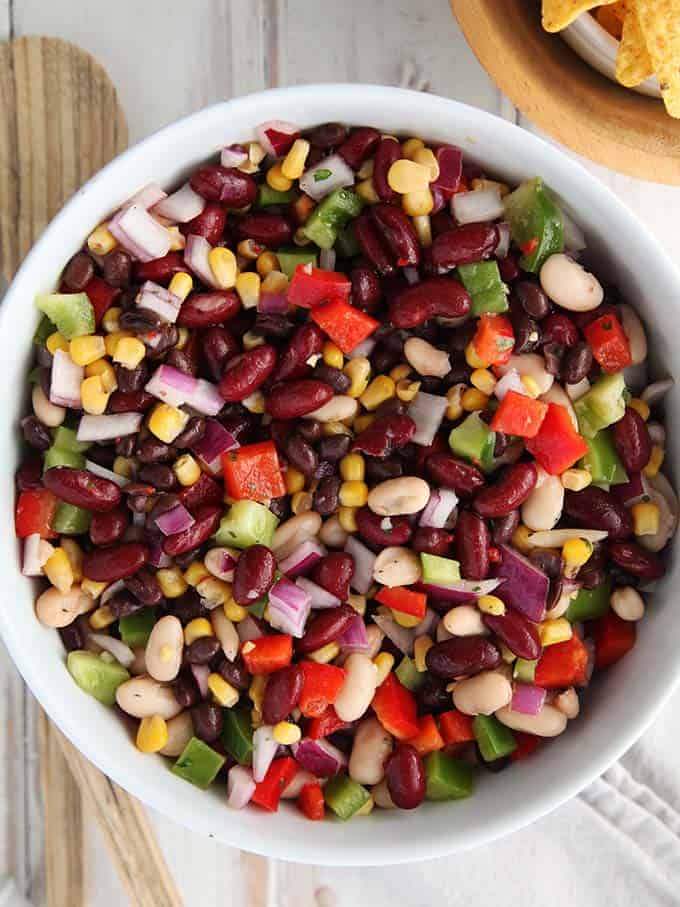 This post contains affiliate links. As an Amazon Associate I earn from qualifying purchases. Visit this page to see what that means.
What Beans should I use?
I used three different kinds of beans in this recipe.
Black (Turtle) Beans – these small shiny black beans are very popular in Latin American dishes. They are loaded with fibre and protein, are cheap and are really filling!
Kidney Beans – they are a reddish brown in colour, are kidney shaped and have an off white coloured flesh. Although dried kidney beans are toxic if eaten, once the beans have been properly cooked they are safe to eat. If you buy tinned kidney beans, as suggested, they have already been cooked so are safe to eat immediately once drained and rinsed.
Cannellini Beans – these beans are kidney shaped (ish) and are off white in colour. They have a slightly nutty flavour and a silky texture. They are fat free and are a excellent source of fibre, If you are unable to find a can of cannellini beans, try haricot or navy beans instead.
More Weight Watchers Bean Recipes
If you like your beans, you may be interested in some of these Weight Watchers friendly recipes that are packed full of these protein rich ingredient.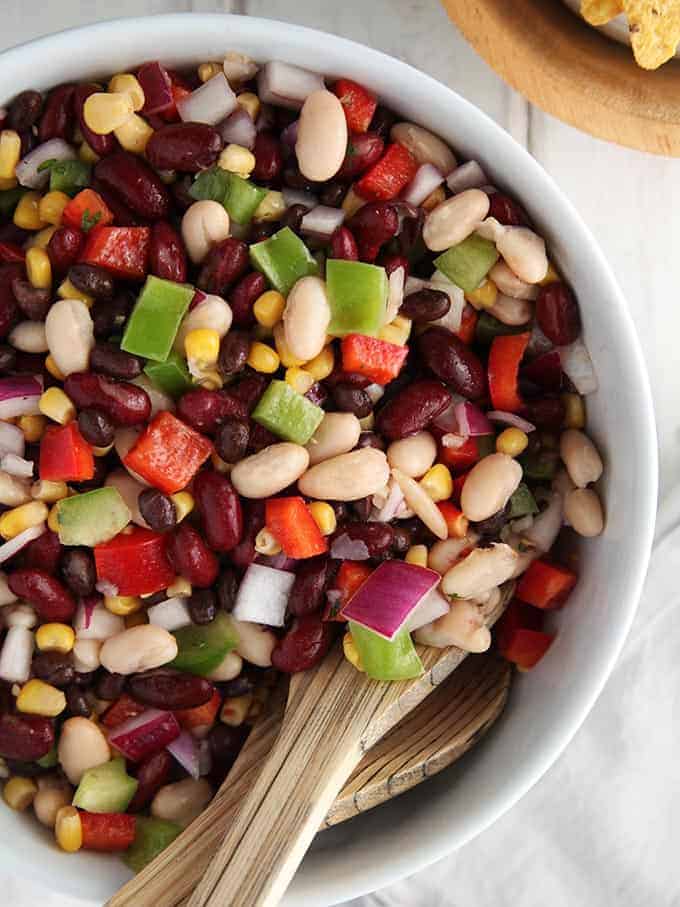 Serving Suggestions
I will often eat a bowl of this salad, on its own, as a filling and tasty lunch.
Serve with a grilled chicken breast for a protein packed, low Smart Point Weight Watchers dinner.
Make a big bowl of this salad for a pot luck or BBQ to ensure that you have a low point option that you can fill up on.
Use as a filling in a low Smart Point tortilla wrap.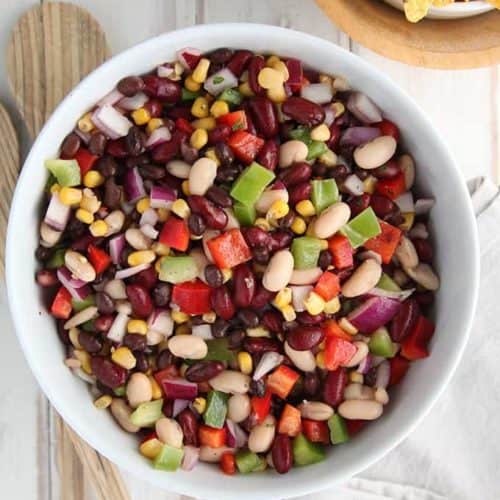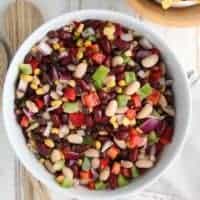 Mexican Bean Salad | Weight Watchers
Total Time:
1 hour
15 minutes
This filling and tasty Mexican Bean Salad is just 2 Smart Points per serving (approx 1 cup) on Weight Watchers Freestyle plan. A perfect, healthy and low point accompaniment to any Weight Watchers dinner.
Ingredients
1 x 15 oz can black beans (drained & rinsed)
1 x 15 oz can sweet corn kernels (drained & rinsed)
1 x 15 oz can cannellini beans (drained & rinsed)
1 x 15 oz can kidney beans (drained & rinsed)
1 green bell pepper (chopped)
1 red bell pepper (chopped)
1 red onion (chopped finely)
3 tbsp olive oil
4 tbsp white wine vinegar
1/2 - 1 red chili pepper (finely chopped)
1 tbsp lime juice (or lemon juice if preferred)
1/2 tsp salt (more if required)
1/2 tsp ground black pepper
1 clove garlic (finely chopped)
1 tsp brown sugar
1 tbsp chopped cilantro / coriander
Instructions
Combine the beans, corn, bell peppers and onion in a large bowl.
In a small bowl whisk together the olive oil, white wine vinegar, chili pepper, lime juice, salt & pepper, garlic, sugar and cilantro. Whisk until well combined.
Pour the dressing over the beans and mix well so that it is all coated in the mixture.
Leave the salad for an hour before serving so that the beans can soak up all those flavours.
Recommended Products
As an Amazon Associate and member of other affiliate programs, I earn from qualifying purchases.
Nutrition Information:
Yield:

8
Serving Size:

1
Amount Per Serving:
Calories:

291
Total Fat:

7g
Saturated Fat:

1g
Trans Fat:

0g
Unsaturated Fat:

5g
Cholesterol:

0mg
Sodium:

656mg
Carbohydrates:

47g
Net Carbohydrates:

0g
Fiber:

11g
Sugar:

7g
Sugar Alcohols:

0g
Protein:

14g
Please be aware that the nutritional information above has been automatically generated and does not account for variations in product brands and types, weights of individual ingredients etc.  It should therefore be considered as an estimate. PointedKitchen.com has calculated Weight Watchers Smart Points based on the individual ingredients used to make this recipe and not from the following nutritional information. PointedKitchen.com is not responsible for any loss or damage relating to your reliance on this nutritional information.