This super easy, super tasty Three Bean Salad is just 2 Smart Points per portion on Weight Watchers Freestyle plan, myWW Blue plan and myWW Purple plan. It is 5 SmartPoints per portion on the myWW Green plan.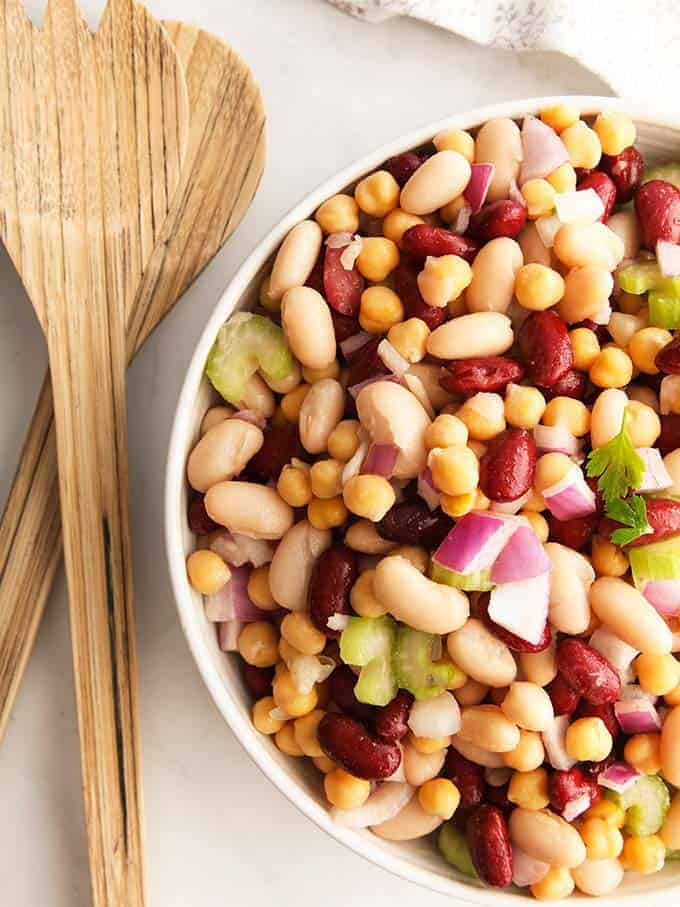 It's tasty and filling and makes a great addition to any barbecue or cook out. However, to my mind it's just as good eaten on its own for lunch or as a quick low point snack any time of the day. It really is a perfect, healthy and satisfying Weight Watchers recipe.
This post may contain affiliate links. As an Amazon Associate I earn from qualifying purchases. Visit this page to see what that means.
A good Three Bean Salad is a staple for any barbecue, cook out or family gathering and I can see why.
It is filling, tasty and very, very good for you!
Well, in most parts Three Bean Salad is good for you! The beans are full of protein and healthy fibres BUT sometimes the dressing will be full of oil and sugar, so just be careful if you are eating this salad when out!
If the salad is dripping in lots of oil rich dressing it will be very high in calories and therefore high in Smart Points.
So this Three Bean Salad, is a skinnier version of ones that you may find in a typical salad bar. The dressing coats the beans nicely and is very tasty but the salad isn't swimming in oily dressing!
I use kidney beans, cannellini beans and chickepeas in this salad and for added flavour and crunch, I use finely chopped red onion and celery. Yum!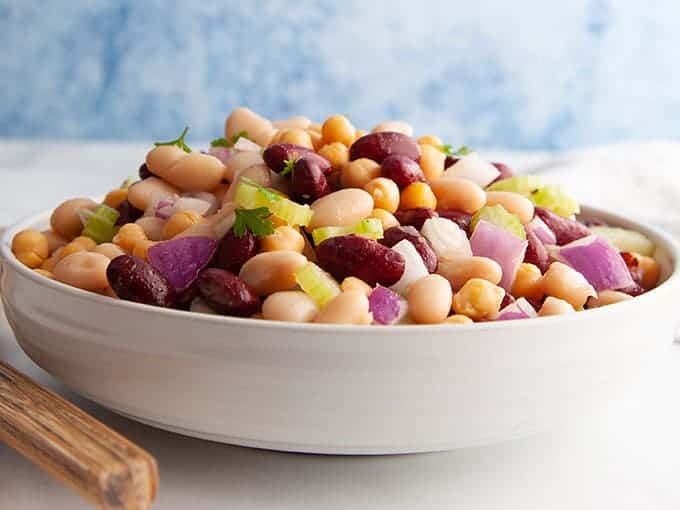 What beans to use in Three Bean Salad?
I use kidney beans, cannellini beans and chickpeas (garbanzo beans) in this recipe. Some people swap in chopped green beans when making bean salad but I just love this combination, so I stick to these 3 types of bean.
Kidney Beans are a common bean that are a fantastic source of protein and healthy fibres. They are also a good source of vitamins and minerals. And most importantly 😀 they taste great!
Cannellini Beans are a creamy white coloured bean that originate in Italy. They have a mild nutty flavour but have a soft, smooth texture. They are sometimes referred to as white kidney beans because of their similarity in shape and size to red kidney beans. They are high in B vitamins and provide you with essential minerals such as iron and potassium.
Chickpeas or Garbanzo Beans (as they are sometimes called) are a great source of protein and healthy fibres. They have a nutty taste and provide a lot of crunch to this dish. They are also a very cheap way of adding protein to your diet!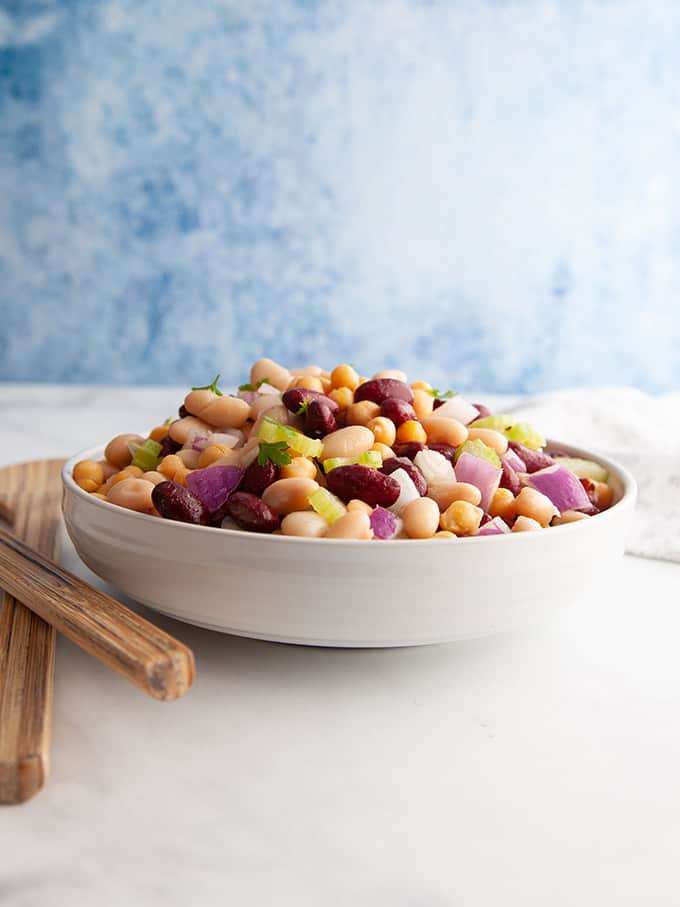 Making Three Bean Salad
Empty the beans into a sieve or colander and place under cold running water to rinse off any of the starchy liquid that is often found in tinned beans. Leave to drain for a few minutes before tipping into a serving bowl.
Chop the celery and onion into pieces of a similar size to the beans.
Add all of the dressing ingredients into a small bowl and use a whisk to combine. Pour over the beans and then add the chopped parsley if you are using.
Although, technically the bean salad can be eaten straight away, it is best put in the fridge for an hour or two after making so that all the lovely flavours can soak into the beans!
Before eating, remove from the fridge and leave to come to room temperature.
Storing Three Bean Salad
The Three Bean Salad can be kept in a air tight fridge safe container for up to three days.
Other Weight Watchers Bean Recipes
If you like beans, you may also like these Weight Watchers friendly recipes.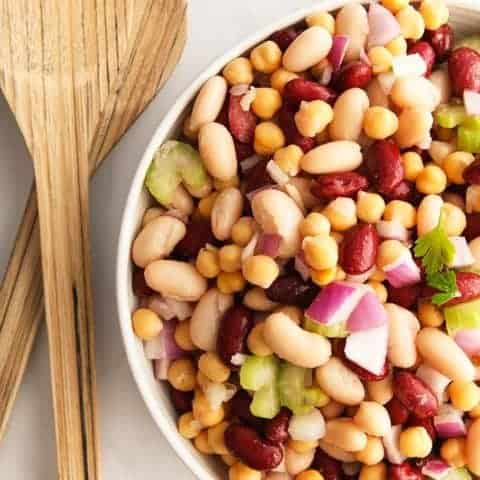 Three Bean Salad | Weight Watchers
Yield:
6 servings (approx 1 cup)
Total Time:
2 hours
15 minutes
This easy, tasty Three Bean Salad is just 2 Smart Points per serving on Weight Watchers Freestyle, Blue & Purple plans. It is 5 SmartPoints on the Green plan. Smothered with a tasty dressing this salad is delicious on its own or served as a Weight Watchers side dish.
Ingredients
1 (15oz) can kidney Beans
1 (15oz) can chickpeas/garbanzo beans
1 (15oz) can cannellini beans
3 stalks of celery - chopped
1 small red onion - finely chopped
3 tbsp olive oil
5 tbsp apple cider vinegar / white wine vinegar
½ tsp sweetener (I used splenda)
½ tsp ground sea salt
¼ tsp ground black pepper
½ tsp mustard ( I used Dijon mustard) - optional
1 - 2 garlic cloves (minced)
1 handful of flat leaved parsley (chopped) - optional
Instructions
Drain and rinse the beans and place in a large serving bowl.
Chop the celery and red onion and add to the beans, giving it a quick mix to combine.
Next, make the dressing by placing all of the ingredients into a small jug or bowl and use a whisk to combine.
Pour the dressing over the beans and mix so that all the beans are coated with dressing.
Sprinkle over the parsley, if using, and stir in.
Although the salad can be eaten straight away, it tastes even better if left in the fridge for a couple of hours so that all the flavours can soak into the beans.
Bring back to room temperature before serving.
Recommended Products
As an Amazon Associate and member of other affiliate programs, I earn from qualifying purchases.
Nutrition Information:
Yield:

6
Serving Size:

1
Amount Per Serving:
Calories:

155
Total Fat:

7g
Saturated Fat:

1g
Trans Fat:

0g
Unsaturated Fat:

6g
Cholesterol:

0mg
Sodium:

224mg
Carbohydrates:

17g
Fiber:

5g
Sugar:

1g
Protein:

6g
Please be aware that the nutritional information above has been automatically generated and does not account for variations in product brands and types, weights of individual ingredients etc.  It should therefore be considered as an estimate. PointedKitchen.com has calculated Weight Watchers Smart Points based on the individual ingredients used to make this recipe and not from the following nutritional information. PointedKitchen.com is not responsible for any loss or damage relating to your reliance on this nutritional information.