This super easy Creamy Pesto Chicken with Broad Beans is just 5 SmartPoints per serving on Weight Watchers Freestyle, Blue & Purple Plans.
It works out at 7 SmartPoints if you follow the Weight Watchers Green plan.
It is filling, tasty and just so simple to make, taking less than 20 minutes to prepare and cook!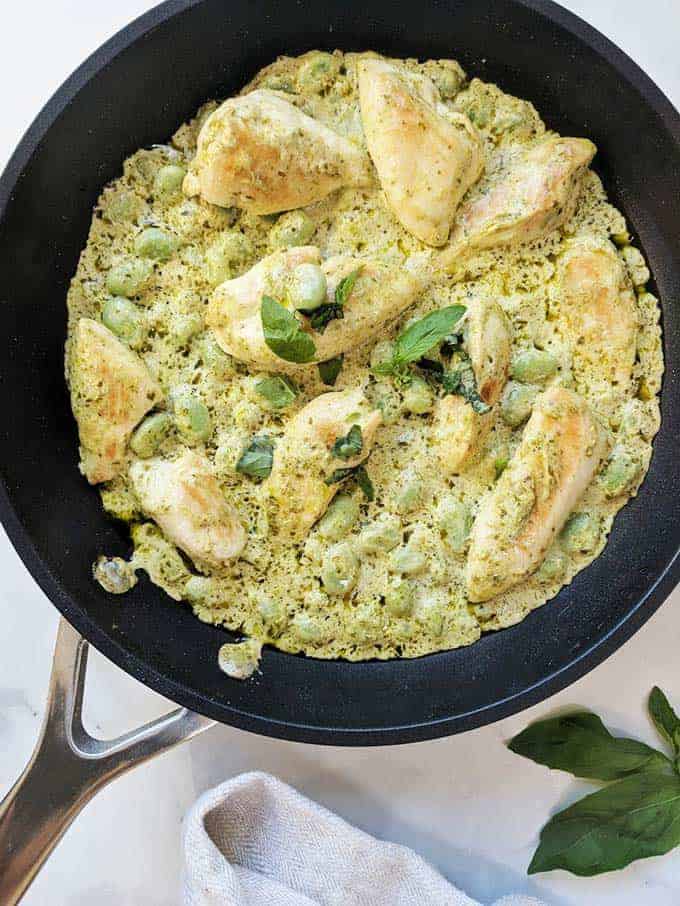 I like simple and easy dinners!
Especially ones like this Creamy Pesto Chicken that only use one pan.
I hate washing up & my kitchen is too small for a dishwasher ???? - urk!
If you are looking for easy to prepare Chicken dishes, you may also like these zero point Chicken Fajitas or this Creamy Chicken Casserole. For another one pot chicken dish, take a look at this Chicken, White Bean & Bacon Casserole.
But back to the Creamy Pesto Chicken with Broad Beans....
To make it really simple to throw together, I used frozen broad beans. I just popped them in the microwave for 4 minutes to defrost before adding to the dish.
Another time saver (if you really need one!) would be to use mini chicken fillets rather than chopping larger breasts into pieces!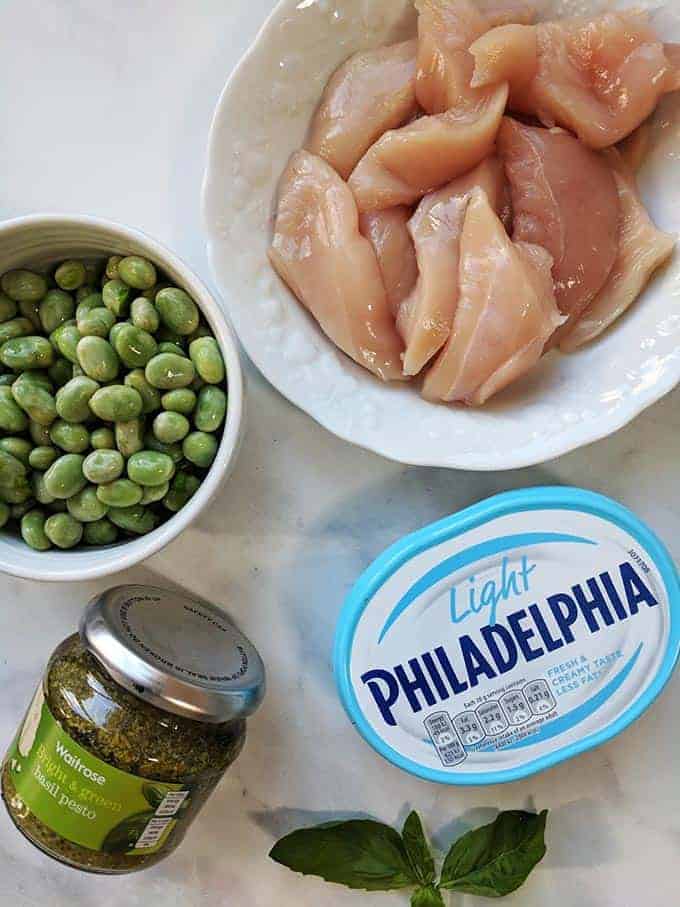 How to make this Creamy Pesto Chicken
Chop each chicken breast into 4 or 5 pieces of about equal size.
Alternatively use mini chicken breast fillets.
Season both sides of the chicken breast pieces with salt and pepper before you pan fry them.
I used 2 SmartPoints worth of olive oil to saute the chicken breast but you can use calorie controlled spray oil if you prefer.
Pan fry the chicken breasts pieces till they are tender and have just started to turn golden.
Add the pesto and stir for a minute.
Add the cream cheese and a couple of tablespoons of milk and stir until the cream cheese melts and you have a nice thick sauce.
You will find that the oil from the pesto and the low fat cream cheese won't combine completely ( this has something to do with using low fat cream cheese, rather than full fat cheese) but the sauce still tastes wonderful.
If using frozen broad beans, microwave them before adding to the skillet / frying pan.
Cook for a further few minutes until the broad beans are tender and the chicken is cooked through.
You can test that the chicken is ready by slicing the plumpest bit in half and checking that it is cooked though & is no longer pink.
Season with salt and pepper to taste and garnish with a few torn up sweet basil leaves.
This post may contain affiliate links. As an Amazon Associate I earn from qualifying purchases. Visit this page to see what that means.
What I used to make Creamy Pesto Chicken
I use non stick frying pans ALL the time. I therefore splashed out a bit in the January sales for a Crueset frying pan / skillet. It is the best non stick frying that I have used, by far. They can be purchased in lots of different sizes through Amazon.
Serving suggestion
I serve this dish with zero point butternut squash mash.
Serve with a small serving of new potatoes for an extra 2 SmartPoints per serving.
This Creamy Pesto Chicken is also wonderful served on top of a small helping of pasta!
Alternatives
Use Sacla Reduced Fat Green Pesto and reduce the SmartPoints by 1 point per serving.
Use Philadelphia Lightest Cream Cheese  (3% fat) and reduce the SmartPoints by 1 SmartPoint per serving. However, be aware that the pesto and cream cheese may be even more difficult to combine if you use this lower fat cheese.
Can I freeze Creamy Pesto Chicken
Unfortunately, this Creamy Pesto Chicken does not freeze well. However, as it takes less than 20 minutes to make from scratch, batch cooking it isn't really necessary!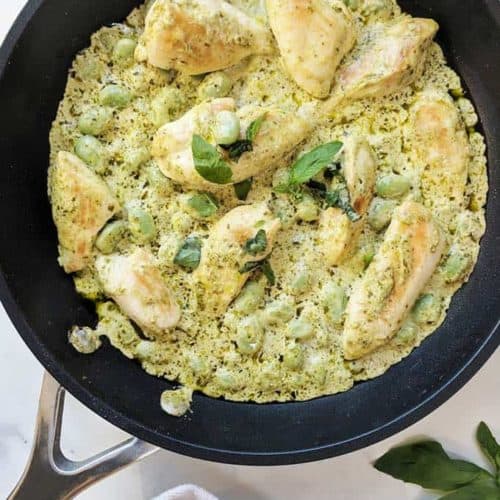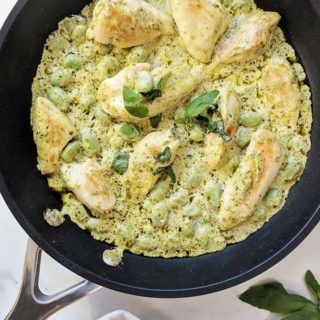 Creamy Pesto Chicken | Weight Watchers
This Creamy Pesto Chicken with Broad Beans is just 6 SmartPoints per portion on Weight Watchers Freestyle Plan.
Ingredients
2

chicken breast

chopped into 4 - 5 pieces

½

tbsp

olive oil

salt and pepper

2

tbsp

green pesto

½

cup

low fat cream cheese

(100g)

2

tbsp

skimmed milk

1

cup

broad beans

(150g) if using frozen defrost first

basil leaves

optional
Instructions
Chop the chicken breasts into 4 or 5 pieces and season well with salt and pepper.

Heat the olive oil in a medium frying pan / skillet over a medium high heat. When hot add the seasoned chicken pieces and saute for 5 - 6 minutes until they are tender.

Add the pesto and stir for 1 minutes before adding the low fat cream cheese and milk. Cook for a couple of minutes using a wooden spoon to stir the cream cheese, milk and pesto into a smooth sauce.

Add the broad beans, bring to a simmer and cook for 2 - 3 minutes until the broad beans are tender and the chicken is cooked through.

Taste and season as necessary before adding some torn basil leaves to garnish.
Notes
Please be aware that the nutritional information below has been automatically generated and does not account for variations in product brands and types, weights of individual ingredients etc.  It should therefore be considered as an estimate.
PointedKitchen.com has calculated Weight Watchers Smart Points based on the individual ingredients used to make this recipe and not from the following nutritional information.
PointedKitchen.com is not responsible for any loss or damage relating to your reliance on this nutritional information.
Nutrition
Nutrition Facts
Creamy Pesto Chicken | Weight Watchers
Amount per Serving
% Daily Value*
* Percent Daily Values are based on a 2000 calorie diet.