This simple, one pot Shrimp, Chorizo & Red Pepper Paella is just 7 SmartPoints per generous portion on Weight Watchers Freestyle, Blue and Purple plans.
It works out at 8 SmartPoints if you are following the Green plan.
Please be aware that this post was written prior to Weight Watchers changing to the WW Personal Points Plan! You can discover exactly how many Personal Points this recipe will be for you by clicking on the blue 'WW Personal Points' button in the recipe card below.
A perfect mix of plump shrimp, smokey, salty chorizo and fresh red pepper makes this a tasty and flavoursome low point Weight Watchers dinner.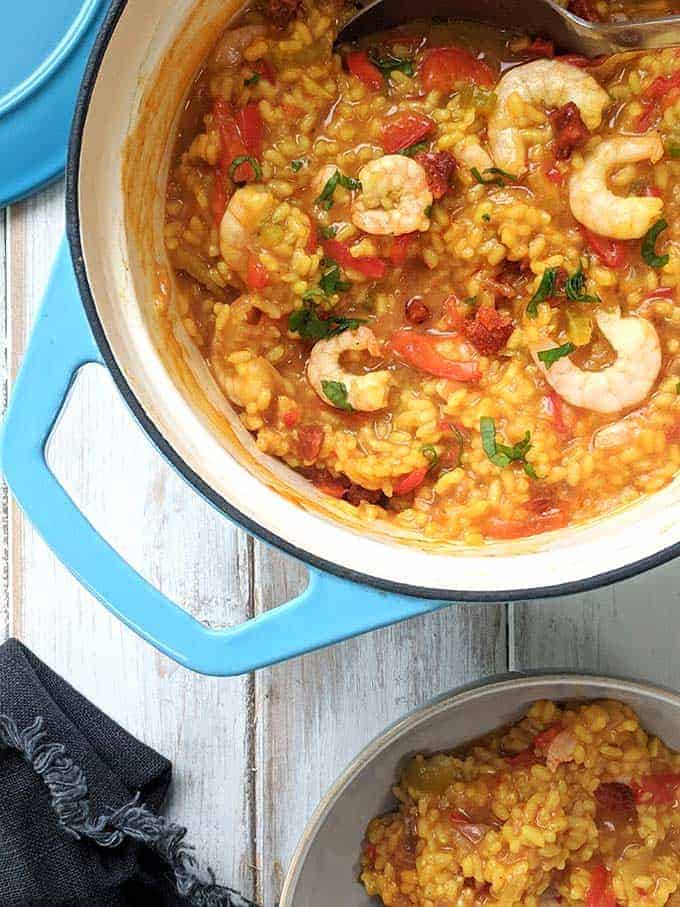 I'm off to Spain in 3 weeks time 😀
Whoop, whoop!
May the sun be shining, the orange blossom be out and the birds be singing!
It's cold and miserable here with a thick low layer of cloud covering the sky. The trees are bare of leaves and the birds have headed south. It's all very bleak.
So, I've been preparing for my holiday! And, for me, that means researching the types of food that I may encounter when I'm away.
I've always done this. I'm such a foodie! And it's perhaps is one of the reasons I found myself walking into my first WW meeting!
But now I'm not just researching new foods & experiences. I'm also trying to find out what foods are going to be the most Weight Watchers friendly.
I want to know what's going to be good to order and what will blow my SmartPoints budget.
I will enjoy eating out! But as I'm so close to my lifetime goal I am keen not to overdo it and come back 7 pounds heavier than when I left.
So, when doing my research Paella obviously came up as a popular Spanish dish.
As it's been such a cold, miserable couple of days I decided that I would try and recreate a bit of Spain & warmth!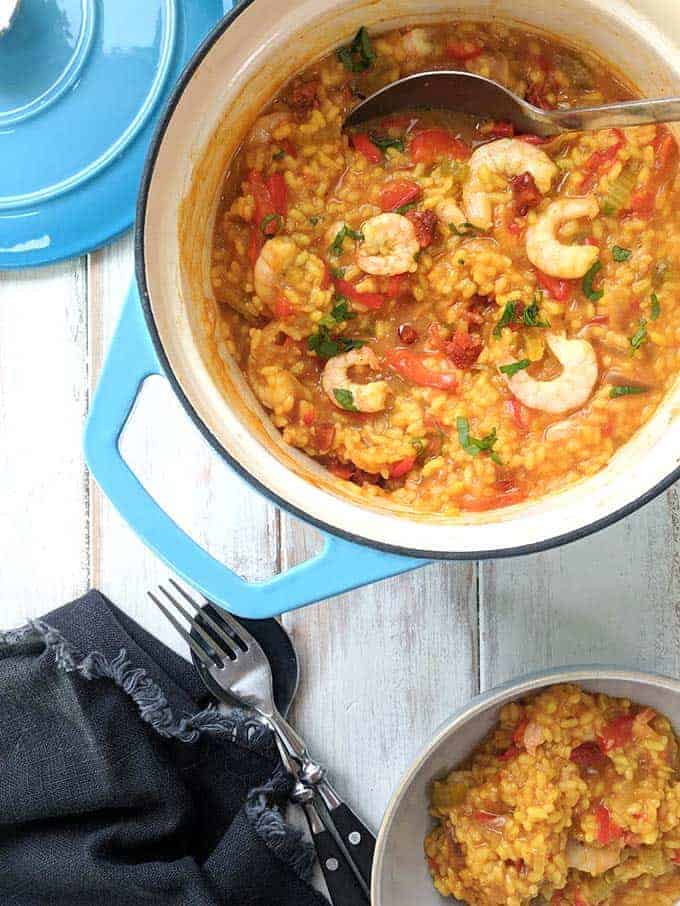 Some years ago I had made a Prawn & Pepper Paella that I had seen in one of the Sunday magazines.
It was good so I decided to recreate it, mix it up a bit with smokey chorizo and try and reduce the amount of olive oil that was used.
It worked out well! It's low in SmartPoints and best of all it tastes wonderful!
Plump tasty shrimp with smokey chorizo and sweet red pepper.
What is not to like!
The other great thing about this recipe is that it's one pot cooking! No mountain of washing up to do.
If you are interested in other one pot Weight Watchers friendly dishes you may like this Creamy Pesto Chicken with Broad Beans or this Chicken, White Bean & Bacon Casserole. This Chipotle Chicken Casserole is zero SmartPoints and is a recipe that I go back to again and again for a filling, tasty, zero point dinner.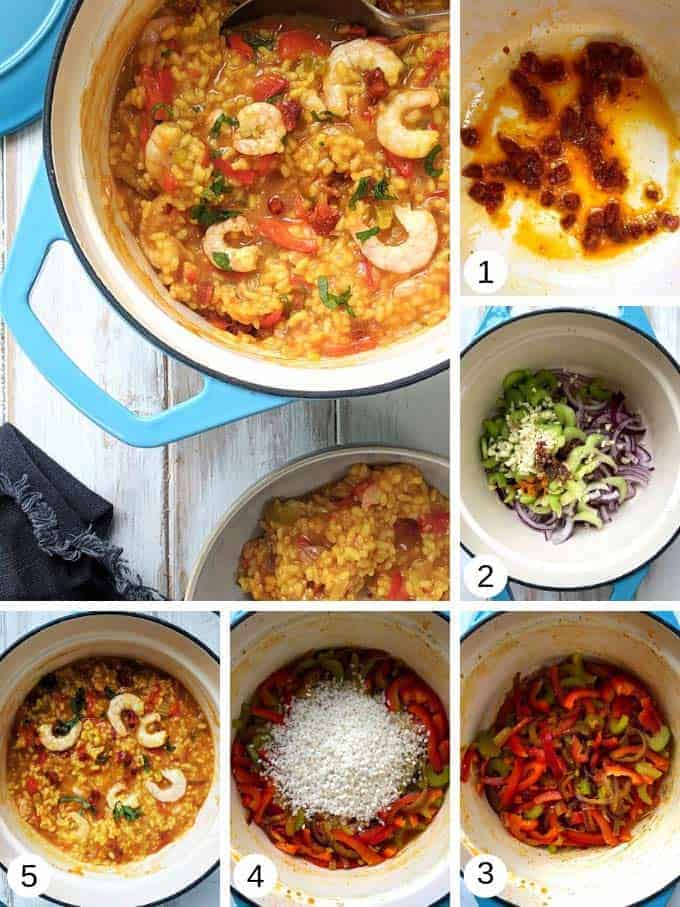 Tips for making Shrimp, Chorizo & Red Pepper Paella
I used a bag of frozen raw shrimp / prawns to make this Paella. Defrost them thoroughly before using but don't be tempted to use a microwave to do this. You will spoil them. Place them on a plate, cover and leave in the fridge for approx 6 hours to defrost. Alternatively, you can place them in a bowl, pour over cold water and then drain and repeat every now and again until they have defrosted (approx 30 minutes).
Heat a little of the oil in the bottom of a large casserole dish / dutch oven. Add the chopped chorizo and cook until the chorizo has started to crisp up, it is smelling wonderful and has released some of its oil (picture 1)
Use a slotted spoon to remove the cooked bits of chorizo, leaving some of the oil still in the bottom of the dish.
Warm the remaining oil and add the thinly sliced onion, celery and garlic, Sprinkle over the spices and season well with salt and pepper (picture 2).
You need to cook this for about 10 minutes. Keep an eye on it so that it doesn't stick to the bottom of the pan. Continue stirring every now and again and if anything does start to brown on the bottom, add a couple of tablespoons of water to the pot and scrape it off with a wooden spoon. Mix the scrapings into the onions as this will add to the depth and flavour of the dish (as long as its not burned bits!).
Add the pepper and cook for a couple of minutes (picture 3).
Add half of the stock and the rice (picture 4) and stir. Bring to the boil, then reduce the heat to a gentle simmer and cover for 25 - 30 minutes.
You will need to stir the Paella every 5 minutes or so and add more stock to stop it drying out and sticking to the bottom of the pan.
Stir in the prawns and cook for a further 5 minutes until they have turned pink (picture 5).
Lastly, stir in the reserved chorizo before serving.
What I used to make this Paella
This post contains affiliate links. As an Amazon Associate I earn from qualifying purchases. Visit this page to see what that means.
I cooked this paella in a dutch oven / casserole, like this one, available from Amazon.
Alternatives
Omit the Chorizo and reduce the SmartPoints by 1 point per portion.
I used white short grain rice in this Paella but you could use brown rice if you prefer.
Serving suggestions
I think this Shrimp, Chorizo & Red Pepper Paella is a meal in itself and doesn't need any accompaniment.
However, you could serve it with some crusty bread and a side salad!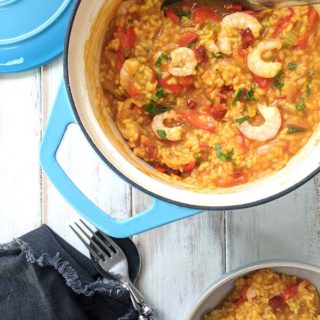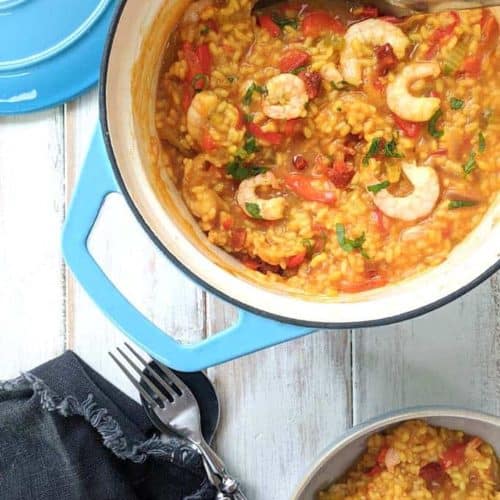 Shrimp, Chorizo & Red Pepper Paella | Weight Watchers
This easy one pot Shrimp, Chorizo & Red Pepper Paella is just 7 SmartPoints per portion on Weight Watchers Freestyle plan.
Ingredients
¼

cup

chorizo

(25g) chopped

1

tbsp

olive oil

divided

1

onion

I used red onion

2

celery sticks

chopped finely

3

garlic cloves

finely chopped

1

pinch

saffron threads

½

tsp

smoked paprika

¼

tsp

turmeric

salt & pepper

1

large red pepper

thinly sliced

1

chicken stock cube

made up with 2 cups (480ml) boiling water

1

cup

white rice

(190g) I used short grain

1

cup

raw shrimp / prawns

(250g)

2

tbsp

tomato puree

parsley leaves

for garnish
Instructions
Place ¼ tbsp of the olive oil into a large casserole dish and heat over a medium heat. Add the chopped chorizo and fry for 3 - 4 minutes until it has crisped up, has started to smell wonderful and has released some of it's smokey oil. Use a slotted spoon to remove the chorizo bits from the pan and set aside to use later.

Pour the remaining ¾ tablespoon of oil into the casserole dish and add the onions, garlic, celery, saffron, paprika, turmeric and tomato puree/paste. Season well with salt and pepper and cook over a medium heat for 10 minutes. Stir often to make sure that nothing starts to stick to the bottom of the pan. If it does, add a tablespoon or so of water to the pot and use a wooden spoon scrape any browned bits from the bottom. This prevents it from continuing to brown & burn. 

Add the sliced pepper and stir. Cook for 2 - 3 minutes .

Add half of the stock to the pot and then add the rice. Stir and then bring to the boil. Reduce the heat to a slow simmer and place the lid on the casserole dish. Cook covered for 25 - 30 minutes, stirring every 5 minutes or so and topping up with a little bit more stock here and there to keep it from drying out.

When the rice is nice and tender, gently stir in the prawns. Add any remaining stock and cook for 5 minutes or until the prawns have turned pink. Stir in the chorizo.

Serve hot sprinkled with some chopped parsley as garnish.
Notes
Please be aware that the nutritional information below has been automatically generated and does not account for variations in product brands and types, weights of individual ingredients etc.  It should therefore be considered as an estimate.
PointedKitchen.com has calculated Weight Watchers Smart Points based on the individual ingredients used to make this recipe and not from the following nutritional information.
PointedKitchen.com is not responsible for any loss or damage relating to your reliance on this nutritional information.
Nutrition
Nutrition Facts
Shrimp, Chorizo & Red Pepper Paella | Weight Watchers
Amount per Serving
% Daily Value*
* Percent Daily Values are based on a 2000 calorie diet.