This Curried Pumpkin Soup is Zero Smart Points on Weight Watchers Blue, Purple & Freestyle plan and 1 SmartPoint on the Green plan.
To find out how many Personal Points this recipe will be for you & to track it in the WW App, click on the blue button in recipe card below!
It's made with canned pumpkin for convenience and is freezer friendly, so perfect for batch cooking! What more could you want from a Weight Watchers soup recipe?
Plus, it's tasty, warming and perfect on a cold autumn day.
We are heading fast into pumpkin season! Actually, I think we may be well & truly there!
Pumpkin Spice Latte is back in Starbucks - a surefire way to know that Fall / Autumn has arrived!
Speaking of Starbucks .... have you seen these Starbucks inspired Pumpkin Spiced Scones? They are 7 Smart Points per scone .... 15 Smart Points less than the Starbucks ones!!
Anyway, back to Curried Pumpkin Soup....
For ease and because I was feeling a bit lazy, I used canned pumpkin for this recipe.
Obviously, if you make your own pumpkin puree you can just swap that in, but in this recipe canned pumpkin is just as good to use.
This post may contain affiliate links. As an Amazon Associate I earn from qualifying purchases. Visit this page to see what that means.
Just make sure that you use pumpkin puree NOT pumpkin pie filling. I used Libby's 100% pure pumpkin which is natural with no preservatives.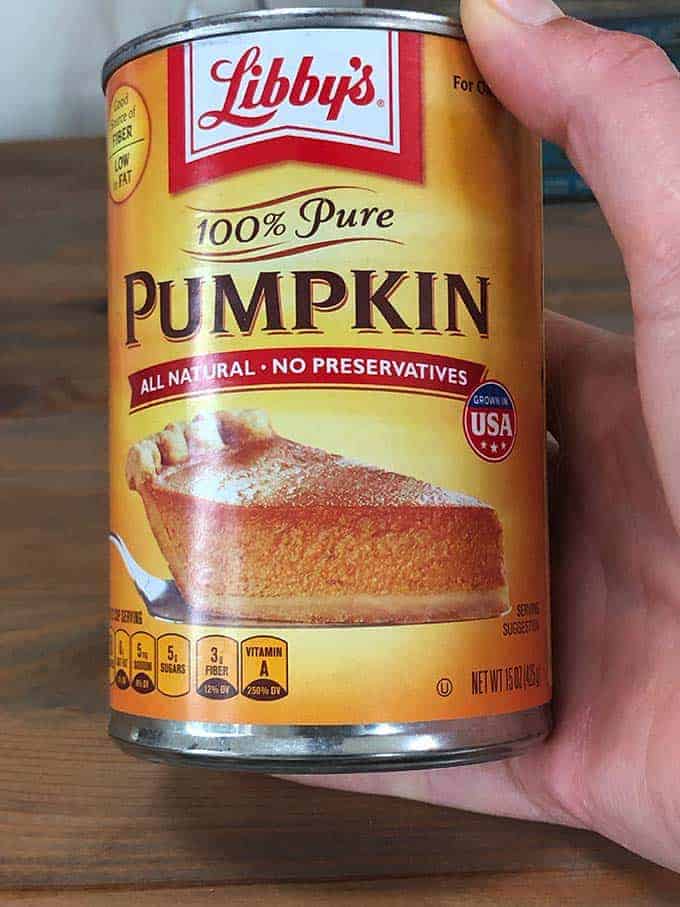 Tips for making Curried Pumpkin Soup
When using such a small amount of oil to saute the onions, you run the risk of the onion sticking to the bottom of the pan & burning. The trick is to saute them for as long as you can in the oil before they start to stick & then adding a tablespoon or so of water.
I tend to use fresh garlic (as its one of my kitchen staples) but you could always use some of the jars of minced garlic.
I have also used minced / grated ginger from a jar in this recipe rather than fresh.
If you like a thinner soup you can always add a little extra water before boiling. Bear in mind that the soup will thicken a bit when simmering but not a lot.
Bring the soup to the boil before reducing the heat. Leave it to gently simmer for 10 - 15 minutes.
Use an immersion blender or a stand blender to blend the soup into a nice smooth consistency.
How long does pumpkin soup last?
This Curried Pumpkin Soup should last for up to three days in the fridge. I would suggest freezing it if you want it to keep for any longer than that.
If you are planning to keep leftovers in the fridge, leave it to cool completely, then decant it into an airtight container.
Reheat in a saucepan or in a microwave.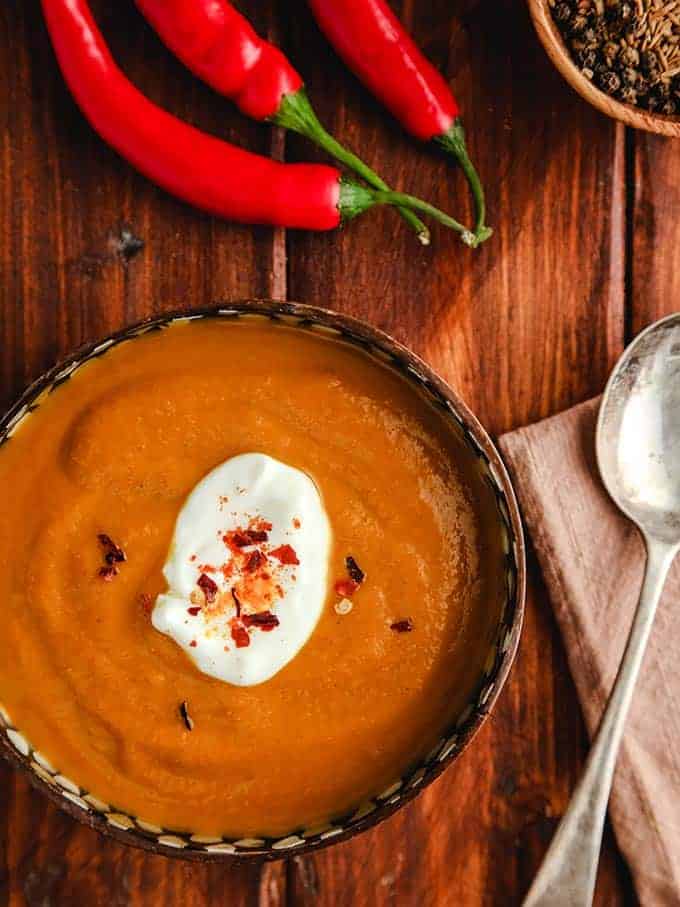 Can you freeze curried pumpkin soup?
Yes! This pumpkin soup is suitable for home freezing.
Freeze the soup in a freezer safe airtight container.
Alternatively, portion it out into reusable heavy duty freezer bags like these ones available from Amazon.
Looking for Weight Watchers Soup Recipes?
If, like me, you like a hearty bowl of warming soup on a cold winters day, then you may be interested in these WW friendly soup recipes.
Curried Pumpkin Soup | Weight Watchers
This Curried Pumpkin Soup is Zero Smart Points on most of the Weight Watchers plans. Made with canned pumpkin for ease and spice for a delicious 'kick'.
Ingredients
Calorie controlled spray oil

1

yellow onion

finely chopped

2

cloves

garlic

finely chopped

1

tsp

fresh ginger

finely chopped (or pre minced ginger)

½

tsp

ground coriander

1

pinch

cinnamon

2

tsp

mild curry powder

1

tsp

ground cumin

3

cups

chicken or vegetable stock (I prefer to use chicken)

(700ml)

2

cans

pumpkin puree

2 x 15oz can

1 - 1 ½

cups

water

optional

Salt & Pepper

to taste - I tend to add about ½ tsp salt & ¼ tsp black pepper

4

tbsp

natural fat free yogurt

optional

1

pinch

of crushed red pepper

optional
Instructions
Spray the bottom of a heavy based saucepan with calorie controlled spray oil (or use olive oil in a spray bottle) - about 10 sprays.

Warm over a medium heat. Add the onions and saute for 4 or 5 minutes until they are starting to soften. If they start to stick to the bottom of the pan add a couple of tablespoons of water to unstick and continue stirring.

Add the garlic and ginger and heat for another 1 minute.

Add the ground coriander, cinnamon, curry powder, salt and ground cumin along with 1 tablespoon of water and heat, stirring continually for 2 minutes. If it starts to stick, add a little more water.

Add the stock and pumpkin and stir to combine. If you like a thinner soup you may like to add 1 - 1 ½ cup more water at this point.

Bring to the boil, then reduce the heat so that it gently simmers. Cover and leave to simmer for 10 - 15 minutes.

Remove from the heat and taste. Add more salt and pepper if needed. The addition of extra salt will be very dependant on the brand of chicken / vegetable stock that you use.

Puree the soup with an immersion blender or a stand blender.

Serve with a tablespoon of fat free natural yogurt and a sprinkling of crushed red pepper (optional).
Nutrition
Nutrition Facts
Curried Pumpkin Soup | Weight Watchers
Amount per Serving
% Daily Value*
* Percent Daily Values are based on a 2000 calorie diet.