This Mexican Mole is just 1 Smart Point per serving on Weight Watchers Blue, Purple & Freestyle plan & 4 SmartPoints on the Green plan. And that's not a small portion either - that's a generous, hungry person portion!
To find out how many Personal Points this recipe will be for you & to track it in the WW App, click on the blue button in recipe card below!
A mix of shredded chicken, protein rich kidney beans and a tasty rich Mexican sauce make this a filling and warming WW dinner recipe. It's an easy to make recipe which can be served encased in soft tortilla wraps or with a side portion of rice! A perfect low point WW dinner recipe.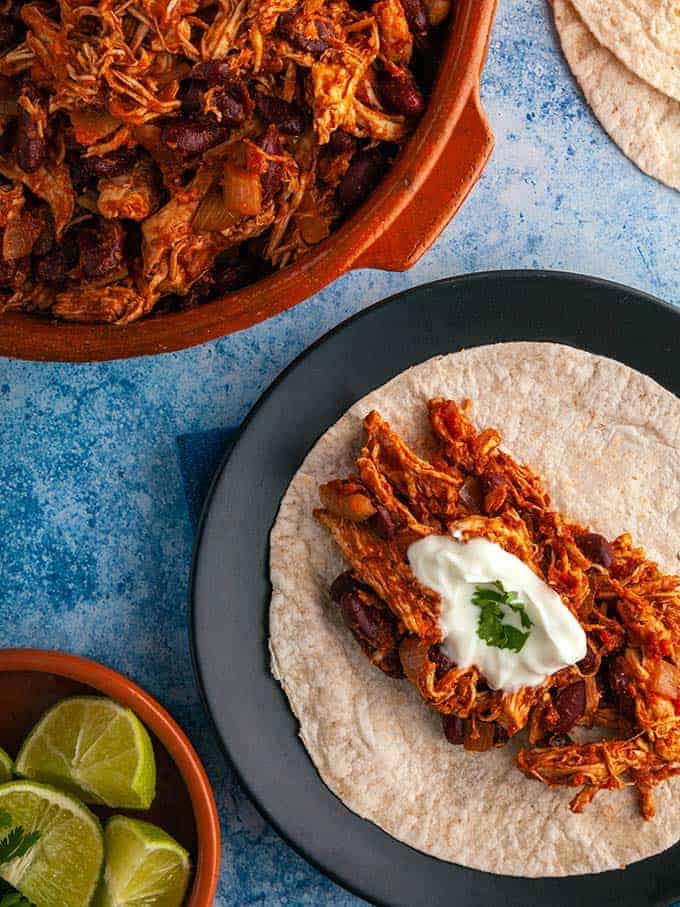 Over the past few months I have been asking people who subscribe to the Pointed Kitchen newsletter which foods they would hate to give up whilst following the Weight Watcher plan.
Along with the usual suspects like chocolate, bread, potatoes etc, Mexican food has been suggested time and again.
So I have been working on some Mexican inspired recipes to share.
If you like Mexican inspired food you may also like these Zero Smart Point Chicken Fajitas or this Zero Point Chipotle Chicken Casserole recipes.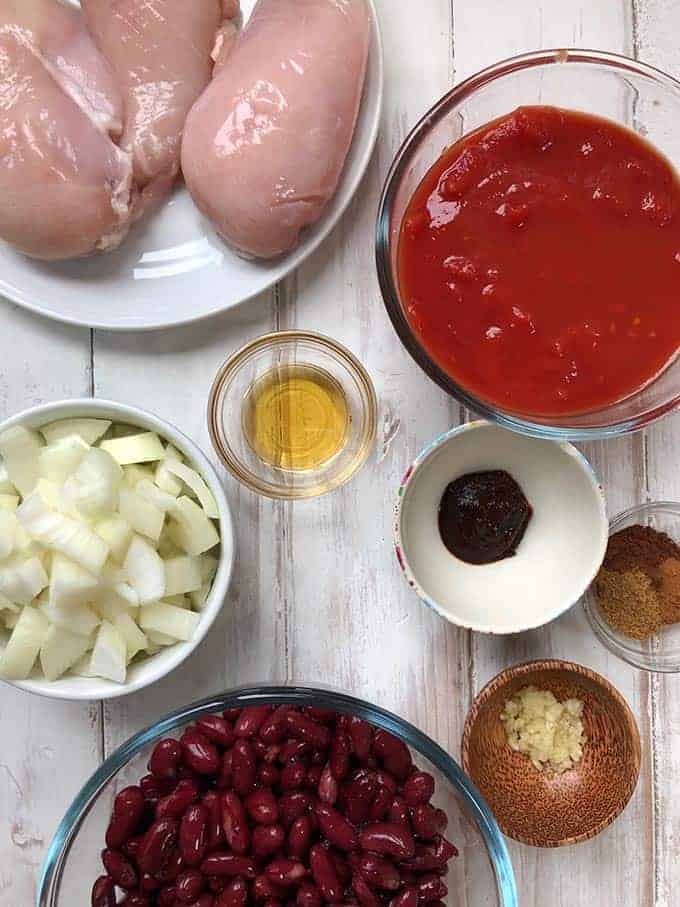 What is Mexican Mole?
So Mole (pronounced Moh-lay) is a traditional sauce used in Mexican cuisine.
A classic Mole paste is made from roasted, ground chili pepper with assorted additions such as garlic, cumin, tomatoes etc.
The paste is then combined with stock and reduced to make a thick rich sauce.
The sauce is then served over chicken, turkey, lamb etc.
Making a Mole from scratch (with grinding the chilies etc) would be very labour intensive, so I cheated and used a chipotle paste instead.
Chipotle paste is widely available and brings a nice smokiness to this dish.
I added a little cocoa powder and a touch of cinnamon for a depth of flavour along with cumin, garlic, onion and tomatoes.
Tips for making this Mexican Mole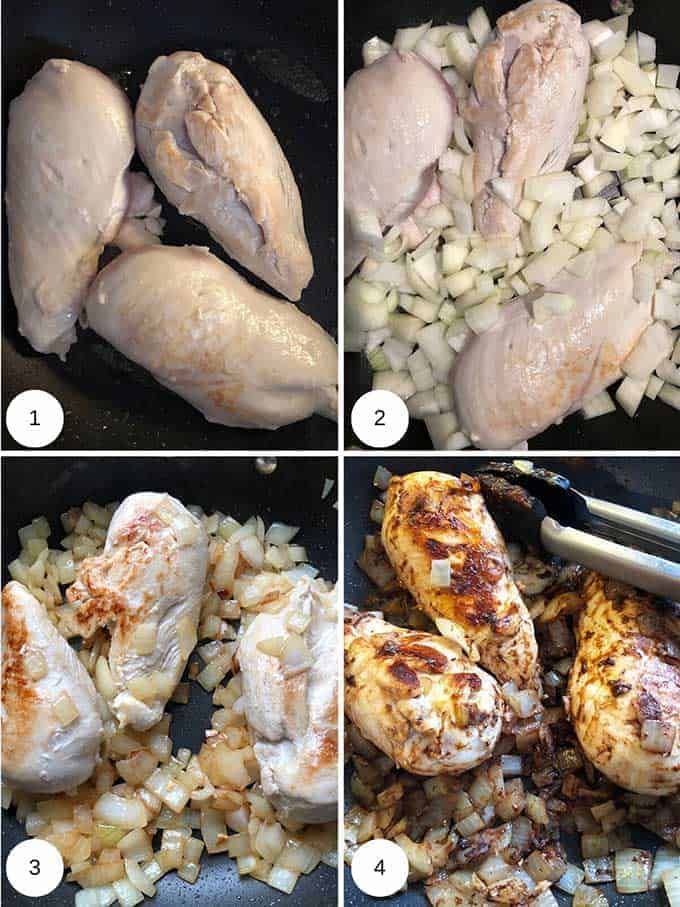 Heat the oil in a large good quality, non stick skillet / frying pan.
Season the chicken breasts both sides with salt and pepper.
Seal the chicken breasts by cooking for a minute on each side (picture 1)
Add the chopped onions & stir (picture 2). Continue to saute for 4 - 5 minutes, turning the chicken often, until the onions have softened and have started to turn brown (picture 3).
The chicken will be brown but will not be cooked through at this stage.
Add the garlic and saute for a further minute (picture 3).
Add the chipotle paste, spices and cocoa powder and mix to combine (picture 4).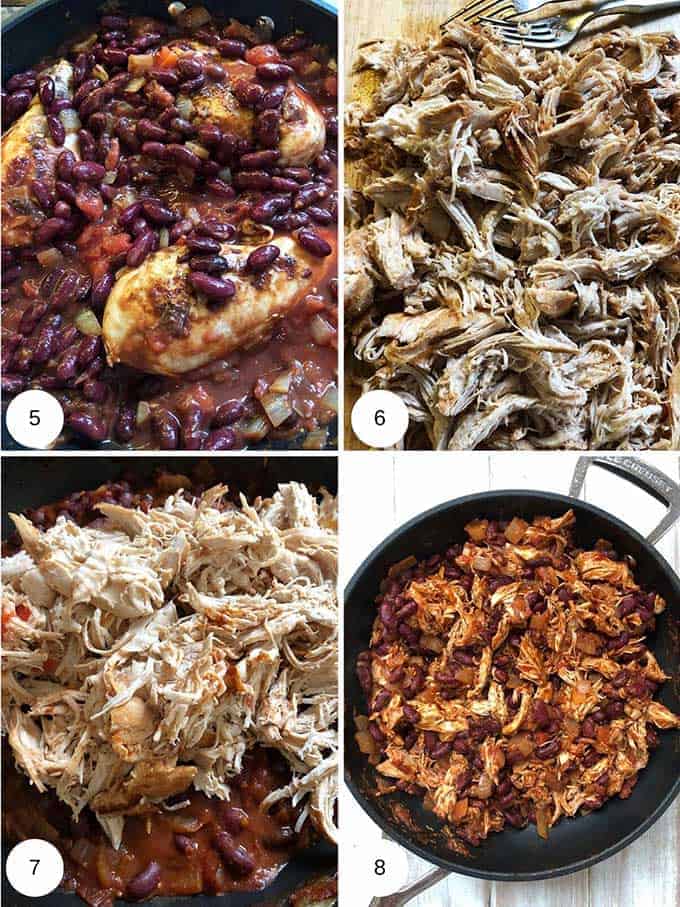 Add the canned chopped tomatoes & the kidney beans and stir (picture 5).
Cover and simmer for 20 minutes or until the chicken has cooked through.
Once the chicken is cooked, remove the breasts from the pan and place them on a board.
Use two forks to shred the chicken (picture 6).
Continue to simmer the sauce for a further 5 minutes.
Add the shredded chicken back into the pan and stir to combine.
Remove from the heat and serve.
This post may contain affiliate links. As an Amazon Associate I earn from qualifying purchases. Visit this page to see what that means.
Can I reduce the Smart Points for this recipe?
It may well be possible to reduce the point value of this recipe to zero Smart Points with a few tweaks!
I haven't tried, but you could use a calorie controlled cooking oil like Frylight or Pam to fry off the onion and chicken instead of using olive oil.
I used a chipotle paste that was 1 Smart Point per tablespoon. However, Olo's Chipotle Paste, available from Amazon is 0 Smart Points for 1 tablespoon.
There are other chipotle pastes that also work out at 0 Smart Points - just scan with your WW scanner before using to check the Smart Point value.
Serving Suggestions
I tend to eat this Mexican Mole in one of two ways:
Spoon a couple of tablespoons of the Mole on to a soft flour tortilla, top with a little fat free natural yogurt, wrap and enjoy!
If you are looking for low Smart Point tortilla wraps, take a look at these Ole Xtreme Wellness High Fibre Tortilla wraps from Amazon. They are just 1 Smart Point per wrap.
I also eat this dish with a small side of white rice and a green salad.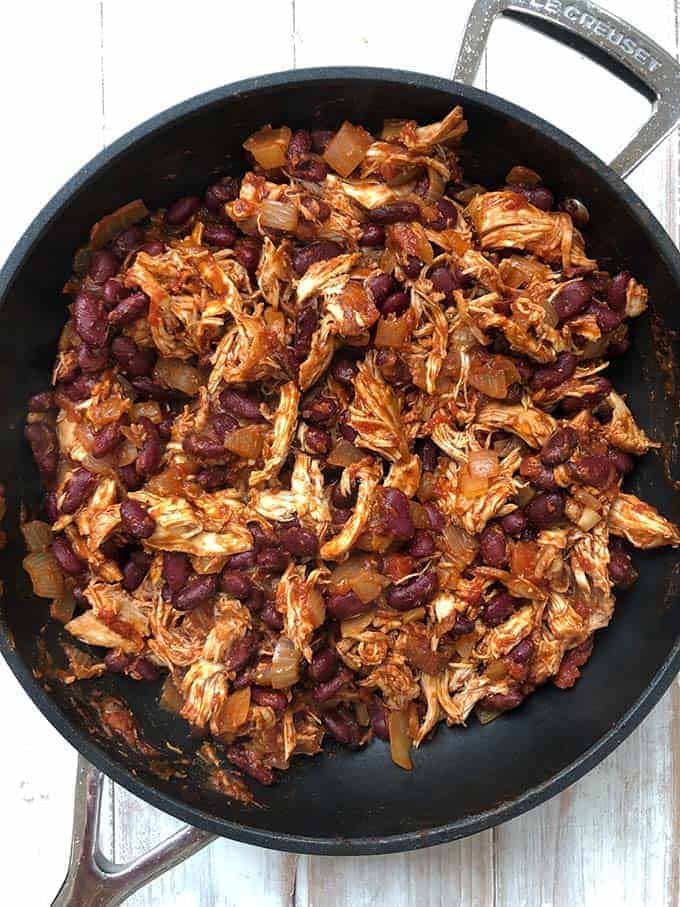 More Weight Watchers Chicken Recipes
If you like this Mexican Mole recipe then you may also like these Weight Watchers Friendly chicken recipes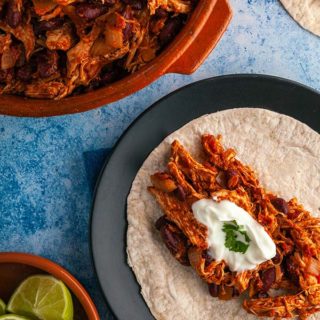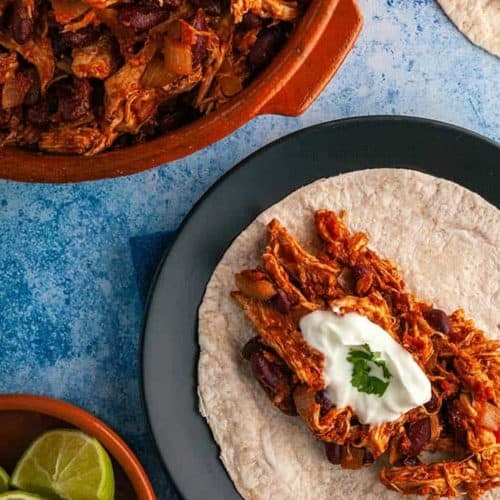 Mexican Mole | Weight Watchers
This Weight Watchers friendly Mexican Mole is low in Points & tasty too. Serve with a side of rice or stuffed inside a tortilla wrap, this WW friendly dish will become a firm family favourite.
Equipment
Jamie Oliver Non-Stick Silicone Spatula
Ingredients
1

tbsp

olive oil

4

medium

chicken breasts

skinless & boneless

1

pinch

Salt & pepper

1

medium

onion

finely chopped

2

cloves

garlic

finely chopped

¾

tsp

chipotle paste

1

tsp

ground cumin

¾

tsp

ground cinnamon

1

tsp

cocoa powder

1

can

chopped tomatoes

1 x 15oz can

2

can

kidney beans

2 x 15oz can - drained and rinsed
Instructions
Heat the oil in a large pan over a medium heat.

Season the chicken breasts each side with a little salt and pepper.

Place the chicken breasts in the hot oil and seal both sides (approx 1 min each side)

Add the chopped onions to the pan and fry for 4 - 5 minutes, stirring often. Turn the chicken often to prevent burning. The onions will soften and start to brown and the chicken breasts will brown (but will NOT cook through).

Add the chopped garlic and saute for a further 1 minute.

Add the chipotle paste, cumin, cinnamon and cocoa powder and stir to combine.

Add the chopped tomatoes and kidney beans, stir and bring to the boil.

Reduce the heat to a gentle simmer and cook covered for 20 minutes (or until the chicken has cooked through)

Remove the lid from the pan and use tongs to remove the chicken. Place the chicken on a board.

Continue to cook the sauce for a further 5 minutes over a medium heat until the liquid reduces a little.

Meanwhile, shred the chicken using two forks.

Add the shredded chicken back to the pan and mix to combine.

Add more salt & pepper if needed.

Serve.
Nutrition
Nutrition Facts
Mexican Mole | Weight Watchers
Amount per Serving
% Daily Value*
* Percent Daily Values are based on a 2000 calorie diet.