These simple Blueberry & Chia Seed Overnight Oats are 6 Smart Points per serving on Weight Watchers Blue & Freestyle plans, 2 SmartPoints on Purple and 9 on Green. A healthy and filling breakfast for anyone following the WW plan.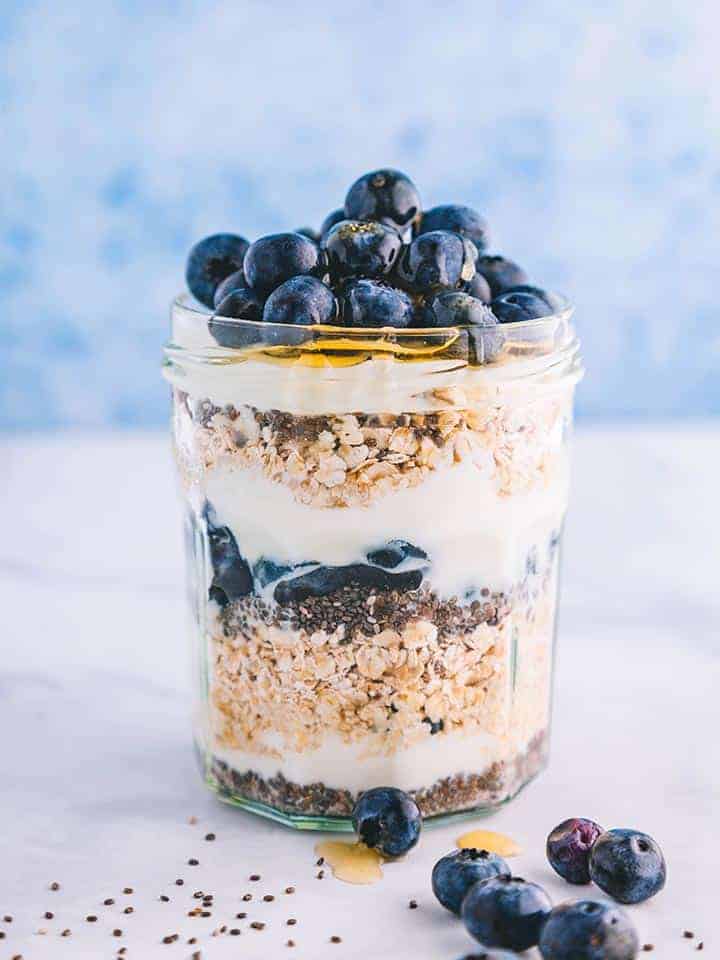 They are easy to prepare and make the perfect on-the-go WW breakfast recipe.
I've always been a bit partial to eating oats at breakfast time.
I love a bowl of warm porridge topped with blueberries or banana and a drizzle of honey.
But sometimes it can be a bit of a hassle to stand over the stove stirring a saucepan of porridge first thing in the morning - especially when you've got a busy day ahead of you.
Sometimes you just want a breakfast that you can grab and go.
And these Blueberry & Chia Seed Overnight Oats are the perfect breakfast for those occasions.
If you know that you are needing to get out that door quick, then make these overnight oats the night before and you can grab them (& a spoon), eat & go!
Are overnight oats healthy as they are high in Smart Points!
Now, there is no getting around it - these overnight oats are a little high in Smart Points!
Especially if you are used to eating eggs for breakfast which are zero Smart Points.
But, YES, overnight oats are a healthy option!
Oats are nutritious - they are full of dietary fibre and protein and contain a number of minerals and vitamins.
If you want to read more about the health benefits of oats take a look at this article from Time.
I also find that eating oats at breakfast means that I'm less likely to want to snack between breakfast and lunch!
Other Weight Watchers Oat Recipes.
If you like oats, you may like to take a look at these Weight Watchers friendly oats recipes.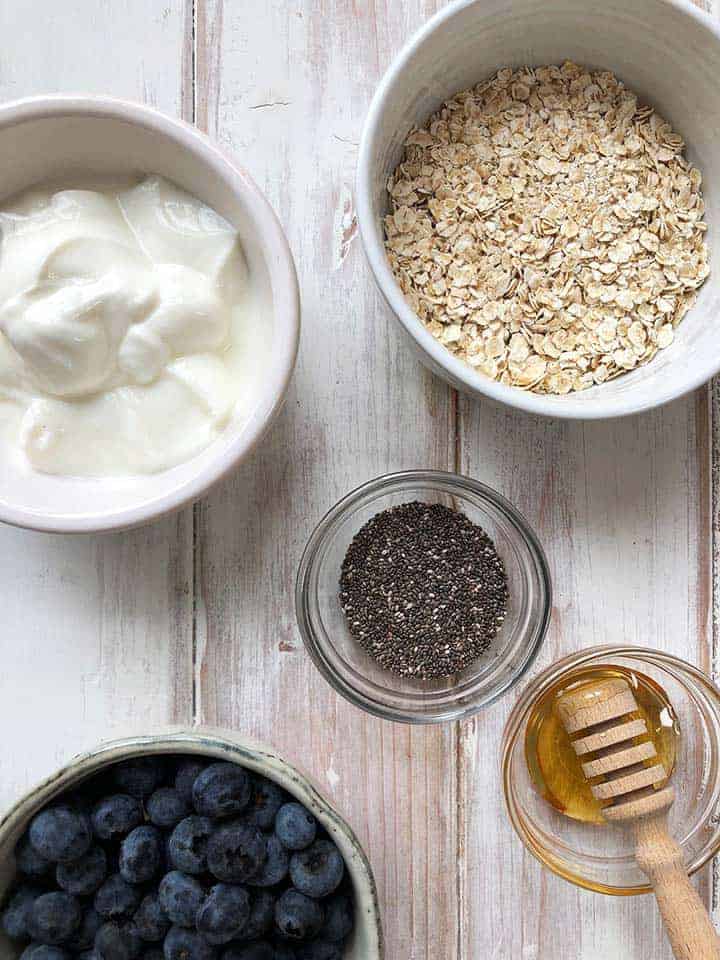 What the heck are Chia Seeds?
Chia Seeds are little black seeds of Salvia Hispanica, a plant native to Central America that is related to mint.
Typically Chia seeds are eaten sprinkled on top of muesli or mixed into yogurt, overnight oats etc.
Another popular way of eating them is to soak them in water or milk to make a pudding, similar to tapioca.
They work out at 1 Smart Point per 10 grams.
They are considered to be a 'superfood' but research is very divided on their actual health benefits.
Do you eat overnight oats hot or cold?
Although you may be used to eating your oats warm, these overnight oats are 'designed' to be eaten cold.
Of course, you could warm them through if that is your preference.
However, I'd urge you to try them cold first because they really are delicious that way!
How long do overnight oats last?
I tend to make overnight oats the evening before I am going to eat them.
However, they keep well in the fridge for a couple of days as long as the yogurt and milk that you have used is well in date.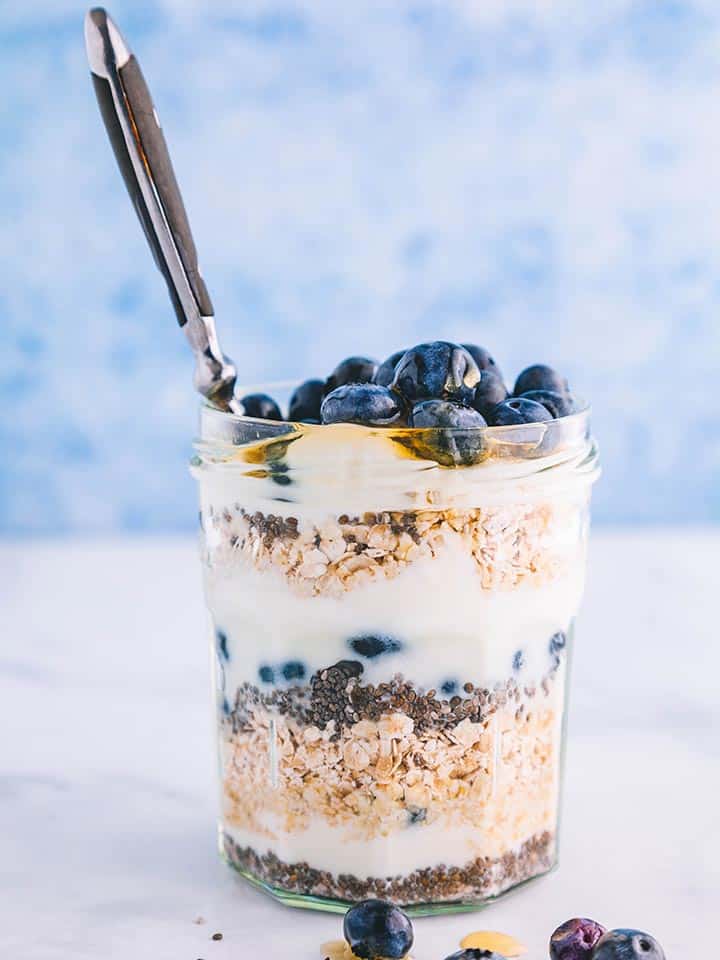 Other Weight Watchers Breakfast Ideas
Looking for alternative Weight Watchers Friendly Breakfasts? Then these may help!
Blueberry & Chia Seed Overnight Oats | Weight Watchers
Total Time:
6 hours
5 minutes
These Blueberry & Chia Seed Overnight Oats are 6 Smart Points per serving on Weight Watchers Freestyle plan. A filling and tasty Weight Watchers breakfast recipe.
Ingredients
½ scant cup (40g) of rolled oats
½ tbsp chia seeds
½ cup (125g) fat free natural yogurt/ fat free Greek yogurt
2 tbsp skimmed milk
½ cup (75g) blueberries
1 tsp honey
Instructions
Combine the yogurt and milk in a small bowl.
Layer the the oats, chia seeds, most of the blueberries and yogurt into a jar.
Top with the remaining blueberries and screw on the lid.
Place in the fridge to chill over night.
Before serving, drizzle over the honey.
Mix well and enjoy!
Notes
The overnight oats will be ready to eat within a few hours or can be left overnight to be eaten in the morning.
They will also keep well in the fridge for a couple of days.
Recommended Products
As an Amazon Associate and member of other affiliate programs, I earn from qualifying purchases.
Nutrition Information:
Yield:

1
Serving Size:

1
Amount Per Serving:
Calories:

268
Total Fat:

6g
Saturated Fat:

2g
Trans Fat:

0g
Unsaturated Fat:

3g
Cholesterol:

12mg
Sodium:

144mg
Carbohydrates:

39g
Fiber:

4g
Sugar:

23g
Protein:

16g
Please be aware that the nutritional information above has been automatically generated and does not account for variations in product brands and types, weights of individual ingredients etc.  It should therefore be considered as an estimate. PointedKitchen.com has calculated Weight Watchers Smart Points based on the individual ingredients used to make this recipe and not from the following nutritional information. PointedKitchen.com is not responsible for any loss or damage relating to your reliance on this nutritional information.