These tasty Berry Breakfast Tacos with banana & chocolate are 5 SmartPoints per serving on Weight Watchers Green, Purple, Blue & Freestyle plans.
To find out how many Personal Points this recipe will be for you & to track it in the WW App, click on the blue button in recipe card below!
A warm mini tortilla, spread with delicious chocolate spread and topped with mixed berries and sliced banana! Yum! It's my new favourite Weight Watchers breakfast recipe!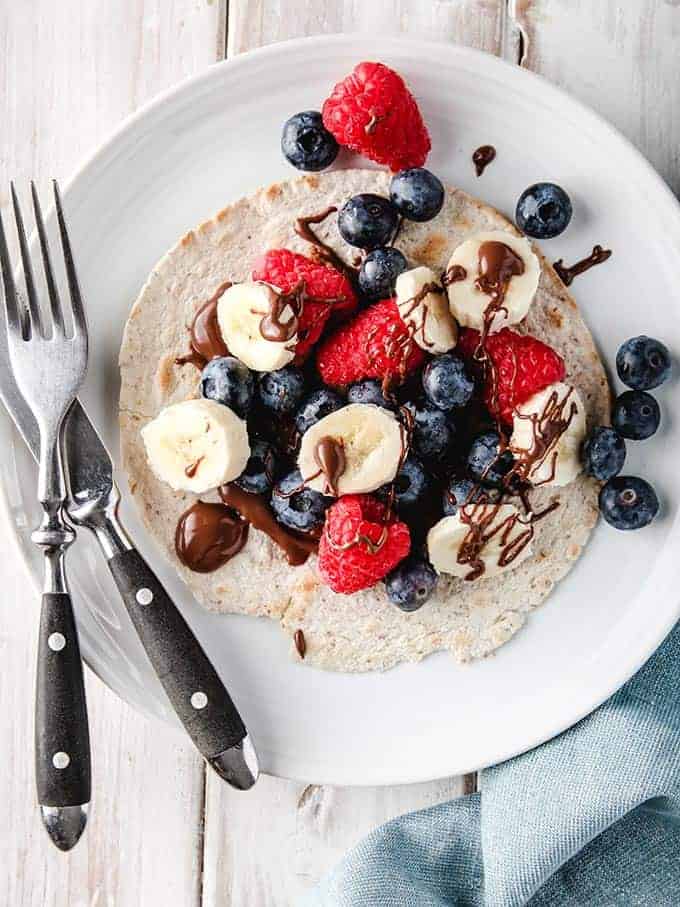 I spotted a recipe for a breakfast tacos recently in a magazine and they looked amazing.
I worked out the SmartPoint value, as I do for most recipes, but found that each taco was 9 SmartPoints - a little more that I can justify for breakfast.
So I decided to make a version of it that is a little more Weight Watcher friendly.
And I am so glad that I did.
It's tasty, filling and has become my new favourite weekend breakfast recipe.
With the brands/ingredients that I used, each Berry Breakfast Taco worked out at 5 SmartPoints.
However, you can reduce these SmartPoints even further by using a different brand of tortilla and swapping the chocolate spread for some sugar free chocolate sauce.
Read on to see how!
Which tortilla should I use?
There are many, many different brands of tortilla on the market now and they come in lots of shapes and sizes.
They vary in their SmartPoint values enormously so I would suggest scanning them with your WW app for the SmartPoint values before using.
I used mini tortillas for this recipe and they worked out as 3 SmartPoints per tortilla.
I know that there are a lot of bigger, low carb tortillas on the market that work out fewer SmartPoints.
This post may contain affiliate links. As an Amazon Associate I earn from qualifying purchases. Visit this page to see what that means.
Mama Lupe Low Carb tortillas, available from Amazon, work out at 1 SmartPoint per tortilla. If you use this brand, each Berry Breakfast Taco would work out at 3 SmartPoints!
Ole Xtreme Wellness Low Carb Wraps also work out at 1 SmartPoint per wrap and are available from Amazon in packs of 6.
If you are in the UK, you can purchase mini tortilla wraps from Co-op, Tesco and Morrisons all for 3 SmartPoints per wrap.
What Chocolate Spread should I use?
I used Jim Jams Hazelnut Chocolate Spread in this recipe.
I use it because it is my absolute favourite lower sugar chocolate spread (and no, I'm not being paid by them to say that!)
For this recipe, I measure out 14g of it - no more, no less! That works out more than a teaspoon but less than a dessert spoon of delicious chocolate spread 😀 for 2 SmartPoints.
Alternatively, you could use ½ tablespoon of Belgian Choco Hazel with Stevia for the same amount of SmartPoints.
Or you could try Grenade Carb Killa Protein Chocolate Spread for 2 SmartPoints for 14g (a scant tablespoon).
Some of the sugar free chocolate sauces may work for this recipe (& would reduce the points further) but I'm sticking with chocolate spread because I love it!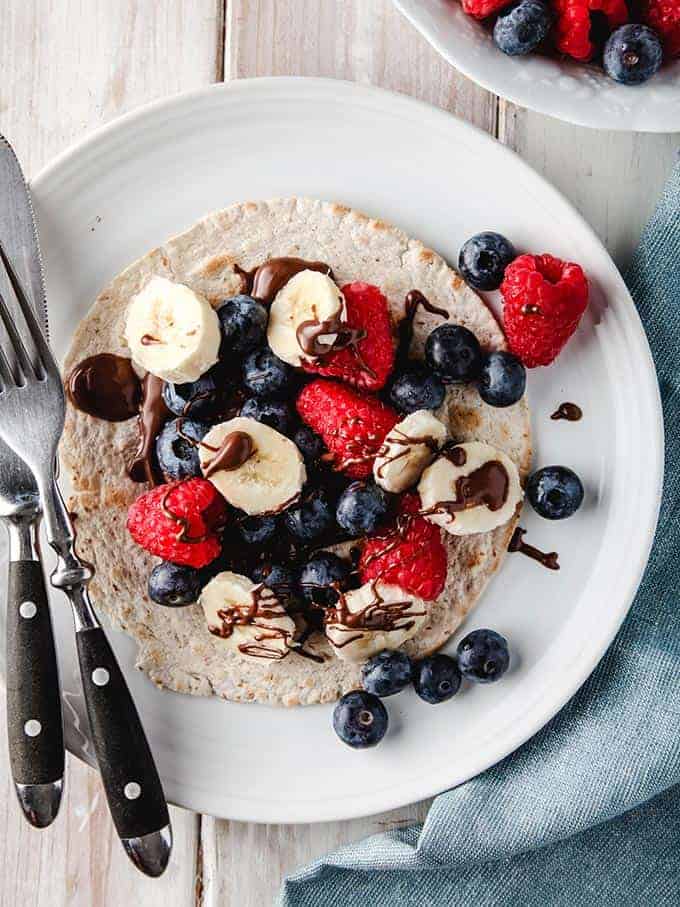 Other Weight Watchers Breakfast Recipes.
Shakshuka (Zero SmartPoints per serving)
Plum Clafoutis (5 SmartPoints per serving)
Sausage, Bacon & Mushroom Frittata (1 SmartPoint per serving)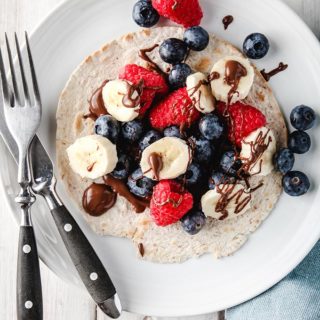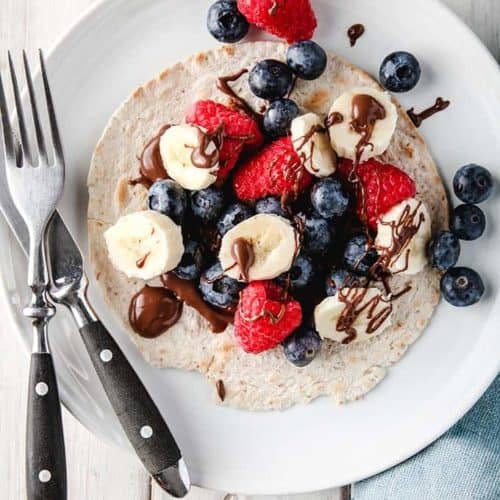 Berry Breakfast Taco | Weight Watchers
This Berry Breakfast Taco is a wonderful filling and tasty WW breakfast.
Ingredients
2

tortilla wraps

see info on best low point wraps

1

cup

blueberries

100g

1

cup

raspberries

125g

1

banana

1½

tbsp

Low sugar chocolate spread

approx 30g - depending on brand

Calorie controlled spray oil
Instructions
Mist a large frying pan or skillet with a little bit of calorie controlled spray oil and heat over a low to medium heat.

Place the first tortilla wrap in the pan and heat on each side for about 30 seconds. You want the wrap to be warmed through and to crisp up just slightly. Repeat with the remaining tortilla wrap.

Divide the chocolate spread between the two wraps. It should spread well and become a little runny from the heat of the tortilla wrap. If it doesn't you could always warm it slightly buy putting in the microwave for 5 seconds before using.

Top with sliced bananas, blueberries and raspberries.

Enjoy!
Nutrition
Nutrition Facts
Berry Breakfast Taco | Weight Watchers
Amount per Serving
% Daily Value*
* Percent Daily Values are based on a 2000 calorie diet.