This list of over 20 of the Best Protein Bars for Weight Watchers following the Freestyle, Blue, Green or Purple plans, details the Smart Point values per protein bar.
It details the calorie and protein content of each of the bars and also some information of where to buy them!
If you are looking for a Weight Watchers treat, you can't go wrong with one of these WW friendly protein bars. They come in a variety of different flavours and sizes to fit any taste and Smart Point budget.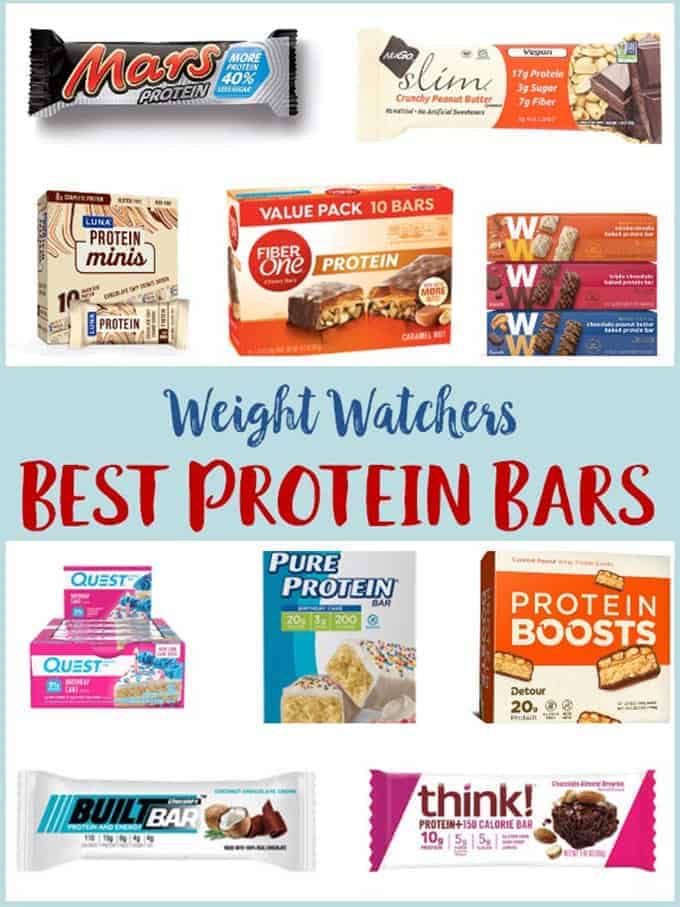 With the recent influx of new protein bars on to the market, it can be quite confusing to know what bars are Weight Watchers friendly and what bars will blow your Smart Points out the window!
Hopefully this list of 20 of the most popular protein bars on the market will help you make sensible decisions.
The bars listed here range from 2 Smart Points per bar up to 8 or 9 Smart Points per bar.
They also vary widely on the amount of protein they contain and of course on the size of the bar.
The Smart Point values have been worked out using the official Weight Watchers App and are correct at the time of posting.
As ingredients, flavours and sizes of bars may change in time, it is always best to check the Smart Point values by scanning or entering the nutritional information into your WW App before eating.
The role of Protein in Weight Watchers
First of all, protein is a great way to curb hunger pangs!
It fills you up quickly and keeps you satisfied for longer - result!
Your body uses protein to build and repair tissue and can also use it as a fuel source.
Best of all, it is suggested that your body finds it more difficult to break down protein than fats or carbohydrate and therefore you work off some calories from the protein whilst you are digesting it!
I remember hearing something similar about eating celery (possibly an urban myth 😀 )! But I know which I would rather snack on!
If you are interested in learning more about protein in your Weight Watchers journey, take a look at this useful information from Weightwatchers.com
If you like this list of Best Protein Bars, you may also like these Weight Watchers Shopping Essentials from Pointed Kitchen.
This post contains affiliate links. As an Amazon Associate I earn from qualifying purchases. Visit this page to see what that means.