Wow! This light Pineapple Angel Food Cake is GOOD! At just 5 Smart Points per slice on Weight Watchers Freestyle, Blue, Green & Purple plans. It makes a perfect low Smart Point WW dessert recipe!
To find out how many Personal Points this recipe will be for you & to track it in the WW App, click on the blue button in recipe card below!
Serve it with fresh berries and a dollop of fat free Greek yogurt for a satisfying and tasty low Smart Point dessert.
The cake is good enough to serve at any party, cook out or family gathering and best of all, no one will know that it's a Weight Watchers friendly recipe!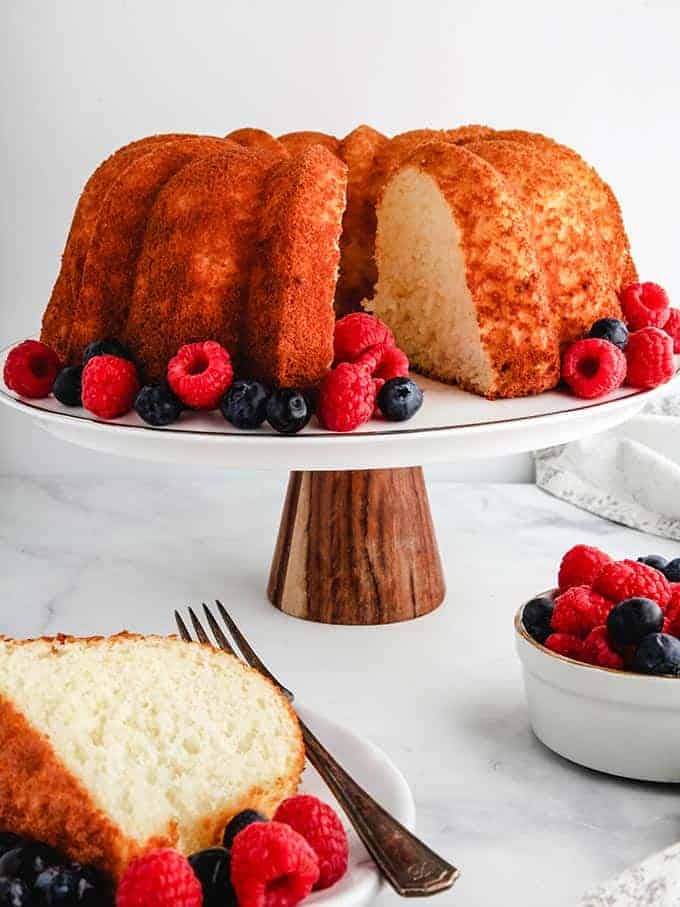 Variations of this cake have been doing the rounds of the internet & WW social media for years.  The recipe appears to have originated from the Betty Crocker website.
Please be aware that this post was written prior to Weight Watchers changing to the WW Personal Points Plan! You can discover exactly how many Personal Points this recipe will be for you by clicking on the blue 'WW Personal Points' button in the recipe card below.
Because it uses a box of Angel Food Cake mix, which is fat free, and tinned pineapple it has been adopted by people following the Weight Watchers Freestyle plan as a go to recipe.
However, when the Smart Points are discussed on the forums for this wonderful WW friendly cake, the Smart Points are often calculated incorrectly.
Well, in my opinion anyhow 🙂 I'll explain why I think so a little later on.
OK, so I love desserts and I am making it my life's work (kind of 😀 ) to try lots of them & to develop new tasty Weight Watchers dessert recipes.
So when I saw this recipe for Pineapple Angel Food Cake doing the rounds a couple of years ago, I knew I had to give it a go!
Problem is that they don't sell Angel Food Cake mix in any shops near me so I was bit stuck.
However, I recently managed to get my hands on some boxes of mix and since then, I've been practicing! Practicing a lot 😀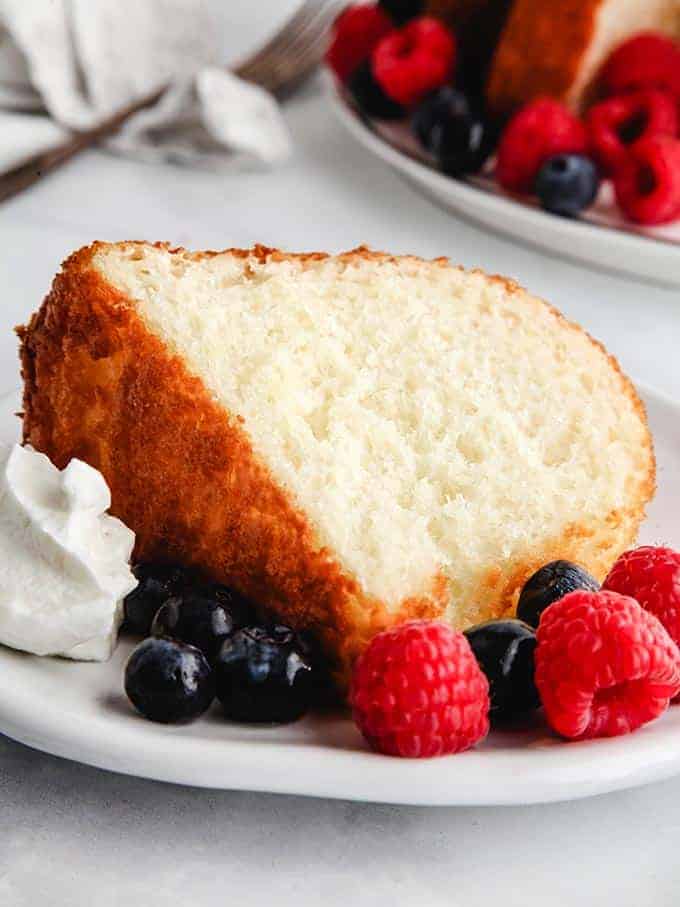 How many Smart Points in this recipe?
SO .... my issue with just combining 1 box of angel food cake mix with 1 large can of crushed pineapple, mixing and baking (as discussed in the forums) is that the juice in the crushed pineapple needs to be pointed.
And it often isn't.
According to WW, canned fruit in juice needs to be pointed. If you drain the juice from the fruit first it's zero Smart Points but eating it with juice, it will have points.
However it doesn't look like this has been taken into account when working out the overall Smart Points for a lot of the recipes.
Using pineapple in juice adds 12 Smart Points to the overall Smart Point total - according to the recipe builder!
So for my recipe, I drain the liquid from the tinned pineapple slices and swap in some water. I then blitz it in a food processor until smoothish and add it to the mix.
I've made the cake both ways (with drained fruit & water and with fruit in its own juice) and honestly I can't taste any difference between the two!
In fact, the only real difference between the two recipes is that you save a Smart Point per slice if you drain the fruit first!
And I like it if I can save a Smart Point 😀 so that is what I have done.
So what Pineapple should I use?
In the US you can buy large 20oz cans of pineapple rings or pineapple chunks. Drain these and then add a cup of water to replace the fruit juice.
Crushed pineapple is more difficult to drain so I would suggest that you don't bother trying! Just add the crushed pineapple and add an extra 1 Smart Point per slice.
In the UK it is difficult to find such large cans of pineapple rings & pineapple chunks. So use 1 ¼ large (435g) cans of pineapple rings or chunks. Drain off the juice and add 1 cup of water (250ml).
What Angel Food Cake Mix should I use?
I have made this cake using both Duncan Hines Angel Food Cake Mix and Betty Crocker Angel Food Cake Mix. They differ very slightly in Smart Point values. However, when split into 16 portions both come out at 5 Smart Points per slice.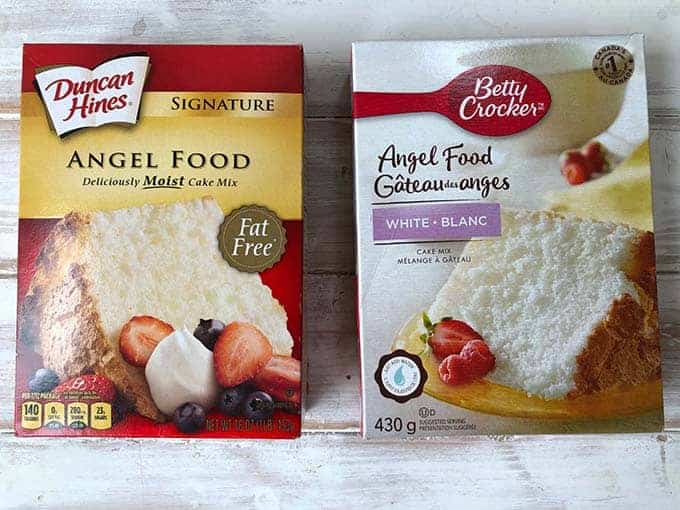 This post contains affiliate links. As an Amazon Associate I earn from qualifying purchases. Visit this page to see what that means.
I live in the UK, where can I buy Angel Food Cake mix?
If you live in the UK you can sometimes purchase Angel Food Cake Mix in bulk from Amazon.com here. Prices do vary but you can often find 12 box packs which work out as a couple of pounds per box. You can also very occasionally find them for sale on Amazon.co.uk.
What Pan should I use?
A bundt pan or angel food cake pan is best for this recipe.
As you can see from my photos, I use a fluted bundt pan to bake this cake. It is suggested on the cake mix box that you don't use a fluted pan but in my experience it has always worked well. This may be because I use a good quality, heavy fluted pan like this one, available from Amazon that doesn't have too much detail.
Whatever pan you use, it will need to be at least 3L capacity.
Can I make it in a regular pan?
Yes! If you don't have a bundt pan you can use loaf pans instead. You will need to reduce the cooking time slightly though.
For this recipe you could use two 9 inch (2L) loaf pans.
How do I prepare the cake pan?
Do not grease the pan and do not use parchment paper to line the pan.
These cake mixes are generally quite robust but the cake won't rise or may sink if the mixture is over-beaten or if the tin is greased before baking.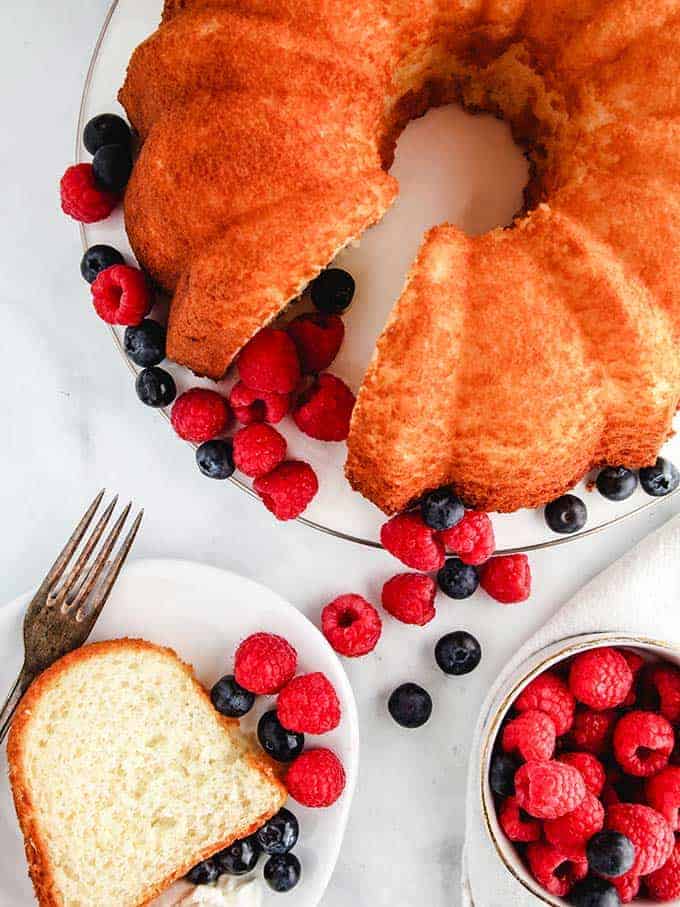 How do I know when the cake is done?
The cake will turn golden brown and will start to crack across the top when it is done. It shouldn't be sticky when you touch the top and should feel very dry to the touch. The cake then needs to be cooled thoroughly - see below!
How do I cool angel food cake?
The Pineapple Angel Food Cake needs to be cooled by hanging/balancing the bundt pan upside down on top of a heatproof bottle or jar.
This prevents the cake from collapsing as, until the cake is cooled, the mixture is still a little unstable.
If you are using loaf pans to bake this cake it is pretty difficult to cool the cakes upside down!! Therefore, once you remove them from the oven place them on their sides on a heatproof surface to prevent them sinking.
It will take 1 - 2 hours for the cake/s to cool completely.
How to store it?
You can store the cake in an air-tight container at room temperature for a couple of days. Alternatively, wrap the cooled cake in kitchen foil and store in the refrigerator for up to a week.
I find, however, that this particular cake does become moist and a little tacky after a day - but it still tastes great!
Can I freeze it?
You can freeze this cake either as whole or sliced into individual portions.
Wrap it in plastic wrap first then cover in a layer of kitchen foil. It can be kept in the freezer for a good few months.
Defrost it thoroughly by removing from the freezer and leaving it, still wrapped, at room temperature until it is soft and springy.
Serving Suggestions.
I serve this sweet cake with mixed fresh berries and a dollop of creamy fat free Greek yogurt that I mix with a little coconut flavouring. Yum!
If you have enough Smart Points left over you could also serve it with some whipped cream or a spoonful of one of these Low Smart Point Ice Creams.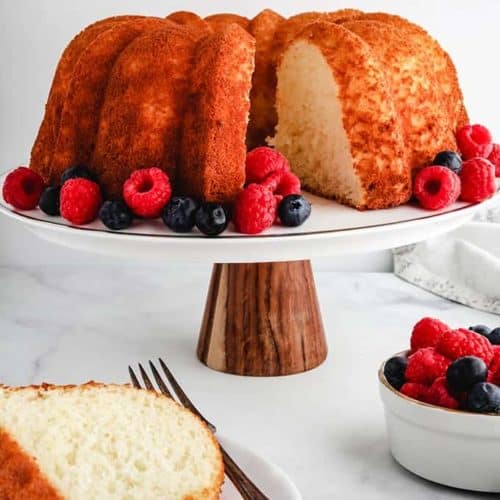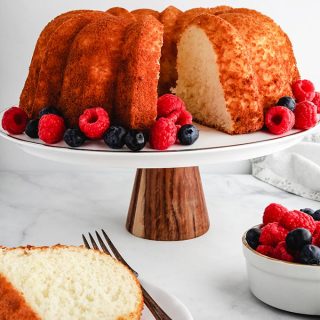 Pineapple Angel Food Cake | Weight Watchers
A light and airy 3 ingredient Pineapple Angel Food Cake. So easy to make & best of all it is low in Weight Watchers Points!
Equipment
Betty Crocker Cake Mix Angel Food White 16 Oz

Duncan Hines Angel Food Cake Mix - 16 oz
Ingredients
1

box of angel food cake mix

I used Betty Crocker White Angel Food Cake Mix

1

can

pineapple slices / chunks in juice

(20oz) drained *

1

cup

water *
Instructions
Preheat the oven to 350°F / 180°C / 160°C fan.

Move the oven shelf to the lowest position in your oven if you are cooking this cake in a Bundt tin. If you are using loaf tins you can leave the shelf in the middle of the oven.

Drain the juice from the can of pineapple (see notes on why I do this).

Place the drained pineapple slices / chunks in a food processor with 1 cup of water. Pulse until almost smooth.

Place the cake mix and blitzed pineapple in a large bowl and beat with an electric mixer for 1 - 1½ minutes. It is important not to over-beat the mixture.

Pour the frothy mixture into an un-greased bundt pan or into two 9 inch loaf pans. (Please read additional important information above for more details on the best pans to use)

If using a bundt pan, cook for 40 - 45 minutes until it turns golden brown and starts to crack on the top. The cake should be dry on top with no hint of stickiness.

If you are using loaf pans, bake for 38 - 43 minutes until the tops turn golden brown and they have started to crack on the top. The cakes should be dry on the top with no hint of stickiness.

If you are using a bundt pan carefully hang it upside down on a heat proof glass bottle or can and leave it to cool for approx 1½ hours. Once cool run a knife around the edge of the pan and carefully remove the cake.

If you are using loaf pans, once you remove them from the oven, lie them on their sides still in the pans on a heatproof surface or wire rack until cool. To remove from the pan run a knife around the edge and turn upside down.

The cake is best cut with a serrated knife.

Serve with fresh berries and fat free greek yogurt or a little whipped cream (if you have spare Smart Points!).
Notes
* If you use the juice from the tinned pineapple it changes the Smart Points of this cake to 6 Smart Points per slice. I therefore drain the pineapple juice from the tin and swap in 1 cup of water. I do not find that this changes the taste at all.
* If you use 1 large tin (20oz) of crushed pineapple with juice or use undrained pineapple slices / pieces then you can omit the 1 cup of water BUT once slice of Pineapple Angel Food Cake will be 6 Smart Points.
Nutrition
Nutrition Facts
Pineapple Angel Food Cake | Weight Watchers
Amount per Serving
% Daily Value*
* Percent Daily Values are based on a 2000 calorie diet.