This Sweet Pepper Frittata with Mozzarella is just 1 Smart Point per slice on Weight Watchers Blue, Purple & Freestyle plans & 4 SmartPoints on the Green plan.
To find out how many Personal Points this recipe will be for you & to track it in the WW App, click on the blue button in recipe card below!
Quick and easy to make it is a lunchtime regular of mine.
Sweet Pepper Frittata makes for a perfect Weight Watchers lunch recipe served warm with a fresh green side salad. However, you can also eat it cold for a satisfying low point breakfast or with roasted veg and new potatoes for a filling low point dinner!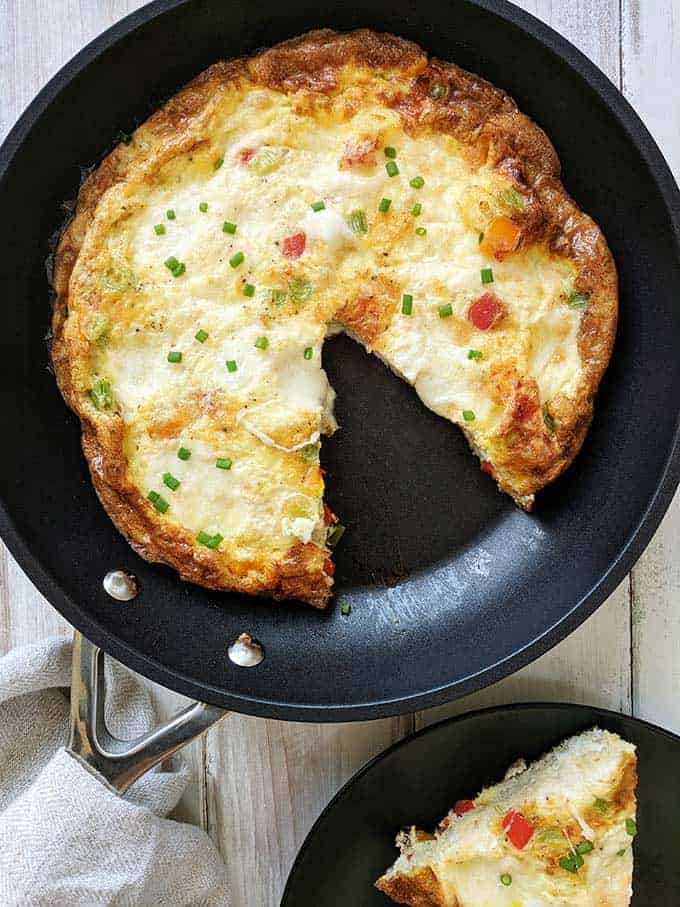 Who doesn't love a such a versatile recipe!
One that can be eaten for breakfast, lunch or dinner and can be served straight from the oven, at room temperature or even cold!
With eggs being arguably a Weight Watchers favourite zero hero food, even adding high point foods such as cheese to the basic frittata recipe keeps the overall Smart Points relatively low.
The addition of mozzarella in this recipe gave the Sweet Pepper Frittata a lovely creamy taste .....
.... and because I used light mozzarella I was able to go overboard with the cheese and create a frittata with lots of stringy, cheesy deliciousness!
Other Weight Watcher Frittata recipes
If you like this Sweet Pepper Frittata recipe you may also like these recipes:
Asparagus & Brie Frittata (4 Smart Points)
Sausage Bacon & Mushroom Frittata (1 Smart Point)
Salmon, Pea & Horseradish Frittata (0 Smart Points)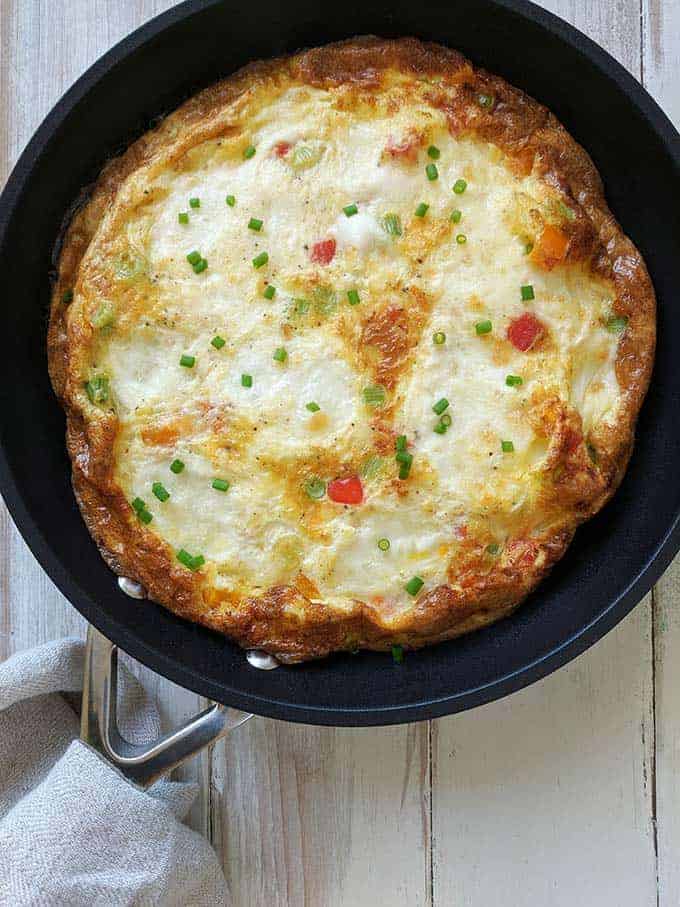 Which Pepper should I use for this Sweet Pepper Frittata?
I used one small red bell pepper and one small orange bell pepper in this recipe. I choose these as they are sweeter than green bell peppers.
You could use any colour or type of sweet pepper that you like.
Banana pepper would give a mild and tangy taste, cubanelle peppers and carmen peppers would give an even sweeter flavour and roasting pimentos would give the frittata a mild spiciness.
This post may contain affiliate links. As an Amazon Associate I earn from qualifying purchases. Visit this page to see what that means.
Which Light Mozzarella should I use?
I used this light mozzarella which worked out at 6 Smart Points for 125g.
If you can't find light mozzarella you could use 65g of regular mozzarella for the same Smart Point value.
It is always sensible to use your WW app to check out the Smart Point values of the brand you are using as there may be differences in point values between brands.
What pan should I use to make Frittata?
You will need to use a skillet / frying pan that is both ovenproof and nonstick.
As you finish the the Frittata off in the oven, you are unable to use a skillet / frying pan with a plastic handle.
I absolutely love my Le Creuset frying pans, which may be pricy but with proper care will stay non stick for a lifetime. They are available in many different sizes and can be brought from Amazon or online from Le Creuset shop.
What should I serve with Frittata?
Frittata can be cut into wedges and eaten on its own.
Alternatively, you can serve it with a side salad or with vegetables and new potatoes.
I've even heard that Frittata sandwiches are a thing!! Never tried it 😀 but I am sure it's delicious!
How long will this Sweet Pepper Frittata last?
Any left over Frittata can be stored in an airtight container in the fridge for up to 4 days.
In theory you can freeze Frittata but I would suggest that you defrost thoroughly then reheat in the oven for best results.
Freezing Frittata does tend to change the texture a little so I would suggest making fresh if you can!
Other Low Smart Point lunch recipes
If you are looking for more Weight Watchers lunch recipes check out more here.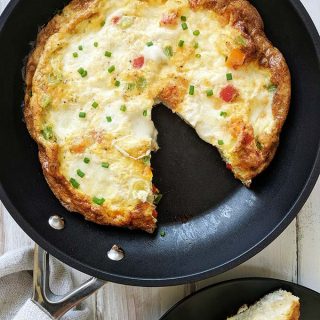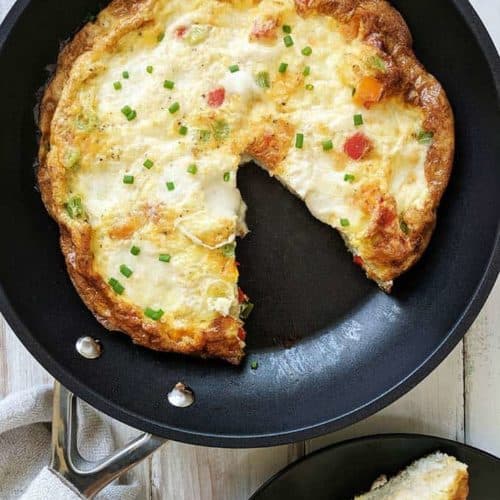 Sweet Pepper Frittata | Weight Watchers
This Weight Watchers friendly Sweet Pepper and Mozzarella Frittata is perfect served for breakfast, lunch or dinner! A versatile & tasty WW recipe!
Ingredients
1

sweet red pepper

deseeded & finely chopped

1

sweet orange pepper

deseeded & finely chopped

3 - 4

scallion / green onion / spring onion

finely chopped

Calorie controlled spray oil

8

medium eggs

3

tbsp

skimmed milk

Salt & pepper

1

cup

light mozzarella

(115g)

Chopped chives

optional
Instructions
Preheat the oven to 400°F / 200°C / 180°C fan

Crack the eggs into a jug or bowl with the milk and a little salt and pepper. Whisk until light and fluffy and set aside.

Heat some calorie controlled spray oil over a medium heat in an ovensafe nonstick skillet, frying pan (10 - 12 inches). When hot, saute the chopped sweet peppers and scallion for 3 - 4 minutes.

Add the whisked egg to the pan and swirl around gently so that the egg mixture covers the chopped veg. Cook for a couple of minutes until the egg starts to set around the outside of the pan but is still liquid in the middle.

Tear up the mozzarella and dot it evenly over the top of the still wet frittata. Place the pan into the preheated oven for 10 - 12 minutes or until the eggs have set and the mozzarella starts to bubble.

Remove from the oven, sprinkle over some chopped chives if using and leave to cool for 5 minutes.

Slice into wedges and serve.
Nutrition
Nutrition Facts
Sweet Pepper Frittata | Weight Watchers
Amount per Serving
% Daily Value*
* Percent Daily Values are based on a 2000 calorie diet.