Shakshuka or Shakshouka is a tasty dish of eggs poached in a spicy tomato sauce.
It's easy to make but most importantly it is Zero SmartPoints on Weight Watchers Blue, Purple & Freestyle plans & 2 SmartPoints on the Green plan. 
Please be aware that this post was written prior to Weight Watchers changing to the WW Personal Points Plan! You can discover exactly how many Personal Points this recipe will be for you by clicking on the blue 'WW Personal Points' button in the recipe card below.
It makes a great zero point Weight Watchers lunch and can be served with one of these Low Point Breads for a tasty, low point meal. Originating from North Africa, it is, however, often eaten as a breakfast dish.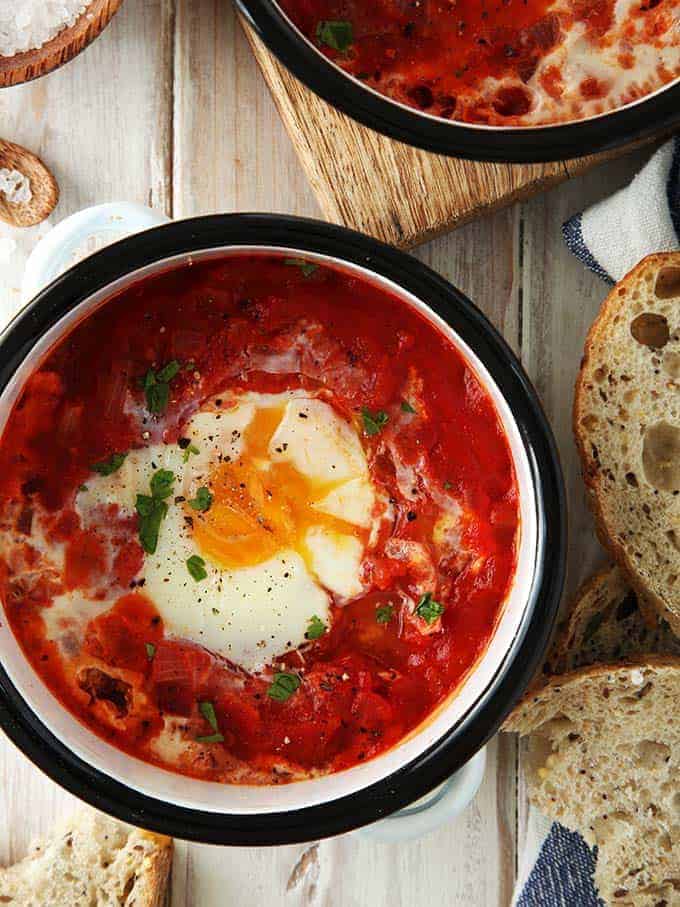 So if you are looking for a satisfying Weight Watchers breakfast, brunch or lunch then you really can't go wrong with this recipe.
For this Shakshuka, I stuck with a more traditional recipe.
Other variations include meat and or cheese but I wanted to keep this recipe zero points!
However, I was so impressed with how it turned out and how easy it was to make that I'll be experimenting with more spices and additional ingredients soon.
So stay tuned!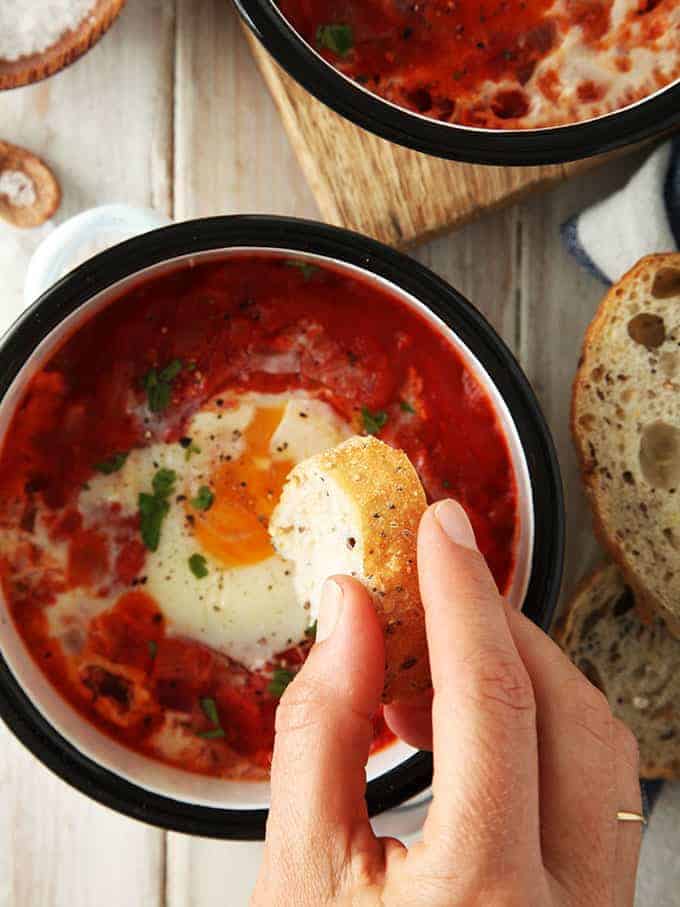 Where does Shakshuka originate?
Shakshuka (also spelled Shakshouka) is a popular recipe in the Middle East and North Africa. Different versions of this tasty dish can be found in Tunisian, Egyptian, Turkish and Moroccan cuisine. However, most of them are a variation of eggs cooked in a tomato and spice sauce.
So what is it exactly?
Although there are many versions of Shakshuka, a typical recipe is vegetarian and combines tomatoes, onions and spices with eggs poached or baked in the middle.
Most, but not all recipes include garlic and spices but the dish isn't so much spicy as it is full of flavour.
Some variations include additional vegetables such as pepper, eggplant etc and some include feta cheese or other kinds of sheep cheese.
There are some non vegetarian versions of this recipe that typically contain ground lamb.
Most shakshuka recipes are cooked on the stove using a cast iron skillet but it is also possible to cook in individual dishes (like I did) and bake the eggs in the oven (see below).
What to serve with Shakshuka
This dish is wonderful eaten on its own.
However, if you have SmartPoints to spare you could always eat it with a slice or two of one of these Low Point Breads.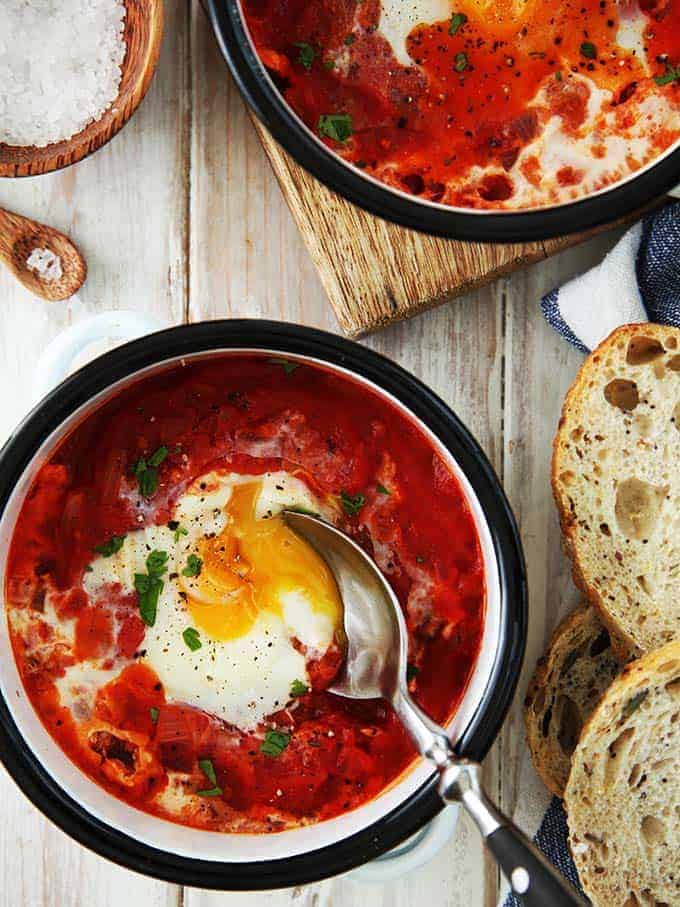 To bake or not to bake?
Shakshuka is traditionally cooked in a cast iron skillet on a stove.
Once the tomato base is ready, little wells are made in the sauce and the eggs are cracked into the wells. A lid is added to the pan and the eggs are poached that way.
I have made Shakshuka that way but I have also baked it in an oven using an oven safe skillet. I had more success cooking the eggs in the oven.
If you are making individual shakshuka (like the photos above) then you can cook the sauce in a pan on a stove. Once reduced you can spoon it into individual bowls before adding the egg and baking them in the oven.
Can you freeze Shakshuka
I wouldn't suggest freezing the dish as a whole.
What I have done successfully, is to freeze the tomato sauce and then use it to make individual servings of Shakshuka when I feel like it.
Can you eat Shakshuka the next day?
I believe this dish is best eaten straight from the oven.
So I wouldn't recommend keeping the Shakshuka till the next day
Sorry about that 😀
More Weight Watchers Recipe Ideas.
If you are after other Weight Watcher breakfast recipes you may be interested in these.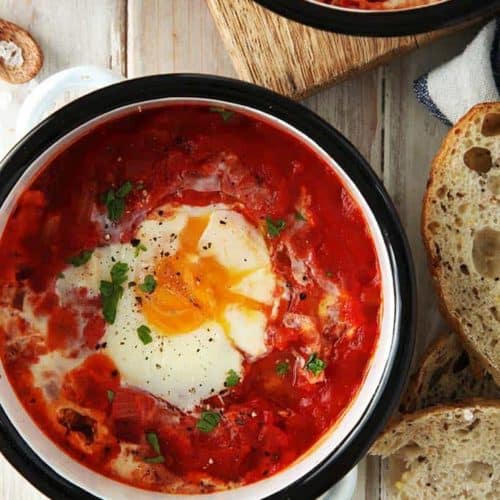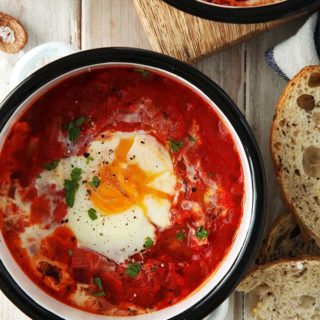 Shakshuka | Weight Watchers
This Shakshuka is full of flavour and works just as well as a breakfast dish as it does as for lunch or dinner. It is low in Points on all of the Weight Watchers plans.
Ingredients
1

large red onion

finely chopped

1

red chili pepper

deseeded and finely chopped

1

garlic clove

finely chopped

Spray oil

calorie controlled

2

cans

tomatoes

approx 900g in total

½

tsp

sweetener

1

tsp

paprika

Salt and pepper to taste

4

eggs

Handful of cilantro / coriander

chopped
Instructions
Preheat the oven to 375°F / 190°C / 170°C fan

Spray a non stick oven-safe skillet / frying pan with calorie controlled oil (or mist with olive oil) and heat over a medium heat.

Add the onions and saute for 5 minutes until they have started to soften. Add the chopped chili and garlic and continue to saute for 1 minute.

Add the tomatoes, sweetener, paprika and stir. Bring to a simmer and let it bubble gently for approx 10 minutes until the sauce has started to thicken. Turn off the heat and taste (be careful it's hot!) Add salt and pepper as required. (If you want to make individual Shakshuka go to instruction 7)

Make 4 'wells' in the tomato sauce and break one egg into each well.

Transfer the skillet / frying pan to the oven and bake for 8 - 10 minutes or until the eggs are baked to your liking.

To make individual Shakshuka, spoon a quarter of the tomato sauce into 4 individual oven safe pans. Make a well in the middle of each pan and crack an egg into the well. Bake for approx 8 minutes or until the eggs have set to your liking.

Remove from the oven and sprinkle with chopped cilantro / coriander.

Serve warm with bread for dipping and scooping!
Nutrition
Nutrition Facts
Shakshuka | Weight Watchers
Amount per Serving
% Daily Value*
* Percent Daily Values are based on a 2000 calorie diet.