This easy Balsamic Chicken is just 1 Smart Point per serving on Weight Watchers Blue, Purple & Freestyle plans & 3 SmartPoints on the Green plan.
To find out how many Personal Points this recipe will be for you & to track it in the WW App, click on the blue button in recipe card below!
It's the most tasty, easy to make and low point WW chicken recipe!
And most people following the WW plan know how great it is to find a new tasty, easy to make, low point chicken recipe!
This Balsamic Chicken is my recent 'find' and I'm ecstatic 😀 No more boring, tasteless, grilled chicken for me!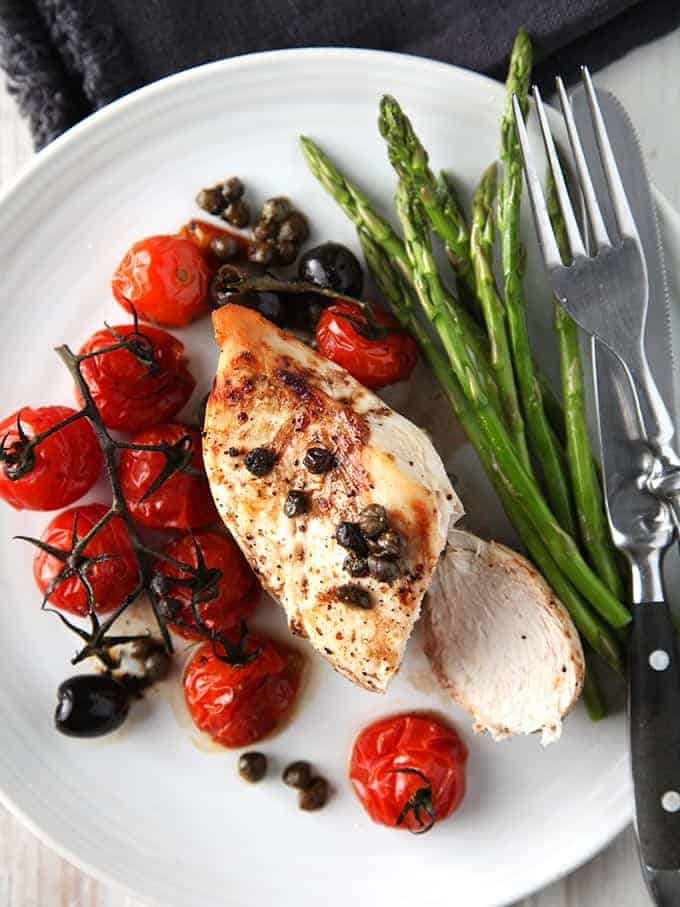 I found this recipe in a magazine that I was flicking through looking for meal inspiration.
I played around with the ingredients to make it more Weight Watchers friendly and I'm really pleased with the result.
The original recipe worked out at 6 Smart Points per portion - I reduced that to 1 Smart Point with a few tweaks!
I placed some ripe, cherry tomatoes (still on the vine) on the bottom of a baking tin and topped with the skinless, boneless chicken breasts.
It was then just a matter of drizzling them with balsamic vinegar and a little olive oil and scattering over some drained capers (for a deep rich salty flavour) and a liberal sprinkling of ground black pepper before putting in the oven.
Five minutes before the chicken was ready to be removed from the oven, I added some black olives! And thats about it!
How easy was that!
What Balsamic Vinegar should I use?
You can use any balsamic vinegar you like.
I like a thicker, darker aged balsamic vinegar but that is just my preference - go with what you like!
Just make sure that you don't use a balsamic glaze as this will add extra Smart Points to this dish.
Is Balsamic Vinegar Free on WW?
Most vinegars are zero Smart Points on the Weight Watchers Freestyle Plan. However, Balsamic vinegar does need to be pointed.
I used 2 tablespoons of Balsamic vinegar in this recipe which worked out at 2 Smart Points for the whole recipe.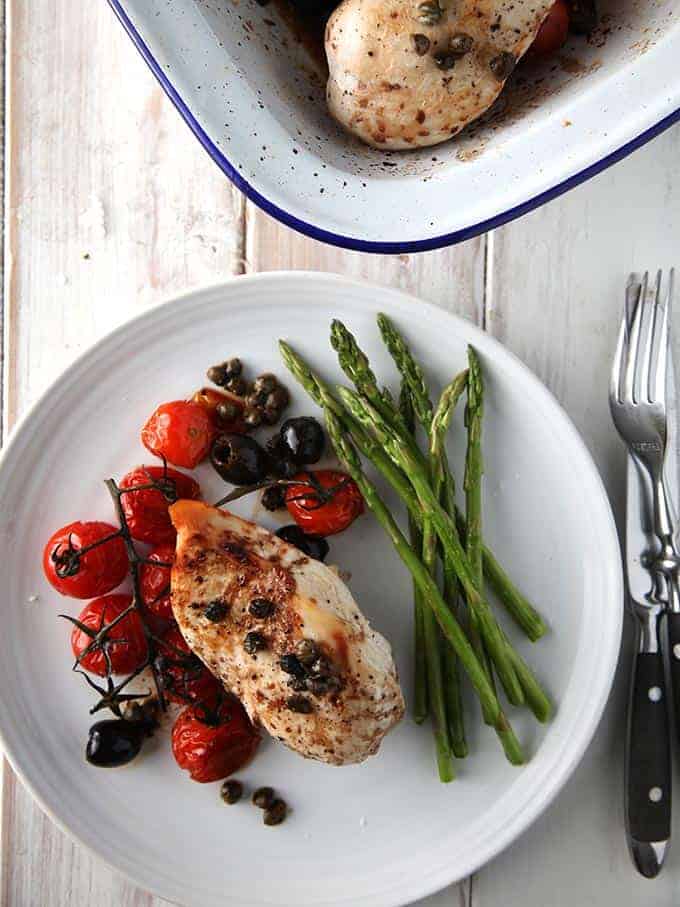 Do I need to use tomatoes on the vine?
Absolutely not! Use whatever small tomatoes you have available to you.
I used tomatoes on the vine (cluster tomatoes) as they were available to me and tasted divine!
I don't like capers, do I need to use them?
If you don't like capers you can just leave them out of this recipe!
However, I would strongly recommend that you add a little salt as one of the benefits of adding capers to this dish was the rich salty flavour that they bring.
What do I serve with this Balsamic Chicken?
I serve it with pan fried asparagus for a really low Smart Point dinner.
This dish is also delicious served on top of a green salad.
Serve it with a small side dish of new potatoes for an extra 2 Smart Points.
Or serve it alongside a small portion of white rice for an extra 3 Smart Points.
Other Weight Watchers Chicken Recipes
If you are looking for other Weight Watchers chicken recipes you may like to take a look at these!
This 6 Smart Point Chicken Parmesan
This 2 Smart Point Sweet & Sour Chicken
Or how about this 4 Smart Point Chicken, Leek & Mushroom Pie!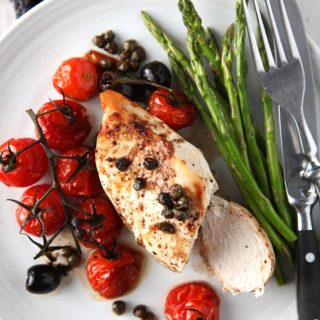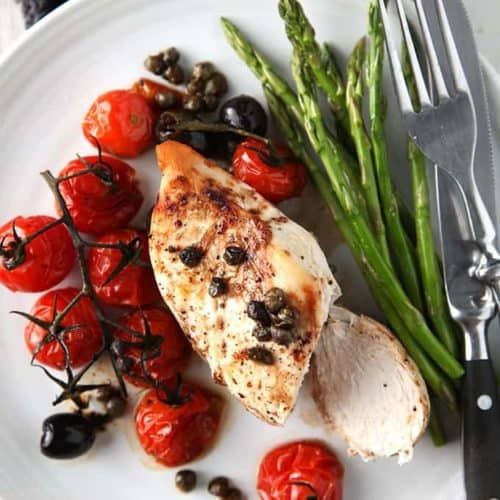 Balsamic Chicken | Weight Watchers
This tasty Balsamic Chicken is just 1 Smart Point per serving on Weight Watchers Freestyle plan. A perfect Weight Watchers dinner recipe packed full of flavour.
Ingredients
4

skinless boneless chicken breasts

2

cups

cherry tomatoes

(300g)

2

tbsp

capers

drained

½

tbsp

olive oil

2

tbsp

balsamic vinegar

Black pepper

12

black olives - pitted
Instructions
Preheat the oven to 190°C / 170°C Fan / 375°F

Place the tomatoes into a roasting tin and place the chicken breasts on top. Drizzle over the olive oil and the balsamic vinegar. Top with the capers and a good sprinkling of ground black pepper.

Place in the oven and bake for 20 minutes.

Remove from the oven and scatter over the olives. Return to the oven for a further 5 minutes until the chicken is cooked and there is no hint of pinkness.

Serve with vegetables of your choice.
Nutrition
Nutrition Facts
Balsamic Chicken | Weight Watchers
Amount per Serving
% Daily Value*
* Percent Daily Values are based on a 2000 calorie diet.