These Berry Pancakes are sweet, filling and tasty.
They are filled with sweet strawberry jam and topped with fresh berries and banana.
All this for just 1 Smart Point per pancake (or 3 Smart Points for two) if you follow the Weight Watchers Blue or Purple plans.
They work out at 2 SmartPoints per pancake if you are following the Weight Watchers Green plan.
Berry Pancakes are my new favourite brunch! I find them filling, they are easy to make and they are really, really tasty.
Each pancake is filled with a thin layer of sugar free strawberry jam and is then topped with handfuls of fresh berries and sliced banana.
Each pancake is 1 Smart Point (Blue & Purple) but I tend to eat two for 3 Smart Points (and have even been known to eat three for 4 Smart Points!).
I've been messing around with pancake recipes recently, both USA buttermilk style pancakes and the thinner European style pancake like these.
There are so many USA style pancake recipes around on the Weight Watchers forums using weird and wonderful ingredients and I'm determined to perfect something that doesn't taste like it is made with weird and wonderful ingredients!
Having made some inedible pumpkin and oat (USA style) pancakes the other day, I gave up and decided to make my 'go to' European pancake recipe instead.
I just adapted it to make it more Weight Watchers friendly.
They were lovely 😀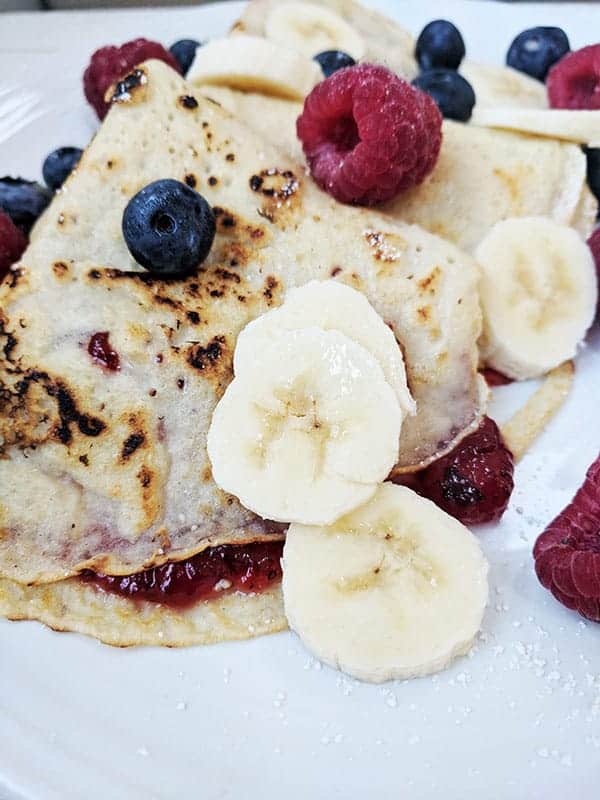 I filled them with some sugar free (diabetic) strawberry jam and topped them with lots of fresh berries and sliced banana.
A really tasty and filling breakfast, brunch or dessert.
Tips for making this recipe
Once you make the batter, set it aside for 20 - 30 minutes before using.
Use a good quality non stick pan.
Before cooking the pancakes, wipe the frying pan with a bit of oil - do not use too much as this can make stodgy pancakes. I have used spray oil, but prefer to use this method.
The pan does not generally need oiling between each pancake, but this depends on your pan. If you do need to oil the pan, do it very sparingly.
Pancakes can be frozen by separating each pancake with a piece of baking parchment before wrapping in cling film (Saran wrap). Freeze for up to 2 months.
What I used to make these pancakes
This post contains affiliate links. As an Amazon Associate I earn from qualifying purchases. Visit this page to see what that means.
I used Stute Diabetic Strawberry Jam in this recipe, available from Amazon.
I used a good quality frying pan, like this one available from Amazon.
Making changes
You can swap the unsweetened almond milk for skimmed milk but this will increase the Smart Points to 2 Smart Points per pancake.
Use frozen mixed berries rather than fresh.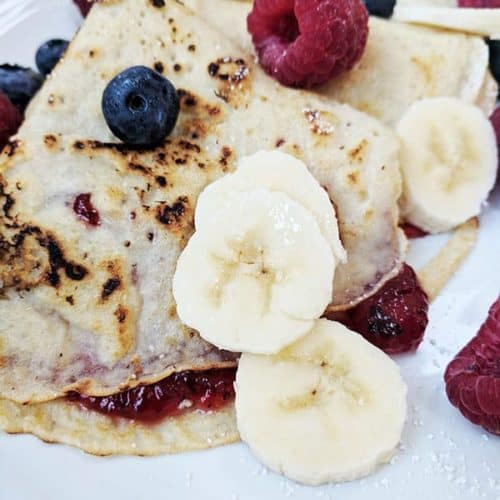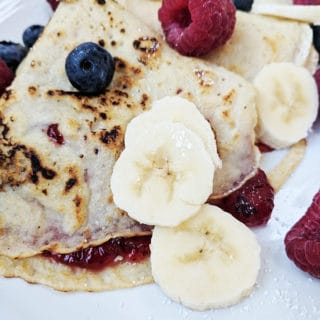 Berry Pancakes | Weight Watchers
These Berry Pancakes are filled with strawberry jam (jelly) and topped with mixed berries and banana. They are just 1 Smart Point per pancake.
Ingredients
1

egg

large

⅔

cup

unsweetened almond milk

(150ml)

3½

tbsp

flour

plain / all purpose

1

tsp

oil

divided
Filling
1

banana

mixed berries

2

tbsp

sugar free jam

sugar free / diabetic jelly

.5

icing sugar

optional
Instructions
Place the egg, almond milk, flour and half a teaspoon of the oil in a jug and whisk thoroughly until it is smooth and lump free. For best results, set it aside for 20 - 30 minutes.

When you are ready to cook the pancakes, place a medium sized non stick frying pan over a medium heat. Using a bit of kitchen roll, carefully rub some oil over the pan (it is important that you do not use too much oil as this can spoil your pancakes). When the pan is hot, you can start making the pancakes.

Put a ⅙ of the mixture in the pan and swirl the pan around so that the mixture covers the bottom of the pan. Cook for approx 1 minute before flipping to cook the other side. Once both sides are cooked the pancake can be placed in a warmed oven to keep warm. Repeat with the remaining mixture. You generally don't need to oil the pan between each pancake but this is very dependant on the pan you are using.

Spoon the sugar free (diabetic ) jam/jelly into a small dish and add a touch of hot water to thin it out. Spread a thin layer of the jam/jelly onto each pancake and fold into four. Serve topped with handfuls of mixed berries and sliced banana.

Cover with a very thin dusting of icing sugar (optional)
Notes
Please be aware that the nutritional information below has been automatically generated and does not account for variations in product brands and types, weights of individual ingredients etc.  It should therefore be considered as an estimate.
PointedKitchen.com has calculated Weight Watchers Smart Points based on the individual ingredients used to make this recipe and not from the following nutritional information.
PointedKitchen.com is not responsible for any loss or damage relating to your reliance on this nutritional information.
Nutrition
Nutrition Facts
Berry Pancakes | Weight Watchers
Amount per Serving
% Daily Value*
* Percent Daily Values are based on a 2000 calorie diet.