If you LOVE bagels but haven't tried 2 ingredient dough bagels yet, you really should! They are simple to make and you can sprinkle them with any topping of your choice!
These bagels work out at 3 SmartPoints per bagel on Weight Watchers Blue and Purple plans and 4 SmartPoints on the Green plan.
To find out how many Personal Points this recipe will be for you & to track it in the WW App, click on the blue button in recipe card below!
They are lower in points than any other bagels I have found in the shops!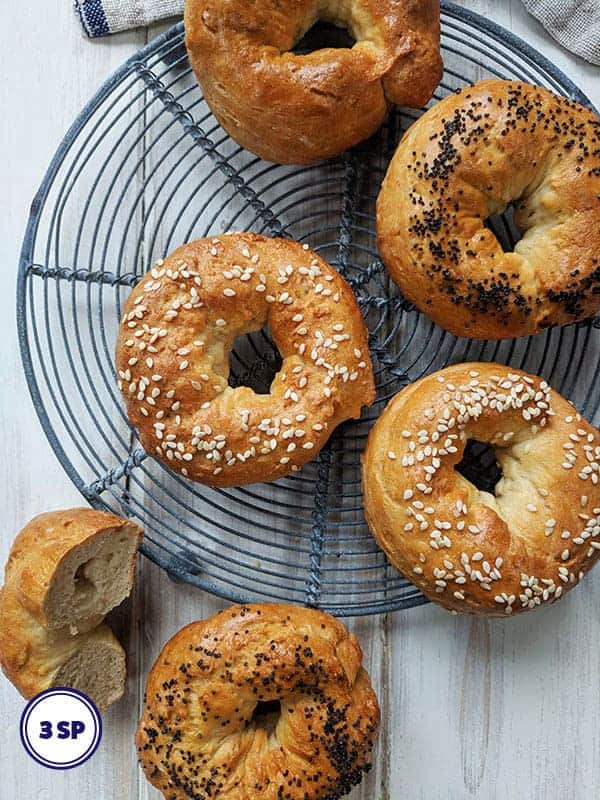 Various recipes for 2 Ingredient Dough Bagels have been circulating the internet for some time now.
Presumably, the original recipe called for self raising flour and greek yogurt as the only ingredients, therefore making it a 2 ingredient dough!
As I don't use self raising flour in this recipe and use plain flour, salt and baking powder along with yogurt, I suppose, strictly speaking I should have called this recipe 4 ingredient dough bagels!
I have tried using self raising flour and I have also tried using plain (all purpose) flour with a bit of salt and baking powder.
Time and again I have found that I get better results (rise wise!) with the latter.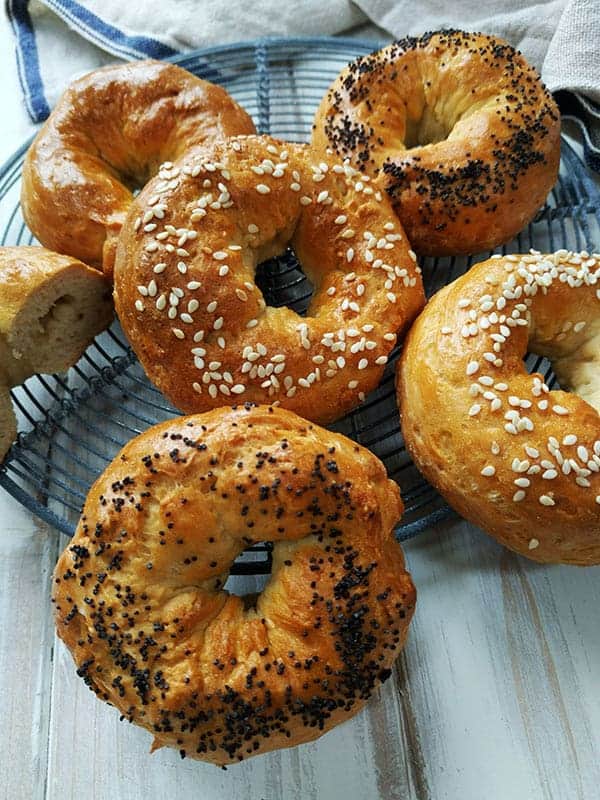 When you master the recipe for 2 ingredient dough there are lots of other Weight Watcher friendly recipes that you can make such as:
Garlic Naan Breads (4 SmartPoints per Naan Bread)
Dough Balls (1 SmartPoint per Dough Ball)
The big secret to making this dough and not ending with a horrible sticky mess is to strain any excess fluid from the yogurt before you use it.
When you buy strained Greek yogurt, it tends to be sitting in a little bit of liquid. Don't mix this into the yogurt before using. Just drain the liquid, spoon out the strained yogurt and use that.
I strongly recommend that you use Fage Total 0% Greek Strained Yogurt if you can get it.
If you can't find Fage, then use an alternative strained Greek yogurt.
In my experience using un-strained (runny) yogurt just leaves a sticky mess unless you add more flour and then the dough can become to heavy and dense.
I used a kitchen scale to measure my ingredients.
If you don't have kitchen scales then the cup measurements are roughly 1 cup of flour to ¾ cup of yogurt.
Put a little bit less yogurt than ¾ cup in first and add more little by little until you get a good consistency. Sticky, but not overly sticky!
Once you try these bagels, I recon that you won't go back to store brought bagels any time soon.
Enjoy!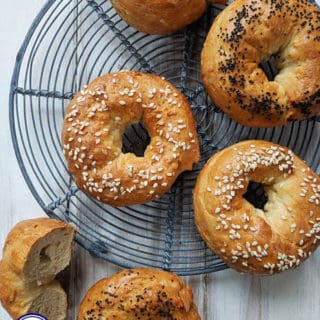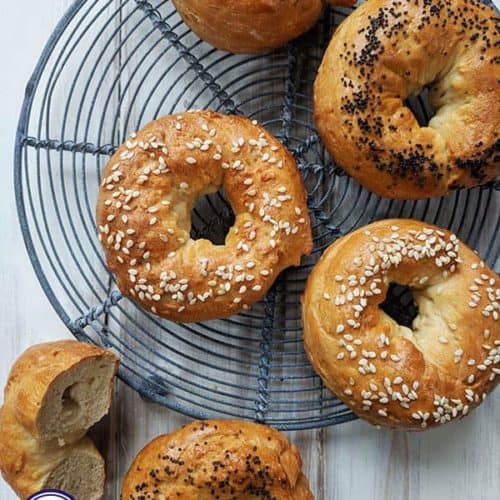 2 Ingredient Dough Bagels
This easy 2 Ingredient Dough Bagels are quick to make and are just 3 SmartPoints per bagel on Weight Watchers Flex / Freestyle plan.
Ingredients
1

cup

(120g) all purpose flour

All purpose flour

⅓

tsp

table salt

¾ tsp if using kosher salt / ground sea salt

2

tsp

baking powder

¾

cup

(90g) fat free greek yogurt

I used FAGE

1

egg

whisked

1

tsp

poppy seeds

optional

1

tsp

sesame seeds

option
Instructions
Preheat the oven to 180oC / 350oF / Gas Mark 4. Line a baking sheet with a silicone sheet or parchment/baking paper.

Place the flour, salt and baking powder in a bowl and mix to combine. IMPORTANT! Before adding the yogurt drain off any excess liquid (not doing this will make the dough very sticky). Mix the flour and the drained yogurt together until combined and the mixture has come together as a dough. Tip the dough onto a lightly floured work surface, cover your hands with flour and knead the dough for a couple of minutes. If the dough is too sticky you can add a little more flour.

Divide the dough into 4 pieces. Using your hands, roll a dough ball into a rope approximately 9 inches long. Pinch the ends together to make your bagel shape and place on the baking sheet. Repeat with the other 3 balls of dough.

Whisk the egg in a small bowl and brush the egg over the top of your bagels. At this point you can top your bagels with a sprinkling of poppy seeds, sesame seeds or a bagel topping of your choice.

Bake in the centre of the preheated oven for 23 - 25 minutes. If your bagels have not browned in 23 minutes you can up the temperature of your oven for the last few minutes (although I have never needed to do this!)
Notes
Please be aware that the nutritional information below has been automatically generated and does not account for variations in product brands and types, weights of individual ingredients etc.  It should therefore be considered as an estimate.
PointedKitchen.com has calculated Weight Watchers Smart Points based on the individual ingredients used to make this recipe and not from the following nutritional information.
PointedKitchen.com is not responsible for any loss or damage relating to your reliance on this nutritional information.
Nutrition
Nutrition Facts
2 Ingredient Dough Bagels
Amount per Serving
% Daily Value*
* Percent Daily Values are based on a 2000 calorie diet.