This tasty and filling Prawn Risotto is just 6 SmartPoints per serving on Weight Watchers Blue, Purple and Freestyle plan.
It is 7 SmartPoints per serving if you follow the WW Green plan.
It is packed full of prawns/ shrimp, mushrooms and crunchy sugar snap peas (snap peas) & courgette (zucchini).
A perfect Weight Watchers dinner recipe!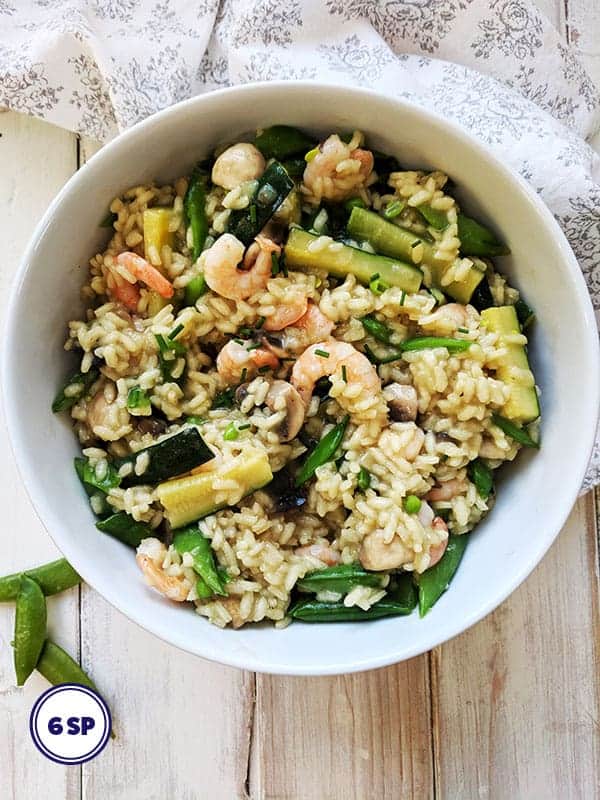 This is a big bowl of food for your 6 SmartPoints!
I find it a filling, tasty and satisfying dish for not many points! My kind of meal 😀
Each portion uses 55g of Risotto rice but as it is bulked out with tasty prawns, mushrooms, sugar snap peas and courgette it seems like much more.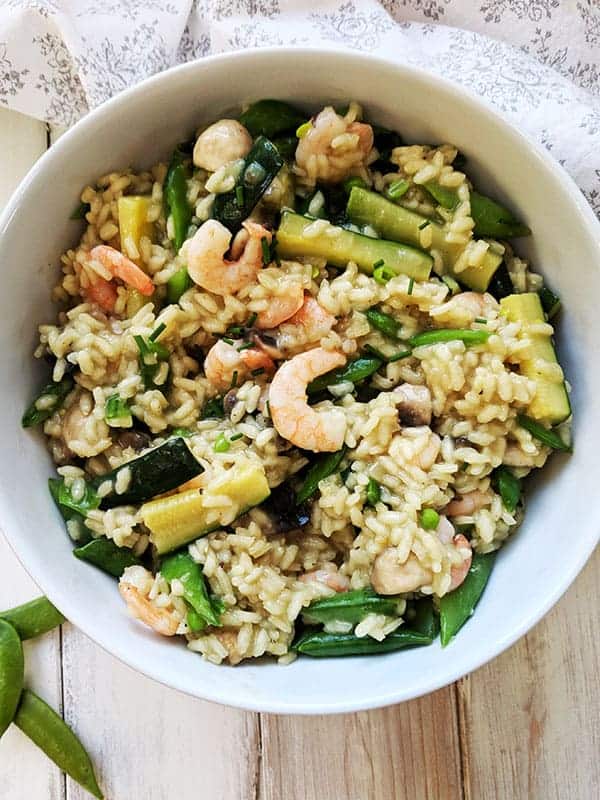 Risotto isn't hard to make but it is a little time consuming! It isn't a dish that you can throw together and leave on the hob to do its stuff!
You need to stir, stir, stir. The Arborio rice needs to slowly soak up all of the liquid. This gives the risotto its creamy texture.
The whole cooking the sugar snap peas and courgette in boiling water then plunging in cold water may also seem like a 'bit of a faff' but it is worth it. It means that the vegetables remain a bit crunchy and don't turn to mush.
Of course, you can swap around the vegetables that you use in this Prawn Risotto! If you don't have sugar snap peas you could always use garden peas! If you don't have courgette you can use baby corn. Just experiment and see!
You will notice that I use 1 tsp of olive oil in this recipe. You can swap this with sprays of frylight and save 2 SmartPoints for the whole recipe (½ a Smartpoint per portion).
Liked this Weight Watchers Risotto recipe? You may also like this...
Like Prawns / Shrimps? You may like these recipes...
Prawn Marie Rose Open Sandwich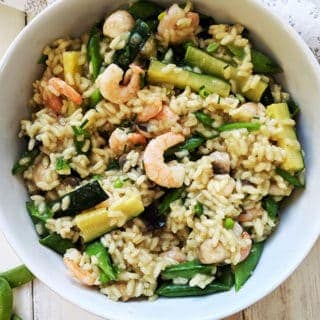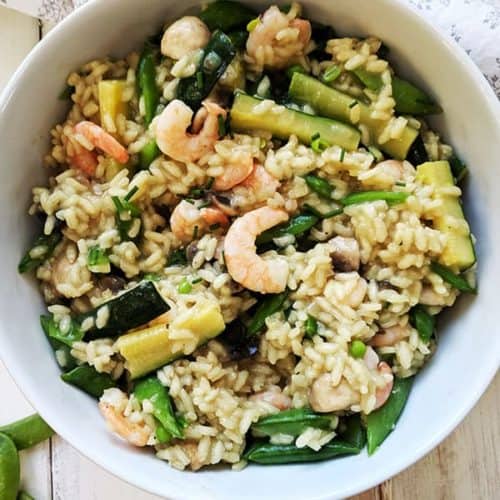 Prawn Risotto | Weight Watchers
This tasty Prawn Risotto is just 6 Smart Points per portion on Weight Watchers Freestyle / Flex plan
Ingredients
2

cups

(200g) sugar snap peas

sliced diagonally

1 ¾

cups

(200g) zucchini / courgette

cut into small sticks

1

tsp

olive oil

1

onion

finely chopped

1

cup

(220g) risotto rice

arborio rice

1

garlic clove

finely chopped or crushed

1 ½

cup

(200g) mushrooms

quartered

1

lemon

rind and juice

3

cups

(750ml) fish stock

made with 1 stock cube

2 ⅓

cups

(300g) cooked & peeled shrimp

chives

optional

salt and pepper

to taste
Instructions
Boil a large pan of water and plunge the sliced sugar snap peas and sticks of courgettes into the water for 1 - 2 minutes. Remove from the heat, drain straight away and place in cold water to prevent them becoming too soft. Set aside.

Heat the olive oil in a large non stick saucepan and add the chopped onion. Cook over a medium heat until the onions are soft (6 - 8 mins). You will need to stir to stop the onion sticking to the bottom of the pan. If they do start to stick add a couple of tablespoons of water. Add the garlic, rice and chopped mushrooms and stir for 1 - 2 minutes. Season with salt and pepper and add the lemon zest.

Add one quarter of the stock and stir. Let the mix simmer, stirring frequently until most of the liquid has been absorbed by the rice. Add another quarter of stock, stir until it is absorbed, then repeat until all of the stock has been used.

Once you have added the last of the stock, cook the risotto, stirring frequently, for 10 minutes or until the rice is tender and most of the stock has been absorbed. Add the prawns, drained vegetables and a squeeze of lemon juice. Cook for a further 3 - 4 minutes to heat the veg and prawns.

Spoon into bowls and garnish with chopped chives.
Notes
Please be aware that the nutritional information below has been automatically generated and does not account for variations in product brands and types, weights of individual ingredients etc.  It should therefore be considered as an estimate.
PointedKitchen.com has calculated Weight Watchers Smart Points based on the individual ingredients used to make this recipe and not from the following nutritional information.
PointedKitchen.com is not responsible for any loss or damage relating to your reliance on this nutritional information.
Nutrition
Nutrition Facts
Prawn Risotto | Weight Watchers
Amount per Serving
% Daily Value*
* Percent Daily Values are based on a 2000 calorie diet.