This delicious Pasta Bolognese Bake is 9 SmartPoints per serving on Weight Watchers Freestyle plan, Blue plan, Green plan or Purple plan.
If you follow the WW Purple plan you can reduce the SmartPoints more by swapping out the white pasta for wholewheat pasta!
Whichever plan you are on, believe me that on those days that you crave a big bowl of comforting pasta, you won't go wrong with choosing this recipe!
This pasta dish warms, it comforts, it fills you up and what is more it is only 9 SmartPoints per portion.
It is such a tasty dish! Pasta stirred into a beefy ragu sauce, topped with a layer of grilled mozzarella cheese . What's not to love!
I used to eat a full fat version of this pasta bake before my Weight Watchers journey. It came out at a whopping 19 SmartPoints per portion so I knew I had to experiment to reduce the points.
By using extra lean mince beef, less oil and a reduced fat cheese, I reduced the points enough to make this family favourite Weight Watcher friendly.
If you want to reduce the SmartPoints even further, you can - just take a look at the list of alternatives below.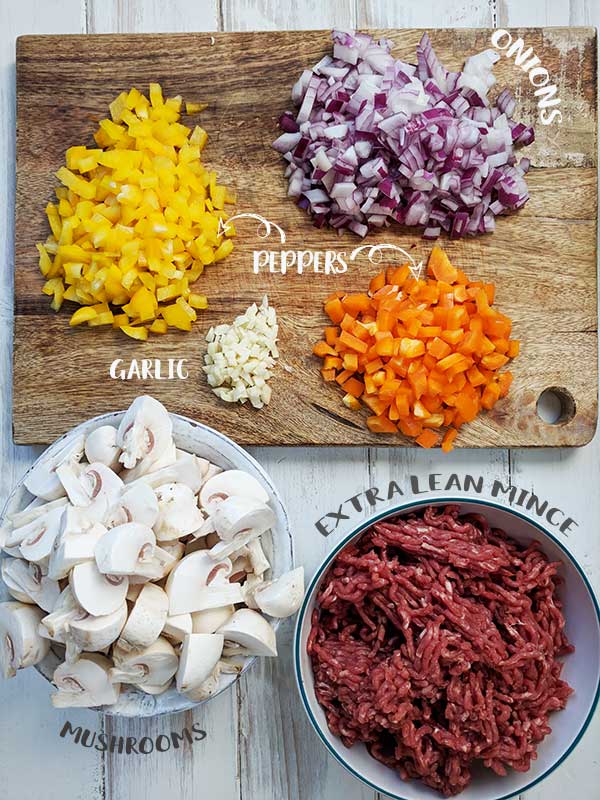 Tips for making this recipe:
Chop the mushrooms into bite size pieces rather than slicing them, it bulks out the ragu and is less time consuming than all that slicing.
Do all of your chopping before you start cooking the ragu.
Use ready chopped tinned tomatoes rather than whole tinned tomatoes. You could even use one with added herbs (just make sure that there is no added olive oil!).
Chop the onions and peppers into small pieces and use Frylight / Pam to fry them off. If they start to stick to the bottom of the pan add a couple of tablespoons of water and using a wooden spoon or spatula scrape the bottom of the pan to de-glaze.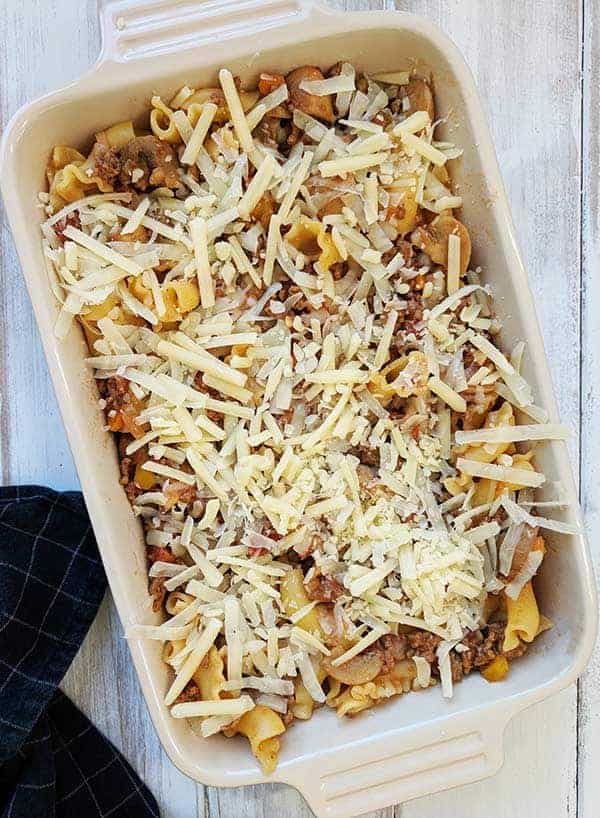 Alternatives:
Use turkey or chicken breast mince (ground turkey / chicken) and reduce the Points by 3 SmartPoints per portion.
Swap the 60g of reduced fat mozzarella for 150g of Eat Lean Protein Cheese for the same amount of SmartPoints per portion.
You could swap the 60g of reduced fat mozzarella for 150g of Kraft fat free cheese for the same amount of SmartPoints per portion.
Use 30g of a light Mature cheddar instead of 60g of reduced fat mozzarella for the same amount of SmartPoints per portion.
Looking for a Low Point Cheese? Try these!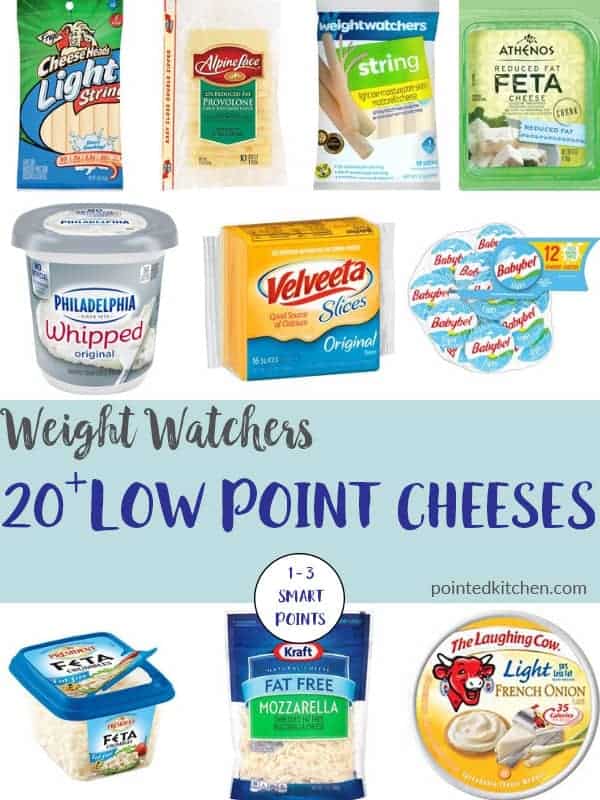 What I used to make this recipe:
This post contains affiliate links. As an Amazon Associate I earn from qualifying purchases. Visit this page to see what that means.
A good quality non stick frying pan / skillet, like this one, is invaluable when making ragu.
I used my favourite La Crueset oven proof dish, available from Amazon, to bake and serve the pasta bake.
As it holds meat sauce so well, I used Campanelle pasta, available from Amazon, in this recipe.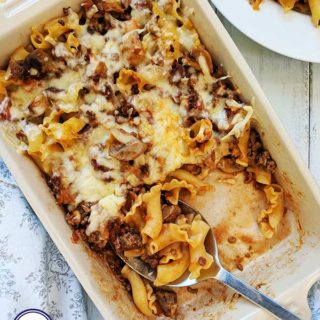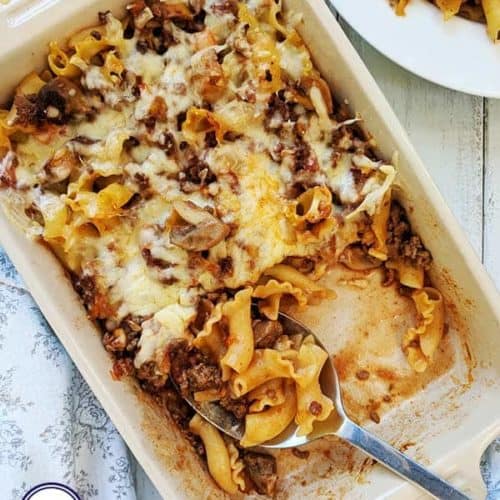 Pasta Bolognese Bake
This warm and comforting Pasta Bolognese Bake is just 9 SmartPoints per portion on Weight Watchers Freestyle / Flex plan.
Ingredients
4

cups

large pasta shapes

(240g) I used Campanelle

1

onion

peeled and chopped finely

2

bell peppers

I used one orange & one yellow

3

garlic cloves

crushed

2.5

cups

mushrooms

(250g) chopped

2

cups

extra lean minced beef / extra lean ground beef

(450g)

1

can

chopped tomatoes

400g tin

1

cup

beef stock

(250ml) made with 1 stock cube / bouillon

salt

pepper

½

cup

reduced fat mozzarella - grated

(60g) grated
Instructions
Preheat the oven to 180oC / 360oF / Gas mark 4

Chop all the vegetables prior to starting making your ragu.

Spray the bottom of a large frying pan / skillet with spray oil, add the onions and fry off for 3 - 4 minutes over a medium heat. Turn up the heat a little and add the garlic, peppers, mushrooms and mince and cook, stirring continuously until the mince has browned. If the bottom of the pan has started to brown at all, add a couple of tablespoons of water and use a wooden spoon to scrape these browned bits off the pan. This is called de-glazing and, as long as its not completely burnt, will add to the overall flavour!

Add the chopped tomatoes and stock, stir and bring to the boil. Once the ragu has come to the boil, reduce to a medium heat, season well and partially cover. Simmer over a medium heat for 20 minutes or so, stirring occasionally, until the sauce has reduced.

Whilst the ragu is cooking, you can cook your pasta according to the packet instructions. Once cooked, drain thoroughly and set aside.

When the ragu has reduced, stir in the cooked pasta and pour into an oven proof dish. Top with the grated / shredded cheese.

Bake in the oven for 20 - 25 minutes or until the cheese has started to turn golden brown and is bubbling. Serve and enjoy!
Notes
Please be aware that the nutritional information below has been automatically generated and does not account for variations in product brands and types, weights of individual ingredients etc.  It should therefore be considered as an estimate.
PointedKitchen.com has calculated Weight Watchers Smart Points based on the individual ingredients used to make this recipe and not from the following nutritional information.
PointedKitchen.com is not responsible for any loss or damage relating to your reliance on this nutritional information.
Nutrition
Nutrition Facts
Pasta Bolognese Bake
Amount per Serving
% Daily Value*
* Percent Daily Values are based on a 2000 calorie diet.