If you are following the Weight Watchers program, you'll understand the need for some good low point Make Ahead Lunches. 
These Weight Watchers lunch recipes that can be made ahead and kept in the fridge for a couple of days or can be batch cooked and kept in the freezer until needed.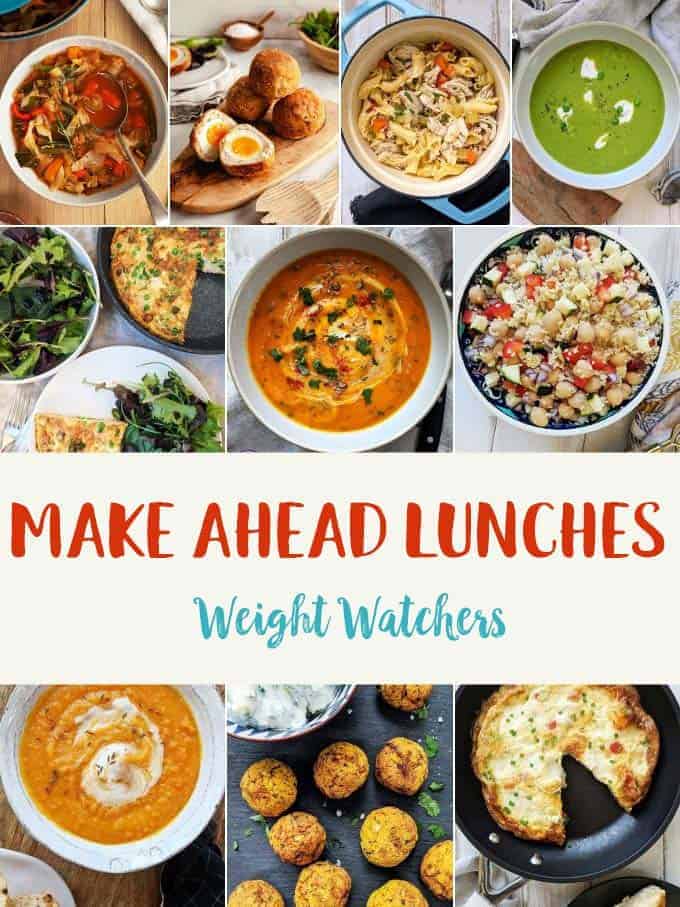 For the first couple of months following the Weight Watchers plan, I struggled with knowing what to eat for lunch.
As a result I stuck to eating sandwich thins with tuna & fat free mayonnaise or poached eggs on wholemeal bread.
Maybe there is nothing wrong with that, but after a couple of months eating the same things over & over I began to crave variety.
So I started working on recipes that I could batch cook. Some make ahead lunches, lunch recipes that I could make at the weekend and portion up into freezable containers or something that would keep for a couple of days in the fridge.
For lunch I could just take something out of the fridge or freezer and warm it through. Perfect!
Although this way of eating does require a little bit more planning, I find that I'm much happier with variety (meaning the plan is easier to stick to) and what's more I also save a little bit of money!
Some of these Weight Watchers Make Ahead Lunches, like the soups, need heating up before eating.
However, if you don't have access to a microwave (or any other way of reheating food) at lunchtime, then you are still in luck as a number of these recipes can be eaten straight from the fridge or at room temperature! Result!
Make Ahead Lunches | Weight Watchers