This Zero Point Cabbage Soup recipe is a must if you are following any of the Weight Watchers plans. It is tasty, filling, so easy to make and best of all it is Zero Points.
Packed full of fresh vegetables, it is a perfect zero point soup recipe for those days when you want to save up Weight Watchers Points for a special occasion.
Track it directly onto your WW app by clicking on the WW Personal Points button in the recipe card!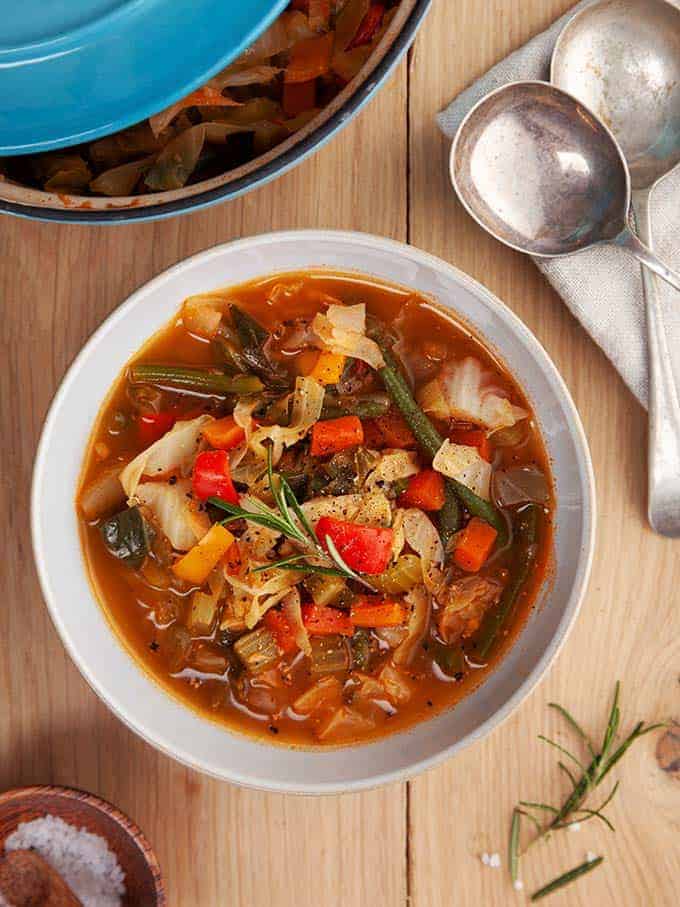 Packed full of fresh vegetables, it is a perfect zero point soup recipe for those days when you want to save up Weight Watchers Smart Points for a special occasion.
If, like me, you automatically think of the Cabbage Soup Diet when you hear the words 'cabbage soup', don't let that put you off!
Unlike some of the early Cabbage Soup recipes, this soup is tasty, it is fresh and it is packed full of crunchy fresh vegetables.
The base is made with a salty beef stock but with the addition of a little sweet tomato paste, you get a real depth to the flavour.
No boiled cabbage water soup here!
No - this Cabbage Soup is different! It is a filling and full flavoured soup that is full of goodness and is Zero Smart Points! Woo Hoo 😀
It can be eaten with a slice or two of Low Point Bread for a low point lunch or alternatively, can be eaten between meals if you need to keep those hunger pangs at bay!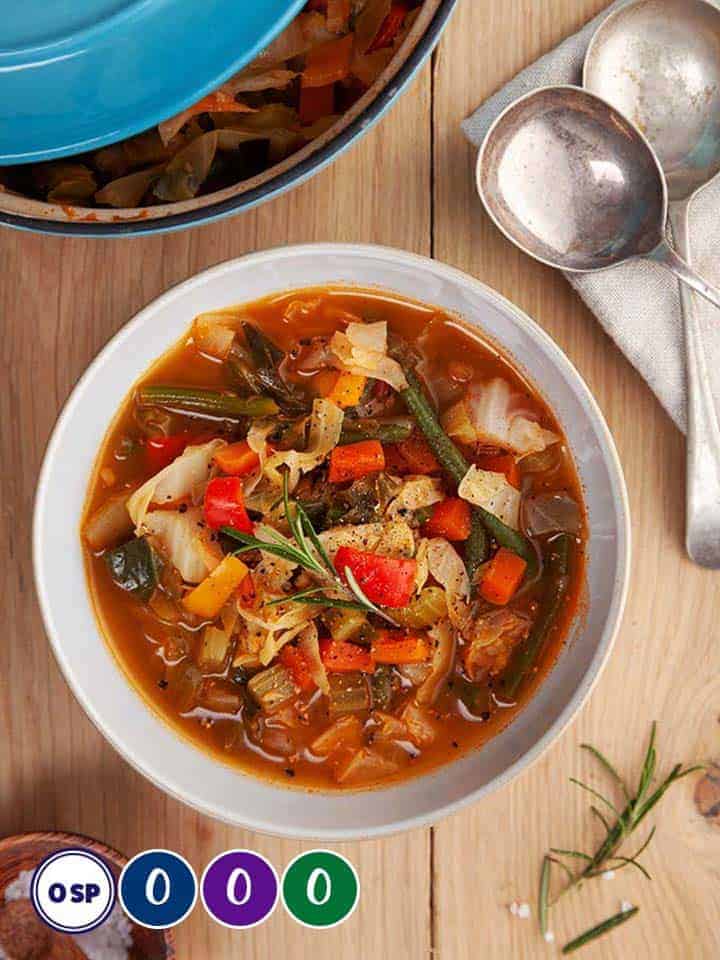 How Many Points in Cabbage Soup?
That's pretty simple - ZERO! And if you follow the Personal Points plan, you may 'earn' Points for eating a serving!
If you follow any of the old WW plans then the Points work out as follows:
Freestyle plan  -  0 SmartPoints per portion
myWW Blue plan  -  0 SmartPoints per portion
myWW Purple plan  -  0 SmartPoints per portion
myWW Green plan  -  0 SmartPoints per portion
Calories in Cabbage Soup
This recipe works out at under 90 calories per serving!
Other Weight Watchers Soup Recipes
If you enjoy soup as part of your Weight Watchers journey, you may also like this Carrot & Coriander Soup, this Pea Soup or if you like a bit of spice, this Butternut Squash & Red Chilli Soup.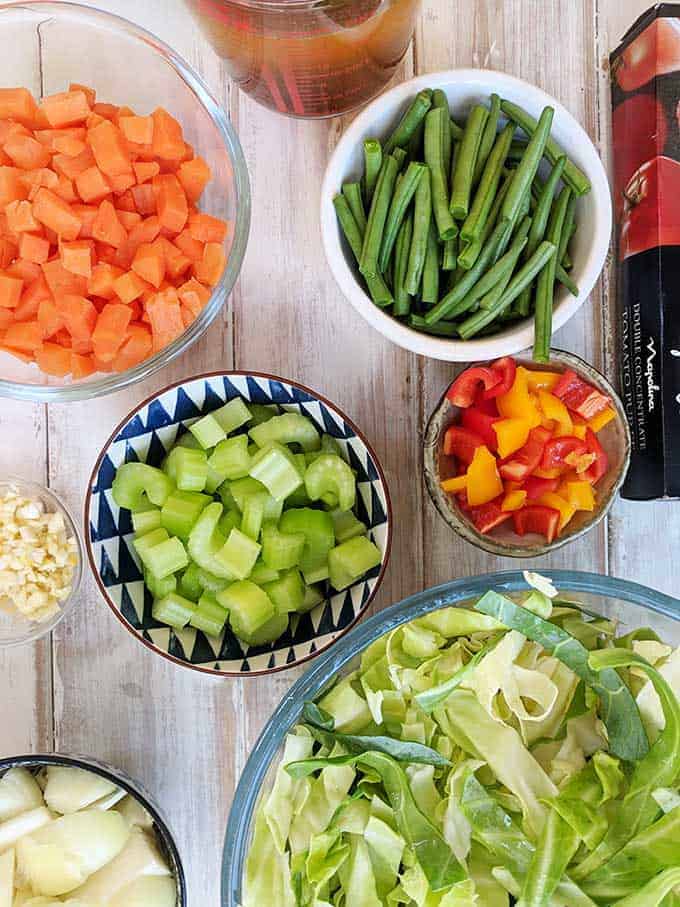 This post contains affiliate links. As an Amazon Associate I earn from qualifying purchases. Visit this page to see what that means.
Which stock can I use in this Cabbage Soup recipe
I tend to use stock made up with a stock / bouillon cube for this recipe - partly because it is cheaper to do so. However, you could use fresh stock instead. One stock cube / bouillon cube works out at 1 Smart Point per cube and I use 1 cube in this recipe.
Many supermarket brought beef stocks also work out at 1 Smart Point for 700 ml but just make sure that you check the nutritional information before using.
Can I use Vegetable Stock / Chicken Stock
Of course!
I do prefer to use beef stock in this recipe but if you are wanting to make a vegetarian Cabbage Soup then vegetable bouillon is a good alternative.
What cabbage should I use
There are lots of varieties of cabbage out there and I have tried a few different kinds when making this soup. At this time of the year (May) I use spring cabbage as they are abundant. However, I have also used white cabbage and once or twice, savoy cabbage.
I haven't used red cabbage as I think I'd be put off by the end colour but thats obviously a personal preference!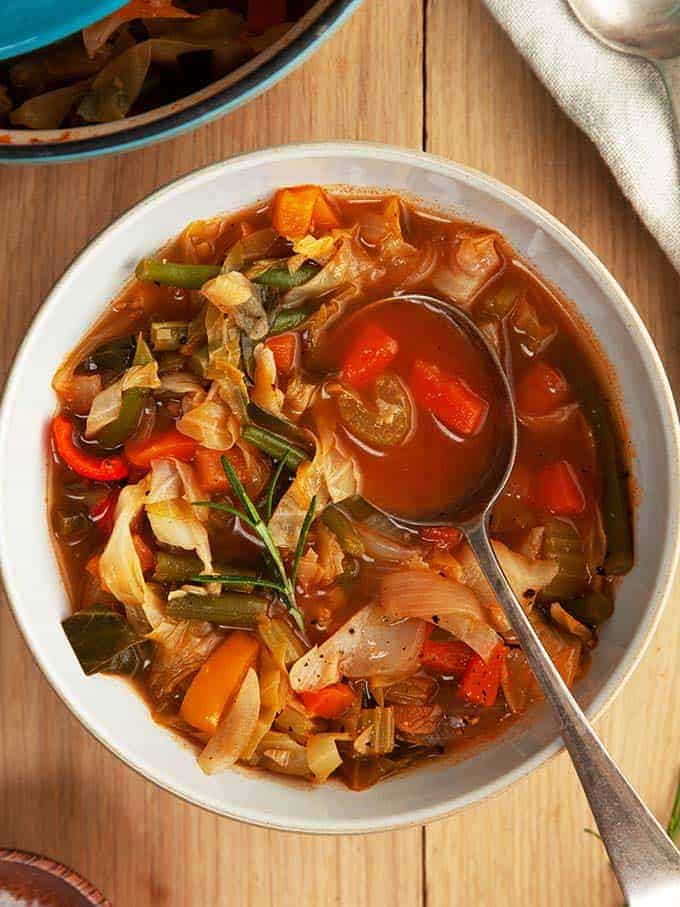 How long will it last in the fridge
This soup will last for up to 3 days in the fridge. If you don't think that you would finish it within that time, I would suggest that you freeze it in single portion bags.
Can I freeze Cabbage Soup
Yes! This Cabbage Soup freezes well. But do make sure that you chill it completely before portioning it up and freezing it.
I find these reusable silicone bags perfect for this purpose. When you want a serving of soup, just pull a bag out of the freezer, defrost, reheat and serve!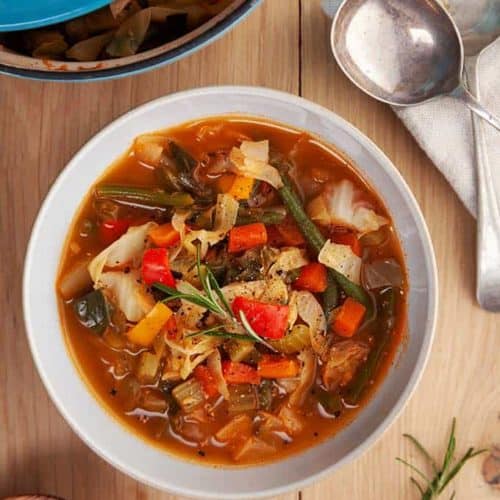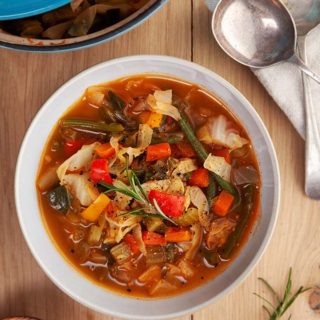 Cabbage Soup | Weight Watchers
This tasty Zero Smart Point Cabbage Soup is a perfect Weight Watchers Freestyle recipe. It is zero SmartPoints on the myWW Blue, Purple & Green plans
Ingredients
Calorie controlled spray oil

or up to 1 tsp vegetable oil

2

small onions - roughly chopped

4

carrots - chopped

3

sticks celery - chopped

1

small sweet red pepper

1

small sweet yellow pepper

3

garlic cloves - finely chopped

1

medium cabbage - shredded

1

stock / bouillon cube (I use beef)

made up with 3 cups / 700ml boiling water

1

tbs

tomato puree / paste

1

cup

½ cup green beans - chopped

(100g)

Salt & pepper

Fresh thyme - optional
Instructions
Spray the bottom of a large saucepan / dutch oven with calorie controlled spray oil. Warm over a medium heat and then add the onions, carrots, celery and peppers and saute for 5 - 6 minutes until they have softened. If you find the vegetables starting to stick to the bottom of the pan then add a couple of tablespoons of water and stir.

Add the garlic (& fresh thyme if using) and saute for a further 1 - 2 minutes.

Stir in the tomato puree and then add the shredded cabbage and stock. Mix thoroughly.

Bring the mixture to the boil then reduce and simmer for 8 - 10 minutes.

Add the green beans and simmer for a further 3 - 4 minutes until tender.

Add salt and pepper to taste.
Notes
Please be aware that the nutritional information below has been automatically generated and does not account for variations in product brands and types, weights of individual ingredients etc. It should therefore be considered as an estimate.
PointedKitchen.com has calculated Weight Watchers Smart Points based on the individual ingredients used to make this recipe and not from the following nutritional information.
PointedKitchen.com is not responsible for any loss or damage relating to your reliance on this nutritional information.
Nutrition
Nutrition Facts
Cabbage Soup | Weight Watchers
Amount per Serving
% Daily Value*
* Percent Daily Values are based on a 2000 calorie diet.