This Baked Cod & Chorizo with new potatoes is super simple to make and is just 5 Smart Points per portion on Weight Watchers Blue & Freestyle plan, 2 SmartPoints on the Purple plan and 6 on the Green plan.
Please be aware that this post was written prior to Weight Watchers changing to the WW Personal Points Plan! You can discover exactly how many Personal Points this recipe will be for you by clicking on the blue 'WW Personal Points' button in the recipe card below.
It is full of flavour and makes a healthy, simple Weight Watchers dinner.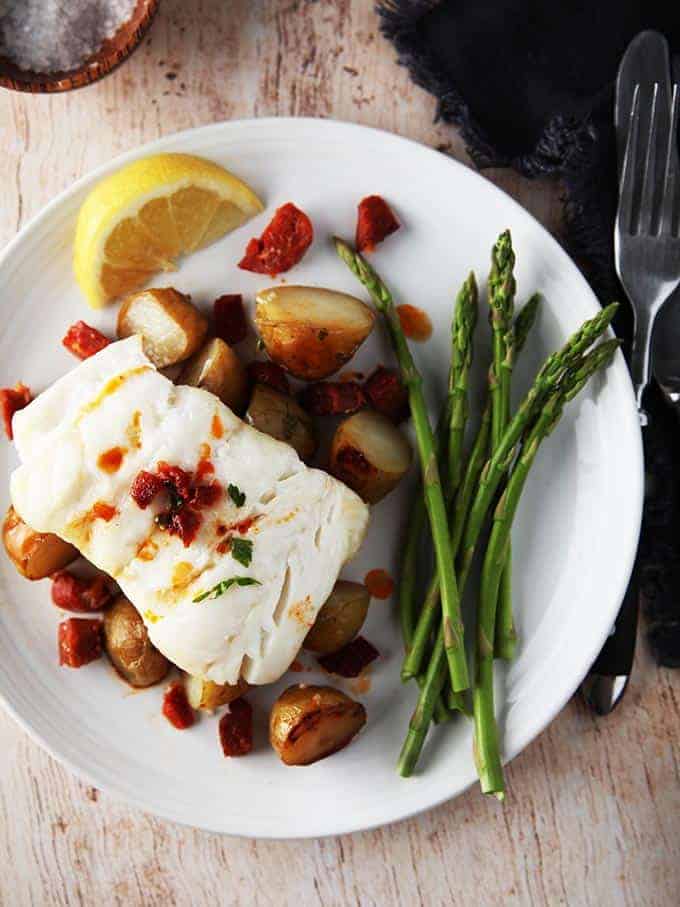 Baking the cod, chorizo and new potatoes in foil parcels helps ensure the cod cooks to perfection and that all those lovely, smokey flavours from the chorizo mingle throughout the dish. This is one hell of a tasty low Smart Point Weight Watchers dinner!
Cod is one of those WW zero hero ingredients that I don't tend to cook with much.
But that is going to change!
I don't know why I've been reluctant to cook it as it's one of my favourite types of fish and I will often order it from a restaurant menu when I am eating out.
I guess I've just been nervous about overcooking it and turning a lovely (rather expensive) filet of cod into a dried up, flaky mess!
But cooking it in a parcel of kitchen foil, really helps with this.
The cod basically steams in the parcel and you are left with a beautifully tender & flaky piece of fish.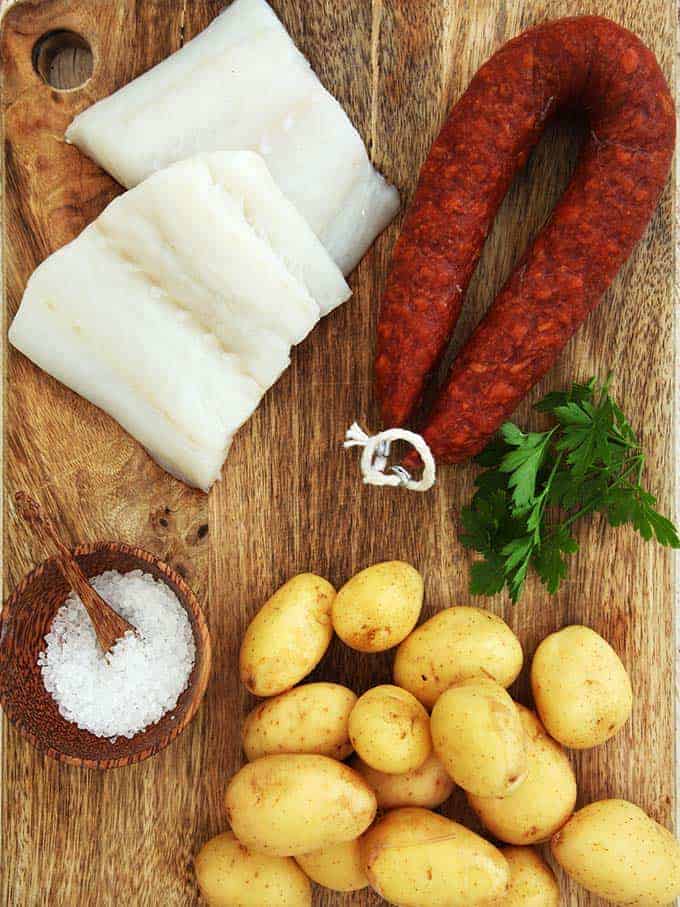 Why cook in a foil parcel?
Cooking in foil parcels is mess free.
As everything is cooked within the foil parcel, it means less scrubbing of pans after cooking - result!
You can cook the foil parcel in a conventional oven or even place it on a grill and cook it that way!
If that hasn't sold you on cooking in foil parcels then how about this - you can even eat straight from the foil packet to save on plate washing up 😀 😉 .... or is that taking it too far!?
How do I make the foil parcels?
I would suggest using heavy duty foil if you can!
However, you can use thinner kitchen foil but just double up the sheets to prevent the possibility of rips & tears. You don't want any steam escaping from your parcel.
Lay the piece of foil on a flat surface & heap the ingredients in the middle of the sheet. For this recipe I used sheets approx 12 inch square but generally speaking the sheet needs to be about three times the size of the ingredients that you will be cooking in it.
Stack the ingredients in a heap in the middle of the sheet of foil and bring the edges of the foil into the centre and fold down & crimp to prevent steam from escaping when it is cooking.
For this particular recipe, I add ingredients to the parcel part way through cooking so I was careful not to scrunch the foil too tightly! I did it enough so that no steam could escape but not too much that I couldn't ease it open without tearing it when it was time to add the fish.
Place the foil parcels on a baking tray and place in the oven to cook.
After cooking, be careful when you are opening the parcel as the steam that has built up inside the parcel will be hot.
Which foil should I use?
If possible use a heavy duty kitchen foil to make the parcels. If you can't find heavy duty foil it may be better to double up the sheets to prevent the possibility of small rips that would let the steam out.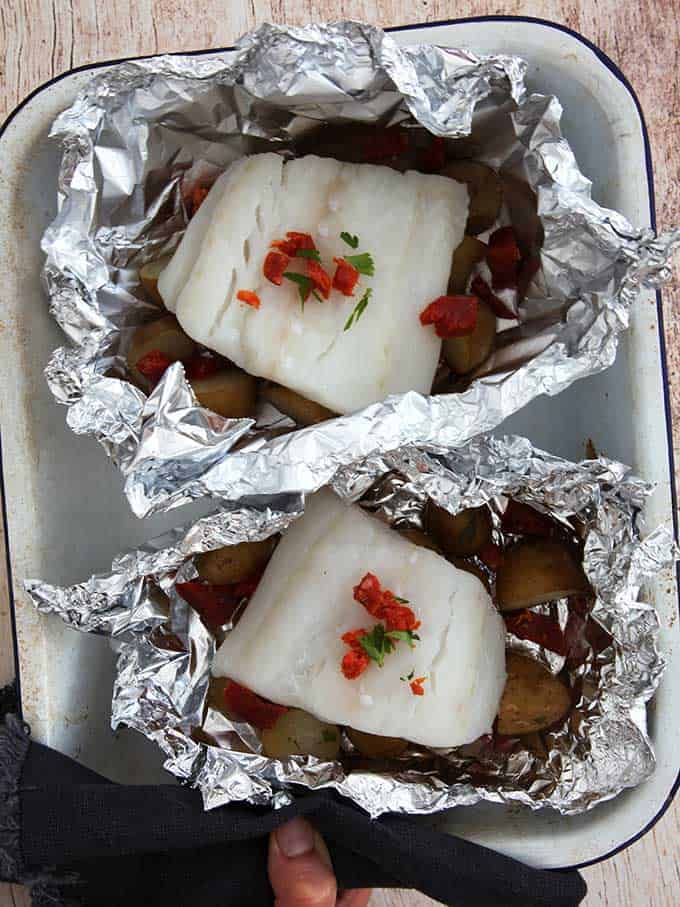 What chorizo should I use?
I have tried this recipe with both mild chorizo and a hot spicy chorizo. Both kinds work well so it is personal choice which you use.
Both kinds of chorizo will release their smoky oils when heated which work really well with the cod.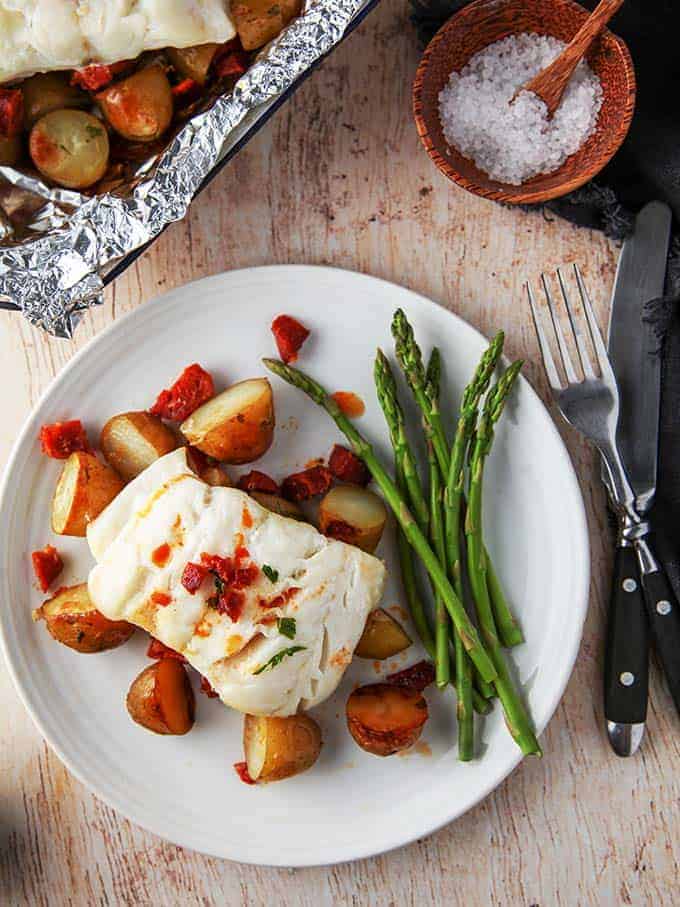 What to serve with Baked Cod & Chorizo
I tend to serve this baked cod, chorizo and new potatoes with green beans or asparagus.
Carrots and garden peas also work well with cod.
More Weight Watchers Dinner Recipes
Looking for more inspiration, then take a look at these low Smart Point Weight Watchers dinners.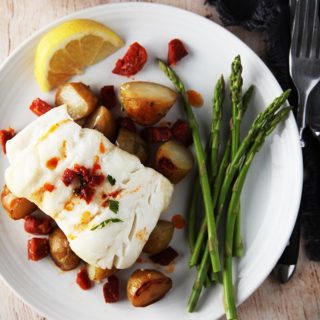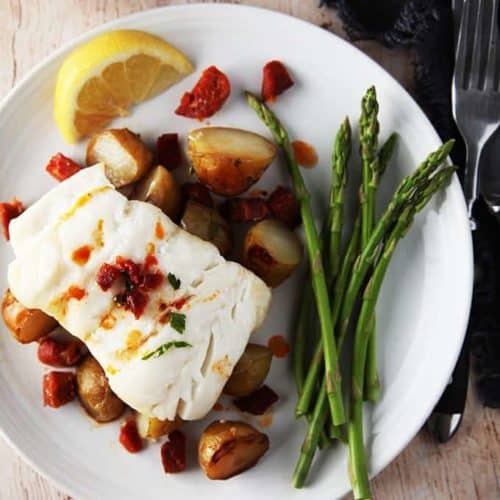 Baked Cod & Chorizo | Weight Watchers
Cod & Chorizo with new potatoes baked in individual foil packets. At just 5 Smart Points per portion, this easy recipe makes a delicious Weight Watchers dinner.
Ingredients
2

cod fillets

2

cups

new potatoes

(300g) cut into halves or quarters around 1 inch big

¼

cups

chorizo

(30g) chopped

Calories controlled cooking spray

Salt & pepper

Parsley

chopped
Instructions
Preheat the oven to 200°C / 180°C Fan / 400°F

Unless you are using baby new potatoes it is best to chop the them into halves or quarters so that they are approx 1 inch big.

Lay out two pieces of heavy duty kitchen foil (about 12 inch square) and divide the potatoes between the two. Spray with a little calorie controlled cooking spray and fold the foil up and over the potatoes making sure to seal the edges tightly so that no steam can escape.

Place on a tray in the oven and bake for 25 - 30 minutes.

Whilst the potatoes are cooking, chop the chorizo into small pieces and season each side of the cod fillets with a little ground salt and pepper.

Remove the potatoes from the oven and very carefully prize open the foil parcels being careful not to burn yourself on any of the escaping steam. Place a seasoned cod fillet & half of the chorizo pieces into each of the parcels. Sprinkle with a little chopped parsley (optional)

Reseal the parcels tightly so that no steam can escape and place back in the oven for a further 10 - 12 minutes until the fish is opaque and is easily flaked with a fork *.

Serve with green beans, asparagus, garden peas or another veg of your choice.
Notes
* Cooking time will be dependent on the size of your cod fillet. I have found that the small/medium fillets that you buy from the freezer section of the supermarket tend to cook within 10 - 12 mins. Big fillets will take longer, The fish is cooked when it has become opaque and is easy to flake with a fork.
Nutrition
Nutrition Facts
Baked Cod & Chorizo | Weight Watchers
Serving Size
1 foil packet
Amount per Serving
% Daily Value*
* Percent Daily Values are based on a 2000 calorie diet.