This Zero Point Curry is easy to make and is freezer friendly, making it a great choice for a quick Weight Watchers curry any day of the week.
It works out at Zero SmartPoints on the Freestyle, myWW Blue and myWW Purple plans and 5 SmartPoints on the myWW Green plan.
At Zero Smart Points per generous portion this curry made with chicken & lentils makes a great WW dinner recipe for when you don't have Smart Points to spare!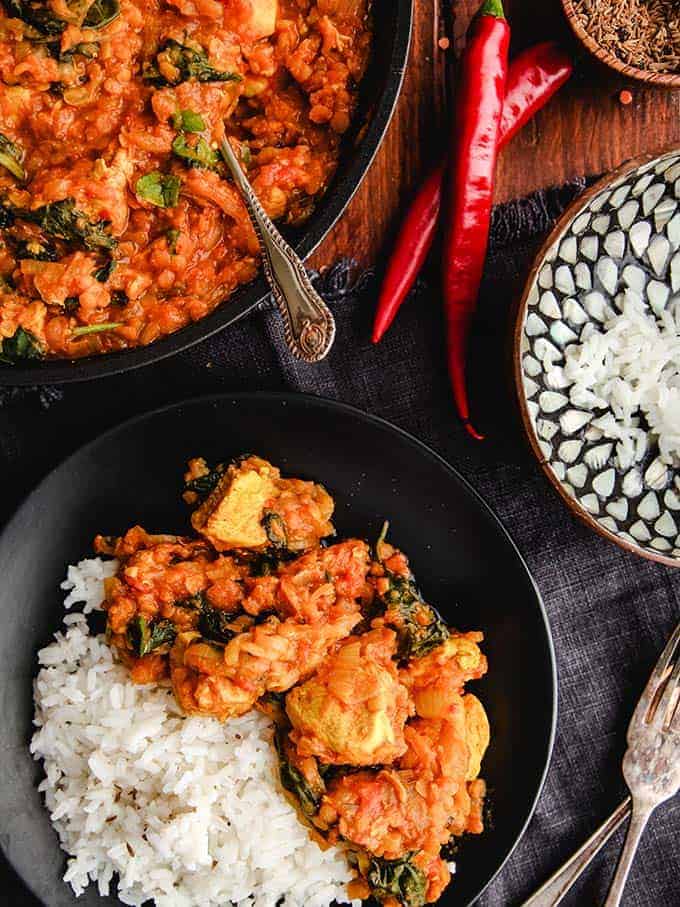 If, like me, you sometimes need a zero point or low point meal after a couple of days of overdoing it, then this recipe really won't disappoint.
Easy to make and freezer friendly it's filling, tasty and ZERO POINTS on the Blue & Purple plan!
Of course, since the introduction of Weight Watchers myWW plans, SmartPoints have changed. If you are following the myWW green plan then this curry will be 5 SmartPoints per generous portion.
Now, I can't lie - it's not the creamy, buttery, Point laden curry that you would get from a take-out but those kind of curries can put you back well over 20 Points!
Infact .... my trusty WW Eat Out Guide lists some chicken curry dishes as being over 80 Smart Points per portion!!!
So this is a tomato based curry, cooked with lentils (to fill you up) and curry powder (to keep the Points zero).
A result!
In this recipe, I used curry powder as it is a great shortcut for making curries and is only 1 Smart Point for 2 tablespoons worth.
It can be argued that for taste you can't beat using individual herbs and spices, however for ease of use, using a curry powder is a no brainer!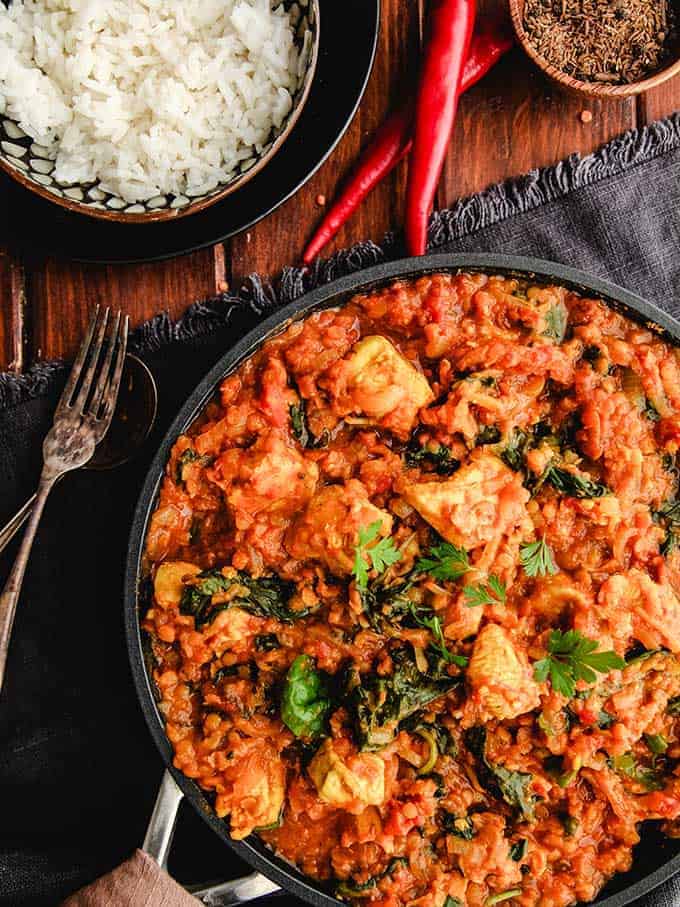 Why use curry powder rather than curry paste?
I used curry powder in this recipe rather than curry paste as it has fewer Smart Points.
It's as simple as that!
There are some really good curry pastes out there which taste delicious but I wanted to make a curry that was Zero Smart Points so .... I used curry powder 😀
What Curry Powder can I use?
There are many kinds and brands of curry powder on the market and they vary hugely in terms of their taste, what spices they include and their 'hotness'.
I used a medium curry blend powder for this recipe but feel free to use a mild or hot powder according to your taste.
What should I serve with this Zero Point Curry?
This is quite a substantial curry because of the lentils so I will often just eat a bowl of it on its own.
Sometimes I will serve it with a spoonful or two of fat free natural yogurt to keep it as a Zero Point meal. This is also my preference if I made it using a hotter curry powder blend!
You could also serve it with a Garlic Naan Bread for an extra 4 Smart Points.
Serve with a small portion of white or brown rice for an extra 3 Smart Points on the Blue or Freestyle plan.
Serve with a small portion of brown rice for no extra SmartPoints on the myWW purple plan.
Can I freeze this Zero Point Curry?
Yes! This curry is perfect for freezing.
Once cooled you can portion it into individual freezer safe containers and freeze for an easy curry any day of the week.
Just remove from the freezer, defrost thoroughly and heat through in the microwave.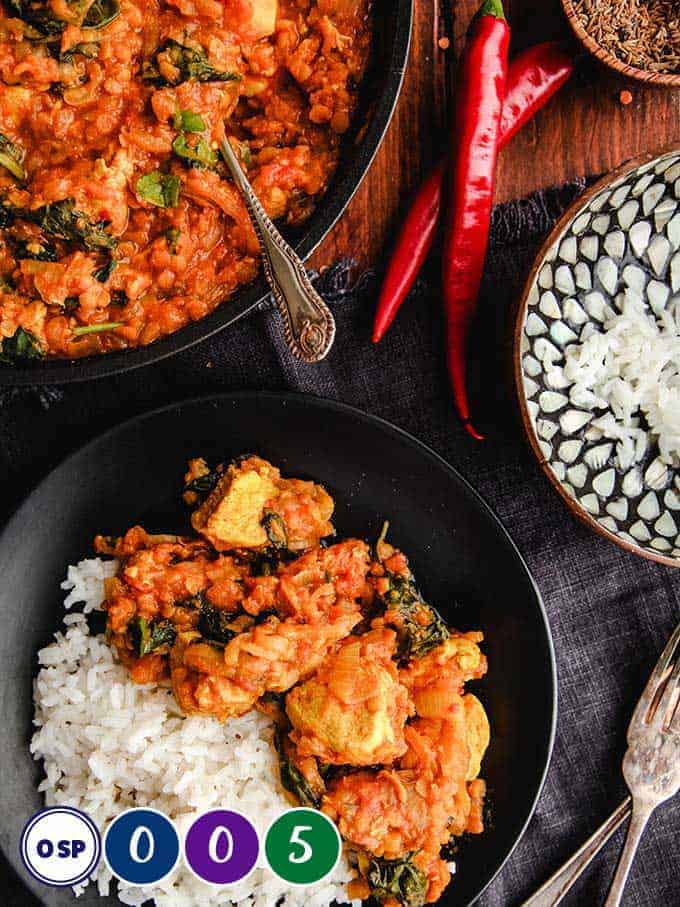 More Zero Smart Point Recipes
Looking for other Zero Point recipes? Then take a look at these!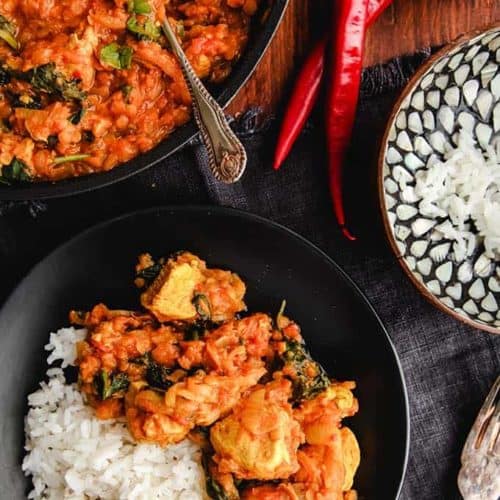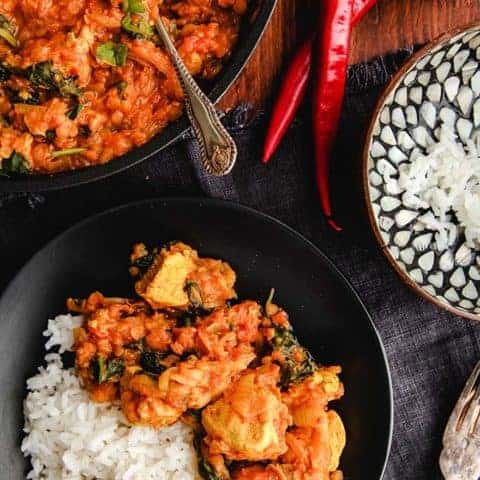 Zero Point Curry | Weight Watchers
This Chicken and Lentil Curry is zero Smart Point on the myWW Weight Watchers Freestyle, Blue and Purple plan. It is 5 SmartPoints on the my WW Green plan, An easy to make, freezer friendly curry making it an ideal Weight Watcher dinner recipe.
Ingredients
Calorie controlled spray oil
4 medium onions (finely sliced)
4 cloves garlic (finely chopped)
1 red chili (deseeded and finely sliced) - optional
2 tbsp curry powder (of your choice)
3 chicken breasts (skinless & boneless) - chopped into bite size pieces
1 can (400g) chopped tomatoes
2 ¼ cups (500ml) vegetable stock
1 cup (200g) red lentils
Salt to taste
1 cup (200g) fresh spinach leaves
Instructions
Spray the bottom of a large skillet / pan with calorie controlled spray oil. Heat over a medium heat and add the thinly sliced onions. Cook for 3 - 4 minutes, stirring regularly until they begin to soften.
If the onion starts to stick to the bottom of the pan, add a tablespoon or so of water to loosen.
Add the garlic and chili pepper (if using) and cook for a further 1 - 2 minutes.
Add a tablespoon of water to the onion & garlic mix, stir and then sprinkle the curry powder over. Stir till the powder has combined with the onion and then add the chicken pieces.
Carry on stirring & cooking for 2 - 3 minutes until the chicken pieces have sealed.
Pour in the stock and the can of chopped tomatoes and bring to the boil. Mix well, then reduce the heat and gently simmer for 10 minutes stirring regularly.
Add the lentils and simmer for another 15 - 20 minutes, stirring regularly, until cooked.
Taste and add salt if desired.
Just before taking off the heat, stir in the spinach.
Serve on its own, with a dollop of fat free natural yogurt or with a small portion of white rice.
Notes
See post for suggestions on different curry powders that can be used in this recipe.
Nutrition Information:
Yield:

4
Serving Size:

1
Amount Per Serving:
Calories:

130
Total Fat:

1g
Saturated Fat:

0g
Trans Fat:

0g
Unsaturated Fat:

1g
Cholesterol:

6mg
Sodium:

158mg
Carbohydrates:

23g
Fiber:

7g
Sugar:

6g
Protein:

9g
Please be aware that the nutritional information above has been automatically generated and does not account for variations in product brands and types, weights of individual ingredients etc.  It should therefore be considered as an estimate. PointedKitchen.com has calculated Weight Watchers Smart Points based on the individual ingredients used to make this recipe and not from the following nutritional information. PointedKitchen.com is not responsible for any loss or damage relating to your reliance on this nutritional information.