This super easy Banana Yogurt Bread is moist but light and is just 4 Smart Points per serving on Weight Watchers Blue & Purple plans. It is 5 SmartPoints per serving on the myWW Green plan.
To find out how many Personal Points this recipe will be for you & to track it in the WW App, click on the blue button in recipe card below
Made with fat free natural yogurt, ripe mashed bananas, oil, flour and a little sugar, it's beautifully moist without the denseness of many other banana breads.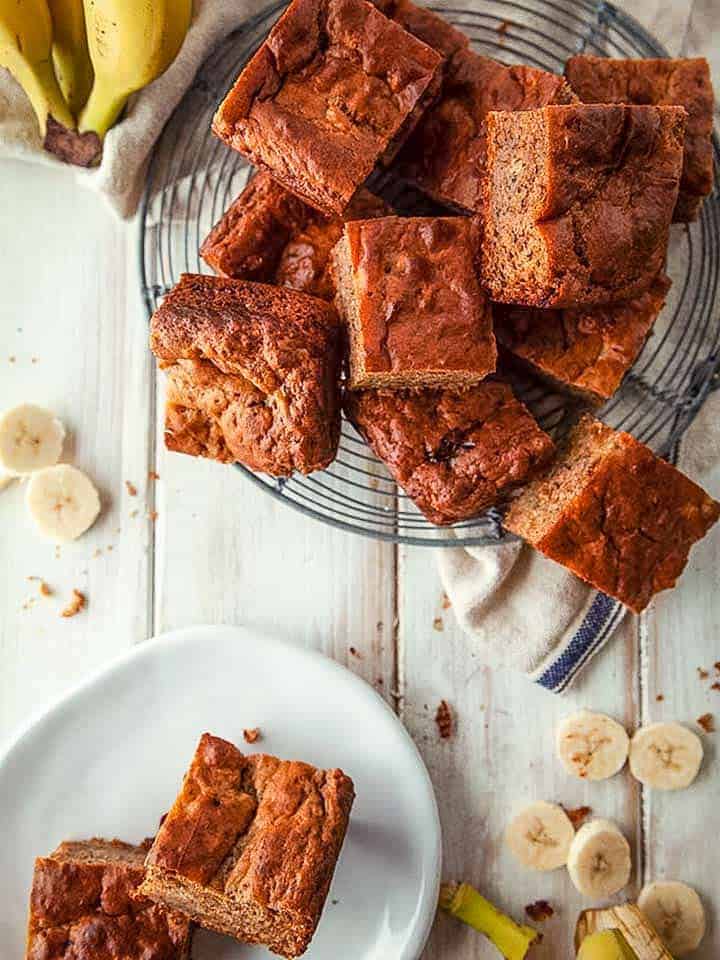 You may well ask why I called this banana bread, banana bread rather than banana cake.
And the answer is .... I don't really know!
To me a banana cake would typically have some kind of frosting on top and this recipe doesn't have frosting
But a banana bread would typically be baked in a loaf tin!
So, this banana bread has no frosting on top and hasn't been baked in a loaf tin.
So I got to chose what to call it .... and I call it banana bread!
More Weight Watchers Banana Recipes
If you are looking for a Weight Watchers treat recipe that you can bake in a loaf tin which includes bananas, you may like this tasty lower Point  Choc Chip Zucchini Bread.
Or if you really don't care about what tin you bake things in, you just want all the bananas then you'll love these low Point Banana Muffins with Streusel Topping!
How many Points in Banana Bread
Click on blue button in the recipe card to find out exactly how many Personal Points this Banana Bread will be for you (you will need to be logged in to your WW App for this to work)!
Freestyle plan - 4 SmartPoints per square
myWW Blue plan - 4 SmartPoints per square
myWW Purple plan - 4 SmartPoints per square
myWW Green plan - 5 SmartPoints per square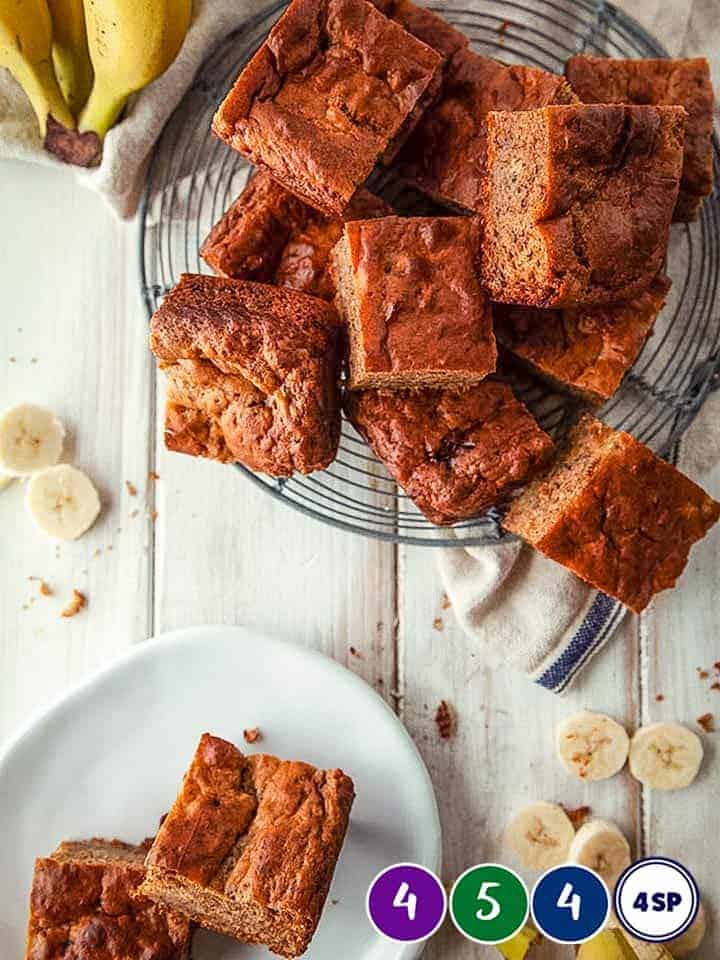 Tips for making this recipe
Use ripe bananas.
If the bananas that you are using aren't super ripe and mushy you can always mush them as best you can with the back of a fork & then take an electric whisk to them.
I found that for this banana bread recipe I only needed to lightly grease the cake tin.
Once cooked, the bread came away from the sides and it was easy to remove. However, I guess this will depend on how non-stick your cake tin is.
I have used both fat free natural yogurt and fat free greek yogurt to make this banana bread. Both turn out well!
Can I freeze this Banana Bread?
Once the cake has fully cooled down it can be frozen.
If you are wanting to freeze the whole banana bread, wrap it tightly in a couple of layers of cling film / plastic wrap and then wrap tightly in a layer of tin foil / aluminium foil.
If you are freezing slices of the banana bread, wrap each piece in cling film / plastic wrap and then place them in an airtight container to prevent them drying out.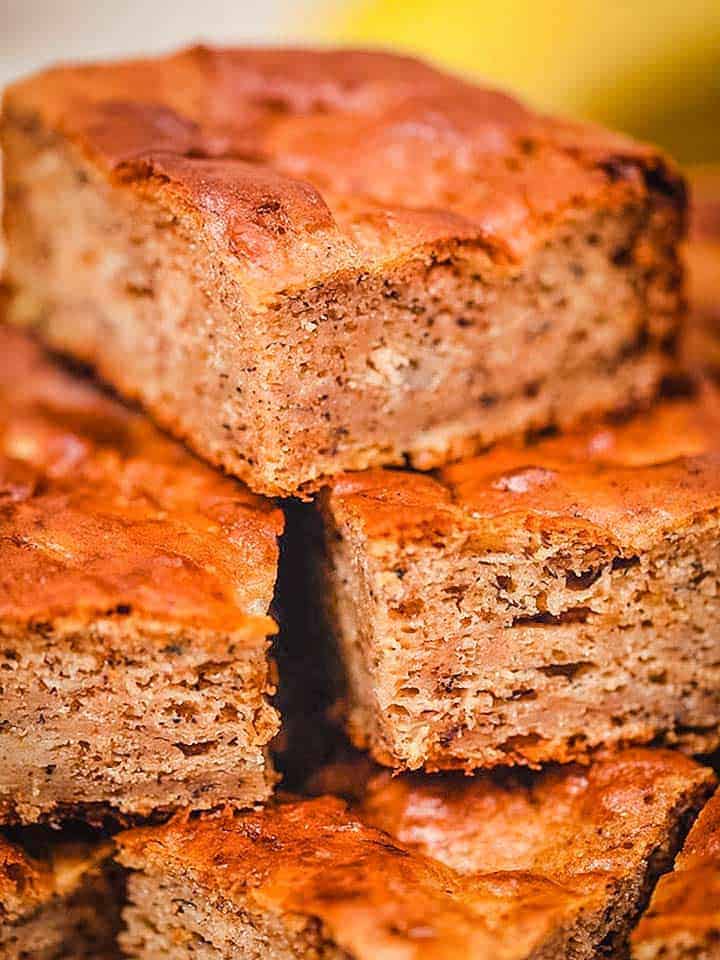 How do I defrost it
Remove the banana bread from the freezer and remove the wrapping.
If you are defrosting the whole banana bread place it on a wire rack and leave at room temperature for 4 - 5 hours.
It can then be stored in an airtight container and eaten over a couple of days.
Individual slices of banana bread will need to defrost at room temperature for 1 - 2 hours.
How do I keep it moist
The addition of yogurt in this recipe helps keep the banana bread moist.
However, I tend to wrap the banana bread in kitchen roll / paper towel once it has cooled completely and I store it in a plastic container at room temperature.
Wrapping and storing the banana bread before it has cooled down completely may trap moisture between the bread and the wrapping. This will lead to the banana bread becoming soggy.
How long does it keep?
This banana bread should keep, properly stored, for 2 or 3 days.
I wouldn't tend to keep it for any longer than that without freezing because of the addition of yogurt in this particular recipe.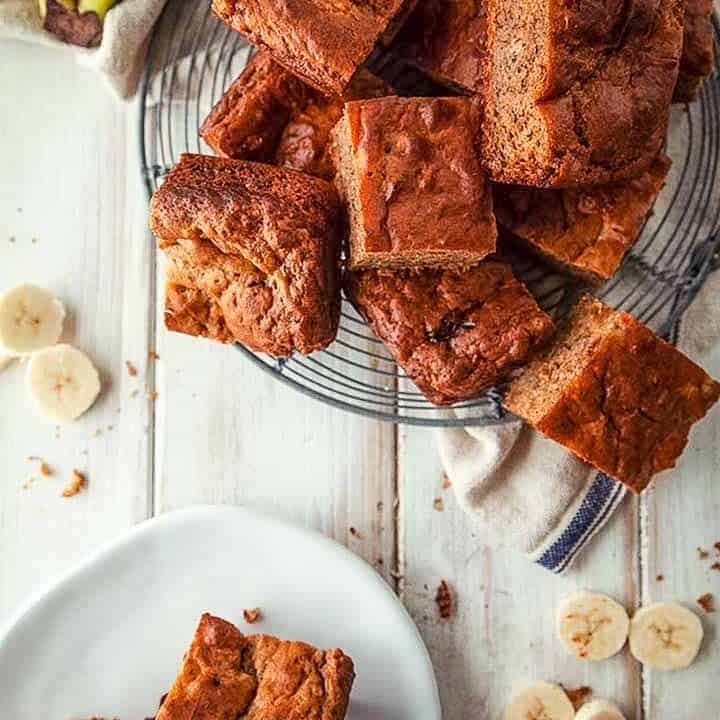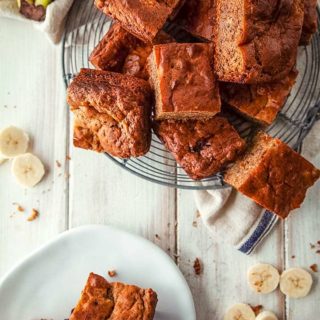 Banana Bread
This easy to make banana bread is made with yogurt and is just 4 Smart Points per slice on Weight Watchers Freestyle plan, myWW Blue plan & myWW Purple plan. It is 5 SmartPoints on myWW Green plan.  
Ingredients
1.5

cups

all purpose flour

(210g)

⅓

cup

brown sugar

(60g)

1.5

tsp

cinnamon

1

tsp

baking powder

1

tsp

baking soda / bicarbonate of soda

1

pinch

salt

1

cup

fat free natural yogurt

(240g)

2

large ripe bananas

mashed

1

large egg

whisked

4

tbsp

vegetable oil

1

tsp

vanilla paste
Instructions
Preheat the oven to 190oC / 170oC fan / 375oF. Grease an 8 inch square baking tin for later. 

Mix the flour, sugar, cinnamon, baking powder, baking soda and salt in a large bowl. 

In a separate bowl, mash the bananas until they are lump free. Stir in the fat free natural yogurt, whisked egg, vegetable oil and vanilla paste. 

Pour the liquid ingredients into the dry ingredients and mix till combined. 

Pour the mixture into your prepared tin and cook in the centre of the oven for 25 - 30 minutes. Once cooked a toothpick inserted into the middle of the cake will come out clean. 

Leave to stand for 5 - 10 minutes before removing from the tin and placing on a wire rack to cool. Cut into 12 squares. 
Notes
Please be aware that the nutritional information below has been automatically generated and does not account for variations in product brands and types, weights of individual ingredients etc.  It should therefore be considered as an estimate.
PointedKitchen.com has calculated Weight Watchers Smart Points based on the individual ingredients used to make this recipe and not from the following nutritional information.
PointedKitchen.com is not responsible for any loss or damage relating to your reliance on this nutritional information.
Nutrition
Nutrition Facts
Banana Bread
Amount per Serving
% Daily Value*
* Percent Daily Values are based on a 2000 calorie diet.
Hope you enjoy!