This one pot BBQ Sausage Casserole is the ultimate in comfort food. It is just 6 SmartPoints per generous portion on Weight Watchers Freestyle, Blue and Purple plans.
It is 8 SmartPoints per portion on the Green plan.
Any left overs can be frozen making this easy casserole a great option if you like batch cooking.

When it comes to comfort food, nothing really beats sausage and baked beans ... does it!
This is just a more adult version of the children's favourite.
Pick your sausages carefully though! Using chicken sausages or low fat pork sausages bring the SmartPoints down significantly.
Using 'normal' beef sausages would increase the recipe by 12 SmartPoints, so do check the SmartPoint value of your chosen sausages before you start cooking.
What Sausages should I use?
Not all sausages are alike!
I'm lucky enough to live somewhere that the local butchers makes a great chicken breast sausage with very little fillers (such as breadcrumbs etc) but lots of flavour. I point these sausages at 2 SmartPoints per sausage.
To keep this BBQ Sausage Casserole at 6 SmartPoints per serving, you can use up to 13 SmartPoints worth of sausage!
If you are in the US
If you are in the UK you have a wider choice of sausages that you could use. Some examples
Heck Chicken Italia Sausages - you could use 16 of these sausages for 11 SmartPoints!!
Richmond 30% Less Salt & Fat Thick Pork Sausages - you can use 6 sausages for 13 SmartPoints
Marks & Spencer Skinny Pork Sausages (Less than 3% fat) - you can use 8 sausages for 12 SmartPoints
Tesco Finest Venison Sausage - you can use 6 sausages for 10 SmartPoints
If you are using thin sausages, such as Heck sausages you may need to alter the cooking times in this recipe.
What Beans should I use?
I like to use a mix of Butterbeans and Haricot beans in this recipe, but you can use
Cannellini beans / Haricot beans
Butterbeans (Baby Lima beans)
Flageolet beans
Borlotti beans
Can I swap Sweetener for Sugar in this recipe?
You will notice that there are 2 tablespoons of brown sugar in this recipe! Don't be tempted to leave it out as this is an important ingredient for the rich BBQ flavour of this dish.
I have not made this dish substituting the brown sugar for sweetener. I therefore can't vouch for how it would turn out. But, if you do decide to do the swap you can reduce the SmartPoints of the recipe by 1 SmartPoints per portion.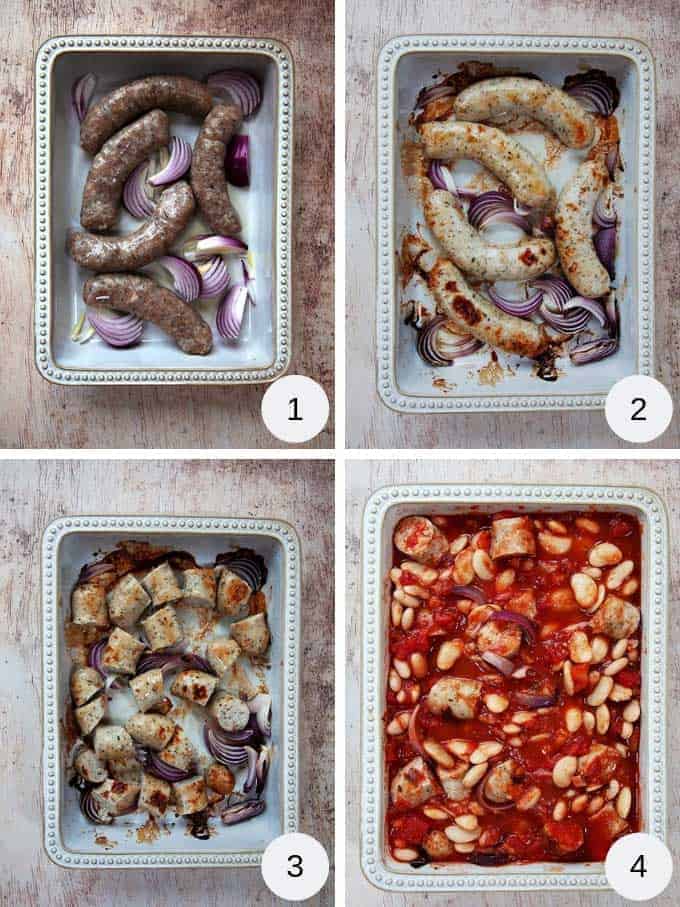 Tips for making BBQ Sausage Casserole
For this recipe, you can use any tinned beans that you have in your cupboards, but I prefer a mix of Butterbeans and Haricot beans.
Brown the sausages by placing them in the oven with the onions and a little olive oil (picture 1).
Add the garlic a few minutes before the end of the sausage cooking time (picture 2). Adding it before then runs the risk of it burning. And burnt garlic is not nice!
Once browned, remove the sausages from the oven and chop into smaller pieces (picture 3).
Stir in the remaining ingredients (picture 4) and return to the oven for 30 minutes until piping hot.
Serving suggestions
I don't eat this BBQ Sausage Casserole with anything else. However, you could serve it with
A small portion of new potatoes for an additional 2 SmartPoints per portion
A small portion of white rice for an additional 3 SmartPoints per portion
A portion of cauliflower rice for zero SmartPoints per portion
A portion of butternut squash mash or cauliflower mash for zero SmartPoints per portion
Freezing and storage.
Store in the fridge for 1 - 2 days. Heat through thoroughly before serving.
The BBQ Sausage Casserole can be frozen.
If you like one pot cooking you may also like this Chicken, White Bean & Bacon Casserole or perhaps this Creamy Chicken Casserole. These zero point Chicken Fajitas are also very popular.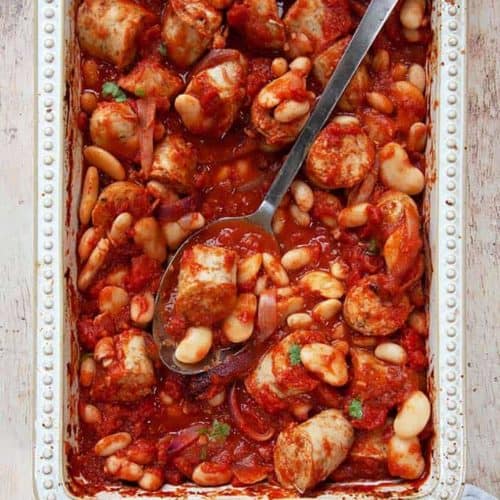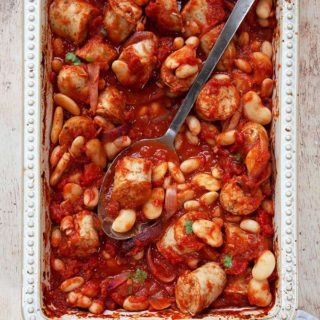 BBQ Sausage Casserole
This easy, one pot BBQ Sausage Casserole is just 6 SmartPoints per portion on Weight Watchers Freestyle plan.
Ingredients
6

thick sausages

chicken or low fat pork

½

tbsp

olive oil

1

onion

chopped

2

garlic cloves

chopped roughly

2

cans

chopped tomatoes

2

cans

beans

haricot, butterbeans, flagelot or a mixture

2

tbsp

balsamic vinegar

1

tbsp

white wine vinegar

2

tbsp

brown sugar

2

tbsp

Worcestershire sauce

2

tsp

dijon mustard
Instructions
Preheat the oven to 200oC / 400oF / 180oC Fan

Place the olive oil, sausages and onions in a large casserole dish and place in the middle of the preheated oven. Cook for 10 minutes, remove from the oven and turn the sausages over. Return to the oven for a further 5 minutes. Add the chopped garlic and cook for a further 5 minutes.

Remove from the oven and carefully slice each sausage into 4 or 5 pieces. Pour in the tinned tomatoes and beans and add the remaining ingredients. Give the casserole a good stir before placing it back in the oven for a further 30 minutes until piping hot.
Notes
Please be aware that the nutritional information below has been automatically generated and does not account for variations in product brands and types, weights of individual ingredients etc.  It should therefore be considered as an estimate.
PointedKitchen.com has calculated Weight Watchers Smart Points based on the individual ingredients used to make this recipe and not from the following nutritional information.
PointedKitchen.com is not responsible for any loss or damage relating to your reliance on this nutritional information.
Nutrition
Nutrition Facts
BBQ Sausage Casserole
Amount per Serving
% Daily Value*
* Percent Daily Values are based on a 2000 calorie diet.