This 5 ingredient Pumpkin Fluff is so easy to make and is just 2 Smart Points per 1/2 cup serving on Weight Watchers Freestyle plan. If you are following the WW plan and like pumpkin spice, this will definitely become a go to dessert recipe this Fall!
But even if you are not following the WW Freestyle plan, you will still love this Pumpkin dip. What's not to love? It's light, it's creamy and it has a delicate sweet pumpkin spice flavour.
It's perfect for dipping cookies and fruit or even for eating with a spoon! Serve it as a low Smart Point dessert this Fall and still stay within your points! Yay!
So we are well and truly into Pumpkin season!
Everywhere you look there is pumpkin flavoured this, pumpkin spice that … and I love it!
If you're a bit of a pumpkin spice fiend (like me) then take a look at these Pumpkin Spiced Scones recipe. They are 7 Smart Points per scone so are a fraction of the Smart Point value of those sold in Starbucks (& are just as good, even if I do say so myself 😀 )
I digress, so back to Pumpkin Fluff!
I have seen lots of recipes for Pumpkin Fluff doing the rounds of the internet,  so I wanted to give a few of them a try.
The recipes vary enormously and some of them are much higher in Smart Points than others.
I played around with recipes and this version has got to be my favourite.
It is light, creamy and sweet with a delicate taste of pumpkin spice!
And what is more, it is not too high in Smart Points! Yay!
In fact, it is just 2 Smart Points for half a cups worth.
But to make it so low in Smart Points, you do need to be careful about which ingredients you use.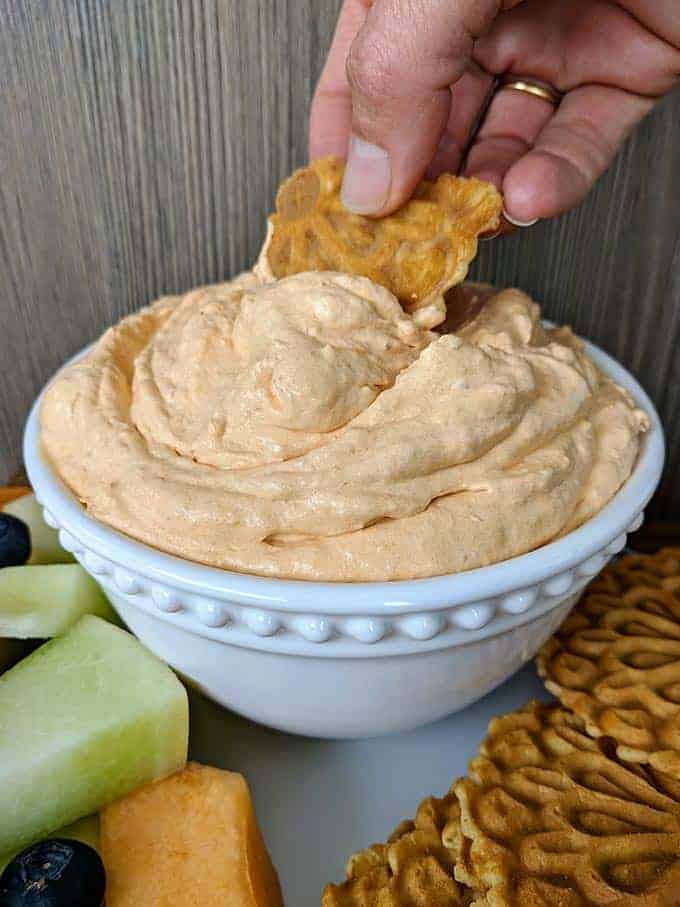 This post contains affiliate links.  As an Amazon Associate I earn from qualifying purchases. Visit this page to see what that means.
Which Cool Whip should I use?
There are quite a few varieties of Cool Whip available nowadays – Sugar Free, Fat Free, Lite, Original etc.
Each variety has a different Smart Point value so just be aware when choosing from the chiller cabinet, that you need to pick up the Fat Free version.
To keep the Smart Point values low as possible, I used Cool Whip Fat Free in this recipe.
If you were to use Cool Whip Sugar Free it would increase the Smart Point value and each 1/2 cup serving would be 3 Smart Points.
Using Cool Whip Lite would work out at 4 Smart Points per 1/2 cup serving.
Cool Whip Original would work out at 5 Smart Point per 1/2 cup serving.
Which Pudding Mix should I use
I used a single (1oz) packet of Jell-o Fat Free Vanilla Pudding mix in this recipe.
This was just enough pudding mix to give the recipe a creamy texture with a slight hint of vanilla but not too much that it pushed the Smart Points up.
Do check the box though because Jell-o pudding comes in lots of different packet sizes!
I used a 1oz packet but if that size is not readily available where you are, buy a bigger packet and measure out 1oz.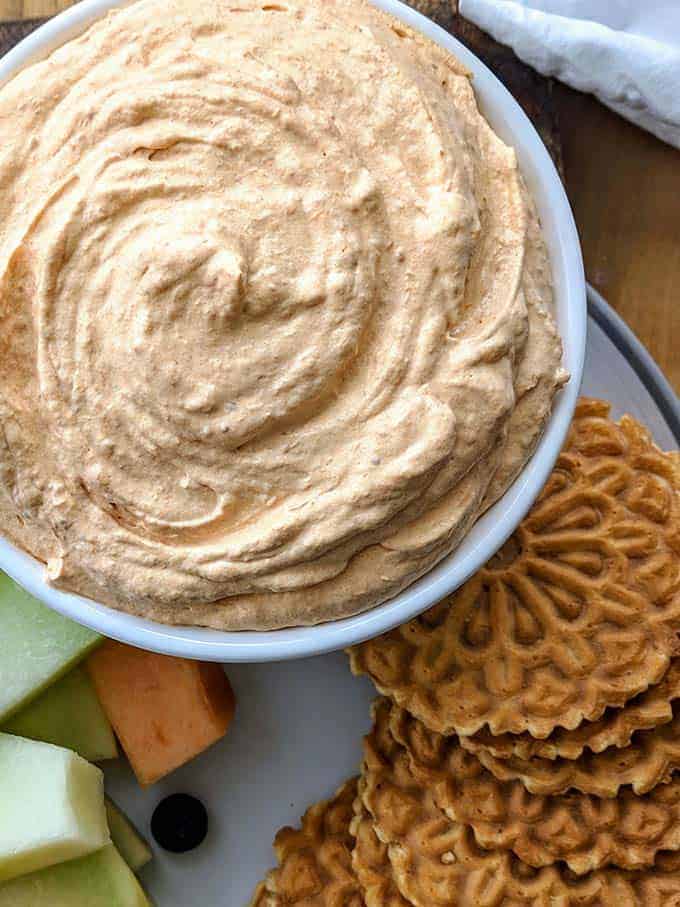 What should I serve with Pumpkin Fluff
Fresh fruit and berries are always a good choice to serve with this Pumpkin Fluff as they are zero Smart Points.
Sliced apples are particularly good to dip.
I love Anise Reko Pizzelles, which you can buy from Amazon and at 1 Smart Point per cookies (or 5 Smart Points for 6) they are a good low Smart Point option for dipping or scooping!
If you have the Smart Points to spare, take a look at these Low Point Cookies for more dipping inspiration.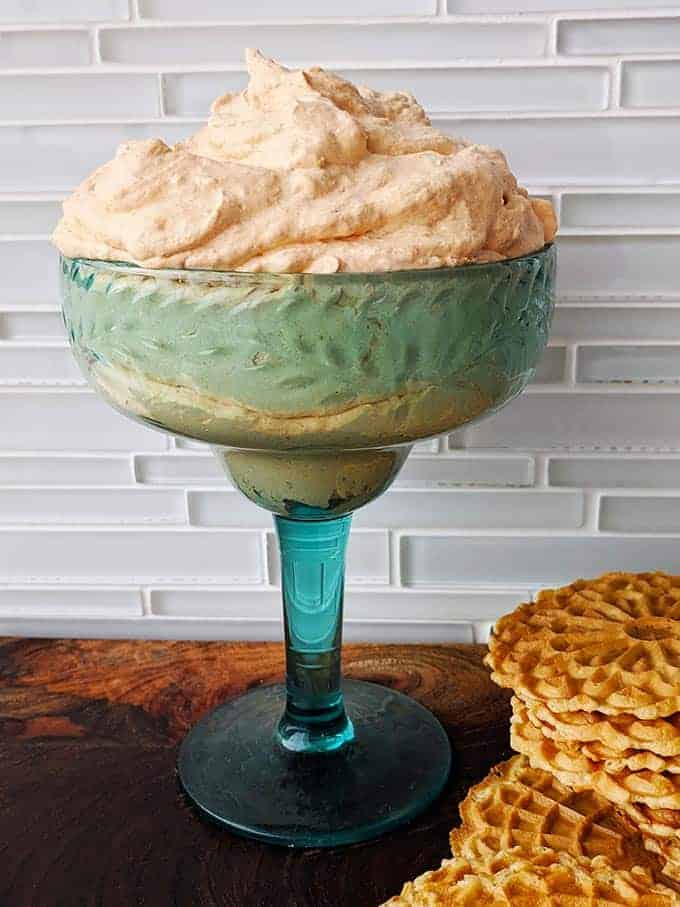 Other Weight Watchers Fluff recipes
Fluff (zero SmartPoints per serving)
Marshmallow Fluff (zero SmartPoints per serving)
Lime Fluff (zero SmartPoints per serving)
Strawberry Fluff – no yogurt (2 SmartPoints per serving)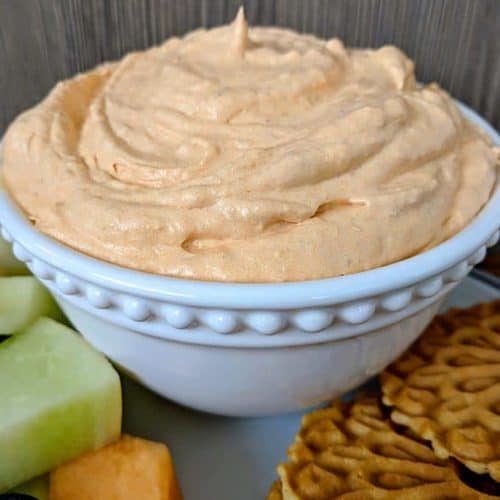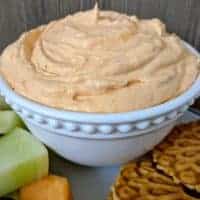 Pumpkin Fluff | Weight Watchers
This delicious light and creamy Pumpkin Fluff is just 2 Smart Points per serving on Weight Watchers Freestyle Plan. Dip zero point fruit or low Smart Point cookies for a tasty, low Smart Point dessert!
Ingredients
1 (15oz) can of pumpkin
4 tbsp skimmed milk
1 (1oz) packet of fat free / sugar free Jell-o vanilla pudding mix
1 (8oz) tub of fat free Cool Whip (defrosted)
1/2 - 1 tbsp pumpkin spice mix
Instructions
Spoon the pumpkin puree into a large bowl and mix in the skimmed milk, vanilla pudding mix and pumpkin spice.
Mix till smooth.
Fold in the defrosted Cool Whip until fully combined.
Chill until time to serve.
Notes
This recipe serves 8 - each serving is approx 1/2 cup
See notes in post regarding the ingredients I used in this recipe.
See notes in post for serving suggestions.
Recommended Products
As an Amazon Associate and member of other affiliate programs, I earn from qualifying purchases.
Nutrition Information:
Yield:

8
Serving Size:

1/2 cup
Amount Per Serving:
Calories:

70
Total Fat:

0g
Saturated Fat:

0g
Trans Fat:

0g
Unsaturated Fat:

0g
Cholesterol:

0mg
Sodium:

195mg
Carbohydrates:

17g
Net Carbohydrates:

0g
Fiber:

0g
Sugar:

15g
Sugar Alcohols:

0g
Protein:

1g
Please be aware that the nutritional information above has been automatically generated and does not account for variations in product brands and types, weights of individual ingredients etc.  It should therefore be considered as an estimate. PointedKitchen.com has calculated Weight Watchers Smart Points based on the individual ingredients used to make this recipe and not from the following nutritional information. PointedKitchen.com is not responsible for any loss or damage relating to your reliance on this nutritional information.