This easy Bread Pudding with Banana & Chocolate is a perfect Weight Watchers dessert recipe.
At just 6 Smart Points per portion on the Blue, Purple & Freestyle plans you can eat a serving of this pudding without guilt and whilst staying within your daily Smart Point allowance! It is 7 SmartPoints per serving on the WW Green plan.
To find out how many Personal Points this recipe will be for you & to track it in the WW App, click on the blue button in recipe card below!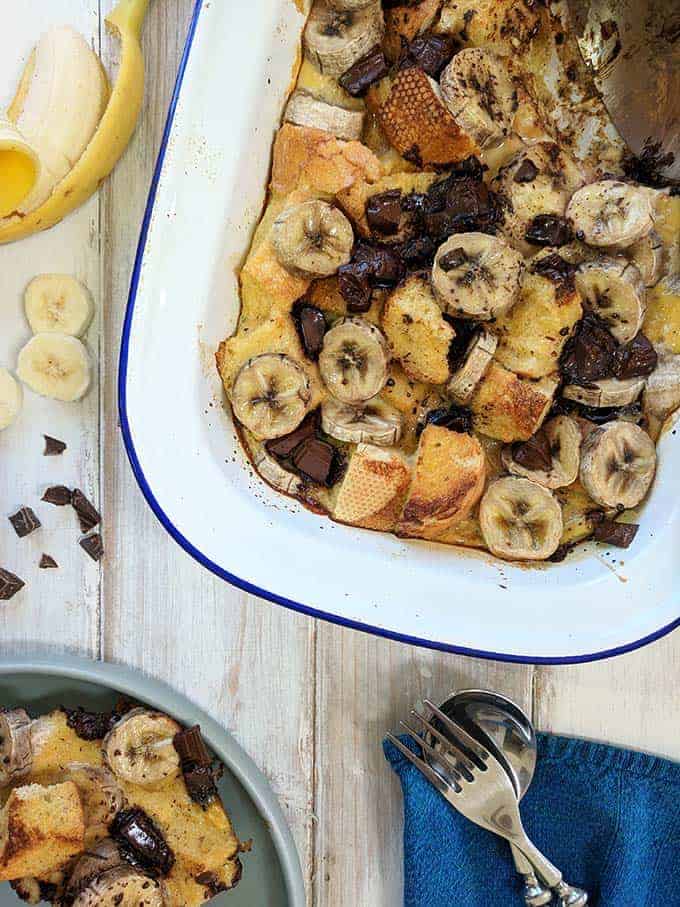 Although not the prettiest of dishes this low Smart Point dessert certainly makes up for it in taste! A mix of dark chocolate, banana and smooth egg custard how could it not taste good!
I do love dessert and I especially love a good comfort food dessert.
And bread and butter pudding is the ultimate in comfort food!
However, I calculated the Smart Point value of the bread and butter pudding that I often made prior to joining Weight Watchers and it came out at a whopping 17 Smart Points per portion!!
I wanted to make a proper curl up in front of the fire with PJ's and slippers dessert so I played around with some recipes and came up with this Bread Pudding with Banana and Chocolate.
The ultimate Weight Watchers comfort food!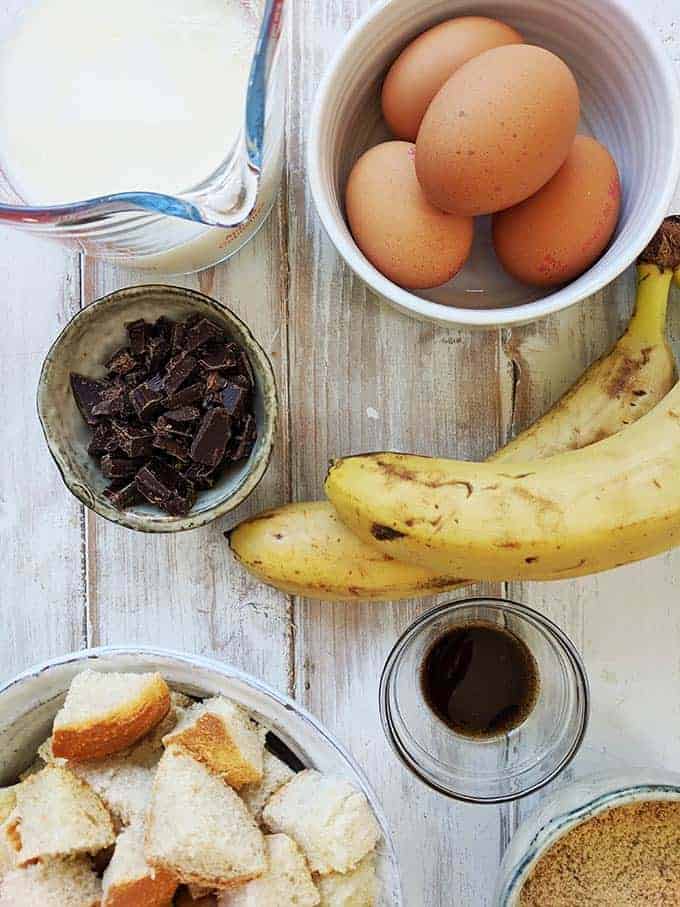 For anyone who isn't familiar with traditional bread and butter pudding, it is a classic British pudding made by layering buttered bread with raisins and topping with a creamy egg custard mixture.
It is then baked in the oven until golden brown.
For this Weight Watchers friendly take on bread and butter pudding, I didn't use butter and I didn't use raisins and I certainly didn't add double cream to the custard (as you really don't need to!).
I used chunks of baguette (giving the dessert volume) and than I dotted through dark chocolate and sliced banana.
I then made a simple egg custard flavoured with vanilla which I poured over the top.
It was baked in the oven until the custard set, the chocolate melted and the whole pudding puffed up and turned a lovely golden brown.
Unfortunately, the bananas also coloured a little bit too but you can't have everything can you!
The taste and texture of this dessert certainly made up for the ugly looking bananas 😀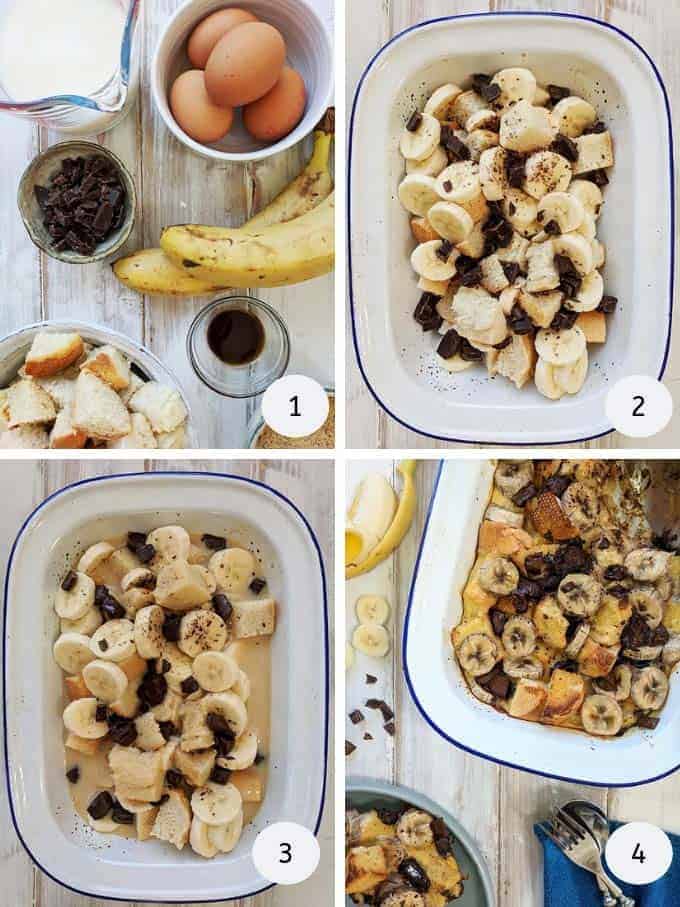 Tips for making Bread Pudding with Banana & Chocolate
Chop the chocolate into small pieces or alternatively use packet chocolate chunks (picture 1).
It is best to use day old baguette that is a little on the dry side. Having said that I have also successfully made this desert with fresh baguette.
Slice or tear the baguette into chunks approximately 1 inch square (picture 1).
Spray a 9 inch pie dish with a little calorie controlled spray oil. This prevents the dessert from sticking to the pan when baking.
Layer the bread, banana and chocolate into the pie dish (picture 2).
Whisk the egg, vanilla, salt and sugar in a jug. Add the milk and stir to combine. Pour the custard over the bread (picture 3).
Squidge the bread down into the custard, just enough so that each piece of bread is covered with custard. It doesn't matter if bits of the bread pop up to the surface again - you just need each piece to have soaked up some of the custard mixture. This will prevent it from turning to a dry toast when baking!
Bake in a preheated oven for 35 minutes or until the custard has set, the pudding has puffed up and has turned golden brown (picture 4).
Remove from the oven and let stand for 5 - 10 minutes before serving.
Can I swap light brown sugar for a different sugar.
I have also cooked this pudding using granulated sugar and caster sugar - both of which you could substitute for the light brown sugar.
Which Baguette should I use?
Baguettes range in Smart Point values from about 9 Smart Points to 12 Smart Points for 140g.
If you are using a baguette that is more than 12 Smart Points for 140g you will need to recalculate the Smart Point value of this recipe.
Can I use sliced bread rather than Baguette?
Of course!
You can find some great Low Point Breads here!
However, I found that using baguette (French bread) gives the pudding more volume and I like volume in my desserts! It looks like you get more dessert for your points!
How long does this dessert keep in the fridge?
This Bread Pudding with Banana & Chocolate is best served warm just out of the oven.
However, it can be kept in an airtight container in the fridge for a day or two. The bananas will brown though!
It is best to gently reheat the pudding before serving.
Other Weight Watchers dessert recipes made with bananas!
If you like bananas you may also like this Banana Yogurt Bread which is just 4 Smart Points per serving. These Banana Muffins with Streusel Topping are very popular and are just 4 Smart Points per muffin. This Choc Chip Zucchini Bread is 5 Smart Points per slice and uses banana to sweeten and moisten the bread. Yum!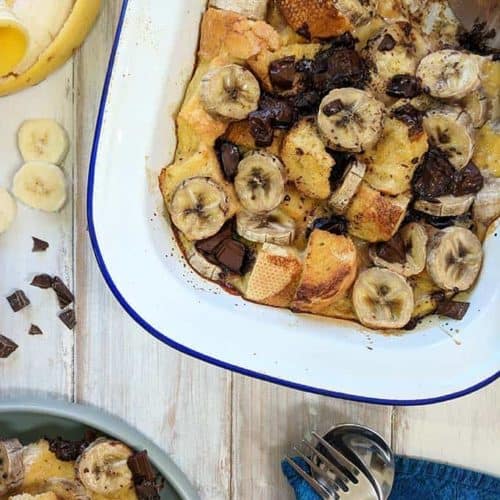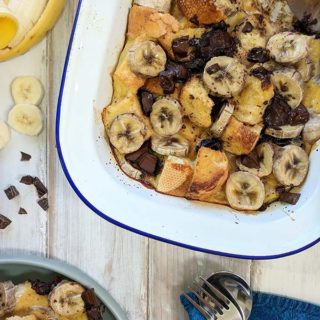 Bread Pudding with Banana & Chocolate | Weight Watchers
This easy Bread Pudding with Banana & Chocolate is just 6 Smart Points per portion on Weight Watchers Freestyle plan.
Ingredients
4

eggs

2

medium bananas

3 ½

tablespoons

of light brown sugar

1

teaspoon

vanilla bean paste

1

pinch

of salt

5

oz

baguette / French bread [day old bread is best]

(140g)

1 ⅓

cup

skimmed milk

(300m)

1 ¼

oz

semisweet / dark chocolate - chopped

(35g)

Calorie controlled spray oil
Instructions
Preheat the oven to 180°C / 350°F /160°C fan oven

Spray a 9 inch pie dish with calorie controlled spray oil

Whisk together the eggs, salt, sugar and and vanilla in a jug and then stir in the milk.

Cut or rip the bread into chunks and layer over the bottom of the pie dish.

Slice the banana and layer over the bread chunks and add the chocolate chunks.

Pour the liquid mixture over the bread, banana and chocolate and squish down so that the bread starts to absorb some of the liquid.

Place in the middle of the preheated oven and bake for 35 minutes or so until golden brown and set.

Let stand for 5 - 10 minutes before serving.
Notes
Please be aware that the nutritional information below has been automatically generated and does not account for variations in product brands and types, weights of individual ingredients etc. It should therefore be considered as an estimate.
PointedKitchen.com has calculated Weight Watchers Smart Points based on the individual ingredients used to make this recipe and not from the following nutritional information.
PointedKitchen.com is not responsible for any loss or damage relating to your reliance on this nutritional information.
Nutrition
Nutrition Facts
Bread Pudding with Banana & Chocolate | Weight Watchers
Serving Size
1 /6 of dessert
Amount per Serving
% Daily Value*
* Percent Daily Values are based on a 2000 calorie diet.