Who knew you could eat American style fluffy pancakes whilst following the Weight Watchers plan and not blow your SmartPoint budget!
I certainly didn't when starting on my WW journey!
But you can .... and if you are craving sweet, fluffy pancakes that are not only tasty but also fit into your plan, then you are in the right place!
These pancakes are plump and airy, taste delicious, and work out at just 2 SmartPoints per pancake on the Blue and Purple plan and 3 SmartPoints on the Green plan.
Eating two pancakes with some low point pancake syrup and some mixed berries can work out as little as 4 / 6 SmartPoints - depending on the syrup you use & the plan you are on!
That's pretty good for such a tasty & 'decadent' breakfast!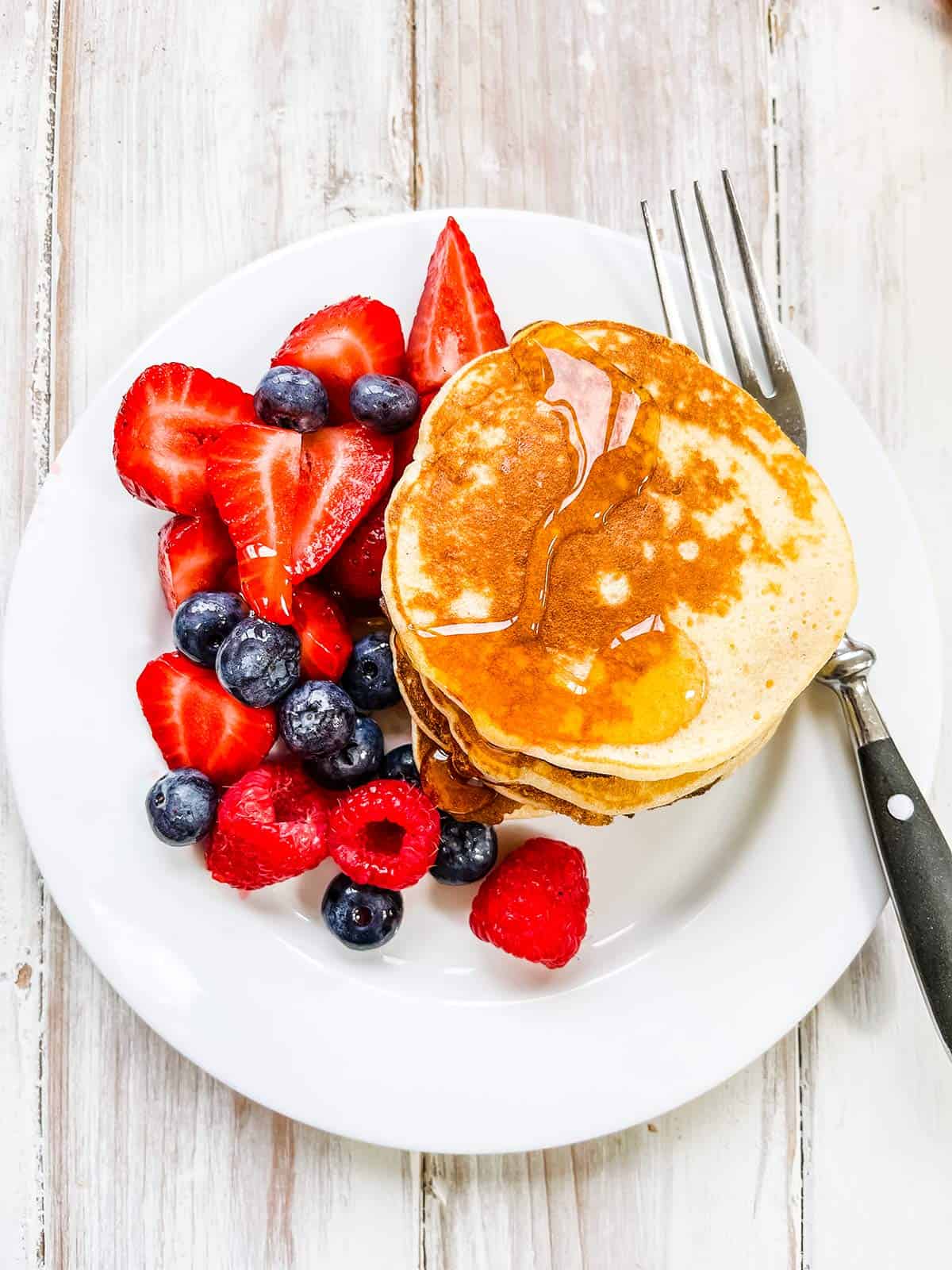 There are many recipes out there for Weight Watchers friendly pancakes .... and some of them are better than others!
Many of them contain banana and some of them contain high protein pancake mix. Some of them contain both, like these Kodiak Pancakes!
But sometimes I just feel like eating some 'normal' American style pancakes and that is where this recipe comes in useful!
They contain all the ingredients of traditional pancakes except for butter as this unfortunately piles on the SmartPoints!
As well as omitting butter I also slightly reduce the amount of sugar I use and I swapped out milk for fat free yogurt. This brought down the SmartPoints nicely, without affecting the taste!
Infact it reduced the SmartPoints per pancake by half (from the recipe that I used to follow!).
I also find that separating the egg before making the batter and whisking the egg white to soft peaks before adding it to the rest of the batter makes the pancakes lovely and airy and plump!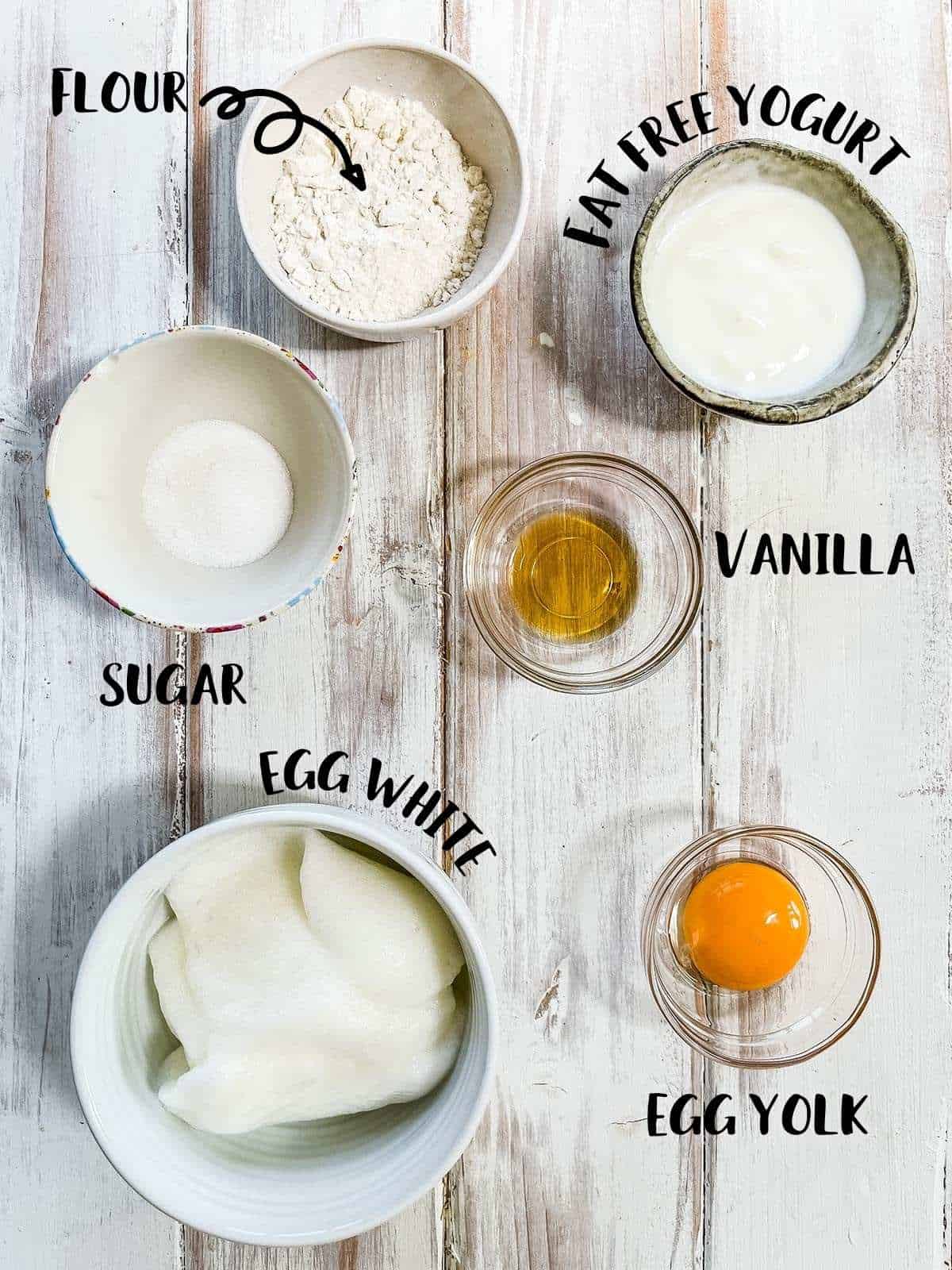 Tips for making these Pancakes!
These pancakes are just so easy to make.
The only tip that I have is to make sure that you whisk up the egg whites well - until they hold stiff peaks.
When you go to add the whisked egg whites into the rest of the batter, use a metal spoon and fold it in gently making sure that you don't knock out all of the air that you have spent time adding to the egg white!
Whisking the egg white and folding them into the rest of the batter makes these pancakes so nice and plump and fluffy!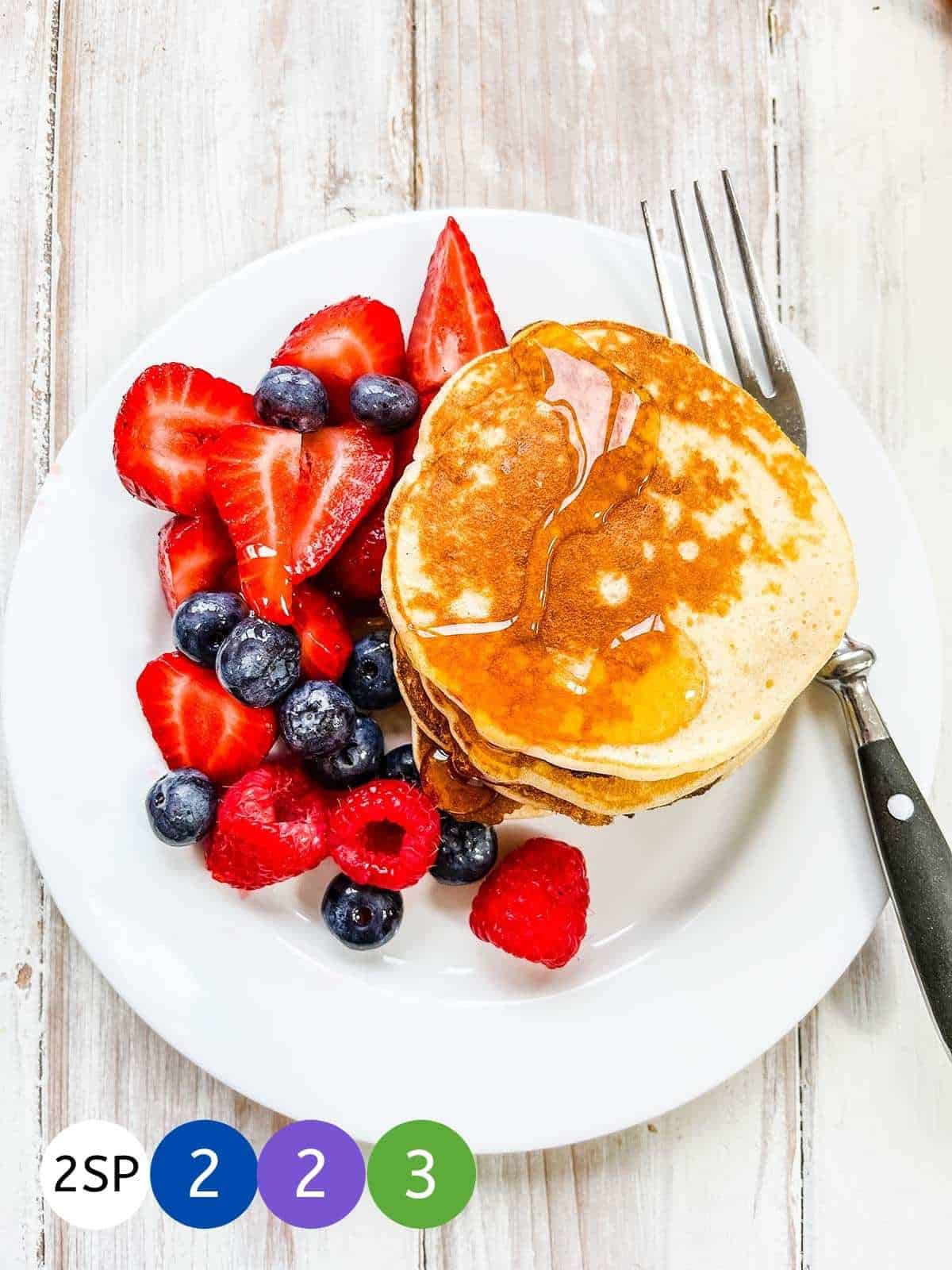 SmartPoints in Pancakes
I worked out the SmartPoint values for these fluffy pancakes using the official WW recipe builder.
Freestyle Plan - 2 SmartPoint per pancake
myWW Blue Plan - 2 SmartPoint per pancake
myWW Purple Plan - 2 SmartPoint per pancake
myWW Green Plan - 3 SmartPoints per pancake
Please note that the nutritional information in the recipe card below has been automatically generated and may well give you an inaccurate SmartPoint value if you add it to your WW calculator. This is especially true if the recipe includes a lot of ingredients that are zero SmartPoints in the plan that you follow.
This is because it does not account for any ingredients being zero SmartPoints on the WW plan. Nor does it account for variations in product brands and types, weights of individual ingredients etc.
Use the recipe builder on your WW App and you will see that the SmartPoint values that I have given are correct 😉 !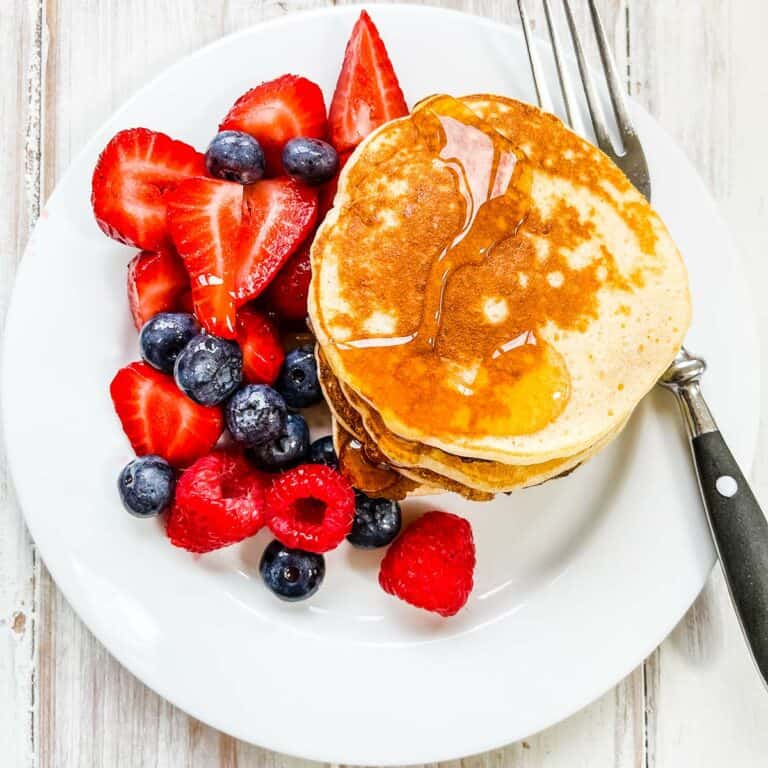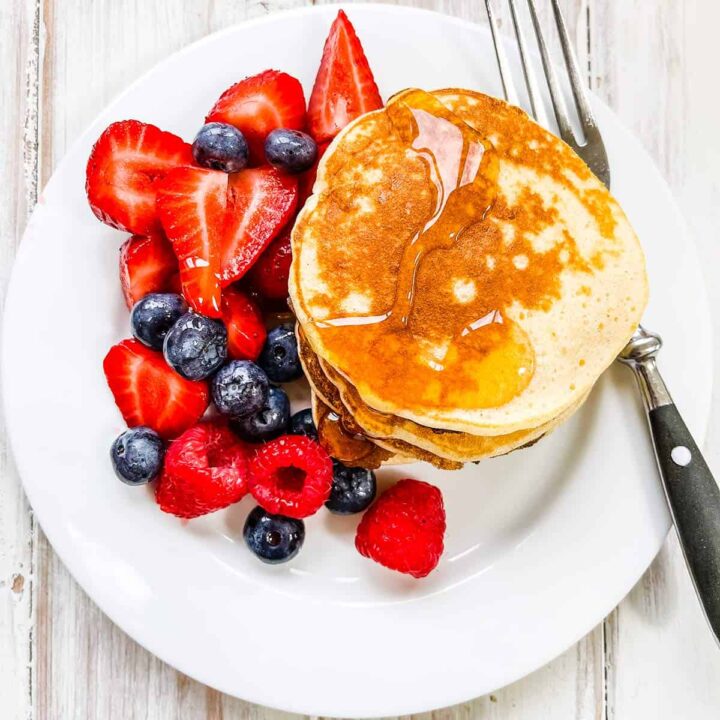 Fluffy Pancakes | Weight Watchers
These light and fluffy pancakes work out at 2 SmartPoints each on Weight Watchers Blue and Purple plans & 3 SmartPoints on the Green plan. Easy to make, serve 2 pancakes with some low point syrup and some mixed berries for a very satisfying 4 SmartPoint breakfast (6 SmartPoints on Green)!
Ingredients
1 egg - separated
¾ teaspoon sugar (10g)
½ teaspoon vanilla extract
2 tablespoons fat free yogurt (30g)
3 tablespoons all purpose flour (25g)
5 sprays of calorie controlled cooking oil
Instructions
Separate the eggs - placing the egg yolk into a small bowl and the egg white into a larger bowl.
Whisk the egg white until it holds it shape and set aside.
In a separate bowl mix the sugar, egg yolk, fat free yogurt, vanilla and flour until you have a smooth batter.
Fold in the whisked egg white taking care not to knock out all the air that you have whisked in (as this is what makes these pancakes nice and fluffy)
In a large non stick skillet warm the oil over a medium heat.
Spoon the mixture onto the skillet using just over 1 tablespoon of mixture per pancake. This mixture is enough for 4 pancakes.
Brown on one side before flipping and browning on the other side.
Serve immediately with a low SmartPoint syrup and mixed berries.
Recommended Products
As an Amazon Associate and member of other affiliate programs, I earn from qualifying purchases.
Nutrition Information:
Yield:

4
Serving Size:

1 pancake - 2SP or 2 pancakes 4SP (Blue & Purple)
Amount Per Serving:
Calories:

48
Total Fat:

1g
Saturated Fat:

0g
Trans Fat:

0g
Unsaturated Fat:

1g
Cholesterol:

47mg
Sodium:

23mg
Carbohydrates:

6g
Fiber:

0g
Sugar:

1g
Protein:

3g
Please be aware that the nutritional information above has been automatically generated.  It should therefore be considered as an estimate. The above nutritional information does not account for variations in product brands and types, weights of individual ingredients etc and does not account for many ingredients being zero SmartPoints on the WW plan. Therefore, using these numbers in your WW calculator will often give you an INACCURATE SmartPoint value! PointedKitchen.com has calculated Weight Watchers Smart Points based on the individual ingredients used to make this recipe and not from the following nutritional information. PointedKitchen.com is not responsible for any loss or damage relating to your reliance on this nutritional information.
More WW Breakfast Ideas