These Kodiak Pancakes are a perfect breakfast treat if you follow any of the Weight Watchers plans. They work out at just 1 SmartPoint per pancake on the Blue and Purple plan and 2 SmartPoints if you follow the Green plan. If you follow the WW Personal Points Plan you can see exactly how many Points they'll be for you by clicking on the button in the recipe card! Each pancake is 105 calories & is high in protein.
The Kodiak Buttermilk 'pancake' mixture is higher in protein than regular pancake mix and the addition of banana and blueberries 'bulk' the pancakes out as well as making them extra tasty!
Despite the addition of the banana, the pancakes are light and fluffy. I put this down to folding in whisked egg whites into the batter before cooking.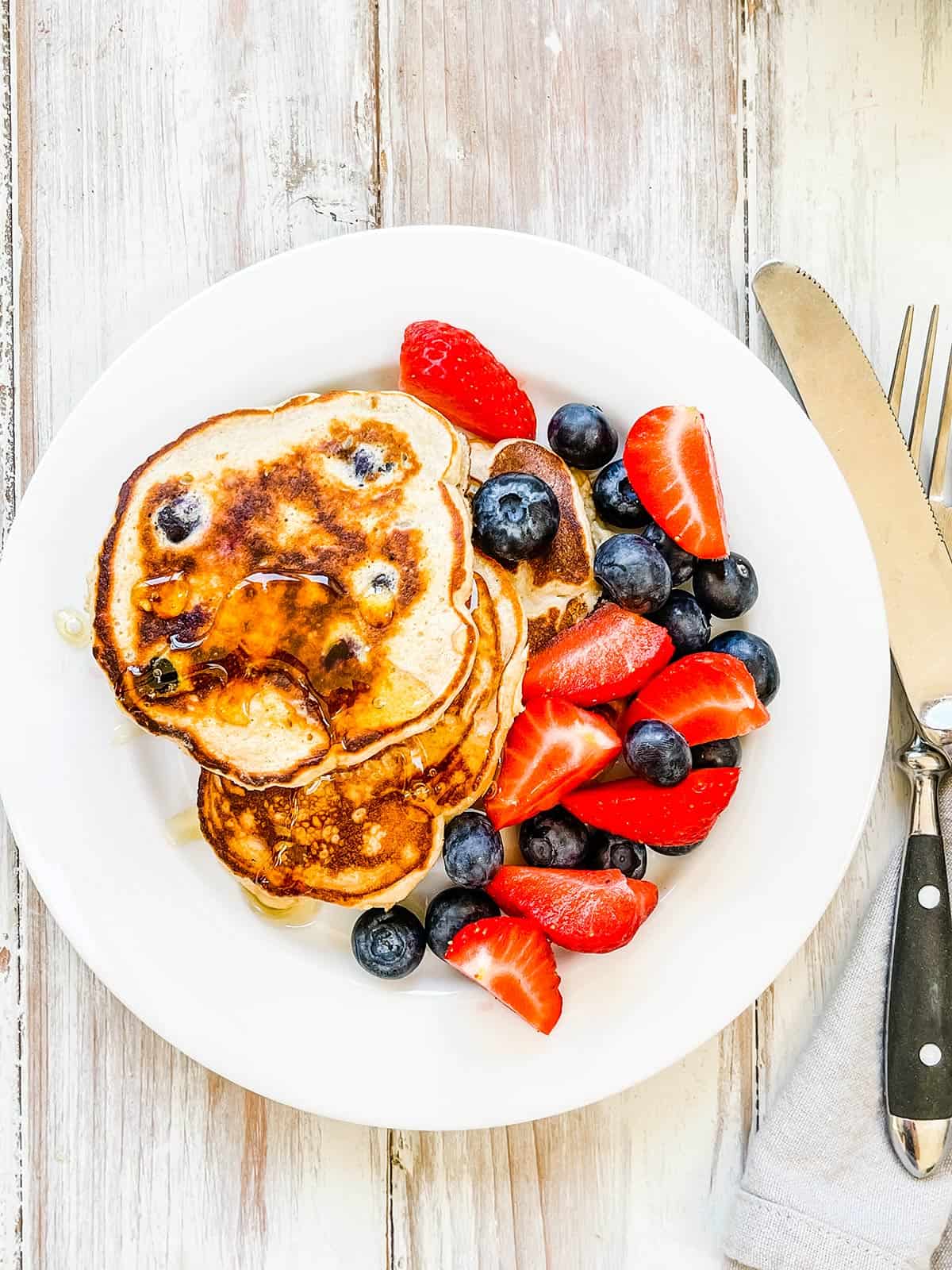 I have tried quite a few WW friendly pancakes over my time following the Weight Watchers plans and these one are up with some of my favourites.
They fill me up till lunchtime (possibly because of the added protein) and they are really tasty!
I do like my pancakes to be light and fluffy and the addition of whisked egg white certainly seems to help with this.
I also like the addition of the sweet blueberries - but of course you could leave these out if you'd prefer.
The pancakes are great served with fresh berries or sliced banana and some low point syrup.
If you are looking for a good Weight Watchers friendly pancake syrup take a look at this list of these Low Point Pancake Syrups!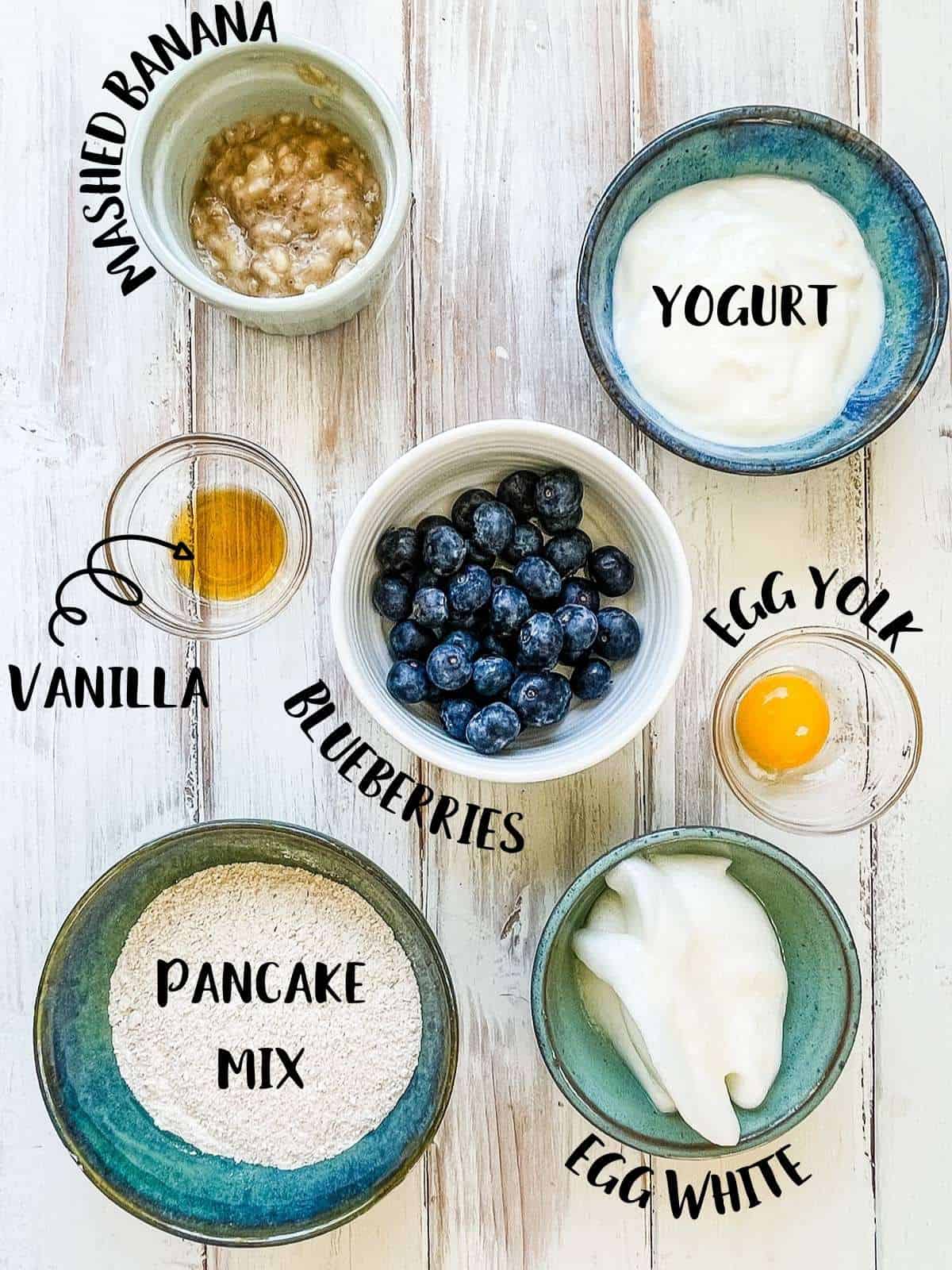 Tips for making these pancakes!
The temptation when making this pancake mixture is to chuck all of the ingredients into a bowl and mix to combine!
Of course you could do this (& the pancakes would still taste good!) but that won't give you airy, fluffy pancakes.
When you separate the eggs, whisk up the egg whites to add lots of air and gently fold this in to the mixed pancake batter then you end up with a batter that makes a light and fluffy panacke.
So do follow the recipe below if you want your pancakes extra fluffy!
You really want to make a pancake batter that has a good dropping consistency - too liquid and the pancakes will spread when spooned into the skillet. Too thick and the pancakes may be a little heavy!
In the recipe I have suggested adding 2 - 3 tablespoons of water to the batter. I find that sometimes I need more water than other times and I figure this probably depends on the size of the banana that I have used! Just gauge it and see.
What is Kodiak Mix & where can I buy it?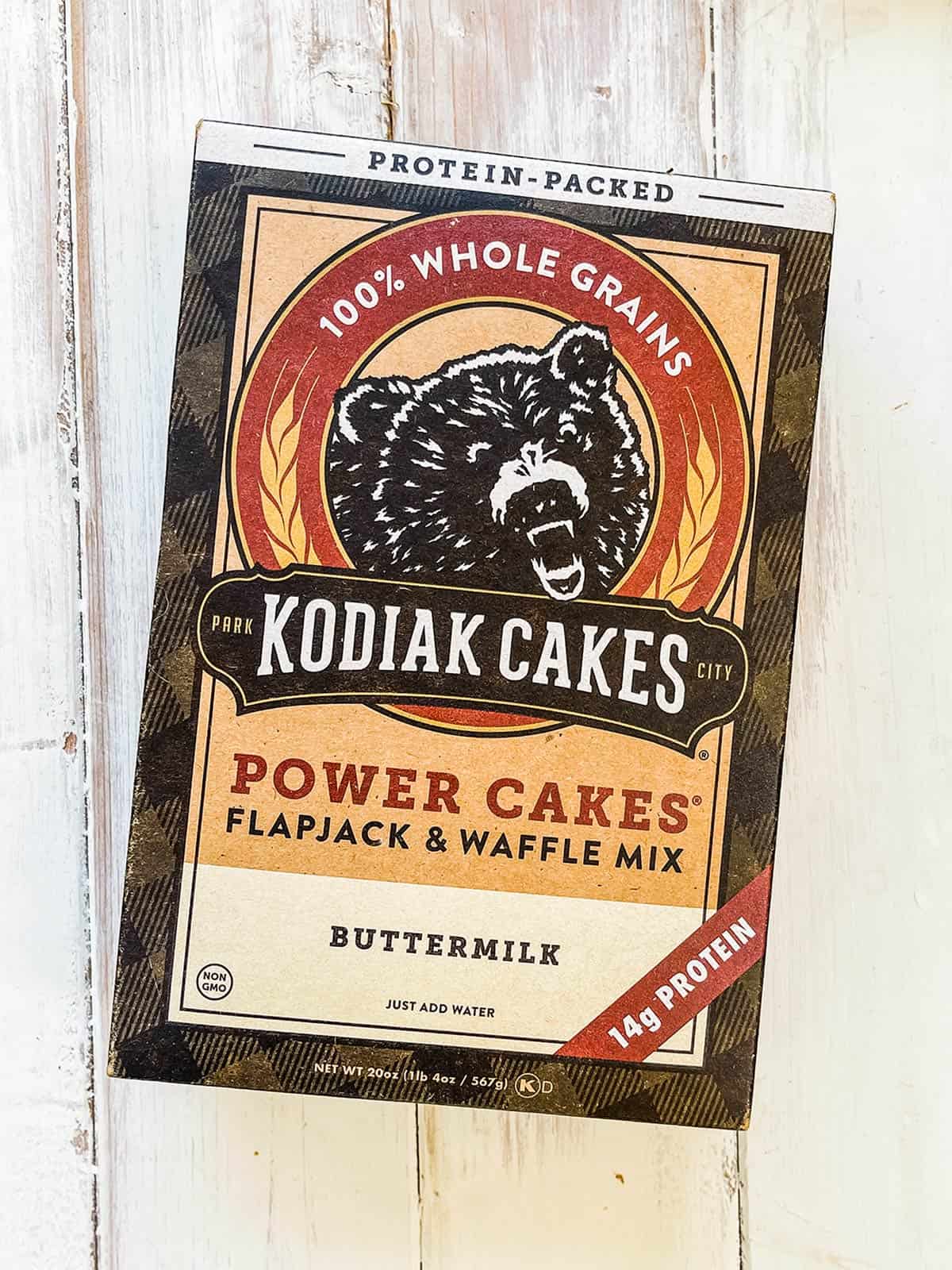 Kodiak Power Cakes Flapjack & Waffle Mix is a high protein powder that has been used by people following the Weight Watchers plan for a number of years now.
It can be used to make muffins, pancakes, waffles, flapjacks and many other sweet treats. It contains 14g of protein per ½ cup of mixture.
This post may contain affiliate links. As an Amazon Associate I earn from qualifying purchases. Visit this page to see what that means.
It can be purchased online from Kodiak Cakes, or can be brought from Amazon here.
SmartPoints per Pancake!
I used the official WW recipe builder to work out the SmartPoints for these Kodiak Pancakes and they work out as follows:
Freestyle Plan - 1 SmartPoint per pancake
myWW Blue Plan - 1 SmartPoint per pancake
myWW Purple Plan - 1SmartPoint per pancake
myWW Green Plan - 2 SmartPoints per pancake
Please note that the nutritional information in the recipe card below has been automatically generated and using that information may give you an inaccurate SmartPoint value.
This is because it does not account for any ingredients being zero SmartPoints on the WW plan (such as the banana and yogurt in this recipe). Nor does it account for variations in product brands and types, weights of individual ingredients etc.
Use the recipe builder on your WW App and you will see that the SmartPoint values that I have given are correct 😀 !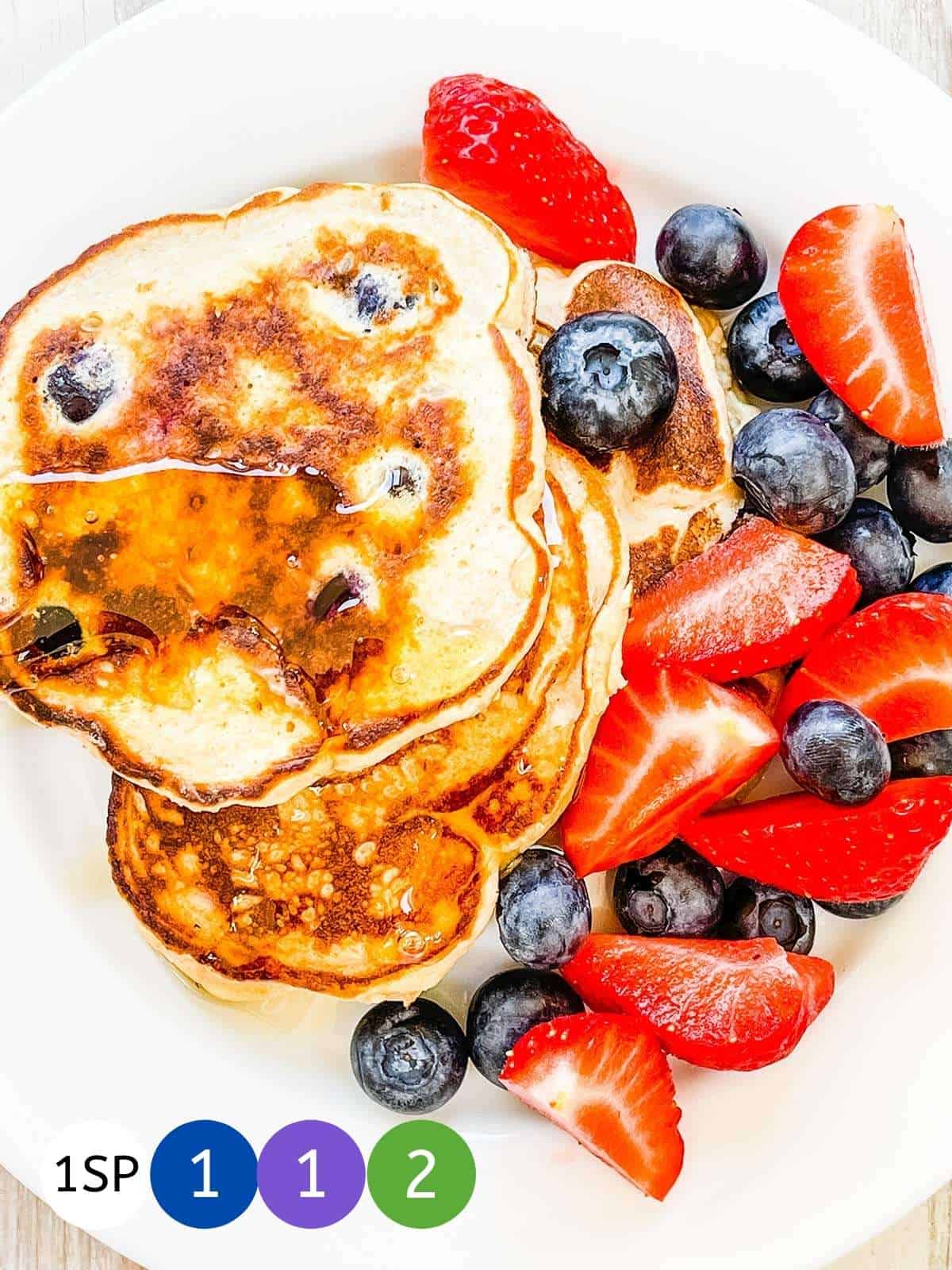 Personal Points per Kodiak Pancake!
Click on blue button in the recipe card to find out exactly how many Personal Points these Kodiak Pancakes will be for you & to track them in your APP (you will need to be logged in to your WW App for this to work)!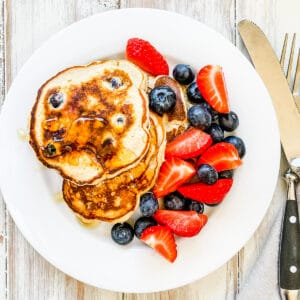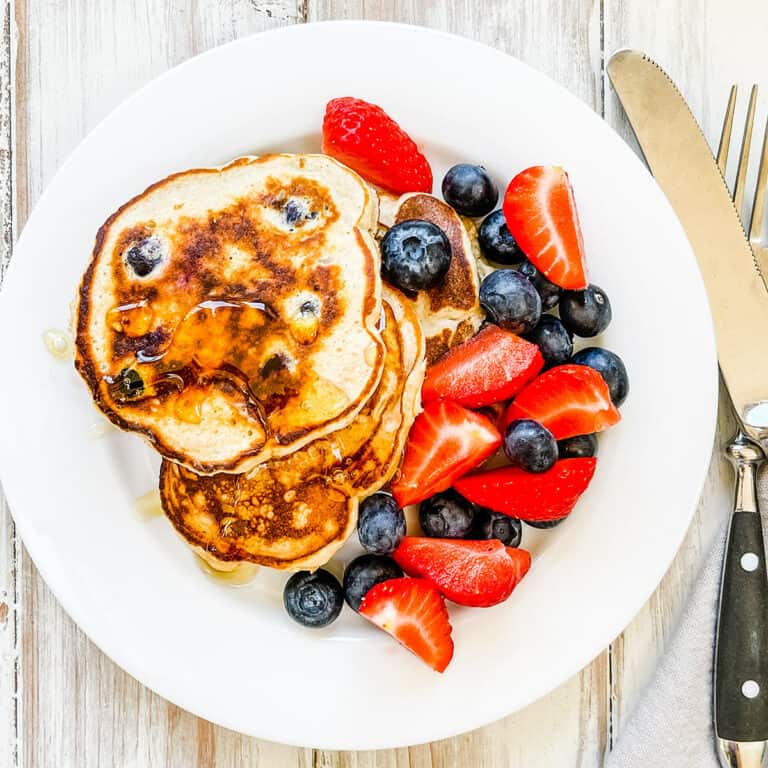 Kodiak Pancakes | Weight Watchers
These fluffy but protein packed pancakes are just 1 SmartPoint per pancake if you follow the Weight Watchers Blue or Purple plan or 2 SmartPoints per pancake if you follow the Green plan. Click below for the WW Personal Points!
Ingredients
1

medium

banana

mashed

½

cup

fat free natural yogurt

(110g)

1

tsp

vanilla extract / paste

1

large

egg

separated

¾

cup

Kodiak Power Cakes Flapjack & Waffle Mix

(80g)

2 - 3

tbsp

water

½

cup

blueberries

handful

5 - 10

sprays of calorie controlled cooking oil
Instructions
In a medium sized bowl mash the banana until it is smooth and lump free.

Add the yogurt and vanilla extract/ paste to the mashed banana and stir to combine.

Add the Kodiak mixture and mix until smooth.

Separate the egg, placing the yolk in with the mashed banana mixture and the egg white into a clean bowl.

Mix the egg yolk into the banana mixture and add a couple of tablespoons of water to create a spoonable pancake batter.

Fold in the blueberries.

Whisk the egg white until it is light and fluffy and holds its shape.

Gently fold the egg white into the pancake mixture - this helps create a light and fluffy pancake.

Heat a non-stick skillet over a medium heat and use a few sprays of calorie controlled cooking oil to ensure that your pancakes don't stick to the pan.

This amount of mixture will make approx 6 pancakes - I use around 1.5 tablespoons of mixture per pancake.

Cook the pancakes for a few minutes until the undersides have turned golden brown. Flip the pancakes and cook on the other side until firm.

Serve warm with some chopped berries and (low point) syrup.

Enjoy and remember to track!
Nutrition
Nutrition Facts
Kodiak Pancakes | Weight Watchers
Amount per Serving
% Daily Value*
* Percent Daily Values are based on a 2000 calorie diet.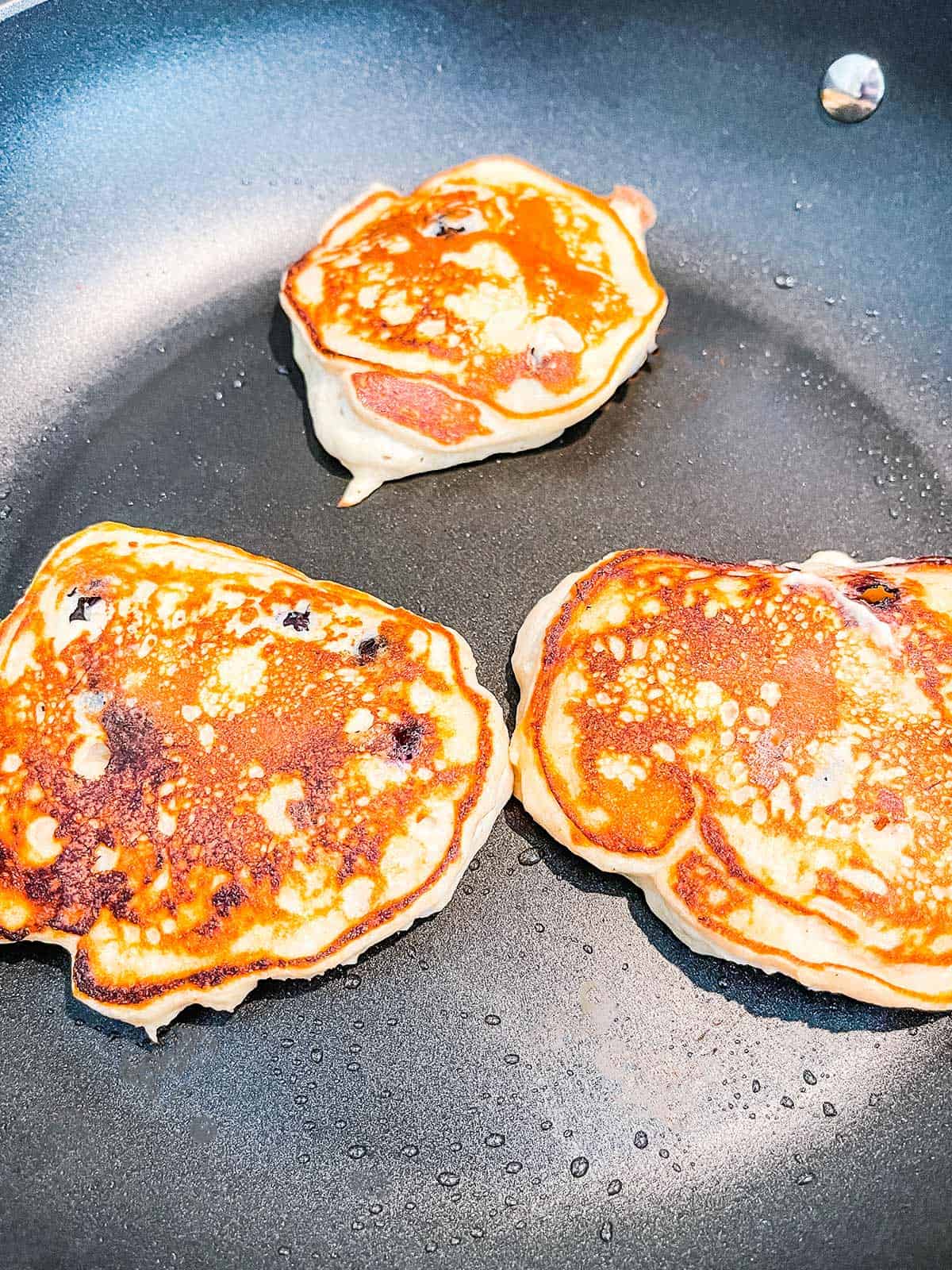 More WW Breakfast Recipes