This Hearty Breakfast Casserole is both filling and tasty and works out at just 3 SmartPoints per serving on Weight Watchers Blue and Purple plans.
If you follow the Weight Watchers Green plan a serving works out at 4 SmartPoints.
The casserole can be served anytime of the day, but I particularly like it for breakfast as it fills me up & stops me reaching for the cookie jar during the morning!
Made with shredded hash brown potatoes, eggs, bacon, cheese and onion, the casserole doesn't take long to make and bakes in about 40 minutes!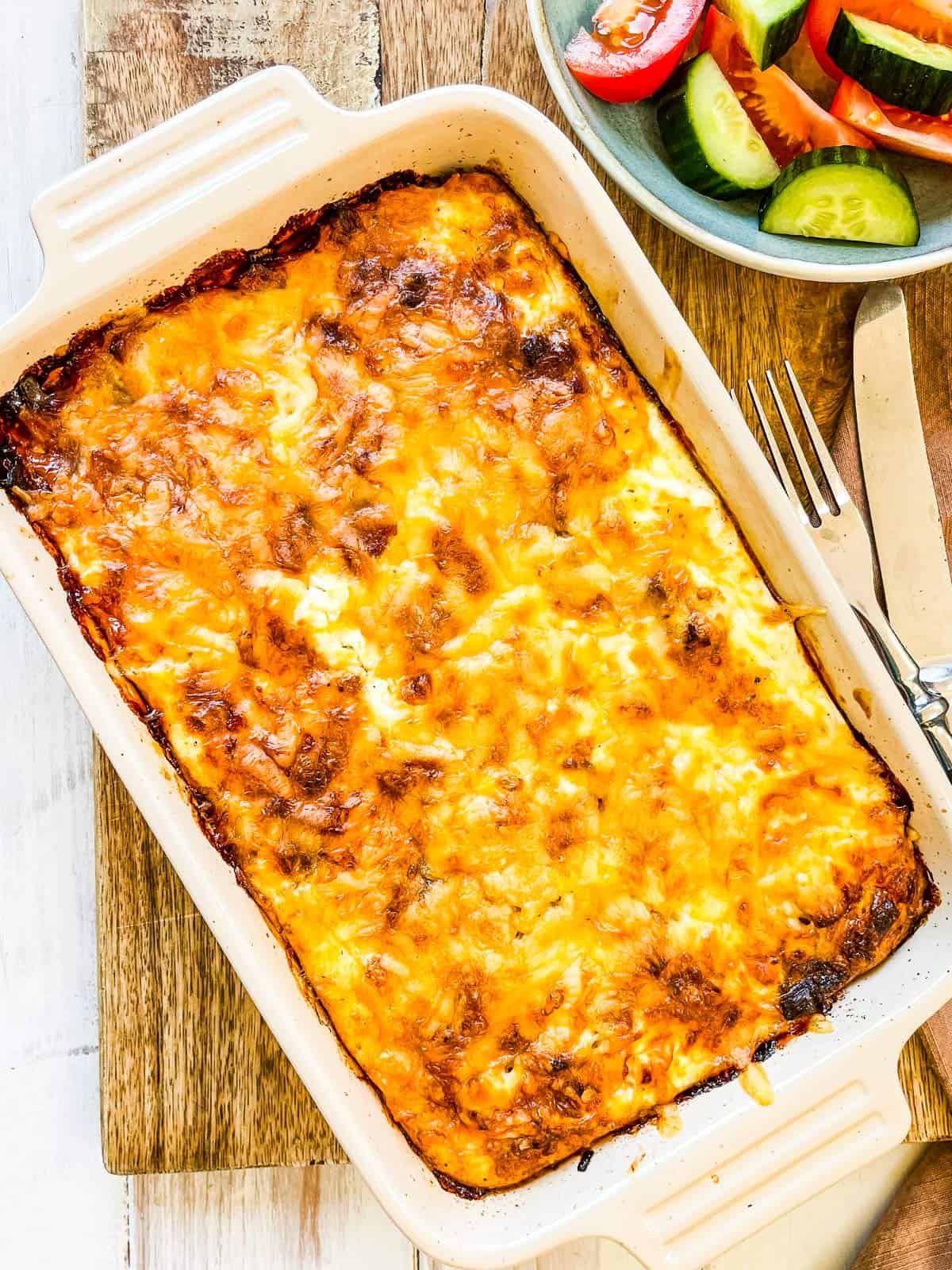 I've learnt that breakfast really is an important part of maintaining my healthy weight! When I skip breakfast, I tend to snack more .... and when I snack more it is inevitable that I go over my SmartPoint allocation.
So, having something like this Hearty Breakfast Casserole that I can fill up on at breakfast is so important to me.
It really isn't difficult to make and can be made ahead of time if you'd like.
It keeps in the fridge for a couple of days or it can be frozen (portioned up if you prefer) to be taken from the freezer whenever you choose.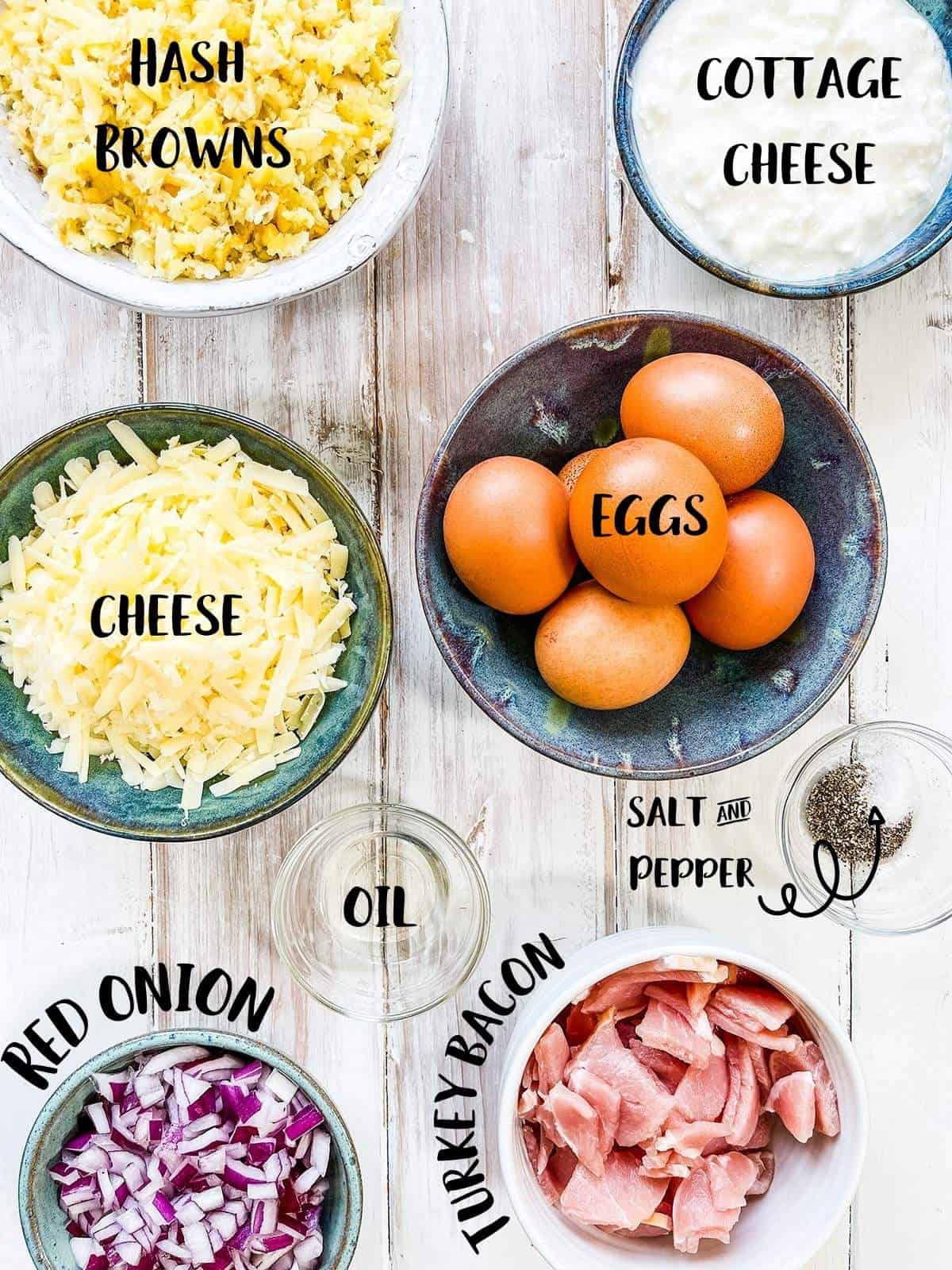 Many breakfast casseroles contain a lot of cheese and bacon or breakfast sausage and many also contain sour cream - all of which hike up the SmartPoints value of a serving.
This Weight Watchers friendly Breakfast Casserole recipe uses cottage cheese in place of the sour cream. You don't really 'taste' the addition of the cottage cheese but it does give the casserole a creamy consistency which I was unable to replicate in any other WW friendly way.
I also swapped out the bacon for turkey bacon which reduced the SmartPoints significantly.
If you can get bacon medallions (widely available in the UK) then you could use those in place of the turkey bacon if you prefer. They are slices of lean bacon that has had the fat removed, just leaving the meat. Most brands of bacon medallions work out at 1 SmartPoint per medallion.
Lastly, I used a reduced fat sharp (mature) cheddar cheese in this recipe rather than full fat cheddar. This gave the dish a lovely cheesy flavour without using too many SmartPoints.
Of course you could use fat free cheese to reduce the SmartPoints even further - see below.
What Cheese can I use?
I like to use a sharp / mature cheddar cheese as this gives the most cheese taste for the SmartPoint ..... and I do love cheese!
I used a reduced fat (2%) sharp cheddar cheese which worked out at 9 SmartPoints per cup.
If you use fat free shredded cheese, it works out as 2 SmartPoints per cup.
If you were to use a full fat shredded cheese it would work out at about 18 SmartPoints per cup (depending on brand).
What Hash Browns Potatoes can I use?
The SmartPoints in shredded hash brown potatoes can differ between brands ... so just be aware!
Ore-Ida Shredded Hash Brown Potatoes are a really easy option and work out at 2 SmartPoints for 85g (1 ¼ cups). They worked out as 3 SmartPoints for 170g (2 ½ cups).
You can use 1 ⅔ cups (170g) of Simply Potatoes Shredded Hash Browns for the same amount of SmartPoints.
If you don't use either of these brands I would suggest working out the SmartPoints from the nutritional info on the back of the pack and working out how much you can use for 3 SmartPoints!
If you are in the UK, hash browns only come pre-formed & they are many more SmartPoints. This is because they contain more fat. If you are in the UK and want to make this recipe you can grate two frozen hash browns and use those instead (approx 80g).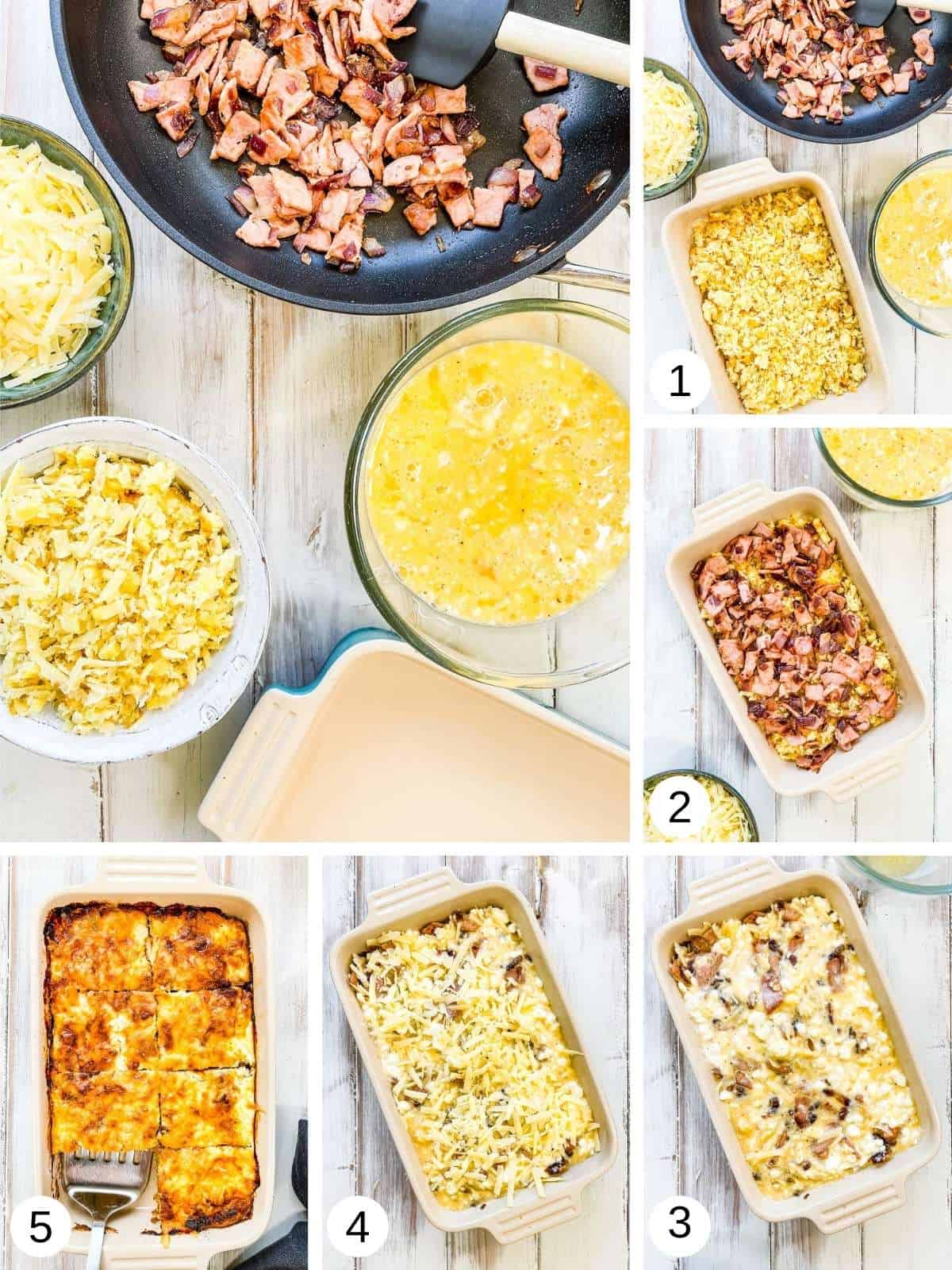 Tips on making this WW Breakfast Casserole!
I removed the frozen shredded hash brown potatoes from the freezer prior to cooking the bacon etc - just to give them a little time to thaw.
I layered the shredded hash brown potatoes on the bottom of the casserole dish (picture 1) before layering on the bacon and onions (picture 2)
I stirred the cottage cheese into the whisked egg, added some salt and pepper and poured it over the top of the hash brown and bacon (picture 3). I didn't stir it.
The casserole was then topped with the shredded cheese (picture 4) and baked until it was golden brown (picture 5).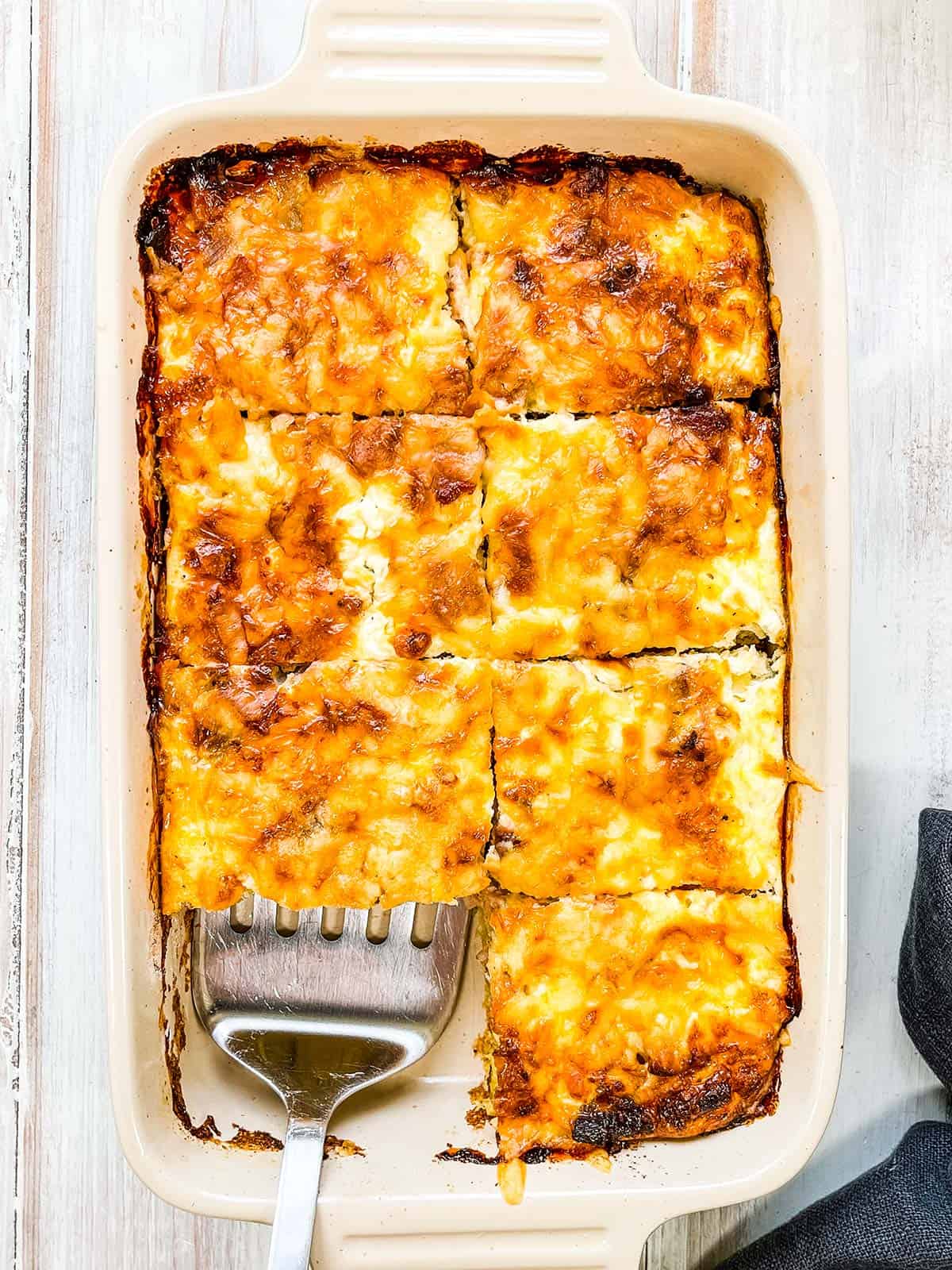 Can I freeze this casserole?
Yes, the Hearty Breakfast Casserole keeps in the freezer for 2 - 3 months.
I like to bake the casserole, portion it up and freeze the portions individually.
Whenever I want a slice I can remove it from the freezer, leave it to defrost in the fridge and reheat in the microwave or the oven.
How long does the casserole keep?
The baked casserole keeps in the fridge for 3 - 4 days but make sure it is tightly covered.
Can I make it in advance?
Yes. Make the casserole the day before, tightly cover it and place it in the fridge overnight.
It can then be removed from the fridge 30 - 60 minutes before you want to bake it. Bake as directed.
SmartPoints per serving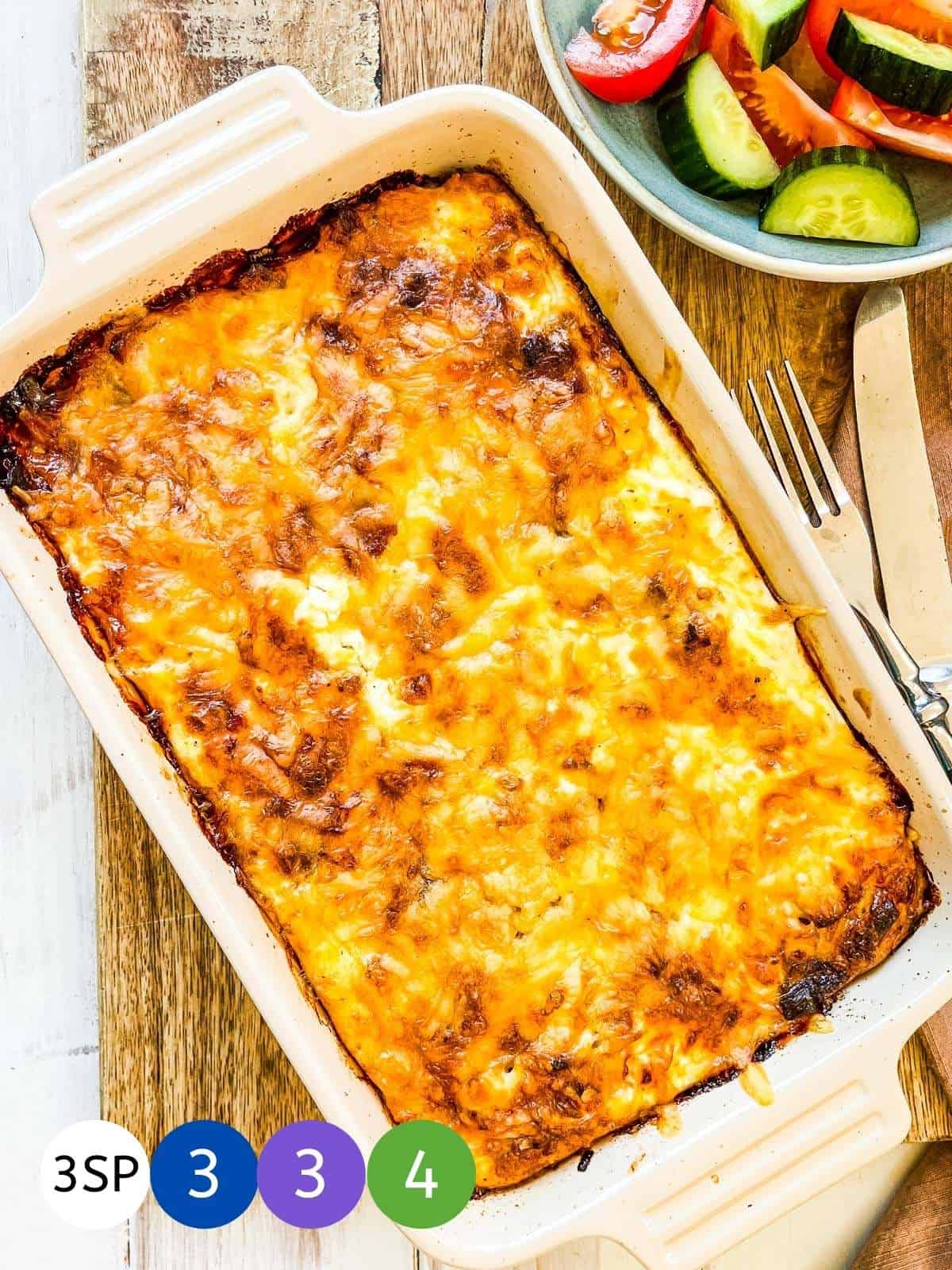 I used the official WW recipe builder to work out the SmartPoints for this Weight Watchers Hearty Breakfast Casserole. Each serving (⅛th of the dish) works out as follows.
Freestyle Plan - 3 SmartPoint per serving
myWW Blue Plan - 3 SmartPoint per serving
myWW Purple Plan - 3 SmartPoint per serving
myWW Green Plan - 4 SmartPoints per serving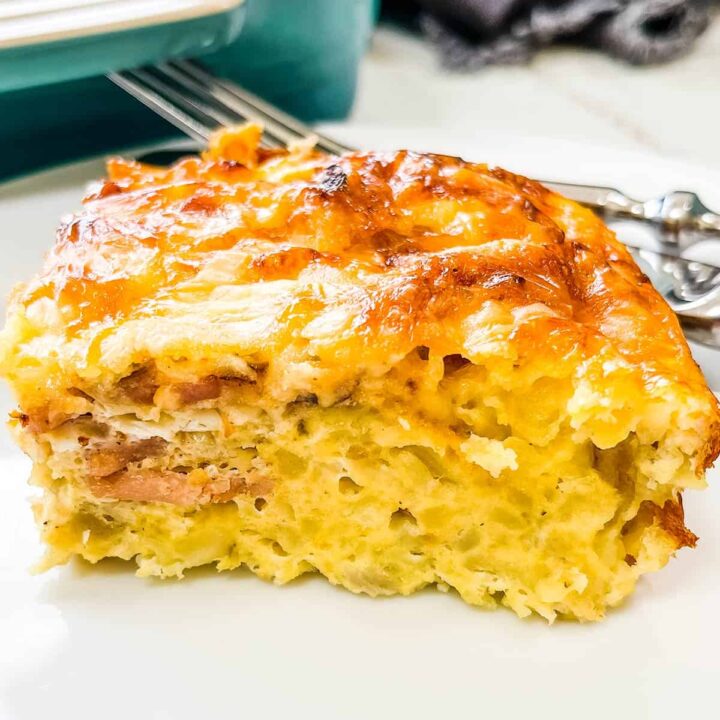 Hearty Breakfast Casserole | Weight Watchers
This hearty & filling Breakfast Casserole is just 3 SmartPoints per serving if you follow the Weight Watchers Blue or Purple plan. If you are following the Green plan, then it works out at 4 SmartPoints per serving. Serve warm or cold - the choice is yours!
Ingredients
2 ¼ (170g) cups shredded hash browns (*see notes above)
1 small red onion (chopped)
6 slices of turkey bacon / bacon medallions (diced)
5 spray of calorie controlled oil
6 large eggs
1 cup (225g) low fat cottage cheese (2%)
1 cups (110g) reduced fat shredded cheddar cheese / low fat grated cheddar cheese
¼ tsp salt
¼ tsp pepper
Instructions
Preheat the oven to 350°F / 180°C / 160°C fan
Place the shredded hash browns into a bowl to defrost (* see tips above if using whole hash browns)
Chop the turkey bacon (or bacon medallions if using) into small pieces.
Spray the bottom of a non stick frying pan / skillet and heat over a medium heat. Add the bacon pieces and cook for 1 minute before adding the chopped onion.
Turn up the heat a bit & continue to cook the bacon and onions until the bacon has browned and the onion pieces have started to soften slightly - this will take 4 or 5 minutes.
Remove from the heat.
Layer the shredded hash browns on the bottom of a casserole dish (approx 9' x 6') and sprinkle the cooked bacon and onion on top.
In a bowl, whisk the eggs until they are light and fluffy and stir in the salt and pepper.
Stir in the cottage cheese and then pour this mixture on top of the other ingredients.
Top with the shredded / grated cheese.
Bake in the centre of the oven for 35 - 40 minutes or until a knife inserted into the middle comes out clean.
Remove from the oven and leave to stand for 5 - 10 minutes until slicing into 8 pieces.
Eat warm or cold - the choice is yours!
Recommended Products
As an Amazon Associate and member of other affiliate programs, I earn from qualifying purchases.
Nutrition Information:
Yield:

8
Serving Size:

1
Amount Per Serving:
Calories:

172
Total Fat:

11g
Saturated Fat:

4g
Trans Fat:

0g
Unsaturated Fat:

7g
Cholesterol:

160mg
Sodium:

505mg
Carbohydrates:

6g
Fiber:

1g
Sugar:

1g
Protein:

12g
Please be aware that the nutritional information above has been automatically generated.  It should therefore be considered as an estimate. The above nutritional information does not account for variations in product brands and types, weights of individual ingredients etc and does not account for many ingredients being zero SmartPoints on the WW plan. Therefore, using these numbers in your WW calculator will often give you an INACCURATE SmartPoint value! PointedKitchen.com has calculated Weight Watchers Smart Points based on the individual ingredients used to make this recipe and not from the following nutritional information. PointedKitchen.com is not responsible for any loss or damage relating to your reliance on this nutritional information.
Other Weight Watchers Breakfast Recipes
If you are looking for more Weight Watchers friendly breakfast recipes then take a look at some of these!
Smoked Salmon Breakfast Muffins
Pumpkin Spiced French Toast Muffins