Ok! This Banana Bread is just so easy to make - just mix up the ingredients, scrape into a pan and bake! It tastes fantastic and what is more it works out at just 5 Points per slice on Weight Watchers Personal Points plan.
The bread is soft and moist and is topped with a drizzle of sweet glaze.
Unlike some of the skinny banana breads that I have tried throughout my WW journey, I use sugar in this recipe, not sweetener. To me it tastes so much better that way.
Of course you could swap out the sugar for sweetener if you'd like and that would reduce the Points by around 18 Points per loaf.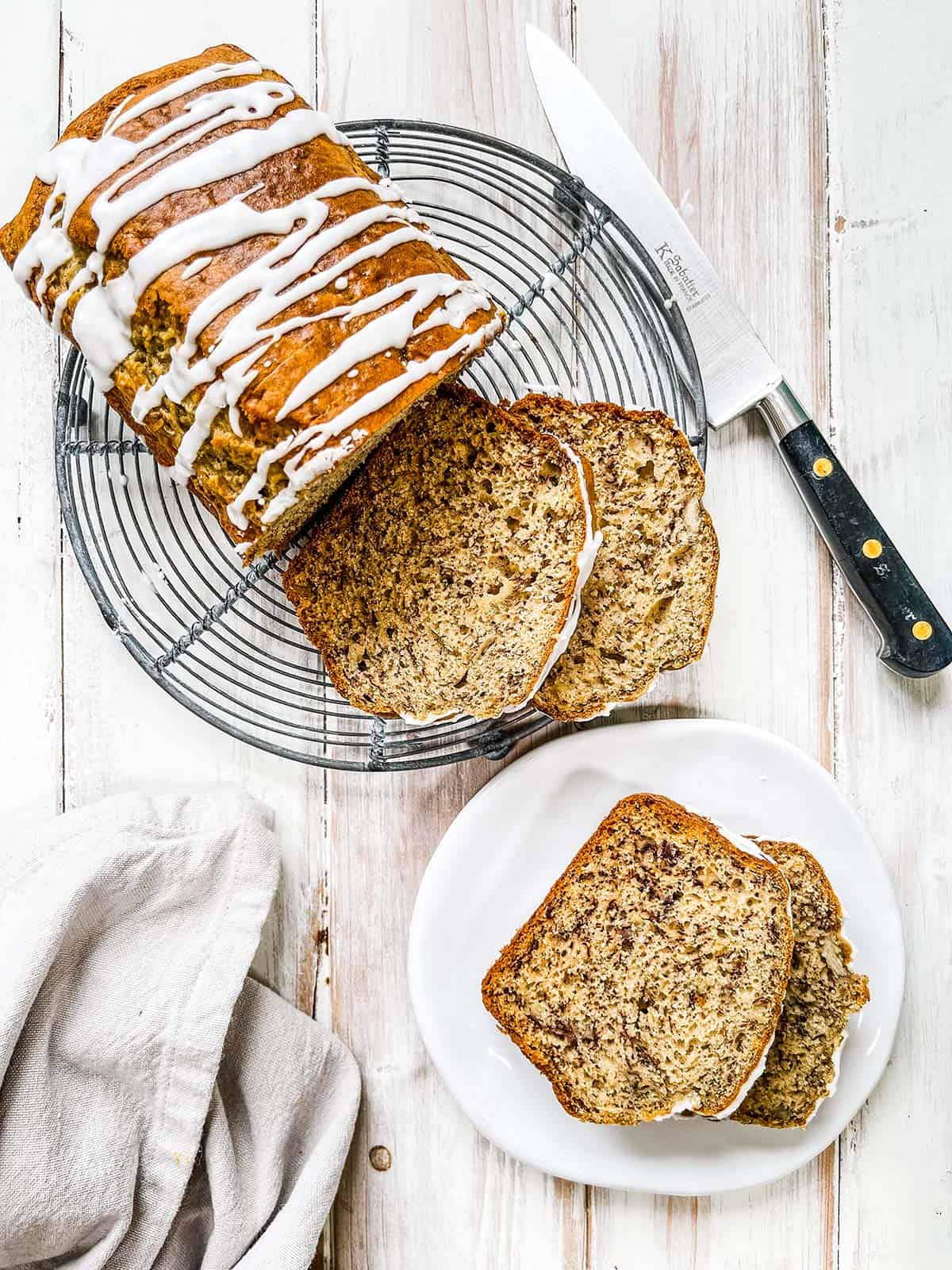 I worked out the non Weight Watchers banana bread that I had been eating during lock down (when I wasn't being quite so careful on my Point tracking ???? ) and was shocked to learn that it worked out at 11 Points per slice!!!
No wonder I put on some pounds! Mind you it was really tasty ???? and I ate my way through rather a lot!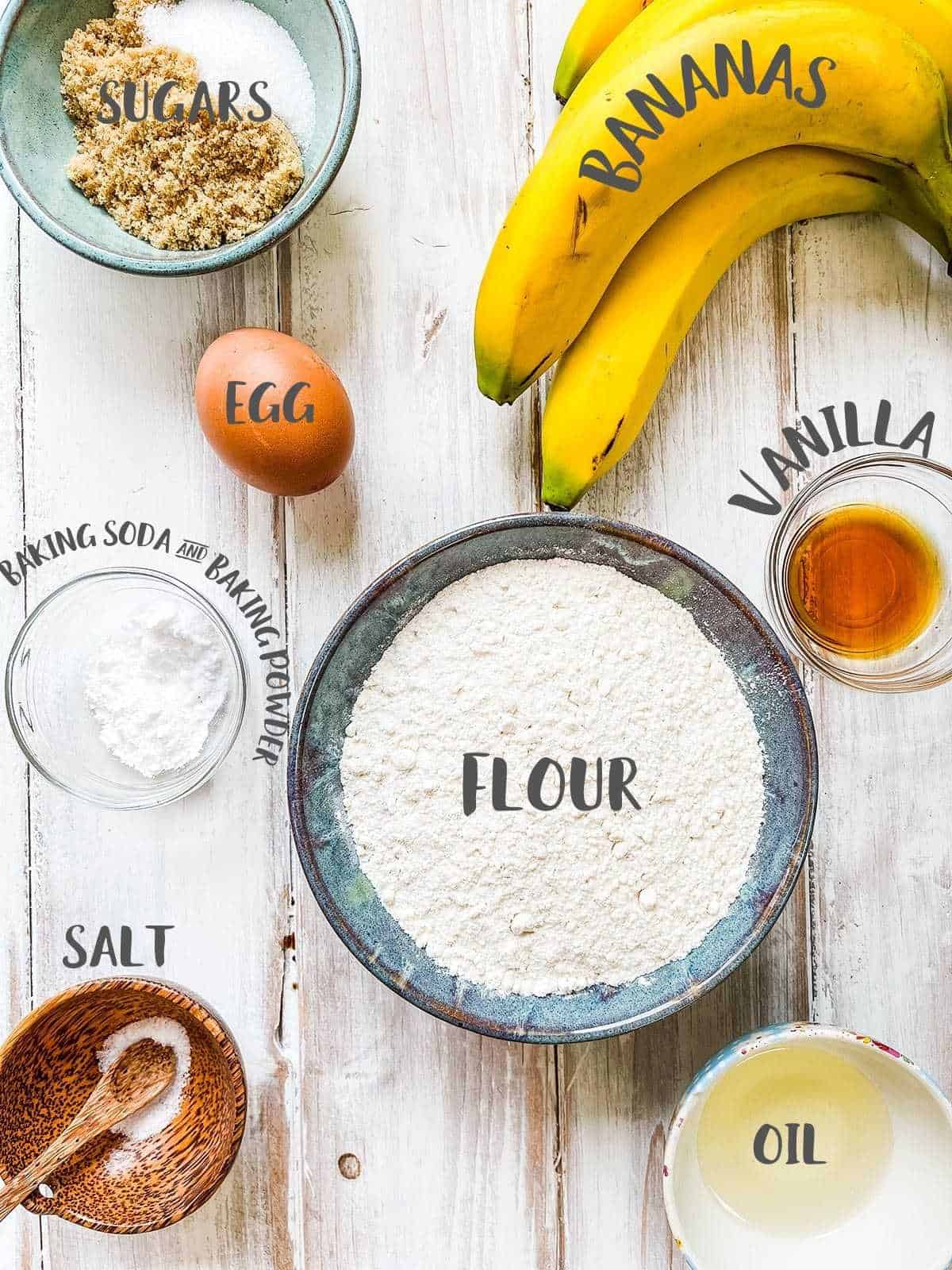 So you will see from the photo above that this recipe isn't complicated - it doesn't involve lots of different weird and wonderful ingredients.
I didn't add cinnamon to my recipe but I have added the quantities in the recipe card below if you would like to. It doesn't add any more Points!
I also decided that I would like to drizzle some glaze over the top of the loaf - just for a little extra sweetness. I used 4 level tablespoons of powdered sugar / icing sugar and a little water to mix to a drizzling consistency.
I didn't use it all! I could probably have used just 2 tablespoons of icing sugar to get this iced look.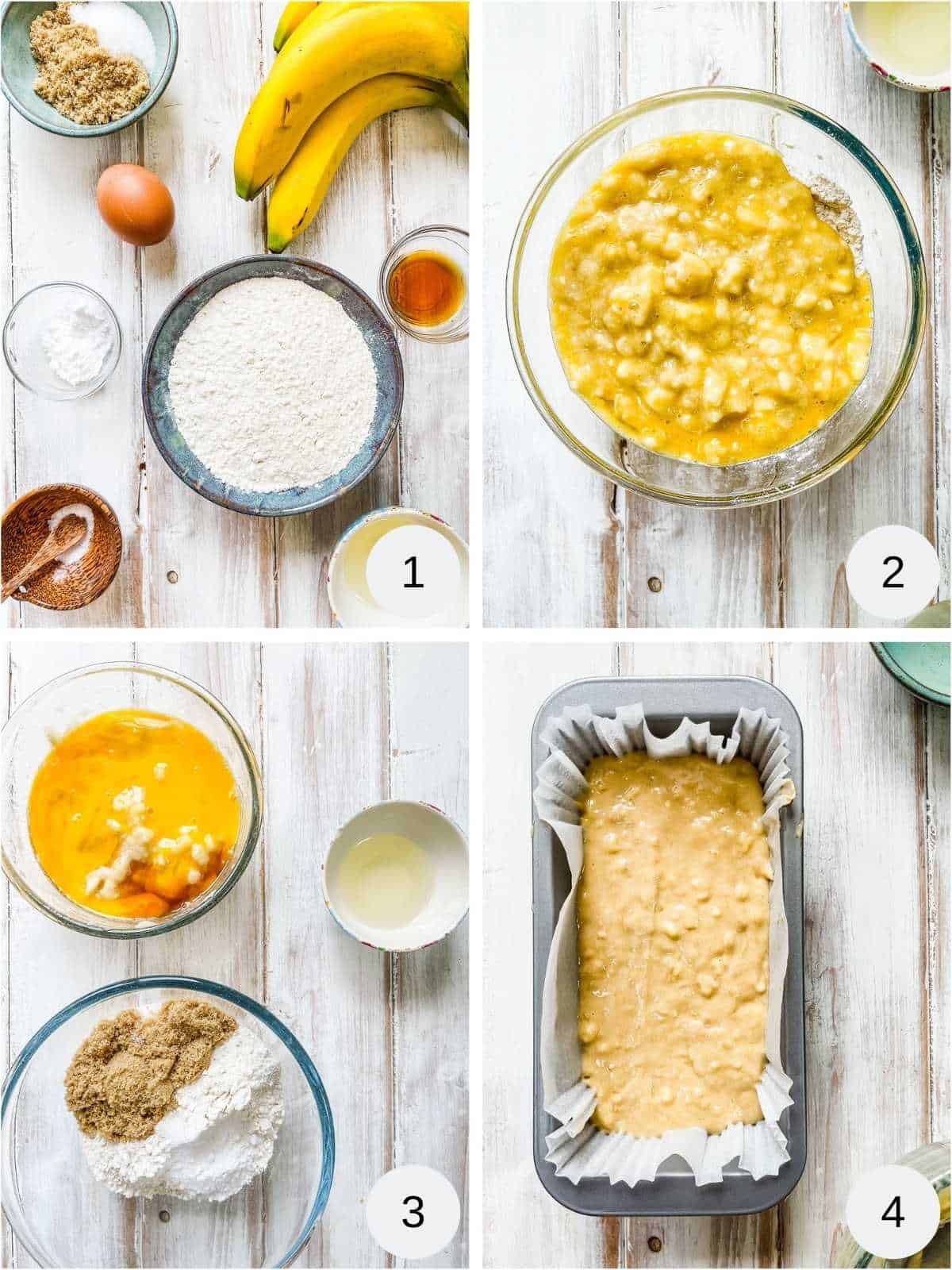 This post may contain affiliate links. As an Amazon Associate I earn from qualifying purchases. Visit this page to see what that means.
Recipe tips!
I didn't use over-ripe bananas in this recipe. Many banana bread recipes ask for you to use ripe bananas - this is because the riper the banana the sweeter it becomes (& perhaps because it is easier to mash) .... but I'm not too keen on ripe banana. Obviously the decision is yours!
Mash the bananas so that they are a nice creamy consistency without big lumps - some lumps are ok (picture 2).
Place the mashed banana, egg and vanilla extract in one bowl and the dry ingredients in another bowl. Mix the dry ingredients together to combine before adding the wet ingredients and folding in.
Once all these ingredient are combined you can mix in the oil (picture 3).
I use liners like these from Amazon to line my loaf pan - it is so much easier than fiddling around with parchment paper (picture 4)!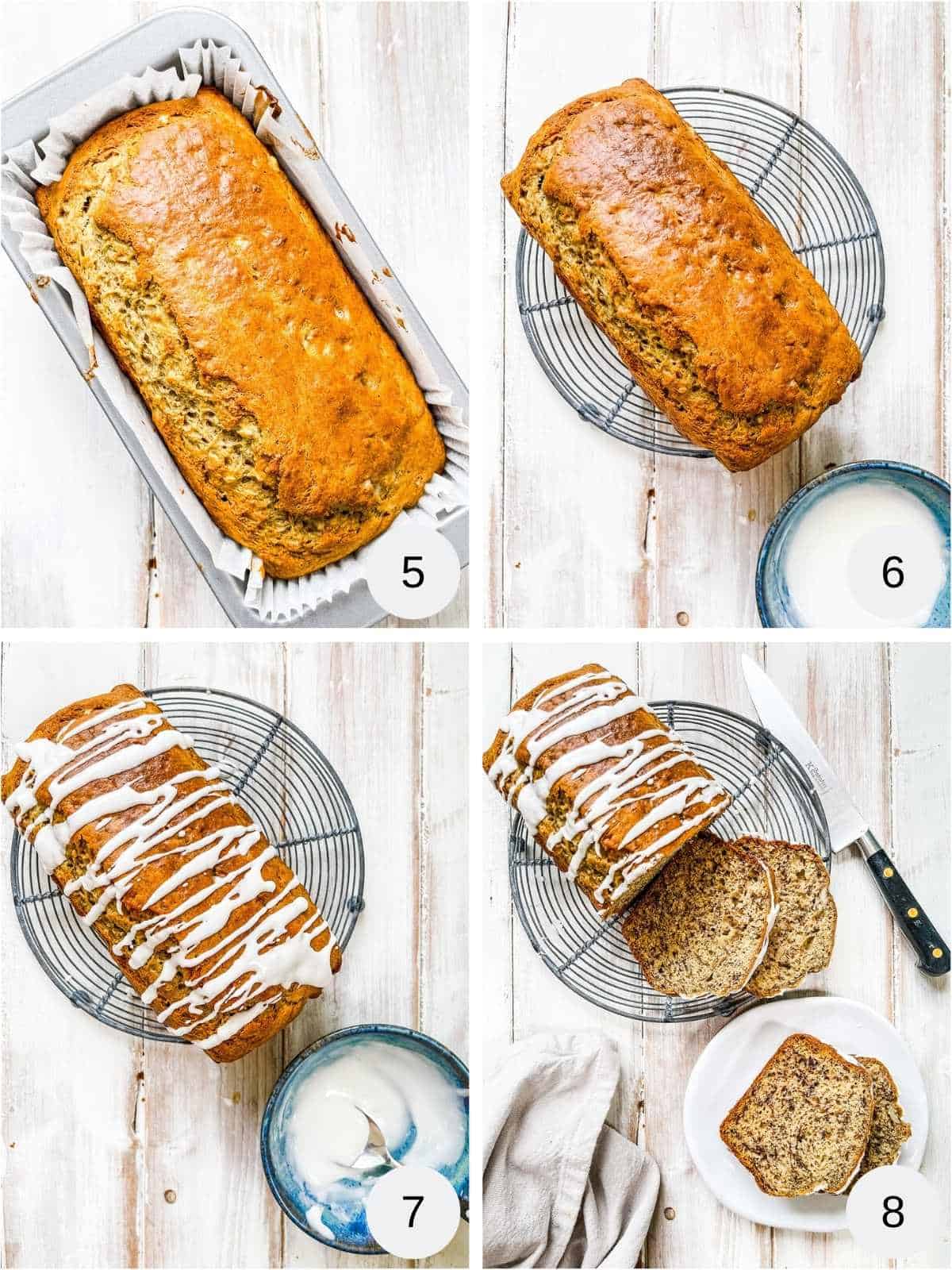 Bake the loaf until it has risen and turns a lovely golden brown colour (picture 5).
After removing from the oven, leave the banana bread in the pan for 5 minutes before turning it out on to a wire rack to cool (picture 6).
Mix up the icing as described in the recipe card below and drizzle it over the top of the loaf. As you can see from picture 7, I didn't use all of the icing on my loaf.
How long does it keep?
It lasts in a sealed container for up to 4 days. If you are needing it to last much longer than that I would suggest slicing it up and freezing it.
Can I freeze it?
Yes! It freezes really well. I even freeze it with the icing on!
I have been making this banana bread, slicing it up, wrapping the slices individually and freezing the slices for easy Banana Bread consumption whenever I get the craving ????
When I fancy a slice, I will remove it from the freezer and allow it to defrost at room temperature for an hour or so.
You can also freeze the whole loaf. If you are going to do this, I would suggest freezing it prior to icing for best results.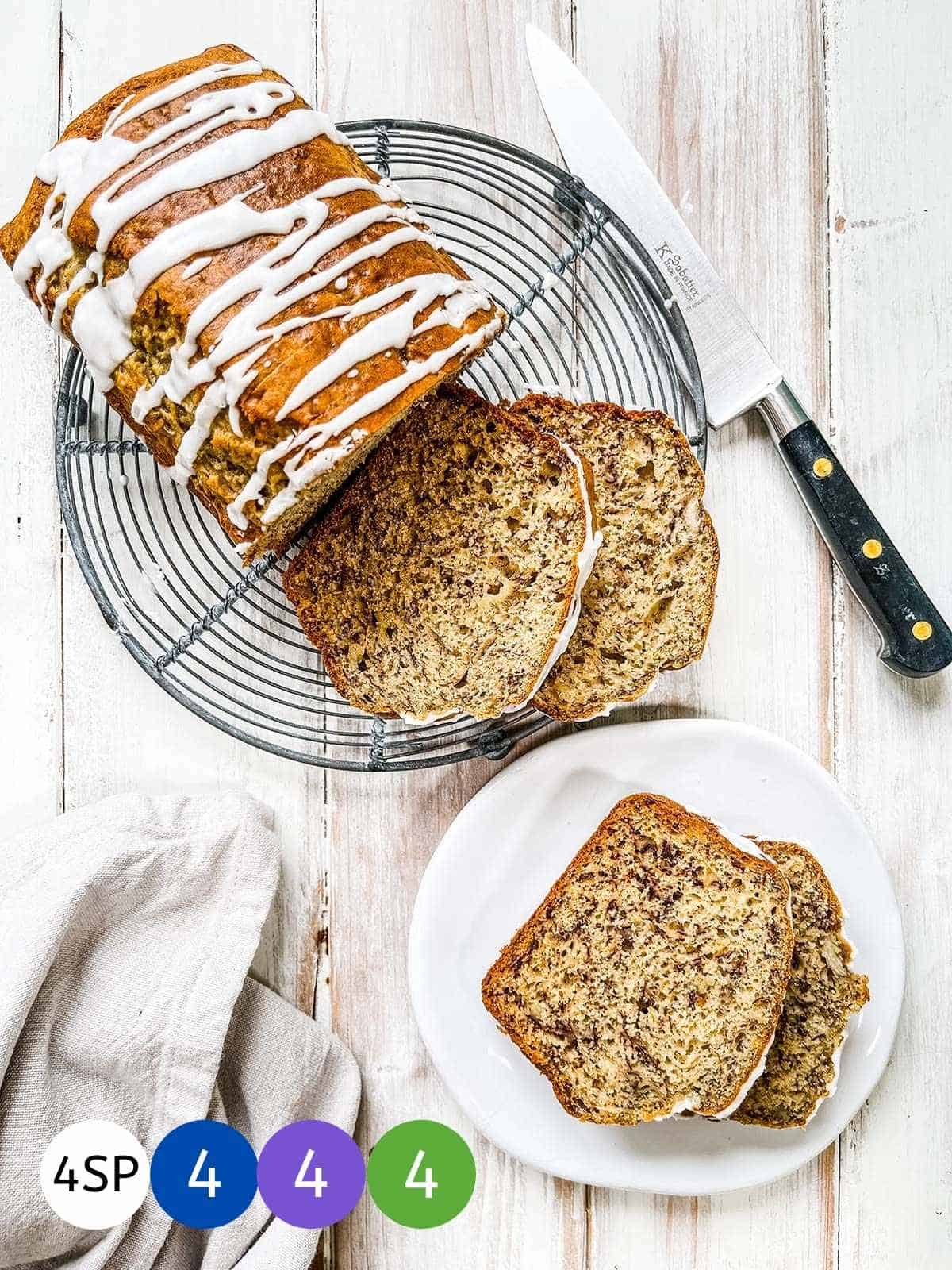 Points in this Weight Watchers Banana Bread
To find out how many Personal Points this recipe will be for you & to track it in the WW App, click on the blue button in recipe card below!
If you still follow one of the older WW plans, then it works out as follows:
Freestyle Plan - 4 SmartPoint per serving
myWW Blue Plan - 4 SmartPoint per serving
myWW Purple Plan - 4 SmartPoint per serving
myWW Green Plan - 4 SmartPoints per serving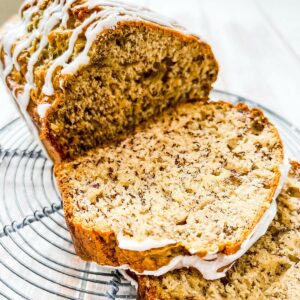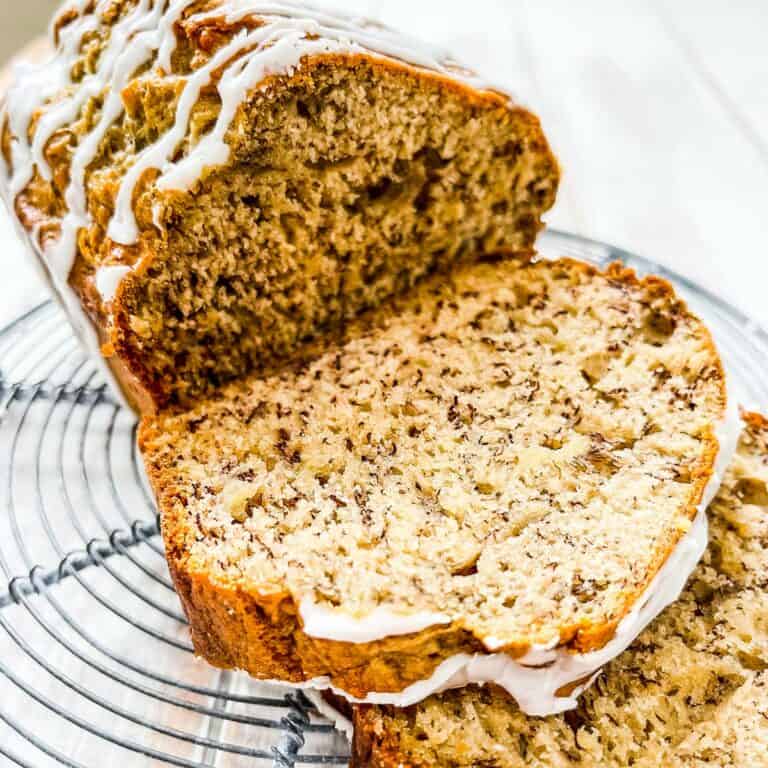 Banana Bread | Weight Watchers
This easy Banana Bread is moist and flavourful. It can be topped with a drizzle of icing or without - the choice is yours - the Points are the same! A wonderful Weight Watchers friendly treat!
Ingredients
4

bananas

medium / large

1

large egg

whisked

2

teaspoons

vanilla extract

1.5

cups

all purpose flour / plain flour

(180g)

4

tablespoons

light brown sugar

1

tablespoon

white sugar

2

teaspoons

ground cinnamon

optional

1

teaspoon

baking powder

1

teaspoon

baking soda / bicarbonate of soda

½

teaspoon

salt

2

tablespoon

vegetable oil

4

tablespoons

powdered sugar / icing sugar

optional
Instructions
Line a loaf pan (approx 9x5 inches) with baking parchment or a pan liner

Preheat the oven to 350°F / 180°C / 160°C fan assisted

Peel the bananas, break into chunks and place in a bowl.

Use a fork to mash up the bananas until they are smooth and mostly lump free.

Add the whisked egg and vanilla extract and stir to combine.

In a separate bowl ad the flour, sugars, cinnamon (if using) baking powder, baking soda and salt.

Use a spoon to combine.

Tip the wet banana mixture into the dry ingredients and use a spoon to combine until everything is thoroughly mixed together.

Stir in the vegetable oil.

Spoon the mixture into the prepared loaf pan & place in the middle of your preheated oven.

Bake for 35 - 45 minutes or until the banana bread has risen and turned golden brown.

Once done, remove from the oven and leave in the pan for 5 minutes before turning it out onto a wire rack to cool.

Once cool you can add the drizzle of icing (if using)

Place the powdered sugar / icing sugar in a small bowl, add ½ teaspoon of warm water and stir. Add water in ¼ teaspoon increments until you have the desired consistency - you really won't need much at all! You do not want the icing to be too runny that it all runs off the edge of the loaf.

Drizzle the icing over the cake.

Enjoy and remember to track!
Nutrition
Nutrition Facts
Banana Bread | Weight Watchers
Amount per Serving
% Daily Value*
* Percent Daily Values are based on a 2000 calorie diet.
More Weight Watchers Dessert Recipes!
If you liked this Banana Bread recipe you may also like to take a look at this recipe for Banana Yogurt Bread.
This Lemon Pudding is also very popular!
Lastly, if you are after a zero / very low point dessert, have you tried Fluff yet? This Lime Fluff is soooo good or you can make fluff with strawberries and marshmallow like I have done here!