This tasty Greek Salad is just 2 SmartPoints on Weight Watchers Green, Blue and Purple plans.
This post was written prior to Weight Watchers changing to the WW Personal Points Plan! You can discover exactly how many Personal Points this recipe will be for you by clicking on the blue 'WW Personal Points' button in the recipe card. 
If you have ever been lucky enough to visit mainland Greece or any of the fabulous Greek islands you will know just how wonderful an authentic Greek salad is.
And when I think of authentic Greek salad, I think of big chunks of cucumber, tasty plump tomatoes, sliced red onion, crumbly feta cheese and strong flavoured Kalamata olives left whole.
There is also usually a liberal sprinkling of oregano and a good drizzle of olive oil.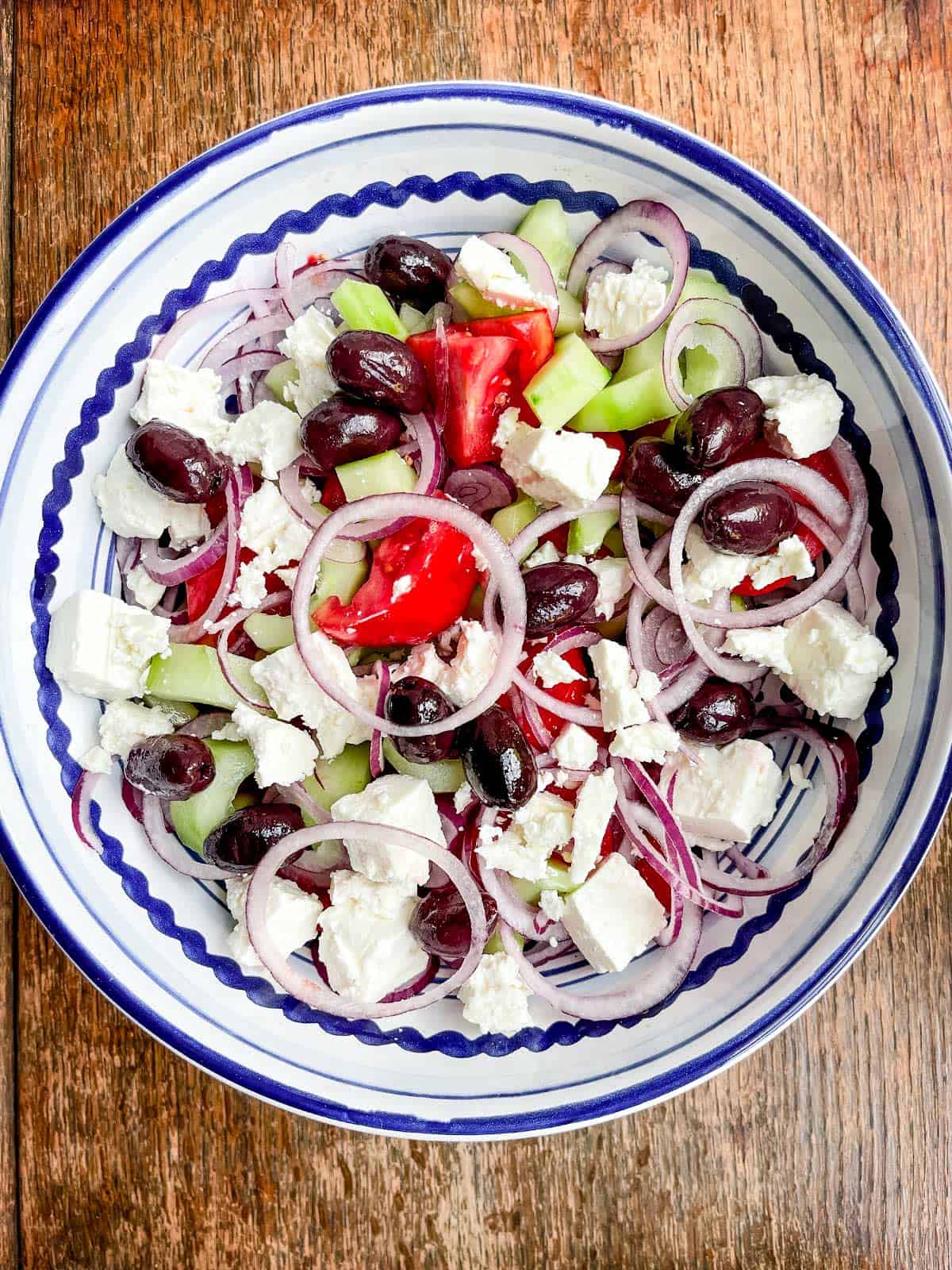 In this recipe, I left out the olive oil.
I honestly feel that the salad doesn't need any oil added especially when I'm trying to limit the number of SmartPoints.
Having said that - if you have the SmartPoints to spare, it is lovely with a drizzle of a strong flavoured rich olive oil.
You'll also notice that I didn't add oregano but that was because of a mix up with my online food order this week!! Urk!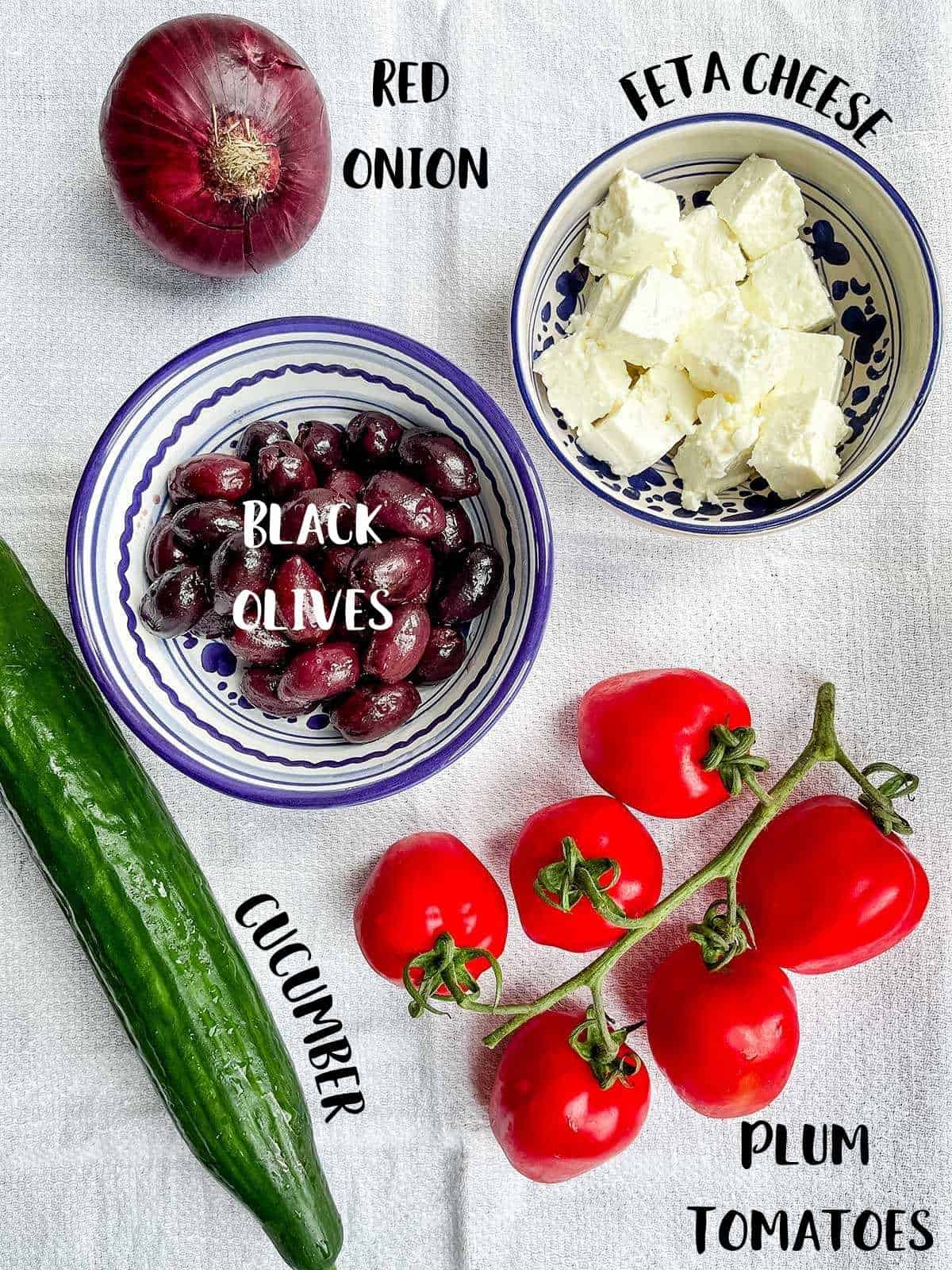 How to prepare the salad.
Start by slicing the onion as thinly as you can - I tend to leave the onion whole for slicing (rather than cutting it in half) as I like to have rings of onion in this recipe (pic 4).
If the onion you are using is very strong smelling / tasting then slice it thinly and place it in a bowl of chilled water for about 10 minutes or until you have finished the rest of the preparation. This really reduces the pungency - just try it and see!
Wash the tomatoes before chopping them up. They don't need to quartered or sliced into neat slivers - just cut them up into chunks (pic 2)!
To prepare the cucumber, peel it before cutting it down the middle widthways. Then cut each half in half again lengthways so that you have four bits of cucumber with the seeds visible.
Use a small spoon to remove the seeds. Do this by scraping the spoon down the middle of the cucumber till the seeds come free and you are left with the cucumber flesh (pic 3). Repeat with all four pieces and discard the seeds.
Chop the cucumber into chunks. Again, there is no need to be precise with this - the chunkier the cucumber the better for this recipe.
Place the chopped tomatoes and cucumber in a salad bowl.
Remove the onion slices from the water (if using) and layer them over the top of the tomatoes and cucumber.
Add the olives whole.
Chop the feta into cubes (or crumble it if you prefer) and add them on top of the salad.
If you are using oregano, sprinkle about ¼ - ½ tsp of dried oregano over the top.
Do not mix the salad - just serve as is!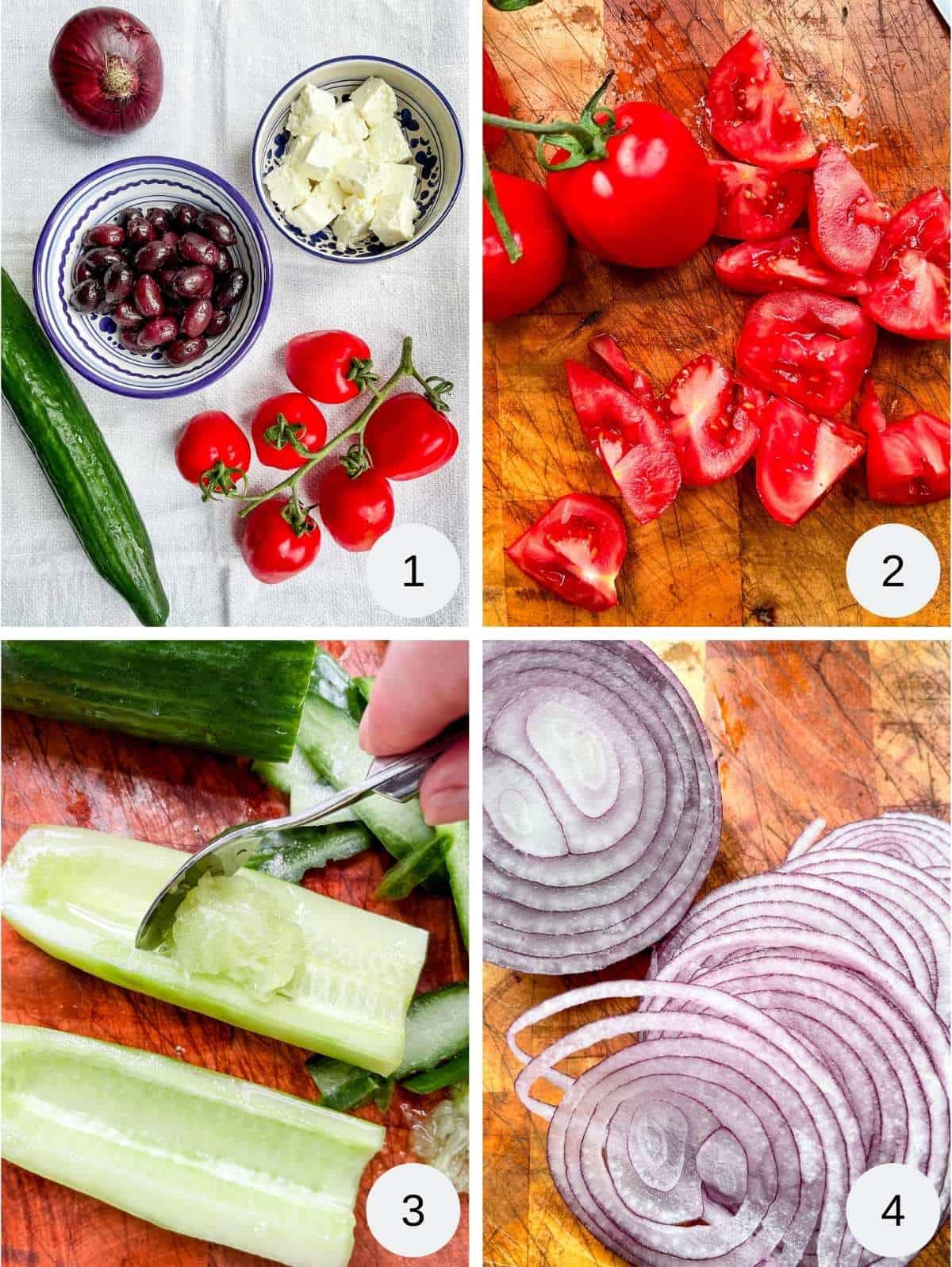 What Feta Cheese should I use.
I use 90g of light / reduced fat Feta Cheese in this recipe. That works out at just under ¾ of a cup when chopped and is 5 SmartPoint on all of the Weight Watchers myWW+ plans (Blue, Green and Purple).
Full fat feta cheese works out at between 11 & 16 SmartPoints for 90g depending on the brand you use (some are preserved in oil).
You can purchase reduced fat / light feta cheese from most larger supermarkets. Look out for authentic Greek feta cheese rather than the less tasty (in my opinion!) Greek salad cheese!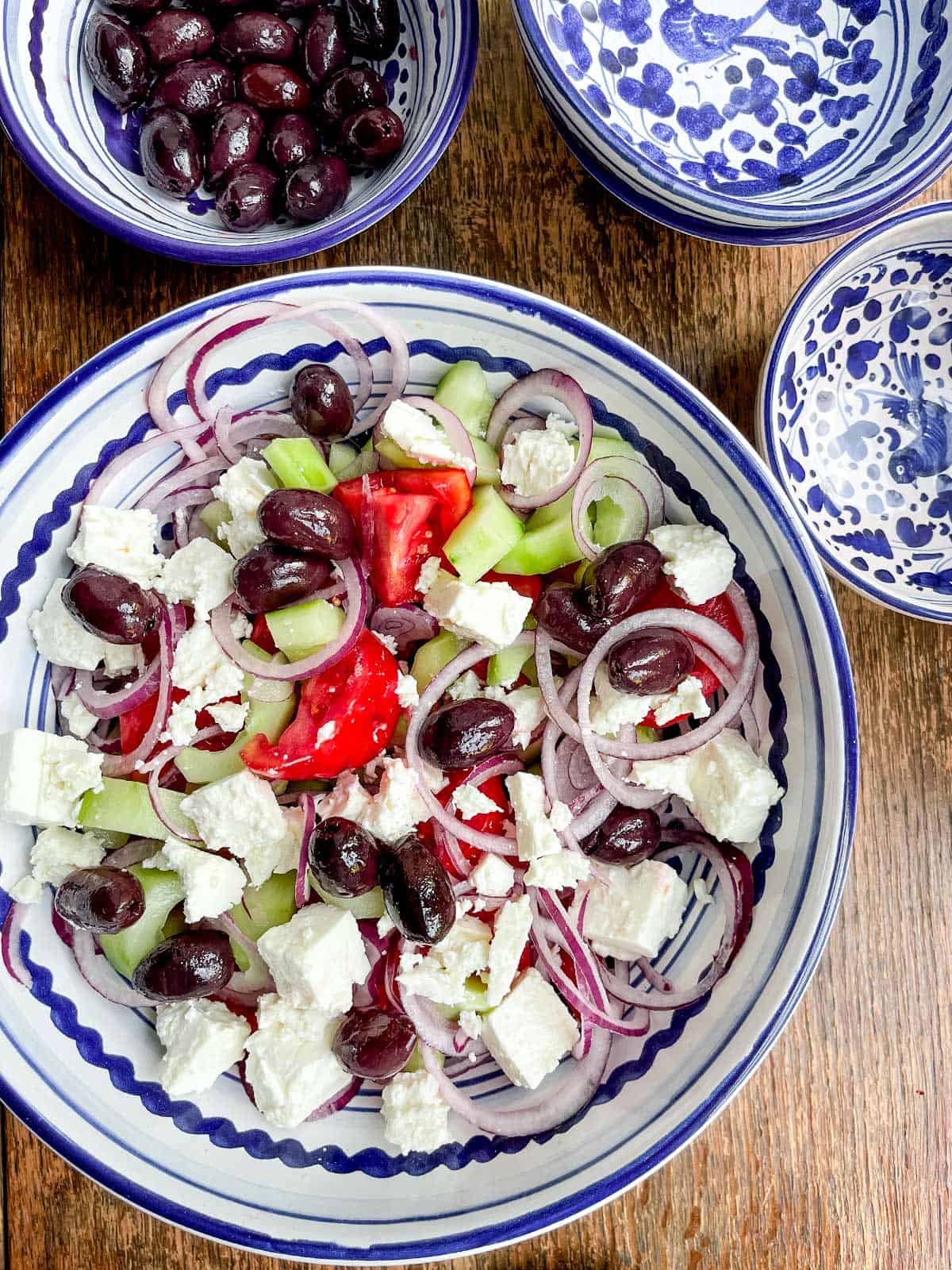 Which olives should I use.
So , olives typically come preserved in either brine, vinegar or olive oil. Ten olives in brine or vinegar work out at 1 SmartPoint. Olives preserved in oil will be more.
I use black olives in this recipe. If you can get hold of them Kalamata olives are the best and work so well with the cheese and cucumber!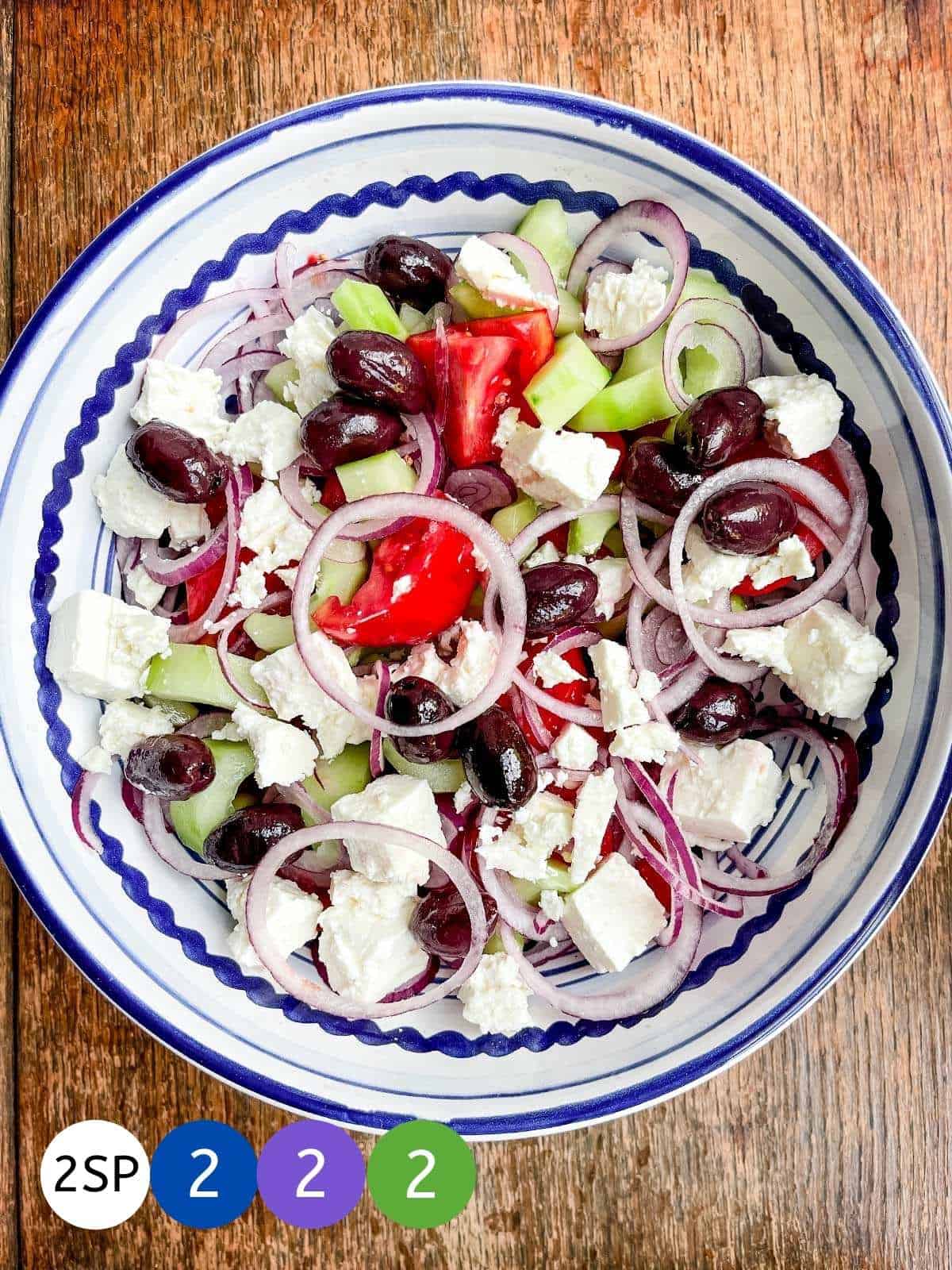 SmartPoints in Greek Salad
If you add olive oil (or any other dressing) to your salad you will need to point that separately.
Using the official Weight Watchers recipe builder I have worked out the SmartPoints for this Greek salad for each of the plans.
I worked out the SmartPoints for the cheese by entering the weight measurements into the recipe builder rather than the cup measurements as this is much more accurate!
Green Plan - 2 SmartPoints per serving
Blue Plan - 2 SmartPoints per serving
Purple Plan - 2 SmartPoints per serving
Freestyle Plan - 2 SmartPoints per serving
Please note that the nutritional information in the recipe card below has been automatically generated and therefore may give you an inaccurate SmartPoint value.
This is because it does not account for any of the zero point ingredients on the WW plan. Nor does it account for variations in product brands and types, weights of individual ingredients etc.
Use the recipe builder on your WW App and you will see that the SmartPoint values that I have given are correct 😀 !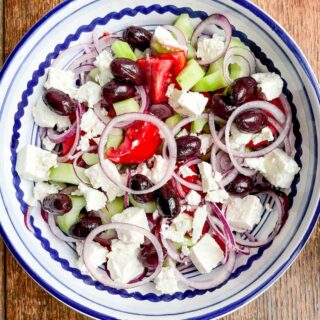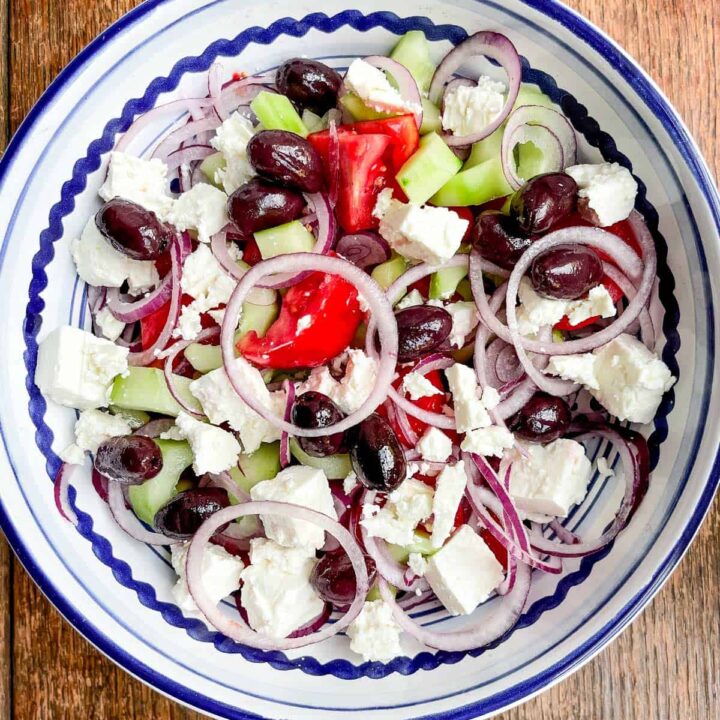 Greek Salad | Weight Watchers
A light and tasty salad is just low in Points and delicious too! A satisfying and tasty Weight Watchers lunch recipe.
Ingredients
1

large

cucumber

peeled & de-seeded

6

medium

plum tomatoes

roughly chopped

1

small

red onion

sliced thinly

15

black olives

in brine

¾

cup

reduced fat feta cheese

(90g)

¼ - ½

tsp

dried oregano

optional
Instructions
Start off by preparing the onion. Peel it then slice it thinly.

Depending on the pungency of your onion, you may want to neutralise the flavor a little by placing the onion slices in a bowl of cold water whilst you prepare the rest of the salad.

Peel the cucumber with a potato peeler or a sharp knife.

Once peeled, cut it in half widthways and then again lengthways so you have 4 pieces of cucumber.

Use a teaspoon de-seed the cucumber by running the spoon down the middle (where all the seeds are). De-seeding the cucumber prevents the salad from becoming too watery once its prepared.

Chop the cucumber into chunks. You don't have to be too precise about this!

Wash the tomatoes thoroughly and then chop them into irregular chunks.

Place the chopped tomatoes and chopped cucumber into a bowl.

If you have been soaking your sliced onions, drain them in a sieve or colander.

Add the sliced onions to the dish and mix in with the cucumber and tomatoes.

Scatter the olives over the top - I like to keep my olives whole but you may prefer to chop them up.

Gently crumble the feta cheese over the top of the salad.

I don't dress this salad as I don't feel that it needs it.

If you do want to dress it then the traditional way of doing so would be a drizzle of olive oil (remember to point this if you do!)

Serve, enjoy and remember to track!
Nutrition
Nutrition Facts
Greek Salad | Weight Watchers
Amount per Serving
% Daily Value*
* Percent Daily Values are based on a 2000 calorie diet.
More Weight Watchers Salad Recipes
If you liked this recipe for Greek Salad, you may also like these Weight Watchers friendly salad recipes.