This Watermelon & Feta Salad is just 2 SmartPoints per serving if you follow the Weight Watchers Green, Blue or Purple plan.
This post was written prior to Weight Watchers changing to the WW Personal Points Plan! You can discover exactly how many Personal Points this delicious low Point recipe will be for you by clicking on the blue 'WW Personal Points' button in the recipe card. 
It is fresh and summery and best of all it's easy to make.
The perfect summer salad for any BBQ, potluck or family get together. Non Weight Watchers will have no idea that you're serving them up a WW friendly dish!
I have found this salad to be surprisingly filling. Over the last few days I've just been having a dish of this for my lunch without finding myself wanting to snack in the afternoon.
Bit of a result really, a tasty, filling 2 SmartPoint lunch!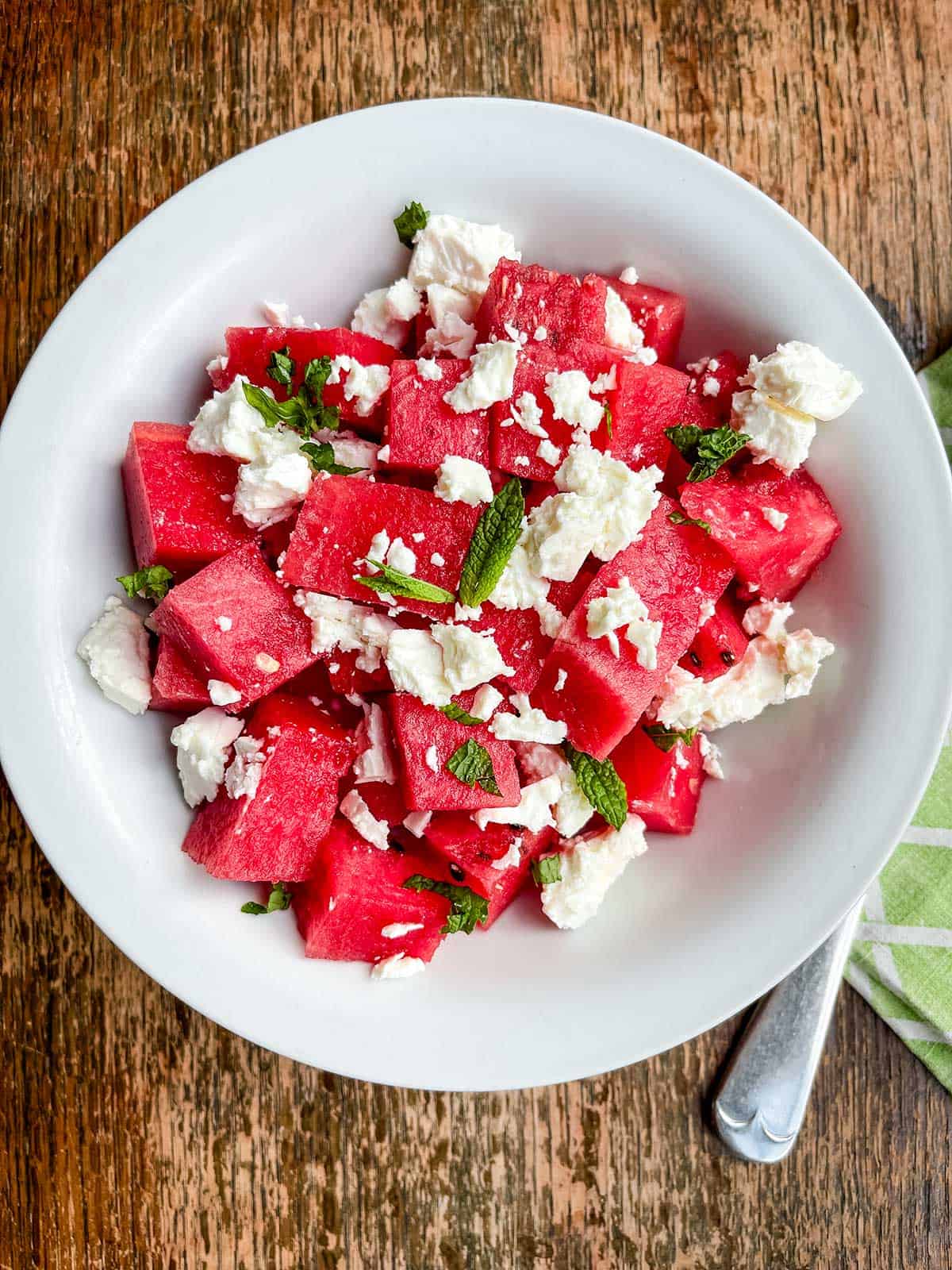 You'll notice in the recipe that I do not dress this salad at all.
I truly believe that it does not need any dressing - and that's not just me wanting to keep the SmartPoints low!
Although, of course, the omission of dressing does keep this salad super low in points!
But, if you still want a little dressing on your salad you may find something suitable in this list of Low Point Salad Dressings.
Which Watermelon should I use?
With over 1000 varieties of watermelon it is impossible to say which is the best to use in this recipe but I'd probably opt for a smaller melon with fewer seeds.
For this recipe I used half a baby watermelon / icebox watermelon which weighed about 1.5 kilos (including skin). The flesh was a dark pinkish red and it didn't have too many seeds.
The flesh wasn't too 'watery' and stayed together well when it was chopped into cubes. It was sweet and juicy and paired together so nicely with the feta and mint.
Of course you could just buy already prepared watermelon cubes which are now readily available in the fresh food chiller cabinets in larger supermarkets! A little more expensive but less preparation!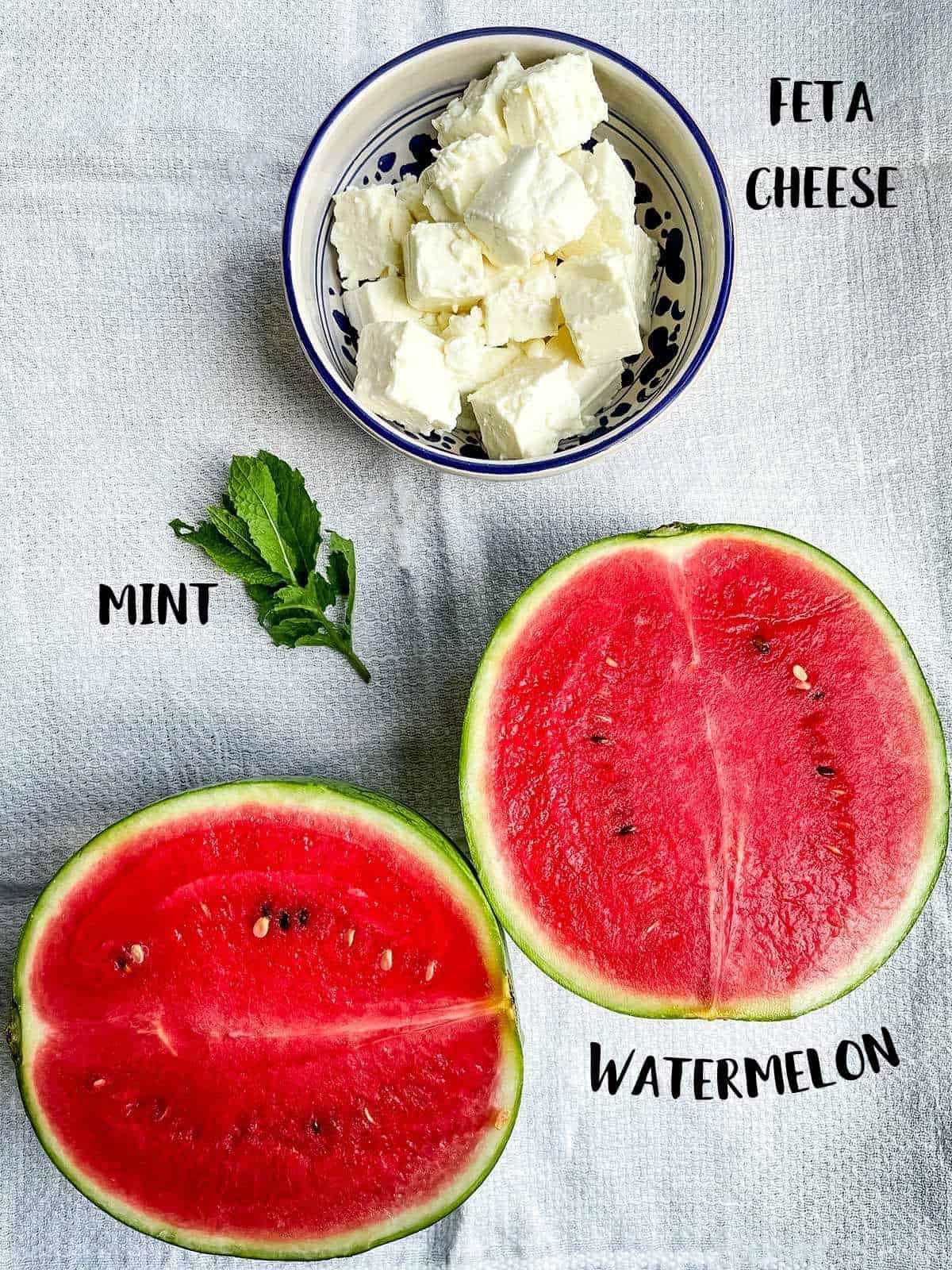 Which Feta cheese can I use?
I have worked out the SmartPoints for this recipe based on using a reduced fat or light feta cheese. One non-packed cup (110g) of reduced fat feta cheese works out at 6 SmartPoints, so 2 SmartPoints per serving of this salad.
If you were to use full fat feta cheese it would work out at 11 SmartPoints for the whole recipe - so 4 SmartPoints per serving.
You can purchase reduced fat / light feta cheese in many bigger supermarkets. Feta is also sometimes marketed as Greek Salad Cheese.
Look our for reduced fat varieties such as Athenos Reduced Fat Feta Cheese or Salakis Light (UK & Europe).
How to cut up the Watermelon
I have put directions of how I cut up my baby watermelon in the recipe below.
I wasn't too fused about having perfect cubes of water melon in this salad but if you are, then take a look at this article on How to Cut a Watermelon.
SmartPoints in this salad
Using the official Weight Watchers Recipe Builder I have worked out the SmartPoints for this Watermelon and Feta Salad for each of the current plans plus the older Freestyle plan.
myWW Green plan (2 SmartPoints per serving)
myWW Blue plan (2 SmartPoints per serving)
myWW Purple plan (2 SmartPoints per serving)
Freestyle plan (2 SmartPoint per serving)
How long does it keep?
The prepared salad keeps in the fridge for a day or two.
However, I find that it keeps best if you have used watermelon with a firmer flesh, that isn't too watery.
If you have used a particularly watery watermelon then the crumbled feta can mix with this and become a little soggy!
If you do want to prepare this salad in advance, I would suggest that you do all the chopping and crumbing beforehand but don't combine the ingredients until the day that you are going to serve it.
More Weight Watchers Salad Recipes!
If you like this recipe for Watermelon and Feta salad then you may also like to take a look at this recipe for Three Bean Salad. This popular Egg Salad recipe is also a favourite of mine!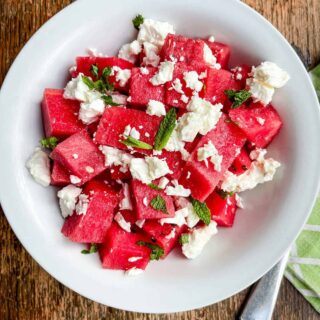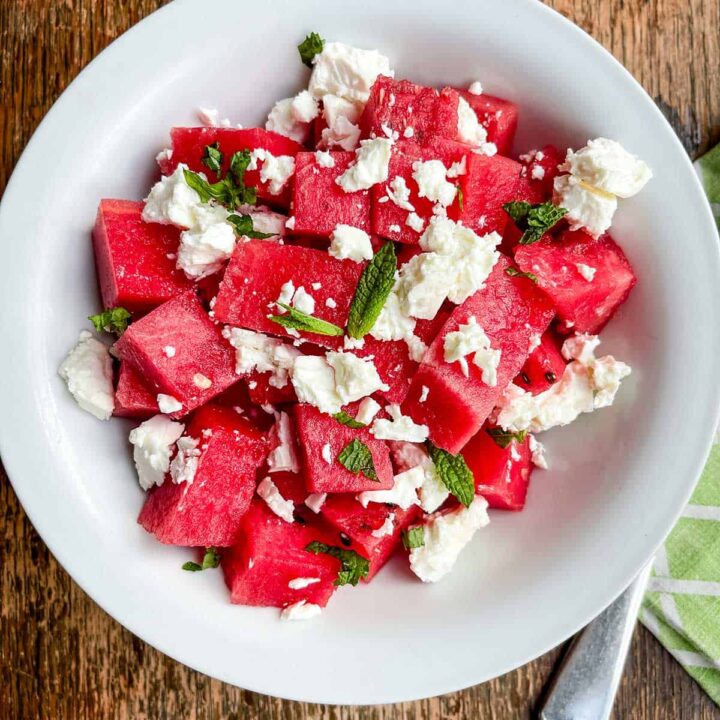 Watermelon & Feta Salad | Weight Watchers
A light and summery Watermelon and Feta Salad that is a perfect Weight Watchers lunchtime recipe. Low in Points, it's simple to make and oh so good!
Ingredients
2

cups

watermelon

(300g) chopped into cubes

1

cup

reduced fat feta cheese

(110g) crumbled

1

sprig

fresh mint
Instructions
Prepare the watermelon by slicing off the top and bottom of the melon using a sharp knife.

Once the watermelon has been top and tailed you can place one of the cut sides down on your cutting board and this gives it more stability when you cut it down the middle.

Once you've cut the watermelon in half you can then cut it into wedges.

Do this by placing the cut side down on the chopping board and use a sharp knife to cut into wedges length ways.

The number of wedges that you willl cut will depend on the size & shape of the watermelon.

Depending on the type and size of your watermelon, you may need to remove some of the seeds from the wedges. I used a baby watermelon and did not have to remove many seeds.

Remove the skin by holding the wedge firmly and running a sharp knife close to the skin of the melon - where the flesh is a paler pink or cream color. You should just then be left with the red flesh..

Cut this into cubes.

If you are using a watery watermelon I would suggest placing the cubes in a colander for 5 minutes or so to drain any excess water before placing the cubes in the salad bowl. For less watery melon this shouldn't be needed!

Place the cubes into a bowl.

Add the cup of crumbled feta cheese over the top of the watermelon cubes.

Roughly chop up a couple of leaves of fresh mint and sprinkle over the top. I used about 3 medium sized leaves of fresh mint.

Serve, enjoy and remember to track!
Nutrition
Nutrition Facts
Watermelon & Feta Salad | Weight Watchers
Amount per Serving
% Daily Value*
* Percent Daily Values are based on a 2000 calorie diet.