Are you looking for Low Calorie Breads that can fit into your healthy eating schedule? Then look no further! This list of over 40 of the Best Low Calorie Breads includes information on the calorie content per slice of bread as well as information of where they can be brought.
All of the breads listed here work out at under 90 calories per slice with many of them being 40 or 50 calories per slice.
If you are following the Weight Watchers Blue, Purple or Green plan I have included the Weight Watchers SmartPoint value for one slice of bread.
Many of the breads work out at 1 SmartPoint per slice (yay!) with some of the larger slices working out at 2 or 3 SmartPoints.
Do be aware though that with the SmartPoint values, it doesn't always follow that just because one slice works out at 1 SmartPoints that two slices will work out at 2 SmartPoints!
Unfortunately, it doesn't work out like this! Often 2 slices will work out as 3 SmartPoints.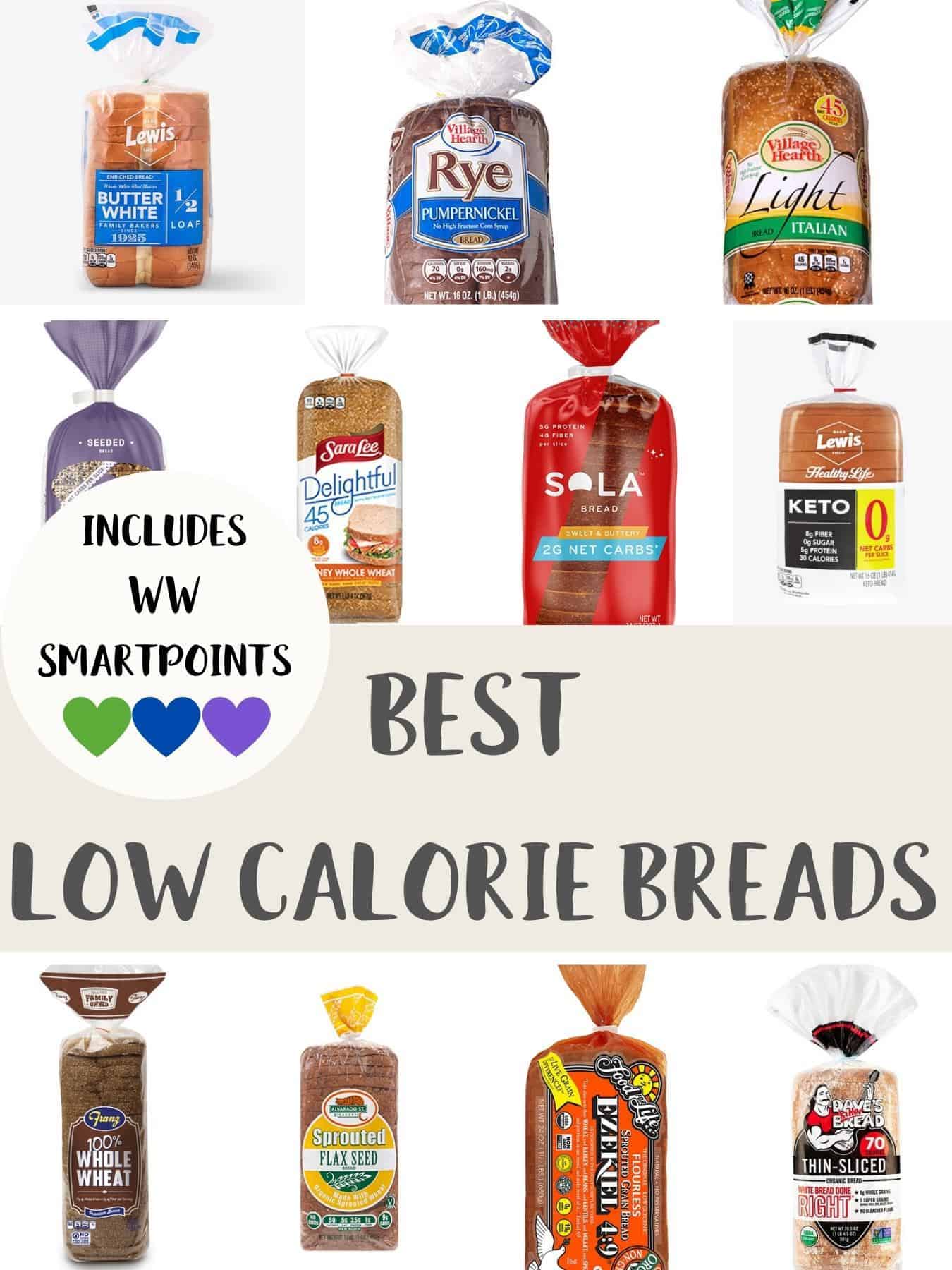 I have also included a number of Gluten Free options although these tended to have a higher calorie and SmartPoint value. If you find any lower calorie / SmartPoint options do let me know in the comment section below!
Calories in Bread
For each of these Low Calorie Breads, I looked at the nutritional information per slice of bread.
Please be aware that although these values are correct at time of writing (May 2021) sometimes things change (ingredients, weights per slice etc).
So I would always suggest just quickly checking on the bag to see that the nutritional info is still correct before purchasing.
Weight Watchers SmartPoints in Bread
I used the official Weight Watchers calculator to work out the SmartPoint values per slice of bread using the nutritional information on the bread packet.
If you click on the links in the list, most of the time you will be taken to the brand website which details the nutritional information of that particular bread.
Do be aware that sometimes things change!
SmartPoints may change if the recipe changes! However, these SmartPoint values are correct at the time of writing this article (May 2021).
Take a look at this older post for more Weight Watchers friendly Low Point Breads. It includes some really interesting low SmartPoint bread finds from people following the Weight Watchers program!
So ..... now on to that list!
If you liked this list of Best Low Calorie Breads then you may also like this list of Low Calorie Salad Dressings!