If you follow any of the myWW+ plans (Green, Purple or Blue) you will probably have found yourself (once in a while 😉) craving a snack that is both crunchy & salty! That is why I have compiled this list of Best Salty Snacks for Weight Watchers.
Many of the chips that you buy from the local food store are laden with saturated fat & often sugar meaning they are high in SmartPoints.
But not all of them are! If you know what you are looking for, you can find some salty snacks that fit nicely into the Weight Watchers plans.
This list includes some of the best savoury snacks that are available to buy for people following all of the current Weight Watchers myWW+ plans.
So whatever plan you follow, whether it is the Blue plan, Purple plan, Green plan or even the old Freestyle plan you will find a snack here that will satisfy your cravings but will also fit into your SmartPoint allocaation.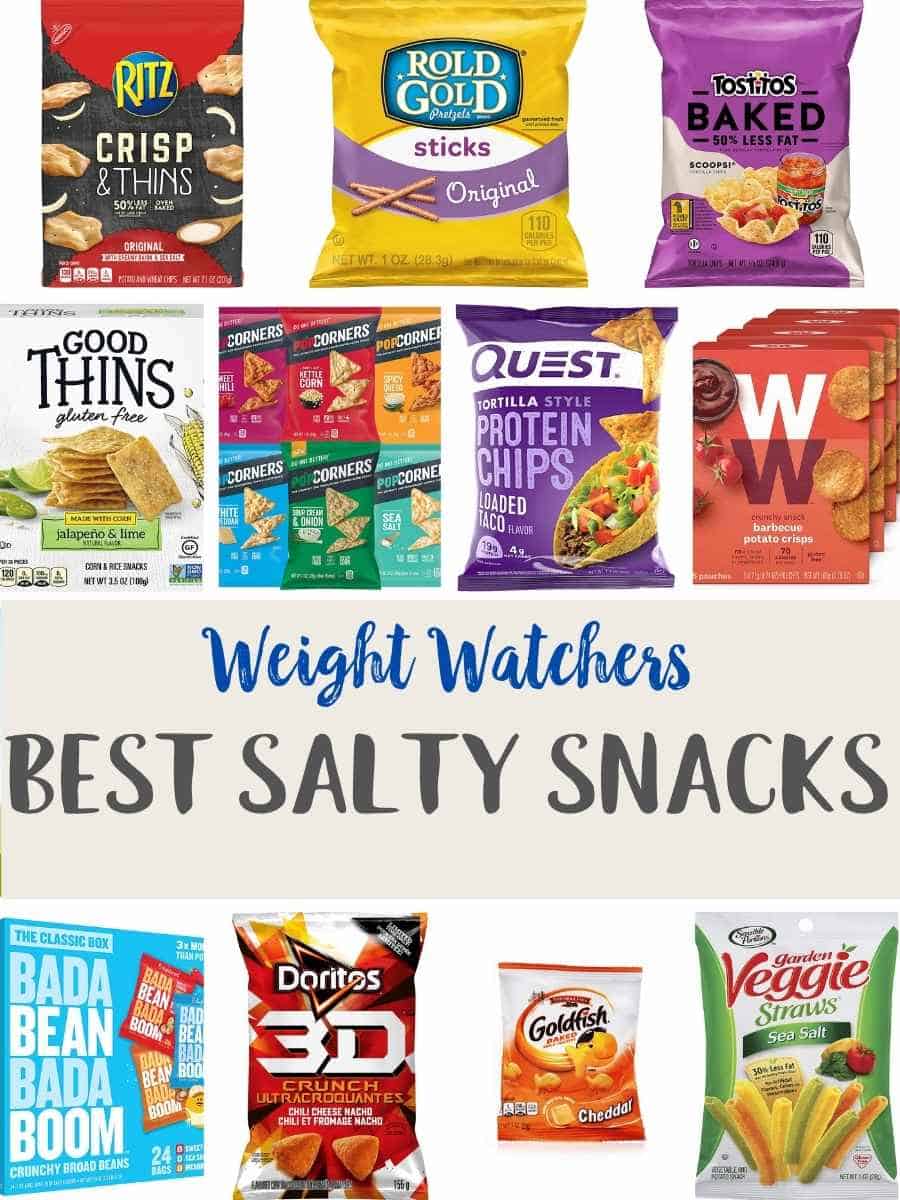 How I worked out the SmartPoints
I worked out the SmartPoints of these snacks using the official WW calculator.
I entered the nutritional information to get the SmartPoint values for the bag size or the serving size.
All SmartPoint values are correct at the time of posting this list but occasionally ingredients or packet sizes can change! So just be aware.
Where possible I have included how many chips you 'get' for the SmartPoint values.
Looking through these products you may notice that for many of them I have given the SmartPoints value for a snack size packet - when a snack pack was available.
This is because I find that buying snack packs is the best way for me to portion control - I'm really not very good at having large bags of chips around!
I know that it's an expensive way of buying these kinds of treats - but for me, if I buy snacks like these, I overeat if I have the better value big bags hanging around.
If you do buy the bigger bags (& have a lack of self control, like me) perhaps you may have success with portioning out the bag into smaller bags (& putting them under lock & key!).
As always, I am interested to hear from you about what your favourite Weight Watchers friendly snacks and foods are!
What snacks do you gravitate towards when following the plan - please do comment below.
WW Salty Snacks
As an Amazon Associate and member of other affiliate programs, I earn from qualifying purchases.
More Weight Watchers Snack Ideas
If you like this list of the Best Salty Snacks for Weight Watchers you may also like this list of Best Low Point Snacks, this list of Low Point Chocolate or this list of the Best Low Point Popcorn.