If you are looking for a Low Calorie Salad Dressing then you are in the right place! This list of thirty of the best low calorie dressings includes the calorie count and Weight Watchers SmartPoint values for 2 tablespoons of dressing. So whether you are calorie counting or following along with one of the Weight Watchers plans we have your salad dressing needs covered!
Dressing a salad with a high fat, high sugar dressing can turn what should be a low calorie / low SmartPoint dish into a super high calorie / high SmartPoint meal.
For example, two tablespoons of Olive Garden Ranch Dressing would set you back 150 calories (5 SmartPoints) for 2 tablespoons. Similarly, Newman's Own Classic Oil & Vinegar dressing works out at 160 calories (5 SmartPoints) for 2 tablespoons.
And if you love Caesar dressing (& face it who doesn't), then most are really high in calories. Ken Steak House Creamy Caesar dressing works out at 170 calories (6 SmartPoints) for 2 tablespoons worth.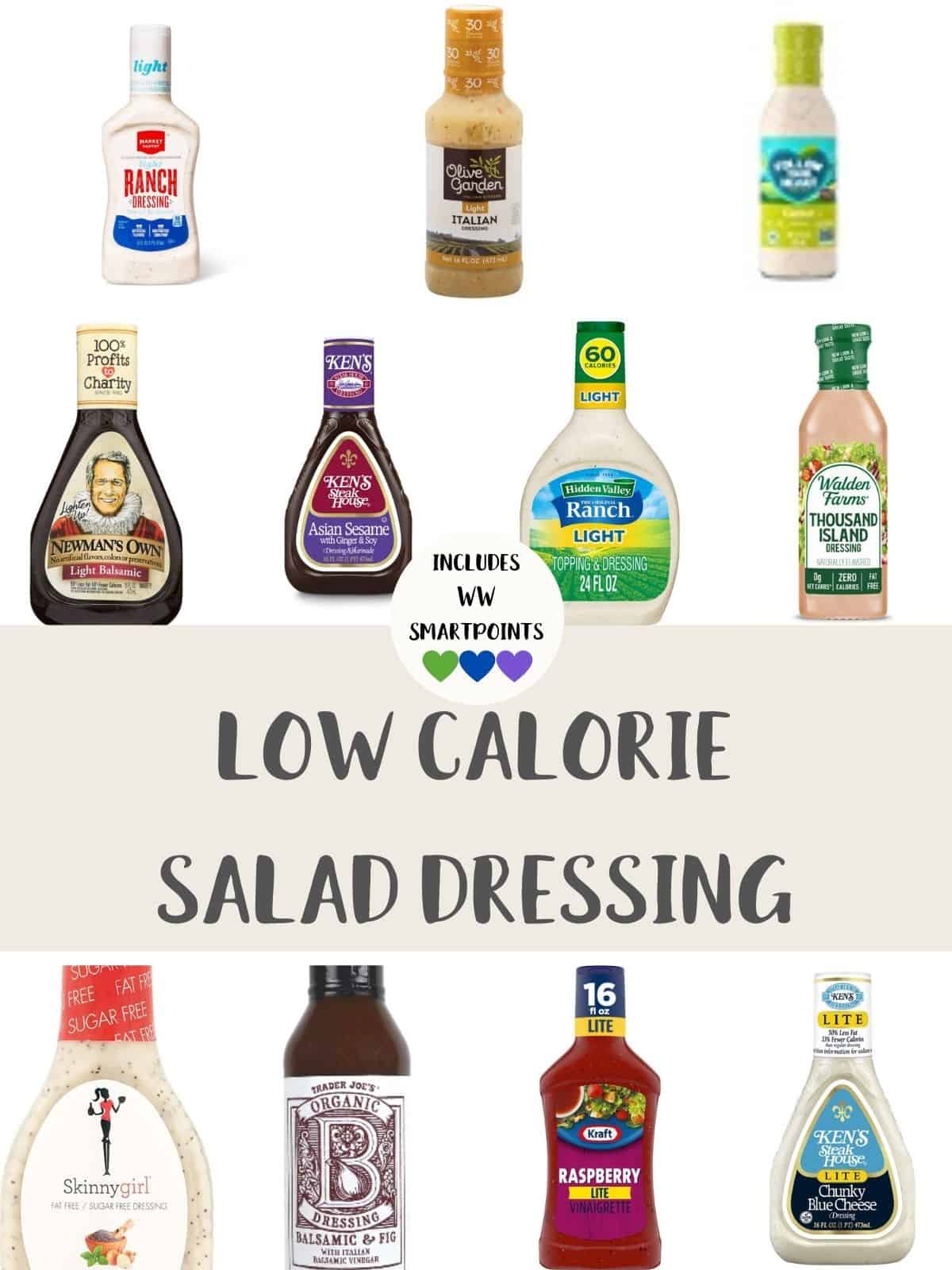 Now, I love salad dressing but I don't know whether I love it that much! I follow the Weight Watchers plan and I don't want a quarter of my SmartPoint allocation to be used up on dressing a salad!
Of course you may be happy to use dressings with this amount of calories (& I certainly do sometimes) but if not, take a look for one which is lower in calories.
Dressings that are lower in calories also tend to be lower in Weight Watchers SmartPoints.
All of the salad dressing listed here work out at under 100 calories for 2 tablespoons. Some are a little as zero calories whereas some are 80 or 90 calories.
All of the dressings are under 4 SmartPoints for 2 tablespoons, some are even zero SmartPoints.
Some use ingredients that you can't pronounce so may rather not consume 😳 (I'm looking at you zero calorie dressings!!) but take a look through & find something that suits your taste and diet.
Low Calorie Salad Dressing
If you enjoyed this list of Low Calorie Salad Dressing you may also like this list of the best Low Calorie Breads!
How I worked out the SmartPoints
I worked out the SmartPoints for these dressings by entering the nutrtional information into the Weight Watchers calculator on the App. All SmartPoint values and calorie counts were correct at time of writing this post - October 2021!