If you are a Pumpkin Spice latte lover and a Weight Watcher then this recipe has you covered! It's a Pumpkin Spice Latte for Weight Watchers that works out at 3 SmartPoints per drink on the Blue, Purple & Green plans. It's sweet, pumpkiny and topped with a layer of whipped cream and a dusting of spice!
A Starbucks tall Pumpkin Spice Latte made with non fat milk and no whipped cream works out at 9 SmartPoints - so this recipe is quite a SmartPoint saving!
And as for a Starbucks Venti with whole milk and whipped cream 😳 .... well ... that comes out at an eye watering 24 SmartPoints per drink! That's over my SmartPoints total for a day!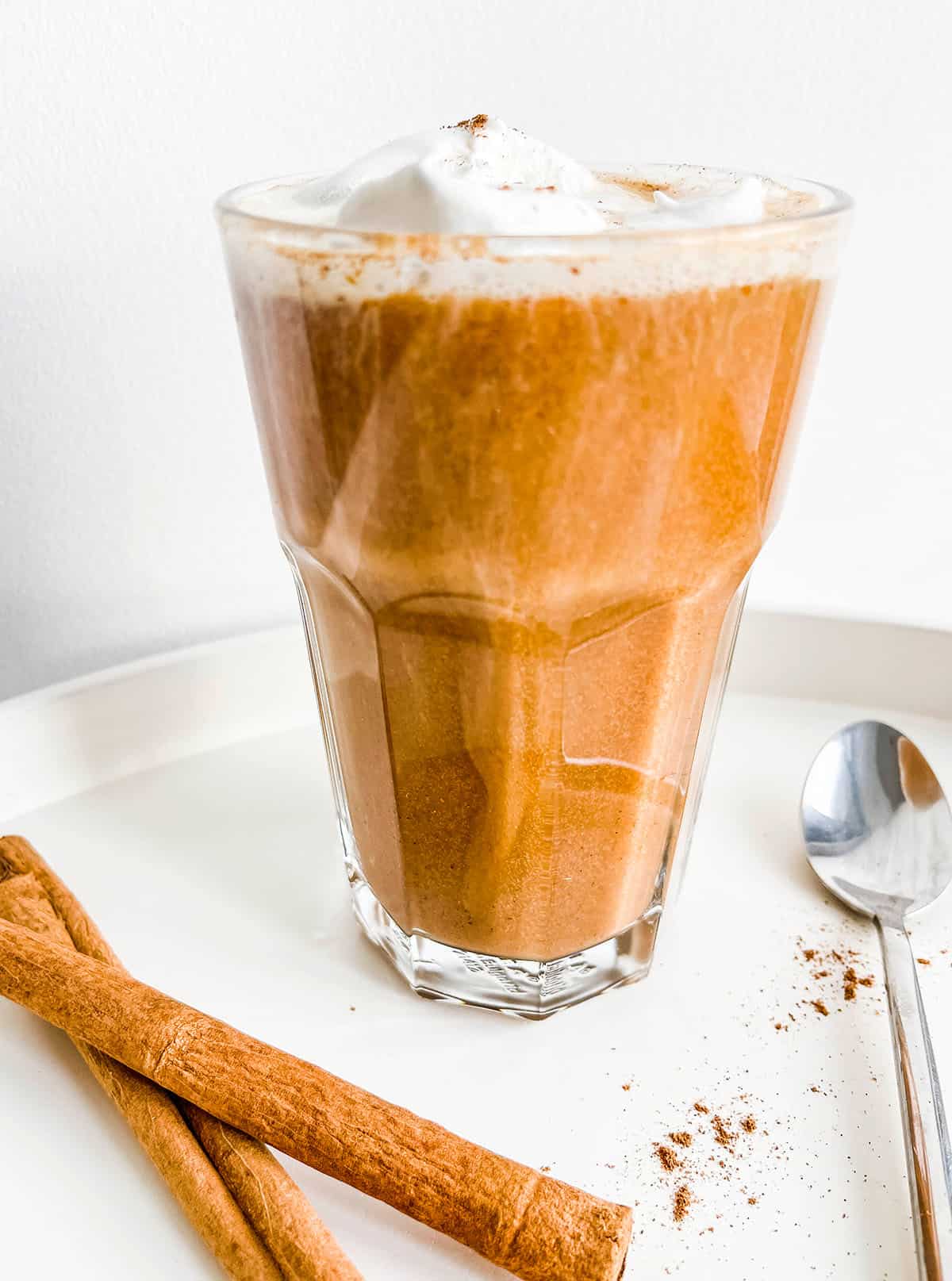 Coming from Europe I never really 'got' the pumpkin spice madness that came about every Fall in the US.
However, as many of you may know from reading my posts over the last few years, I now spend time in North America where I have developed the taste for all things pumpkin spice!
It's not to everyones taste I know, but I just love it and I particularly like Starbucks pumpkin spice lattes and their pumpkin scones!
But since starting my WW journey, I haven't wanted to use all of my dailies on treats like these - even though I knew I could if I really wanted to 'treat' myself every now and again.
So, a couple of years ago, I developed Pumpkin Spiced Scones which are less than a third of the SmartPoints of the Starbucks ones. And recently I thought it was about time I also tried to develop a WW friendly Pumpkin Spice Latte recipe!
Iv'e been trying out a few recipes & here is what I've come up with 😋 I think it's really good and does a good job of being a Starbucks copycat!
If you make it, let me know what you think - either below or on my Instagram or Facebook page!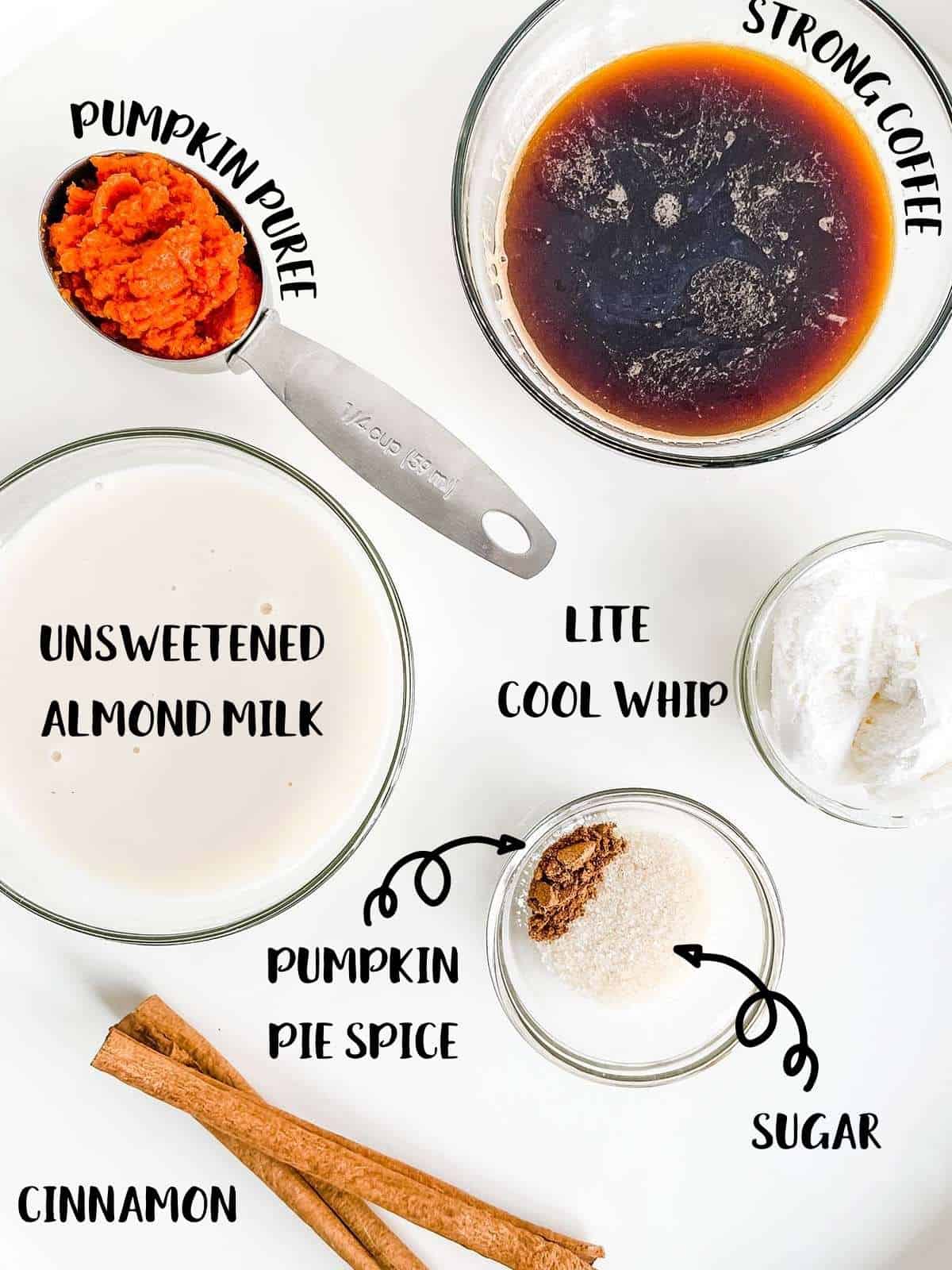 This post may contain affiliate links. As an Amazon Associate I earn from qualifying purchases. Visit this page to see what that means.
Ingredients in this Pumpkin Spice Latte
I used unsweetened almond milk in this recipe. Using unsweetened almond milk decreased the SmartPoints but really didn't change the overall flavour of the latte.
If I had used skimmed milk it would have increased the SmartPoints by 2 - so the latte would have been 5 SmartPoints.
Use pumpkin puree not pumpkin pie filling in this recipe! Pumpkin pie filling is something different altogether and will increase the SmartPoints significantly if you use it!
I used a strong black coffee - just use your regular brand!
I used McCormick's Pumpkin Pie Spice which I found at my local supermarket. You can also buy it from Amazon.
I used regular sugar in this recipe - of course you could use sweetener, but I prefer the latte made with sugar.
To top the latte off, I used a couple of spoonfuls of Lite Cool Whip.
If you are in the UK (where you can't get Cool Whip!) try using Anchor Light Squirty Cream instead!
Lastly, I dusted the top of the latte with just a little bit of cinnamon!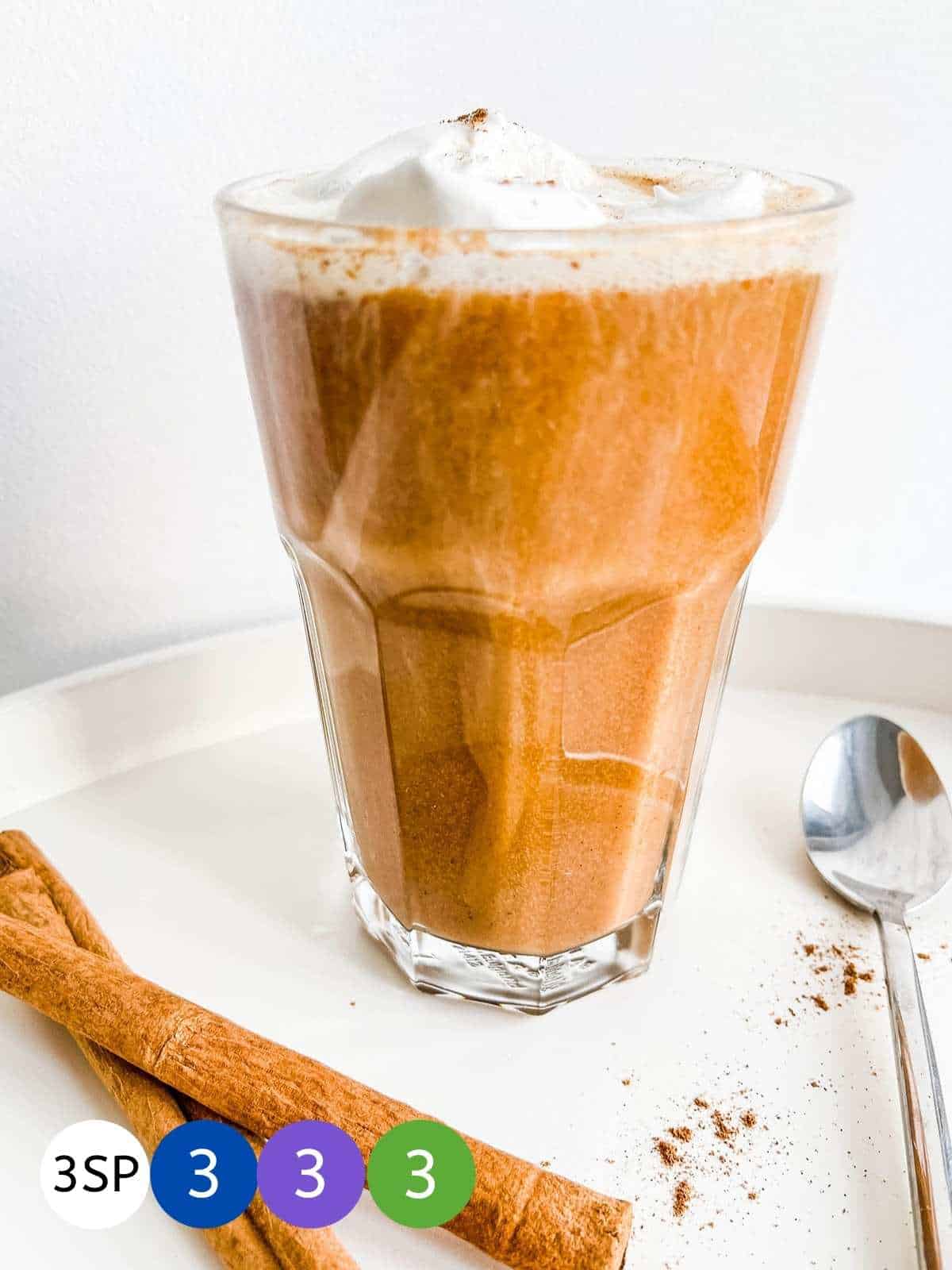 SmartPoints in this recipe
I worked out the SmartPoint values for this Weight Watchers friendly Pumpkin Spice Latte using the official WW recipe builder and it worked out as follows.
myWW Blue plan - 3 SmartPoints
myWW Green plan - 3 SmartPoints
myWW Purple plan - 3 SmartPoints
Freestyle plan - 3 SmartPoints
Please be aware that the nutritional information in the recipe card below has been automatically generated and may give you an inaccurate SmartPoint value if you add those numbers in to your WW calculator.
This is because the numbers do not account for some of the ingredients being zero SmartPoints on the WW plan. For example the pumpkin puree in this recipe is zero SmartPoints on all of the plans but the calorie count, saturated fats etc of the pumpkin will be included in the nutritional info.
If you do feel the need to double-check the SmartPoints of this recipe for yourself (but you really don't have to 😊), I'd suggest you use the official WW recipe builder on your WW App to do so.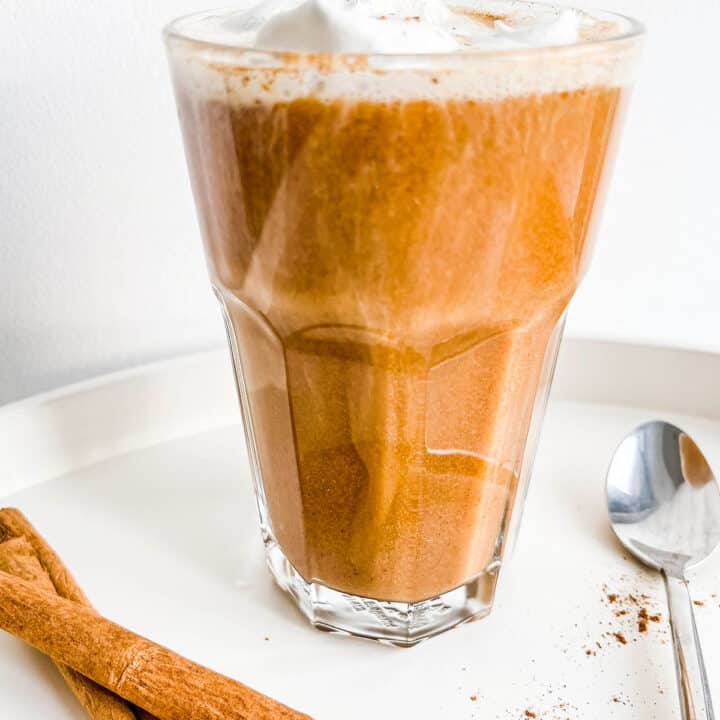 Pumpkin Spice Latte | Weight Watchers
This Weight Watchers Pumpkin Spice Latte is a great copycat recipe of the Starbucks fall favourite - but with a fraction of the SmartPoints. Sweet & tasty it is topped with a sweet whipped cream & works out at just 3 SmartPoints whether you follow the Green, Blue or Purple plan.
Ingredients
1 cup (250ml) unsweetened almond milk *
1 teaspoon sugar
1 tablespoon pumpkin puree
¼ teaspoons pumpkin pie spice
¾ cup (180ml) strong black coffee
2 tablespoons lite Cool Whip*
Pinch of cinnamon
Instructions
Use a small saucepan to slowly heat up the milk, sugar, pumpkin puree and pumpkin pie spice, stirring or using a small metal whisk to combine all the ingredients.
Once the mixture is hot, small bubbles will start to appear around the edge of the pan - once this happens remove from the heat (you don't want the mixture to boil).
Add the ¾ cup of hot strong black coffee to the mixture and whisk to combine.
Pour into a mug and top with a couple of tablespoons of Lite Cool Whip and a pinch of cinnamon.
Enjoy whilst hot and remember to track!
Notes
* If you don't like Almond Milk you can use skim milk instead, but this will add an additional 2 SmartPoints to the point total. Why not try using Almond Milk in this recipe - it works well!
* If you are in the UK and don't have Lite Cool Whip, you could use 1 SmartPoint of Anchor Light Real Squirty Cream to top this latte.
Recommended Products
As an Amazon Associate and member of other affiliate programs, I earn from qualifying purchases.
Nutrition Information:
Yield:

1
Serving Size:

1
Amount Per Serving:
Calories:

102
Total Fat:

4g
Saturated Fat:

1g
Trans Fat:

0g
Unsaturated Fat:

2g
Cholesterol:

0mg
Sodium:

21mg
Carbohydrates:

16g
Fiber:

1g
Sugar:

14g
Protein:

2g
Please be aware that the nutritional information above has been automatically generated.  It should therefore be considered as an estimate. The above nutritional information does not account for variations in product brands and types, weights of individual ingredients etc and does not account for many ingredients being zero SmartPoints on the WW plan. Therefore, using these numbers in your WW calculator will often give you an INACCURATE SmartPoint value! PointedKitchen.com has calculated Weight Watchers Smart Points based on the individual ingredients used to make this recipe and not from the following nutritional information. PointedKitchen.com is not responsible for any loss or damage relating to your reliance on this nutritional information.
More Weight Watchers Pumpkin Spice Recipes
If, like me, you love pumpkin spice then you should take a look at these Weight Watchers friendly pumpkin spice recipes.