If you are looking for a tasty, filling and easy to make salad then this Best Chicken Salad for Weight Watchers is hard to beat! A mix of succulent chicken, celery, green onions and grapes all smothered in a mayonnaise dressing, it's the perfect dish to serve at any summer BBQ, potluck or family get together.
Not only is it tasty but it's low point too! Just 1 SmartPoint per serving on the Weight Watchers Blue and Purple plans and 3 SmartPoints on the Green plan.
But of course you don't have to be a Weight Watcher to enjoy this dish! I've served it to my friends and family who love it but have been non the wiser that it's a WW friendly recipe!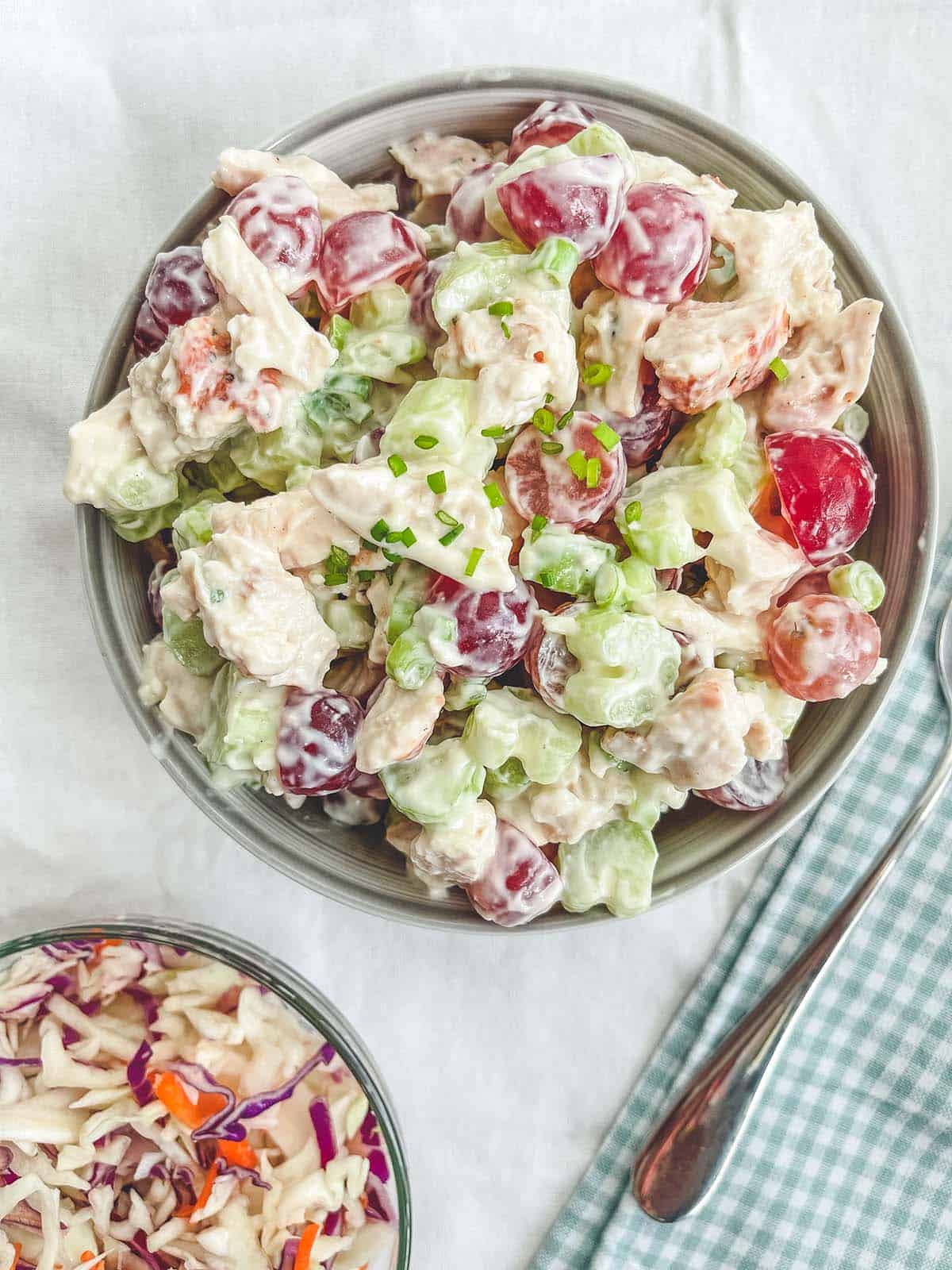 Although this salad is a summer favourite of mine, I also make it through the winter months.
A cupful of this creamy chicken salad spooned on top of a warm baked potato is a real treat on a cold winter night and a serving of it in a sandwich bun or low point tortilla wrap makes for a tasty but low SmartPoint lunch any time of the year.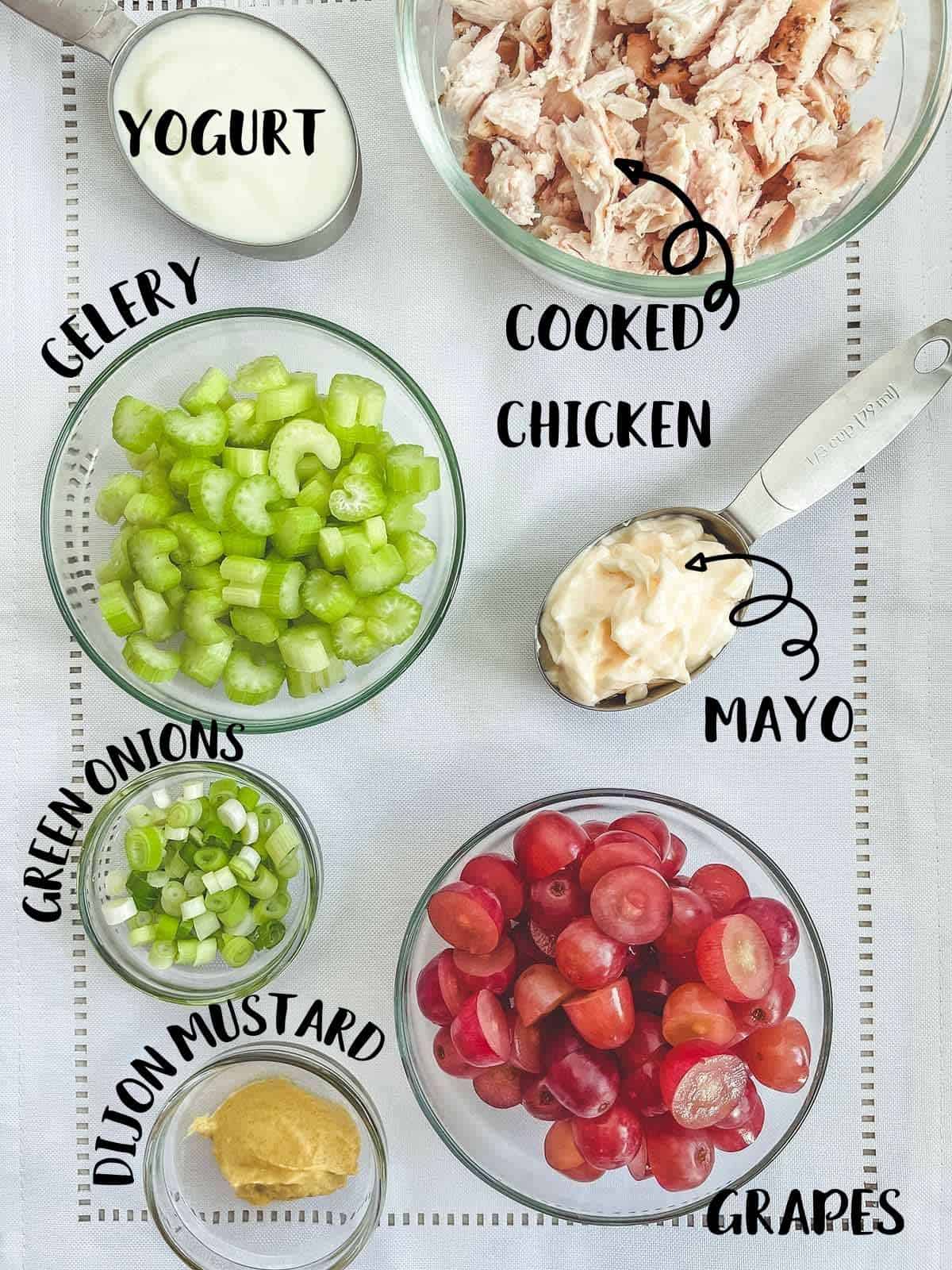 Ingredients used in this salad
I usually use pre-cooked skinless chicken breast in this recipe (for convenience) but of course you could cook the chicken breasts yourself if you'd prefer.
See this helpful article on How to Cook Moist and Tender Chicken Breast - but just remember that you will need to add on SmartPoints for any oil that you use to cook the chicken.
I use a mixture of low fat mayonnaise, fat free natural yogurt, dijon mustard and salt and pepper for the dressing.
Using purely mayo hikes up the SmartPoints too much but I've found that by using a mix of mayo and yogurt the salad has a lovely creaminess but with minimal SmartPoints.
One of the great things about this salad is that you can mix up the rest of the ingredients - if you really love grapes, then add some more, if you are partial to celery then you can double the amount! Don't like green onions, then leave them out! It really is that simple 😊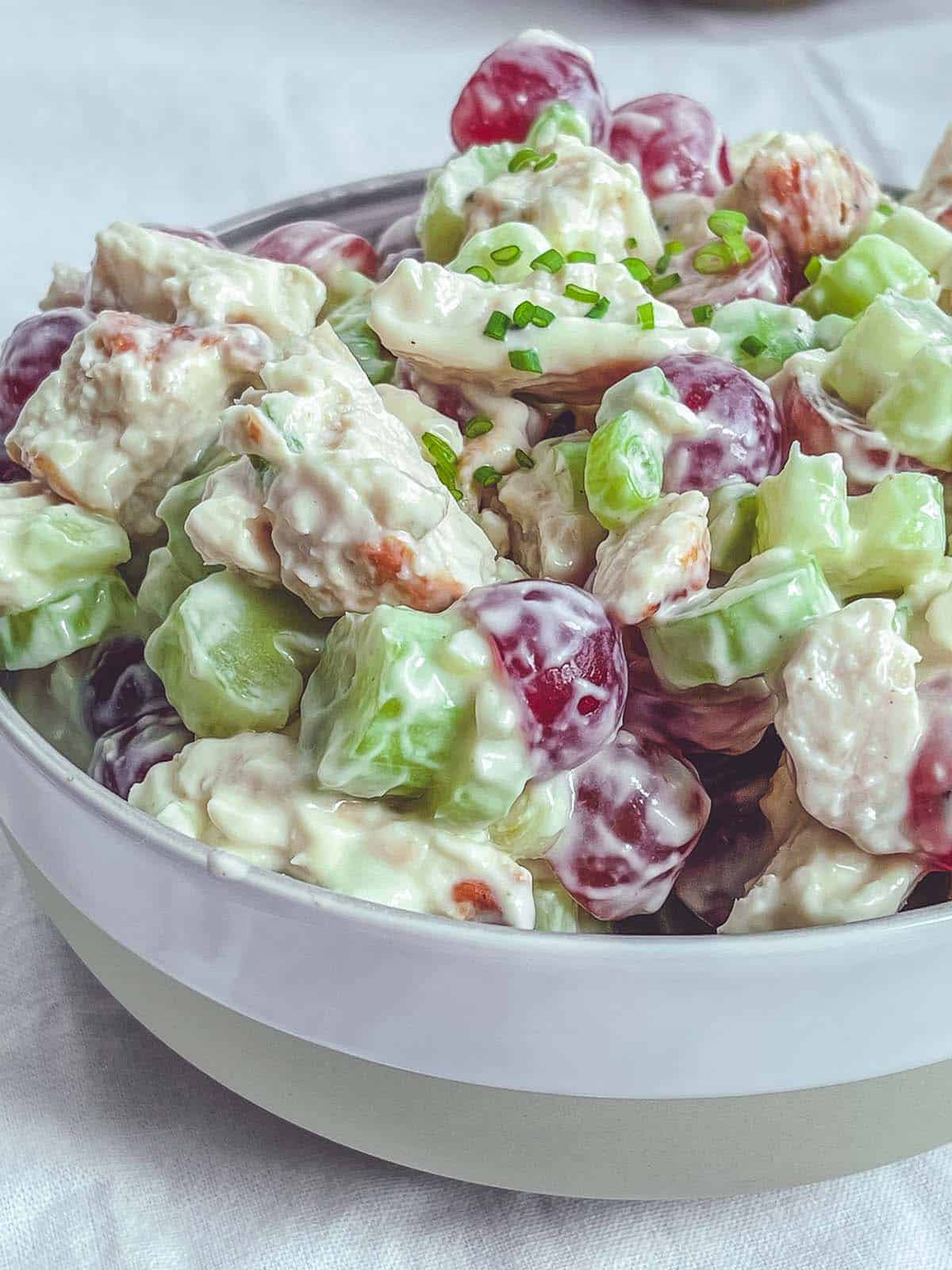 Serving Suggestions
Serve this Best Chicken Salad alongside other Weight Watchers friendly salads such as this Mexican Bean Salad or this tasty Greek Salad.
Heap a 1 SmartPoint serving of the salad (a scant cup) onto a warm baked potato for a low point comforting dinner!
Serve inside a sandwich bun or in a low point tortilla wrap for a really tasty lunch!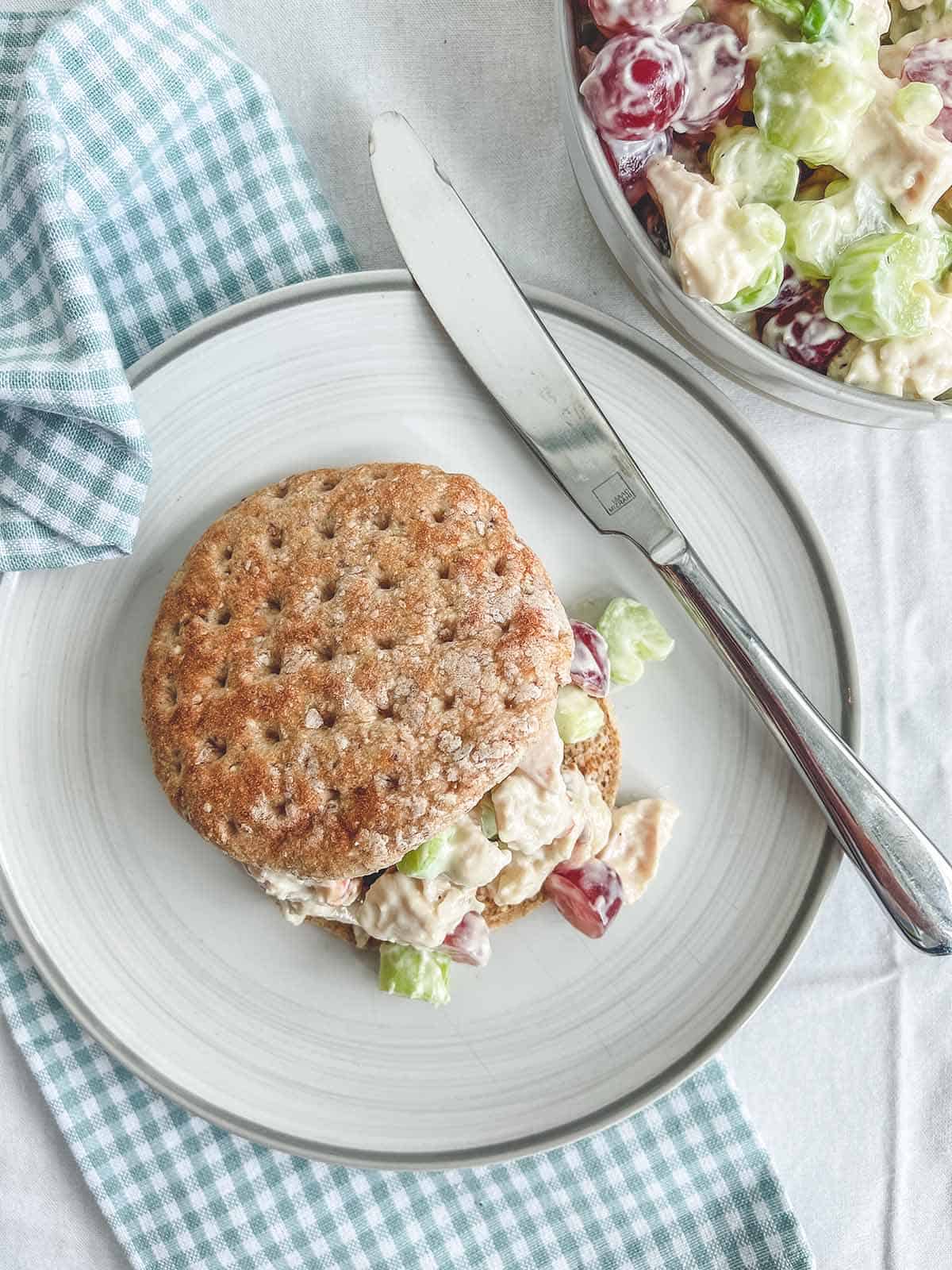 SmartPoints in Chicken Salad
I worked out the SmartPoint values for this Weight Watchers Best Chicken Salad using the official WW recipe builder and a scant cup serving is as follows.
myWW Blue plan - 1 SmartPoints per portion
Freestyle plan - 1 SmartPoints per portion
myWW Green plan - 3 SmartPoints per portion
myWW Purple plan - 1 SmartPoints per portion
Please be aware that the nutritional information in the recipe card below has been automatically generated and may give you an inaccurate SmartPoint value if you add those numbers in to your WW calculator.
This is because the numbers do not account for some of the ingredients being zero SmartPoints on the WW plan. For example the chicken, grapes & celery in this recipe are zero SmartPoints on all of the plans but the calorie count, saturated fats etc in the nutritional info will include these.
If you do need to double-check the SmartPoints of this recipe for yourself, I'd suggest you use the official WW recipe builder on your WW App to do so. You will see that the values that I have given are correct!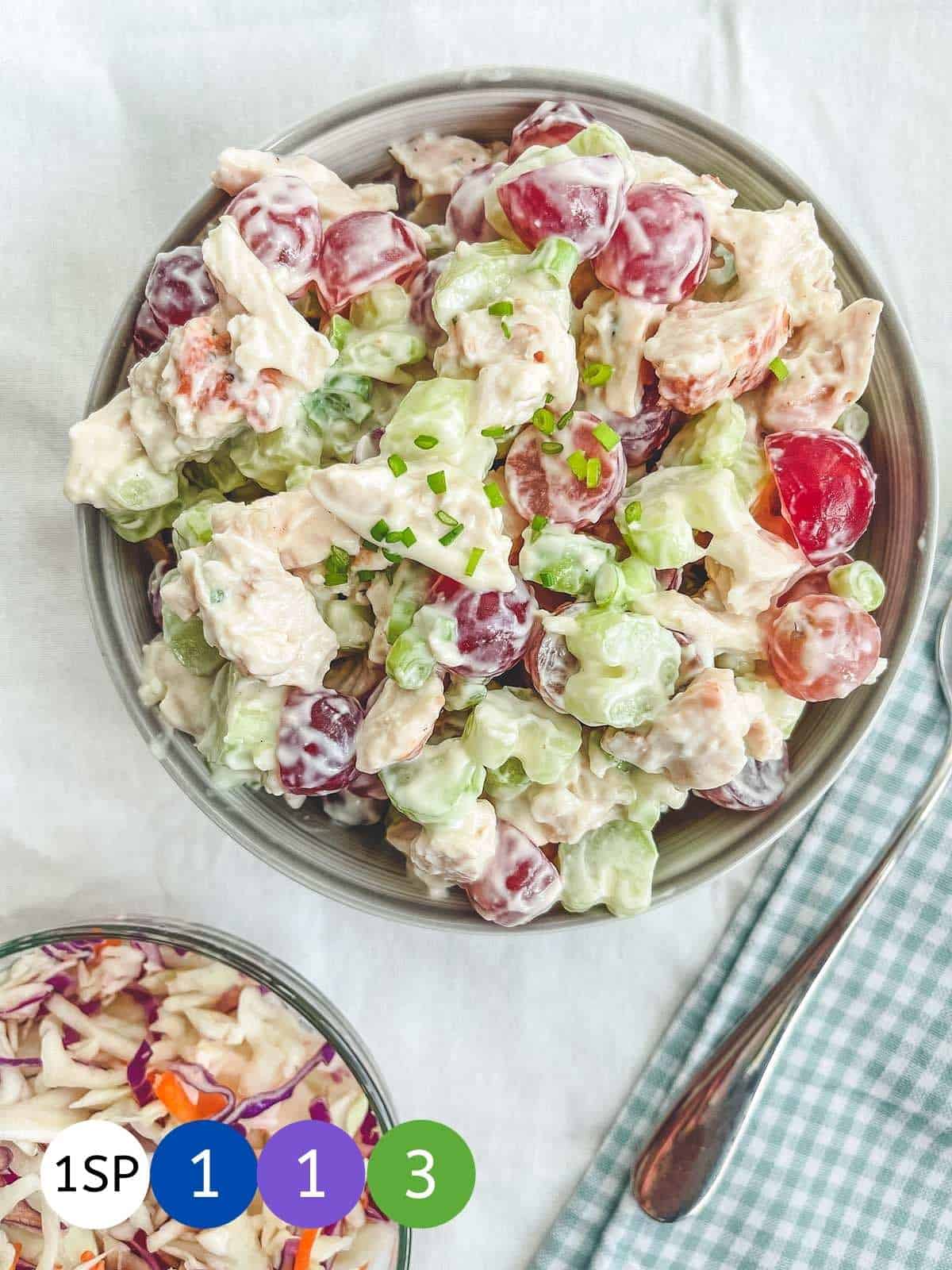 Storage
This salad will keep well in the fridge in an airtight container for 2 to 3 days. Just give it a bit of a stir before serving.
I have never tried freezing this recipe and to be honest I wouldn't suggest you try it. I wouldn't think that it would freeze well!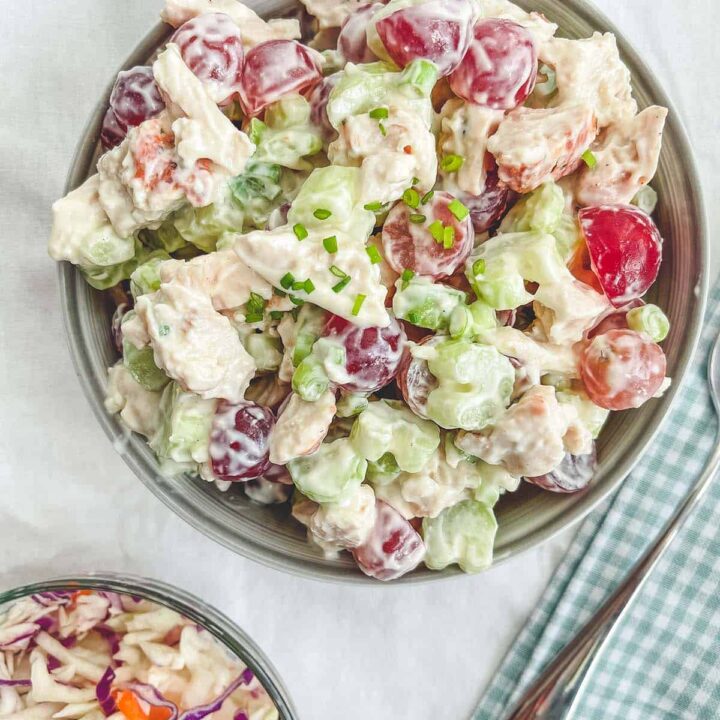 best chicken salad | Weight Watchers
This Chicken Salad is perfect if you are looking for a filling and tasty low point lunch. At just 1 SmartPoint on the Blue and Purple plans and 3 SmartPoints on the Green plan, this salad will be one that you will make again and again.
Ingredients
3 cups (400g) cooked chicken - chopped
3 - 4 stalks celery
3 green onions / spring onions
1 ½ cups (225g) grapes
1 - 1 ½ tsp dijon mustard
⅓ cup (75g) light mayonnaise
½ cup (120g) fat free natural yogurt
Salt & pepper
Instructions
Tear or cut up the chicken into bite size pieces and add to a medium sized bowl.
Top and tail the celery and slice into small pieces and add to the chicken
Dice the green onions and add to the bowl.
Chop the grapes in half (this depends on the size of grapes that you use) and add to the rest of the ingredients.
In a small bowl combine the mustard, mayonnaise and natural yogurt.
Spoon the mayonnaise dressing onto the rest of the ingredients and gently mix.
Add salt and pepper to taste.
Serve & remember to track!
Notes
1 serving is approximately 1 cup of Chicken Salad.
Recommended Products
As an Amazon Associate and member of other affiliate programs, I earn from qualifying purchases.
Nutrition Information:
Yield:

6
Serving Size:

Scant cup
Amount Per Serving:
Calories:

125
Total Fat:

7g
Saturated Fat:

2g
Trans Fat:

0g
Unsaturated Fat:

4g
Cholesterol:

42mg
Sodium:

161mg
Carbohydrates:

4g
Fiber:

1g
Sugar:

3g
Protein:

12g
Please be aware that the nutritional information above has been automatically generated.  It should therefore be considered as an estimate. The above nutritional information does not account for variations in product brands and types, weights of individual ingredients etc and does not account for many ingredients being zero SmartPoints on the WW plan. Therefore, using these numbers in your WW calculator will often give you an INACCURATE SmartPoint value! PointedKitchen.com has calculated Weight Watchers Smart Points based on the individual ingredients used to make this recipe and not from the following nutritional information. PointedKitchen.com is not responsible for any loss or damage relating to your reliance on this nutritional information.