If you are looking for a low point Granola then look no further - this list of the Best Granola for Weight Watchers will provide you with the SmartPoint values for some of the most popular WW friendly granola brands.
Whether you are looking for something crunchy to sprinkle on top of your yogurt and fruit for a low SmartPoint breakfast, or you are looking for a granola replacement to your high SmartPoint brand then you should find something suitable here!
Unfortunately there is no getting away from it ... granola is typically a high SmartPoint food.
But this list contains some suggestions that are as low as 2 SmartPoints per ½ cup serving!
Now, that is what I call a result!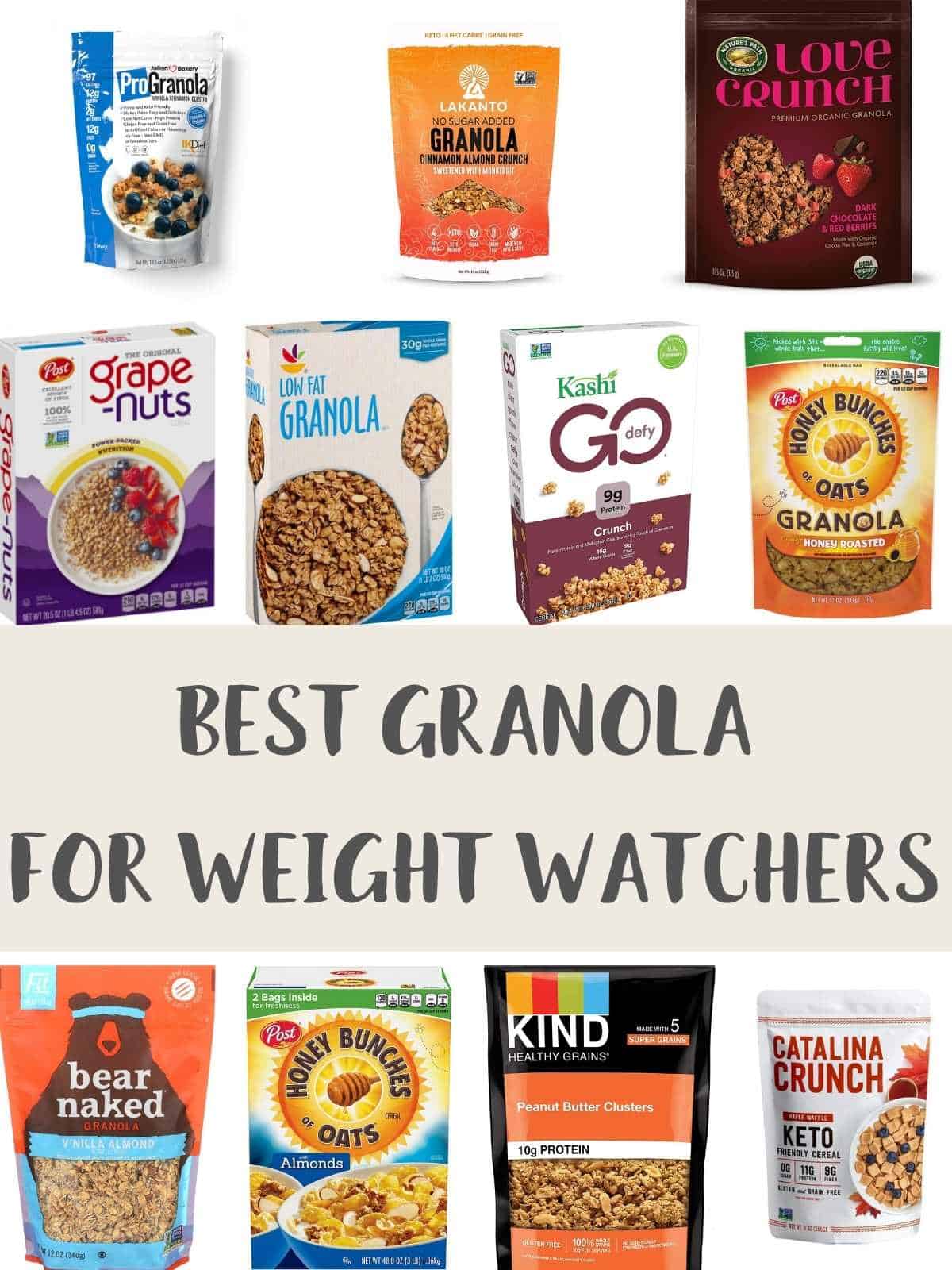 Typically, granola contains nuts, seeds, oats and sugars which are all relatively high in Weight Watchers SmartPoints.
That's probably why it tastes soooooo good!!!
But I was truly shocked to find out that one of my favorite Granolas was almost 20 SmartPoints per cup! And that was without adding milk!
I don't know about you, but I don't want to eat 20 SmartPoints of my allowance before I have even properly started the day.
If I eat granola now, I tend to have a couple of tablespoons of it sprinkled over fat free yogurt and fruit for a low SmartPoint breakfast.
In this list, I have included a couple of breakfast cereals that aren't really granolas but will give you that 'crunch' if that is what you are looking for.
The SmartPoint values that I have given you have been worked out using the official Weight Watchers calculator and I have included both volume measurements (cups) and weight measurements (grams).
Just beware if you do use volume measurements that it is easy to overfill a cup and add a couple of rogue SmartPoints to your day! I would always suggest that you weigh your food - if you possibly can!
Also take note that the SmartPoint values that I have given you are for just the granola - no milk!
Brands do change ingredients etc from time to time but these values were correct at the time of writing this post (Aug 2021).
Lastly, as always if you have found a granola that you particulary like and that fits into the Weight Watchers plan, please do leave a comment below so that you can share it with others on the WW journey! It really is appreciated.