This easy, peasy Ranch Dip is zero SmartPoints on Weight Watchers Freestyle, Blue and Purple plans and 1 SmartPoint per portion on the WW Green plan.
To find out how many WW Personal Points this recipe will be for you & to track it in the WW App, click on the blue button in recipe card below!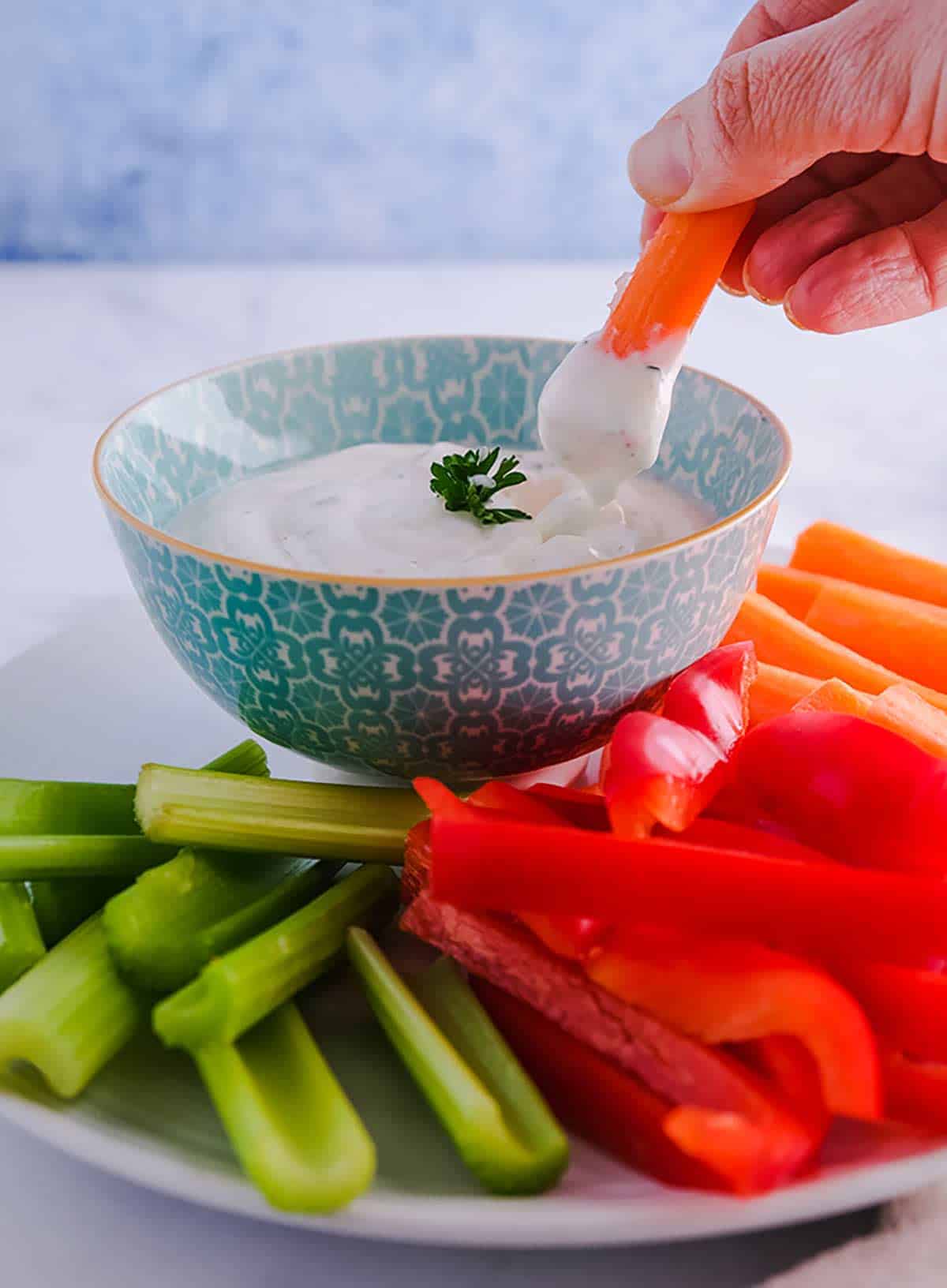 Please be aware that this post was written prior to Weight Watchers changing to the WW Personal Points Plan! You can discover exactly how many Personal Points this recipe will be for you by clicking on the blue 'WW Personal Points' button in the recipe card below.
If you are looking for a zero point ranch dip (or low point if following the myWW Green plan) for those days when snacking is a necessity 😀 then look no further than this easy ranch dip.
To be honest, I feel pretty uncomfortable calling this 'recipe' a recipe!
It's really just mixing two ingredients together!
But I have seen so many people on social media asking for help on what quantities to use to make this ranch dip as Weight Watchers friendly as possible.
I've also noticed that there's a lot of misinformation out there! Just because the ranch dressing mix is 0 calories, 0g of saturates and 0g of sugars per serving doesn't mean it'll be 0 SmartPoints if you use stacks of the dried mix to make the dip.
So I decided to write up the recipe that I like! A ranch dip that tastes of ranch dressing but still works out at 0 SmartPoints for a quarter cup serving.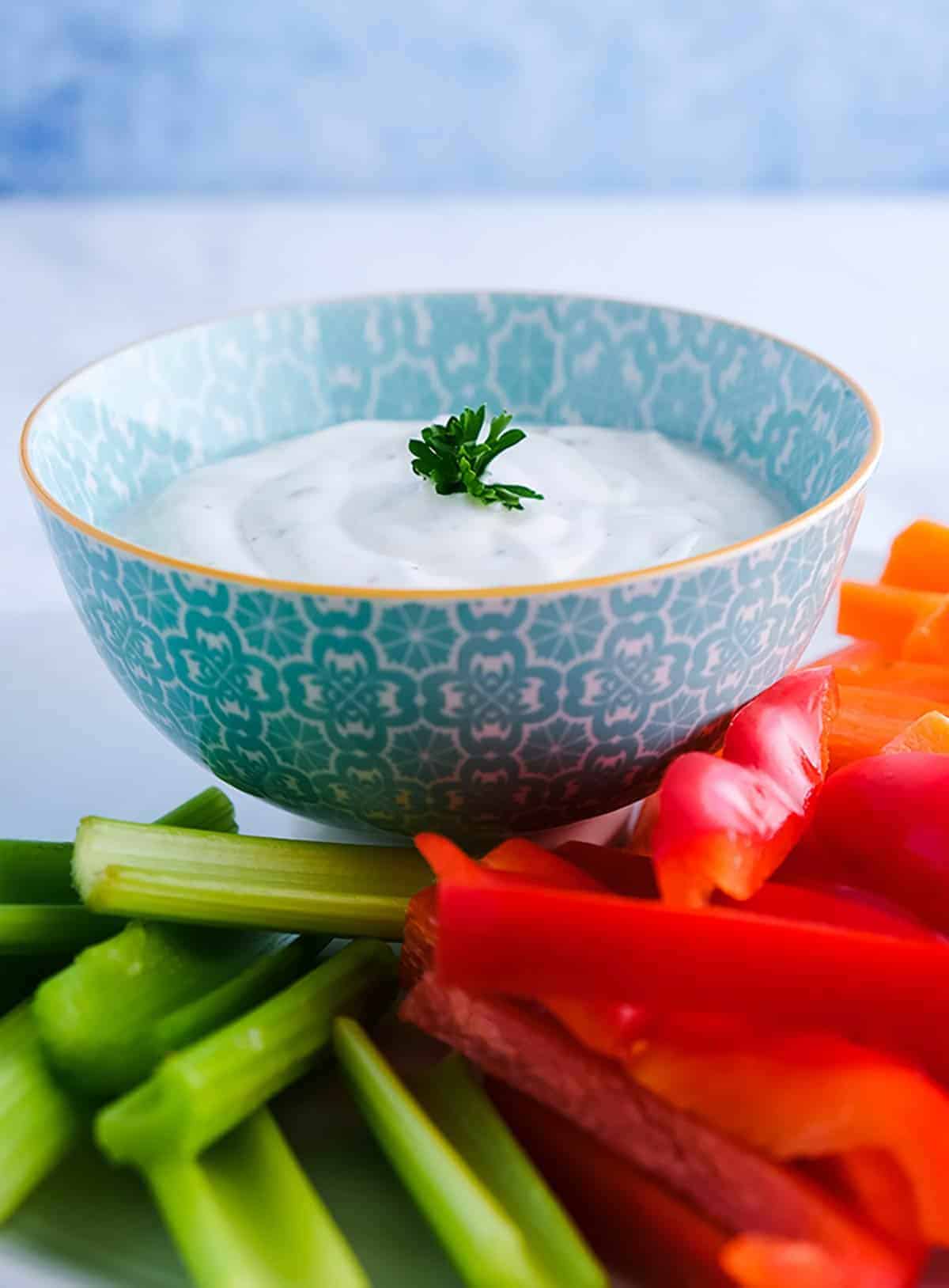 This post may contain affiliate links. As an Amazon Associate I earn from qualifying purchases. Visit this page to see what that means.
What mix should I use?
I use Hidden Valley Ranch Seasoning Mix. It works out at 2 SmartPoints if you use 20g (approx 2 level tablespoons).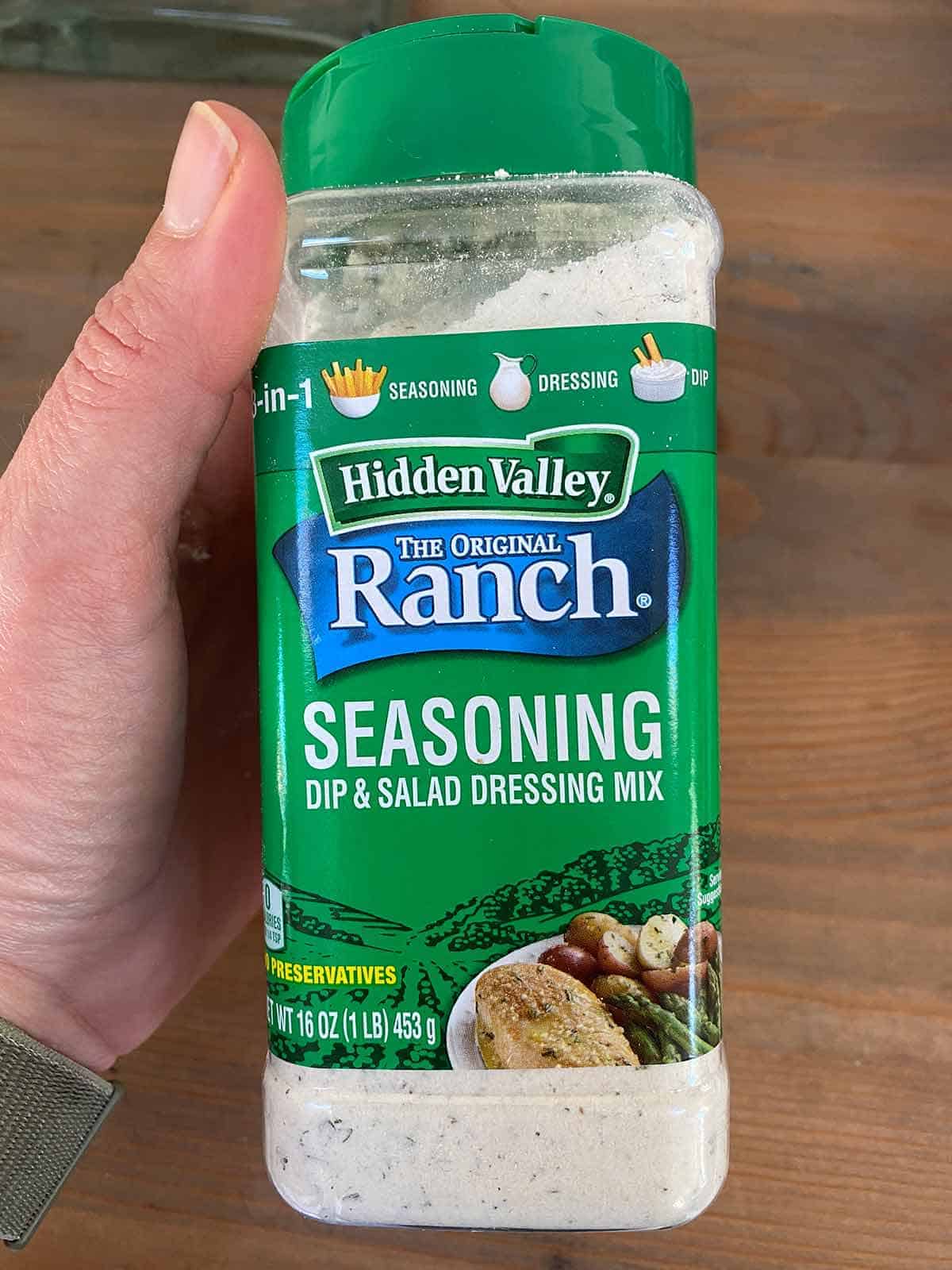 There are other ranch dressing mixes available but I have only ever used the Hidden Valley brand for my zero point ranch dip recipe.
I believe that Uncle Dan's Original Sourthern Classic Ranch Dressing Mix is also a good option, but I've not worked out the SmartPoints values for that brand.
Most mixes suggest combining the seasoning with buttermilk or mayo or a mix of both to make dip. But that would be heavy on SmartPoints!
So I use 0% (fat free) Greek yogurt instead to make the dip much more Weight Watchers friendly.
You could also use 0% (fat free) plain natural yogurt if you don't like Greek yogurt but this may change the SmartPoint values slightly if you are following the Green plan.
Serving ideas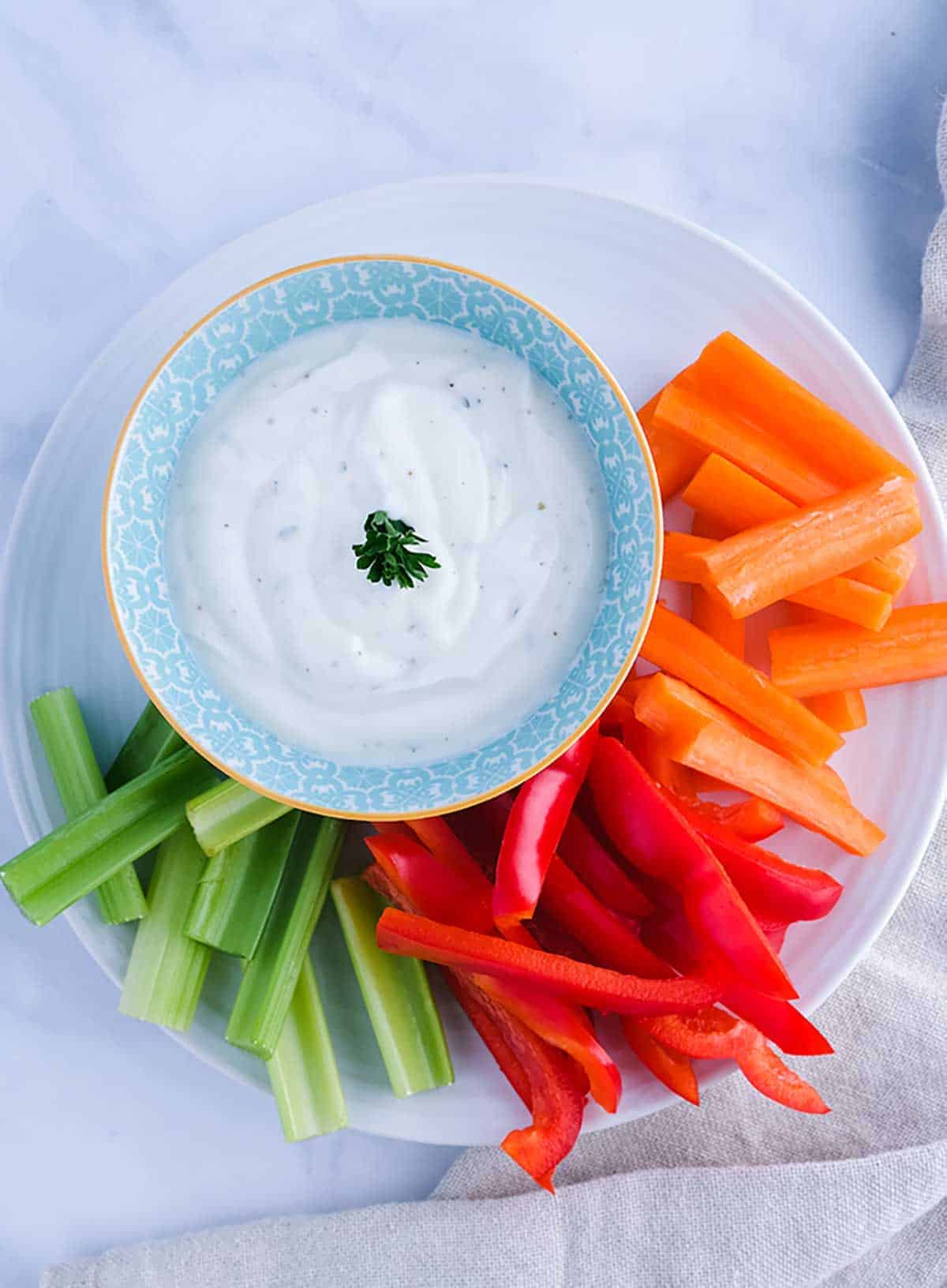 SmartPoints value per serving
As I am sure that you are aware, Weight Watchers changed their program at the end of 2019. It now includes 3 individual plans, giving anyone following the WW program lots of choice about how they can use their SmartPoint allocation.
Using the official WW recipe builder I have worked out the SmartPoints for ¼ cup of this Ranch Dip for each of the plans.
Old Freestyle plan - 0 SmartPoints per ¼ cup serving
Blue plan - 0 SmartPoints per ¼ cup serving
Green plan - 1 SmartPoint per ¼ cup serving
Purple plan - 0 SmartPoints per ¼ cup serving
Other Weight Watchers Snacks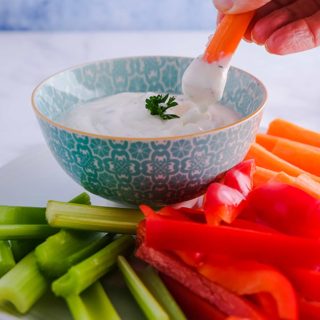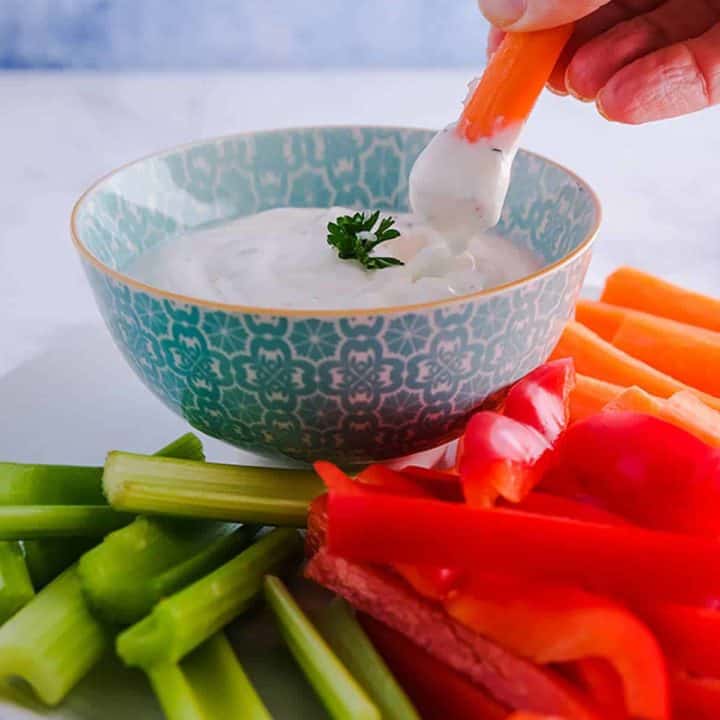 Zero Point Ranch Dip | Weight Watchers
This Zero Point Ranch Dip is so easy to make. Use it as a creamy delicious accompaniment to crudites and low point chips / crisps!
Ingredients
1

cup

fat free greek yogurt / fat free natural yogurt

(250g)

2

tbsp

Ranch dressing mix (I use Hidden Valley Ranch Seasoning)

(20g)
Instructions
In a small bowl add 2 tablespoons of ranch dressing mix to 1 cup of fat free Greek yogurt.

Mix until smooth.

Serve as a dip for chopped carrots, sweet peppers, cucumber sticks, tomatoes etc.
Notes
Each serving is approximately ¼ cup of dip.
The whole bowl of Ranch Dip works out at 2 SmartPoints on the Purple and Blue plan.
Nutrition
Nutrition Facts
Zero Point Ranch Dip | Weight Watchers
Amount per Serving
% Daily Value*
* Percent Daily Values are based on a 2000 calorie diet.