This filling and tasty White Bean Soup is just 2 SmartPoints per portion on Weight Watchers Freestyle, Blue and Purple plans. It is 3 SmartPoints per bowl on the WW Green plan.
I topped off the soup with a little chopped up bacon for an extra crunchy, salty interest but this soup is really tasty without!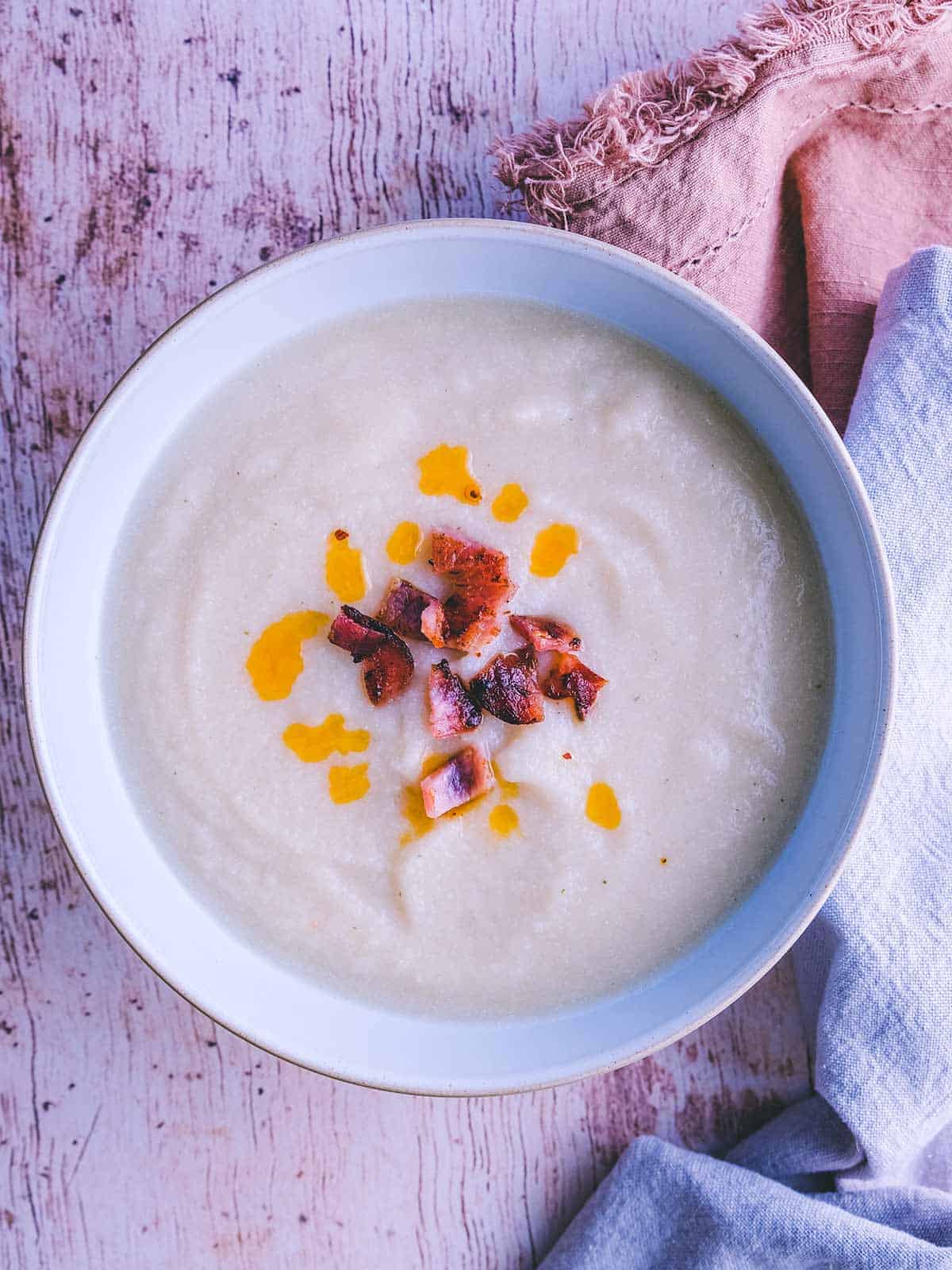 Now that the world has turned upside down and everything that I have known & taken for granted has altered, I, like so many people, have been finding it difficult to concentrate on my WW journey.
But the last couple of days I've had a bit of a mental shift and have started to plan & track again.
I've also started to write up some of the recipes that I had developed before the pandemic struck.
This White Bean Soup is filling and comforting - and heaven knows we need comfort at the moment.
I don't want to carry on 'comforting' myself with chocolate, cake, cookies, chips - all those foods that I used to eat prior to starting my WW journey.
I REALLY don't want to come out of this lock down pounds heavier than when I went in. I know that for me that won't do my mental health any good what so ever.
I feel happier, healthier and more in control when I stick to the WW plan. I know it and know that I am not alone in that.
So .... I am looking for some kind of compromise! Comforting foods that are low in SmartPoints.
This soup is one of them!
One bowl of this soup with a slice bread (take a look at this list of Low Point Breads) keeps me full and satisfied from lunch to dinner!
Oh, and did I say it's pretty easy to make too!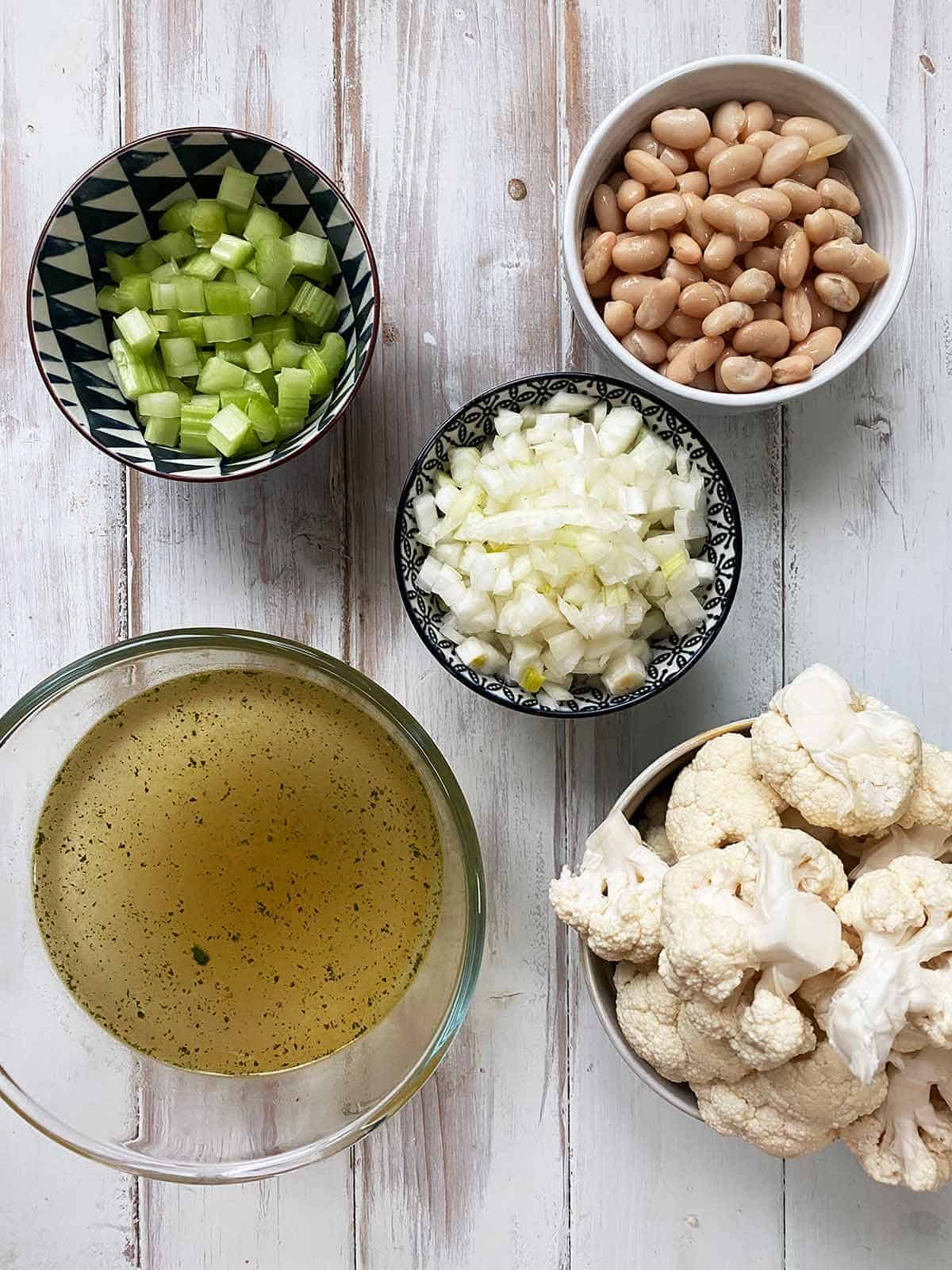 Tips for making this soup!
Make sure that you cook the onions and celery on a low heat. There isn't a huge amount of oil in this recipe so to prevent the onion & celery sticking to the bottom of the pan and burning you need to soften it over a low heat.
If it does start to stick you can add a tablespoon or so of water to loosen it and then turn down the heat.
I used a medium cauliflower in this recipe. I removed the green leaves and chopped off the tough stalk. I cut up the head into smallish florets (see pic above).
You can use any kind of white beans that you like - see below.
I used a standard vegetable stock cube / bouillon cube to make the stock but you could use a low sodium one if you prefer.
I topped this soup with a little chopped bacon medallions. As there is hardly any fat on a bacon medallion it is a little more difficult to make the bacon super crispy. However, I lightly fried it for about 7 minutes, turning it often, which seemed to work to make the medallion crispy. I
Which White Beans should I use?
I used a 15oz (400g) can of cannellini beans (also known as White Kidney Beans) in this recipe. Once drained and rinsed they weighed just over 8oz (230g).
You could also use navy (pea) beans, baby lima beans, haricot beans or even butter beans. Just make sure that you use a can that gives you about 80z (230g) once drained.
What Bacon can I use?
I used bacon medallions in this recipe. They worked out at 2 SmartPoints for 4 medallions.
If you are unable to find bacon medallions, you could use bacon with the fat trimmed. That works out at 3 SmartPoints for 4 rashers.
Streaky bacon would work out as 7 SmartPoints for 4 rashers.
Not all bacon brands/types will fit into these categories so I would suggest that you check the nutritional information on the back of your bacon packet and adapt accordingly.
Other Weight Watchers Soup Recipes.
If you like soup you may like these Weight Watchers friendly soup recipes
SmartPoints in this soup!
Weight Watchers changed their program at the end of 2019 and it now includes 3 individual plans. This gives anyone following the WW program choice on how they use their SmartPoint allocation.
Using the official WW recipe builder I have worked out the SmartPoints for this White Bean Soup for each of the plans.
Blue Plan / Freestyle Plan - 2 SmartPoints per serving
Purple Plan - 2 SmartPoints per serving
Green Plan - 3 SmartPoints per serving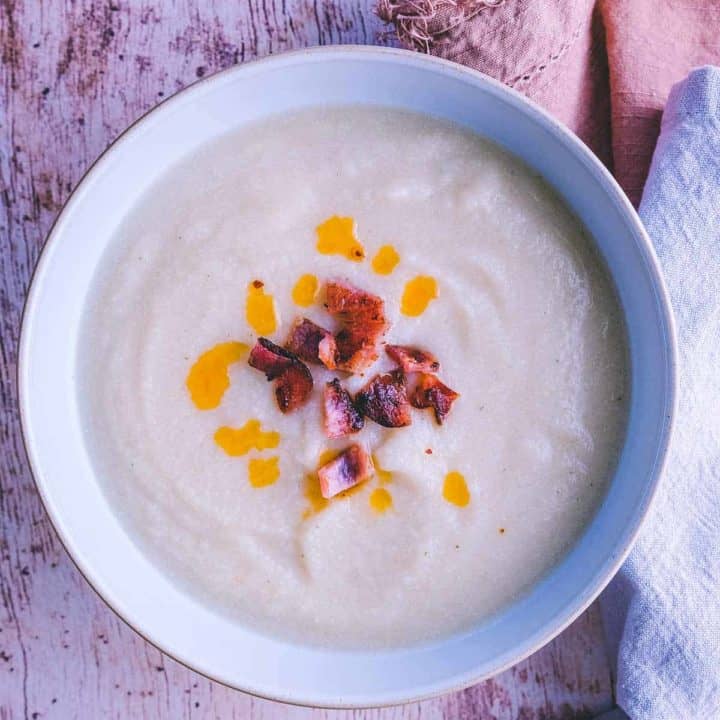 White Bean Soup | Weight Watchers
A tasty and filling White Bean Soup that is just 2 SmartPoint per generous serving on Weight Watchers Blue and Purple plans. It is 3 SmartPoints per serving on WW Green plan.
Ingredients
1 tbsp olive oil
2 celery sticks (chopped)
2 small onions (chopped finely)
1 medium cauliflower (removed from stalk and roughly chopped)
1 x 15oz can white beans (approx 8oz when drained & rinsed)
1 vegetable stock cube / bouillon cube (made up to 600ml)
5 sprays of calorie controlled oil such as Pam or Frylight.
4 bacon medallions (optional)
Salt & pepper to taste
Instructions
In a large saucepan heat the olive oil over a low heat.
Add the chopped onions, celery and a pinch of salt.
Give it a good mix and place the lid on the saucepan and let it cook for 15 minutes or so until the onions and celery have softened.
You may need to give it a mix every so often to make sure it doesn't stick to the bottom of the pan but really it shouldn't stick as it is cooking over a low heat.
If you find that it does start to stick to the pan turn down the heat even further and add a little water and stir.
Meanwhile cut the head of the cauliflower from the stalk and roughly chop up the florets. You can discard the hard stalk and green leaves.
Once the onion and celery has softened, add the chopped cauliflower and the can of drained & rinsed beans to the pot and stir to combine.
Cover with the saucepan lid and cook over a low heat for about 20 minutes until the cauliflower is tender. Stir every now and again.
Whilst the cauliflower is cooking spray the bottom of a non stick skillet / frying pan with a couple of sprays of calorie controlled oil. Heat for minute and add the bacon medallions. Cook for 6 - 8 minutes turning them every so often. You want the bacon medallions to crisp up but you don't want them to burn! Remove from the heat and break them up /cut them up ready to sprinkle over your soup.
Crumble a stock cube/bouillon cube into a jug and pour over 600ml of boiling water. Stir to dissolve.
Add the stock to the saucepan of veg and stir.
Remove from the heat and pass through a food blender until the soup is creamy and smooth.
Place the soup back in the saucepan. Season with salt and pepper to taste.
Heat the soup through prior to serving with a sprinkling of bacon pieces.
Enjoy.
Recommended Products
As an Amazon Associate and member of other affiliate programs, I earn from qualifying purchases.
Nutrition Information:
Yield:

4
Serving Size:

1
Amount Per Serving:
Calories:

260
Total Fat:

9g
Saturated Fat:

2g
Trans Fat:

0g
Unsaturated Fat:

6g
Cholesterol:

11mg
Sodium:

955mg
Carbohydrates:

33g
Fiber:

9g
Sugar:

6g
Protein:

15g
Please be aware that the nutritional information above has been automatically generated and does not account for variations in product brands and types, weights of individual ingredients etc.  It should therefore be considered as an estimate. PointedKitchen.com has calculated Weight Watchers Smart Points based on the individual ingredients used to make this recipe and not from the following nutritional information. PointedKitchen.com is not responsible for any loss or damage relating to your reliance on this nutritional information.