These easy to make Weight Watchers Baked Apples are sweet, tasty and work out at either 4 or 5 Points on the Personal Points plan (depending on your point allocation).
To discover just how many Personal Points they are for you, click on the button in the recipe card.
The recipe uses just 6 basic ingredients, they take minutes to prepare and take around 45 minutes to bake.
The apples are stuffed with a sweet, buttery oat mixture that is lightly flavoured with cinnamon. I love them served warm with a scoop of low point ice cream!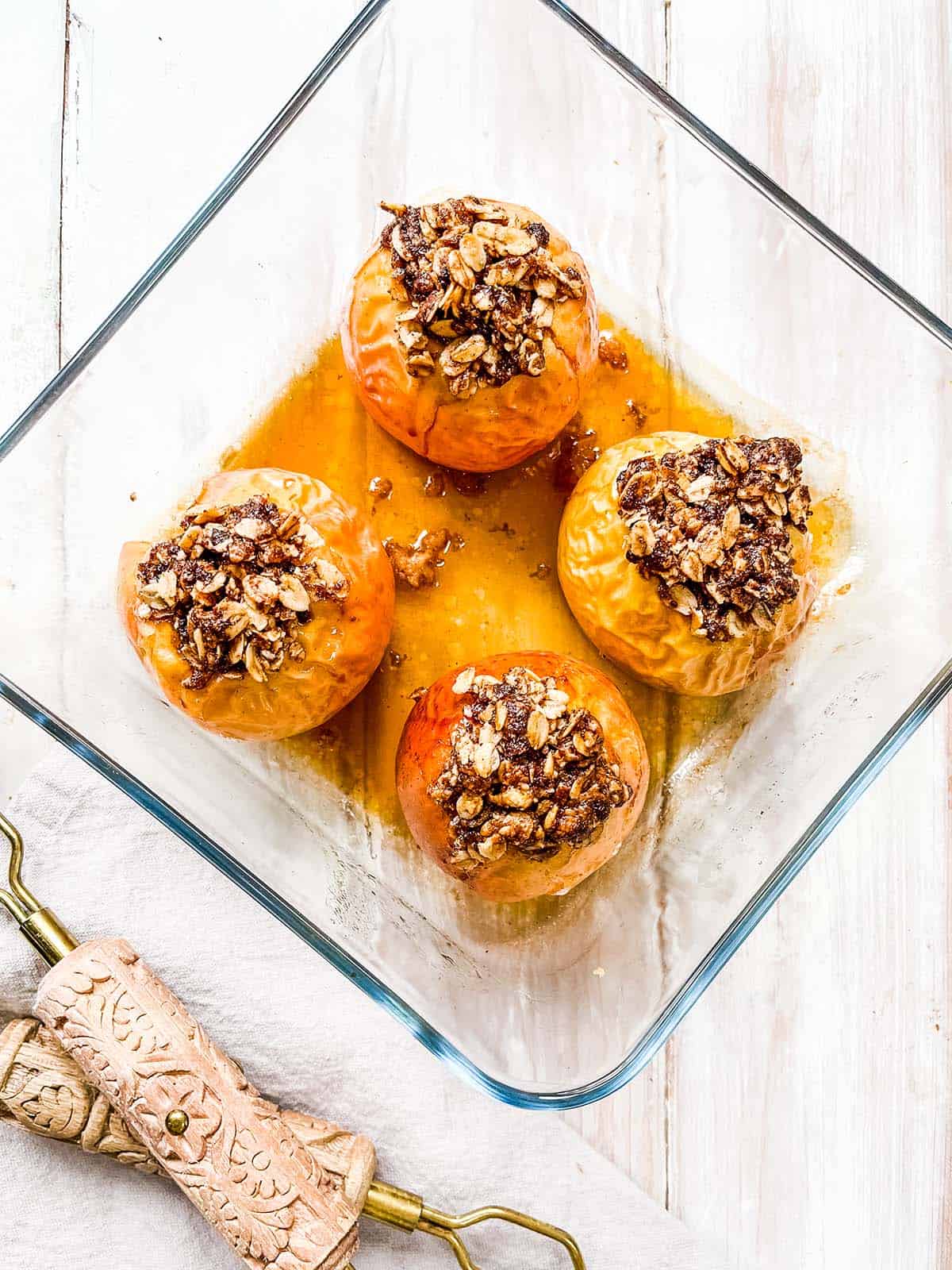 You can bake apples in a variety of different ways. You can slice or chop up the apples and bake them (with or without a sauce). You can cut them in half, remove the core and cover them in a crunchy topping. Or you bake them whole, like this recipe, with the core removed and stuffed with a delicious filling!
In this particular recipe I have stuffed the apples with a sweet, buttery oat mixture that is lightly flavoured with cinnamon & just a hint of nutmeg.
Points in Baked Apples
These baked apples are the perfect recipe for anyone following the Weight Watchers plan.
They work out at either 4 or 5 points per apple depending on your Personal Points allocation. You can find out exactly how many points they will be for you by clicking on the blue button in the recipe card below.
You could halve the points by halving the amount of oat mixture that you make up. However, I like the ratio of oaty mixture to apple in this recipe and feel they are well worth their 4 points!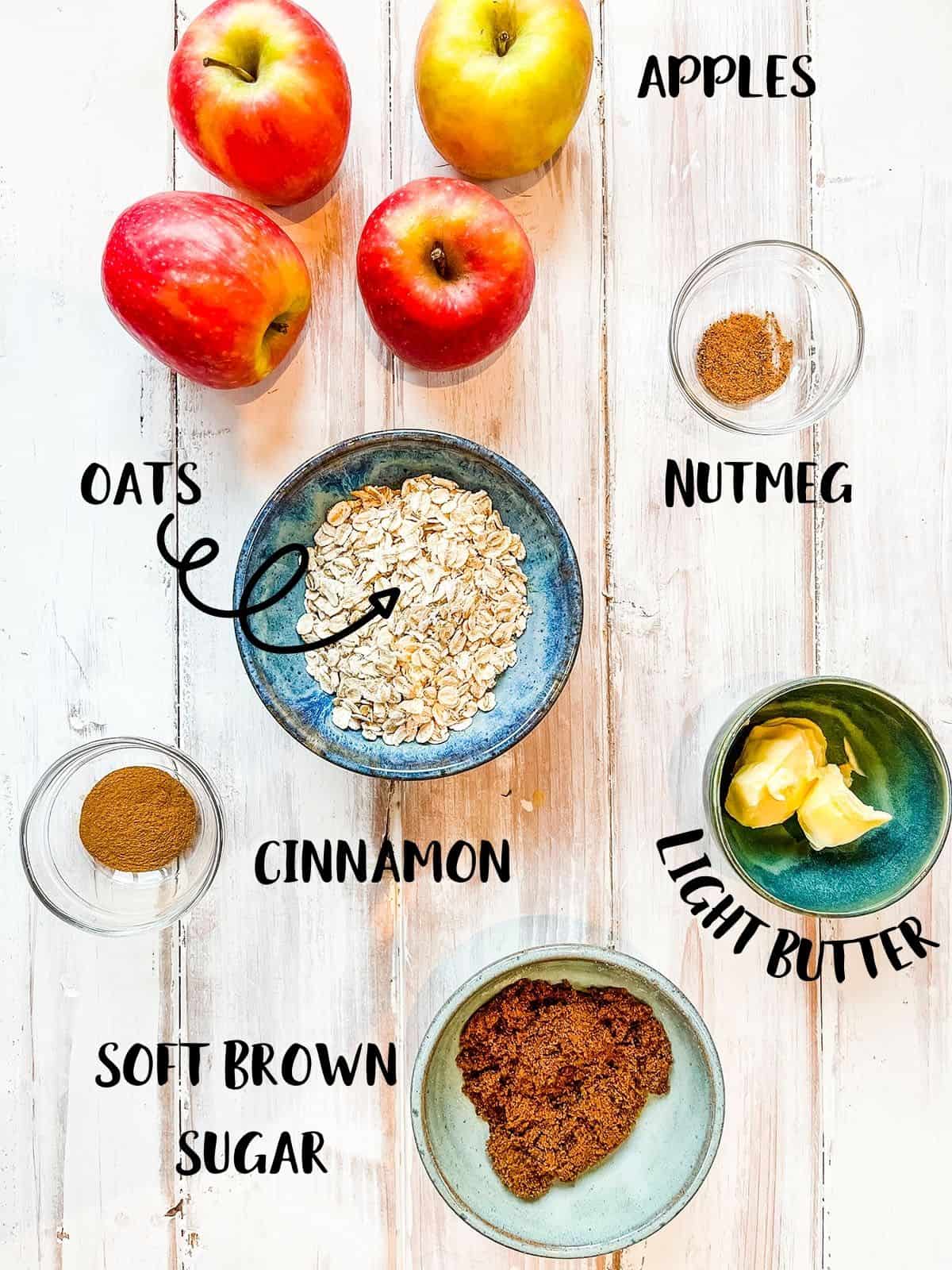 Ingredients used in this recipe
Apples ( I used Braeburn)
Rolled oats
Light butter / reduced fat butter
Soft brown sugar (I used dark brown but you could use light brown sugar)
Ground cinnamon
Ground nutmeg
Water
Which apples should I use?
I have tested this recipe using different varieties of apples with varying results.
Some keep their shapes, some became quite soft and mushy and aren't nearly as nice.
I would suggest using one of the following varieties of apple as they are sweet and hold their shape well once baked.
Braeburn
Golden delicious
Pink Lady
Honey Crisp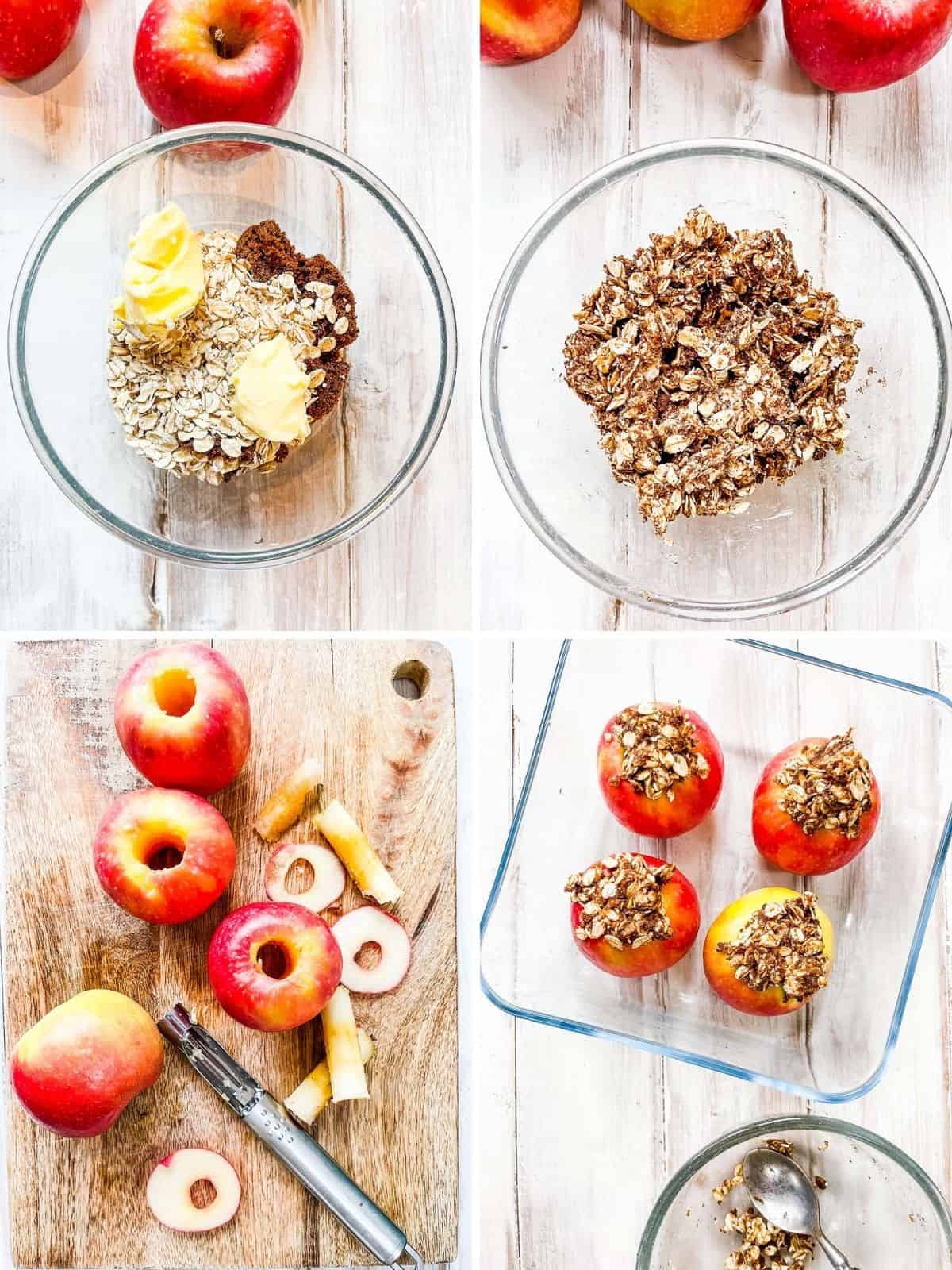 This post may contain affiliate links. As an Amazon Associate I earn from qualifying purchases. Visit this page to see what that means.
Tips for preparing Baked Apples
Although this is a simple recipe to make, there are a few tips & tricks that may help you prepare the apples.
I find that the easiest (& safest) way to core the apples is to use an apple corer like this one from Amazon.
I slice the bottom off the apples so that they are more stable when I am pushing the apple corer into to apple. Removing the bottom also means that they are more likely to stay upright whilst baking.
If you don't have an apple corer take a look at this article for ideas on how to core an apple without one!
I push a couple of teaspoons of the oat mixture into the hole, packing it down quite firmly then I top the apples off with the remaining mixture. I push it down lightly so that the mixture doesn't slide off the top of the apple.
Lastly, before I bake the apples, I spoon 4 tablespoons of water into the bottom of the baking dish. This prevents the apples from drying out too much when baking.
Don't worry if any of the oat mixture drops into the water, it can be spooned back on top of the apples once baked!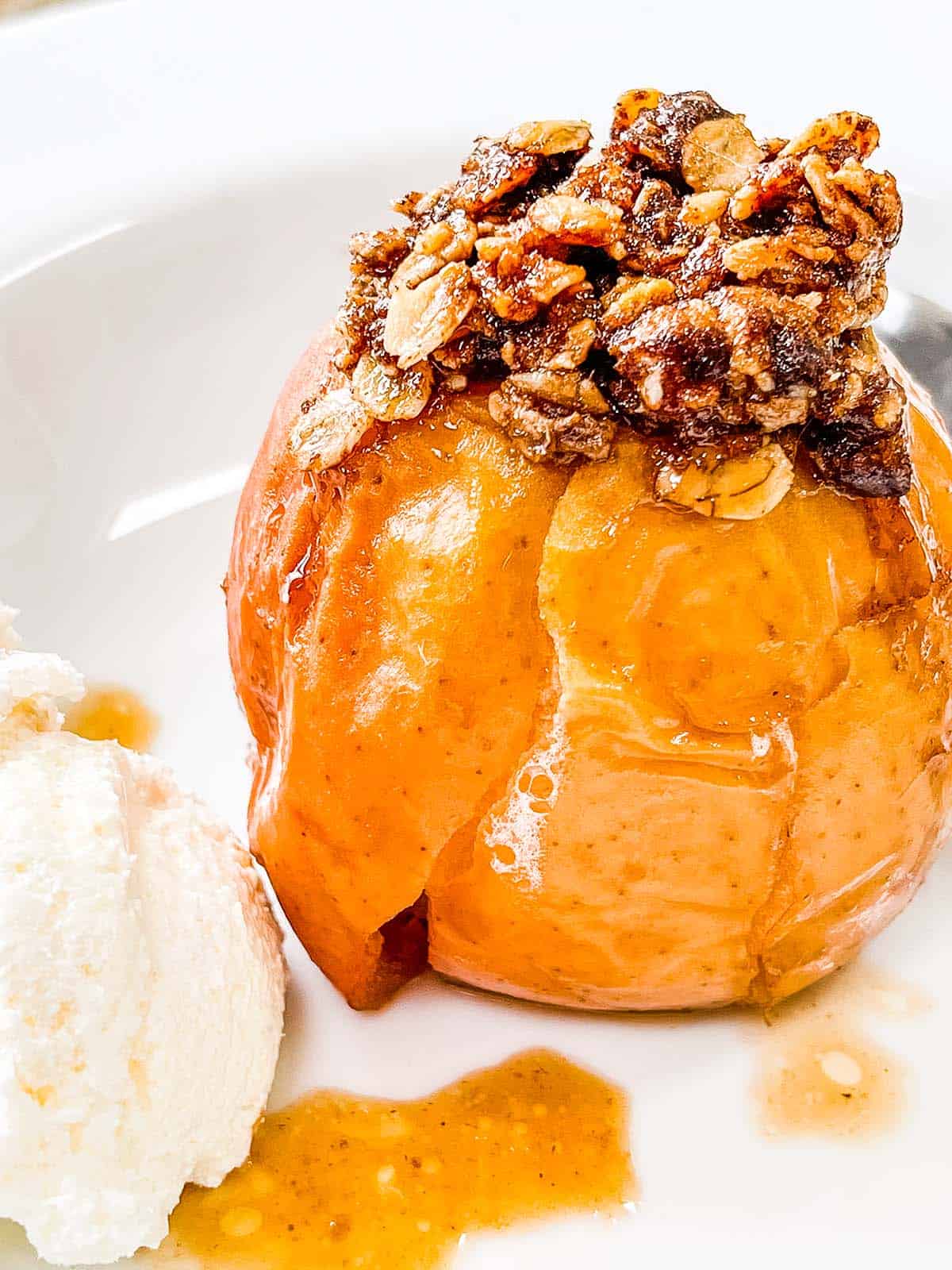 Serving suggestions
These baked apples are fantastic eaten warm! Serve with a side of Low Point Ice Cream or a dollop of fat free Greek yogurt.
Storage
Unfortunately, these apples aren't suitable for freezing. They will keep in the fridge for a day (maybe two!).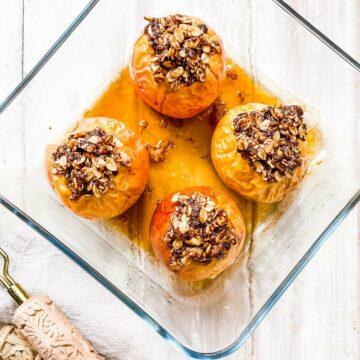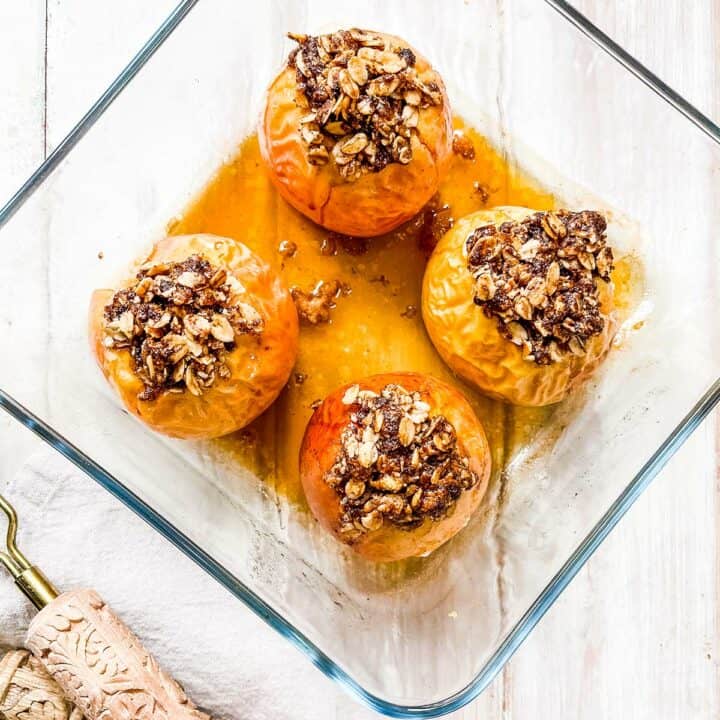 Baked Apples | Weight Watchers
These tasty Baked Apples are filled with a sweet, buttery oat mixture! Filling and delicious they work out at between 4 & 5 Points per apple depending on your Weight Watchers plan.
Ingredients
4

medium

apples

I use braeburn

½

cup

rolled oats

(40g)

2

tbsp

light butter

(30g) softened

2½

tbsp

soft dark brown sugar

¾

tsp

ground cinnamon

¼

tsp

ground nutmeg

4

tbsp

water
Instructions
Preheat the oven to 375°F / 190°C.

Place the oats, softened butter, sugar, ground cinnamon and ground nutmeg in a small bowl.

Mix the ingredients together until combined. Set aside.

Wash the apples in cold water and pat dry using a paper towel.

Slice a thin section off the bottom of the apples. This helps to keep the apples steady when you use the apple corer and also helps the apples stay upright when they are baking.

Use an apple corer or sharp knife to remove the core from each apple (see above for more information on this if you need it).

Place the apples in a small baking dish.

Spoon approx 2 teaspoons of the mixture per apple into the holes pushing the mixture down to pack it in. Divide the remaining mixture on to the top of the apples, pressing it down a little so that it doesn't all slide off the top!

Once you have used up all of the oat mixture, spoon 4 tablespoons of warm water into the bottom of the baking dish. This will prevent the apples from drying out too much when baking.

Bake in the middle of the oven for 40 - 45 minutes. Half way through the baking time you can baste the apples with any liquid in the bottom of the baking dish.

Once baked, remove from the oven and serve warm with some low point ice cream or a dollop of fat free Greek yogurt.

Enjoy & remember to track!
Nutrition
Nutrition Facts
Baked Apples | Weight Watchers
Amount per Serving
% Daily Value*
* Percent Daily Values are based on a 2000 calorie diet.
More Weight Watchers Apple Recipes
If you are looking for more Weight Watchers friendly recipes that include apple, take a look at these delicious recipes!