I love this Weight Watchers Baked Oatmeal with Apples recipe! It makes the perfect, tasty & satisfying WW breakfast.
It works out at 2 Points for me on my Personal Points plan but it may differ for you - check by clicking on the button in the recipe card to find out.
A generous serving keeps me satisfied from breakfast to lunch without the need for snacking in between!
That's what I want from a breakfast - something that fills me up, is easy to make but tastes great too!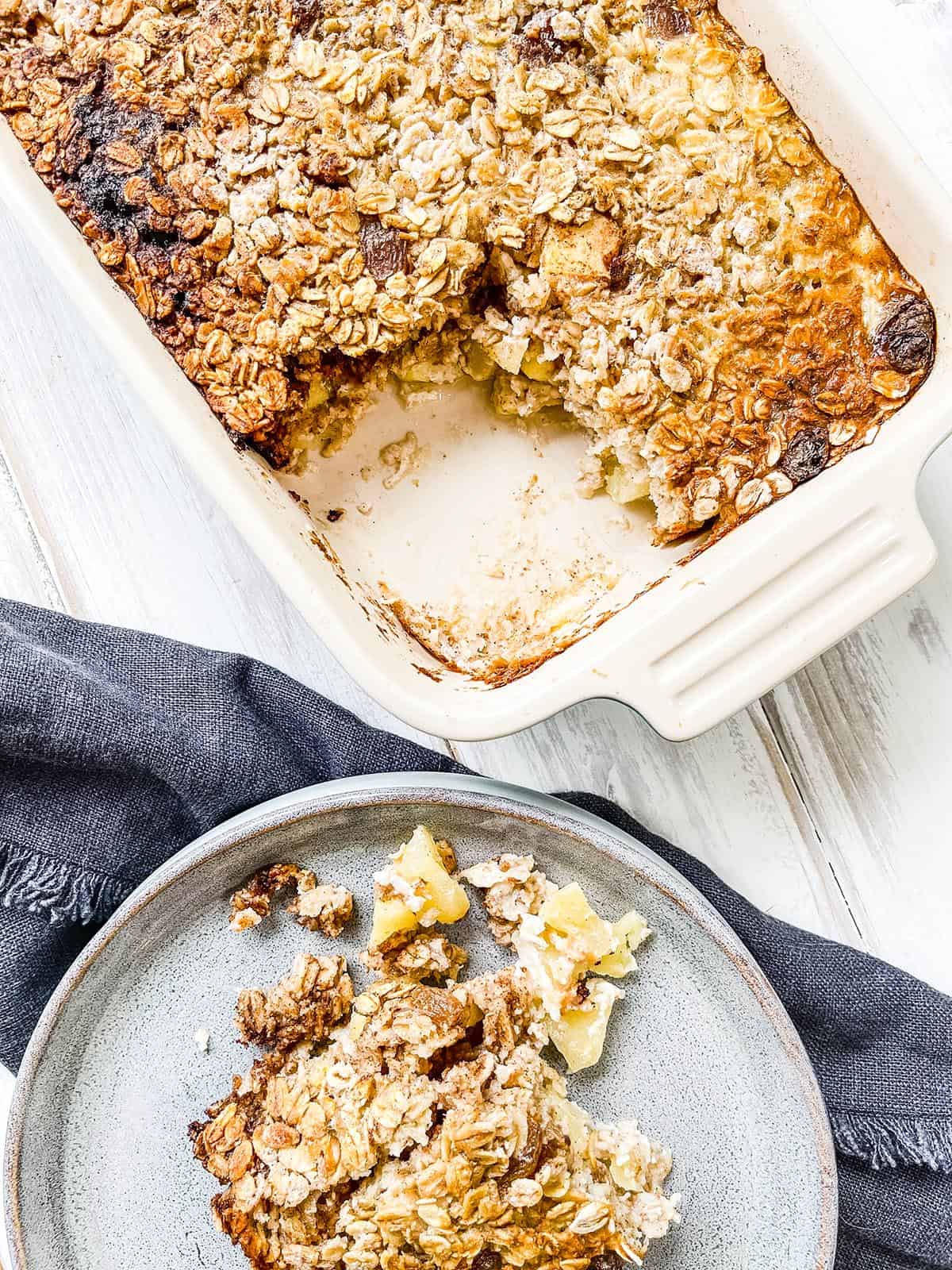 Whether oatmeal / oats are one of your Zero Point foods or not, this breakfast recipe really is great if you follow the WW plan.
As I said a generous serving works out at 2 Points for me but then I have oats as one of my zero point foods.
But even if oatmeal / oats aren't zero points for you, then a generous portion of this dish shouldn't be more than 5 points per serving. Click on the WW Personal Points button in the recipe card to check!
Oats are a great source of dietary fibre & seem to have cholesterol lowering properties. Because of their high dietary fibre content, they fill you up for longer than many other breakfast cereals. It's even suggested that they have appetite suppressing qualities.
Check out this article for more information about the health benefits of eating oats in your diet.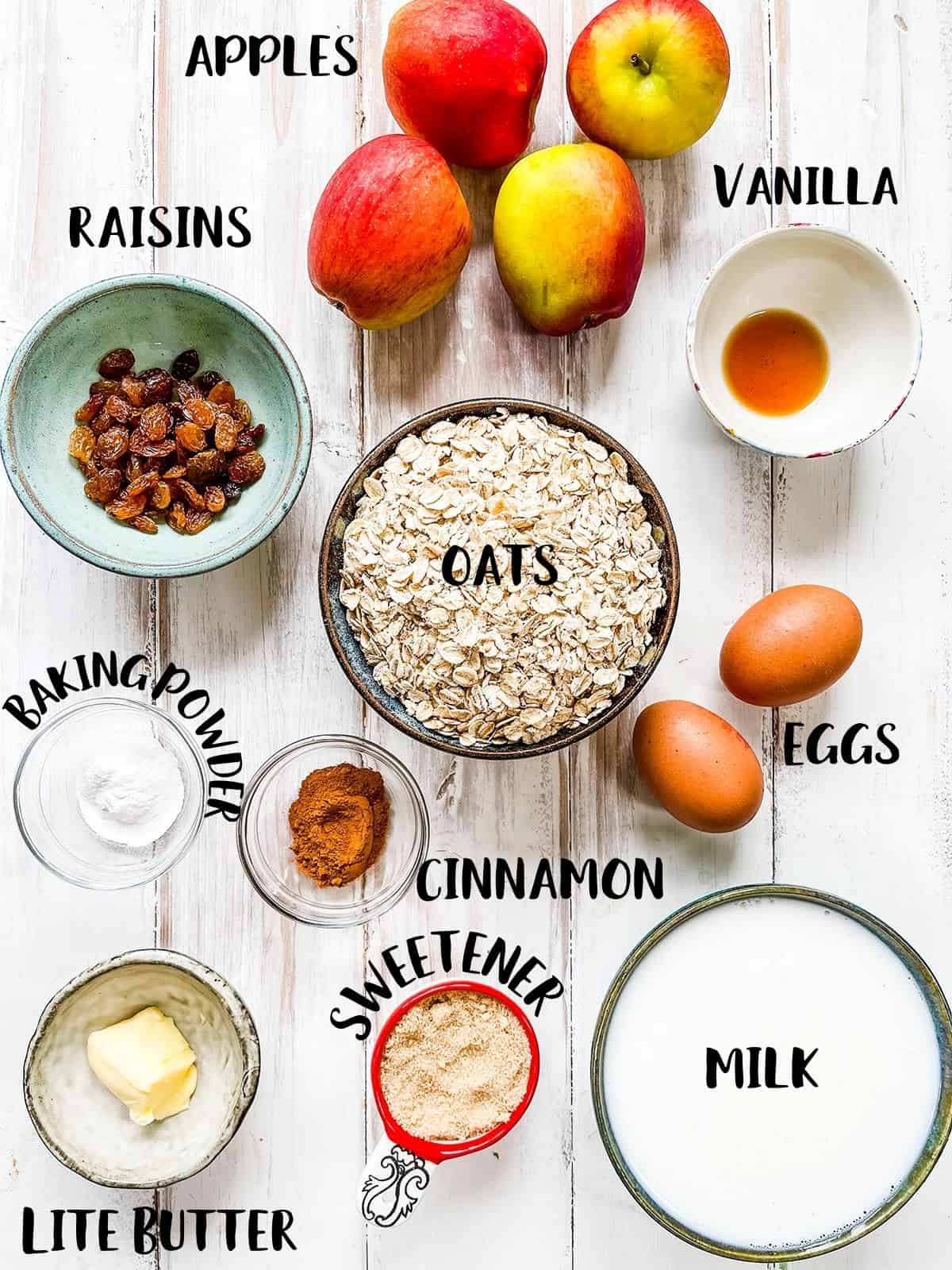 Ingredients used
Apples - I used 4 small sweet apples
Raisins
Vanilla extract
Old fashioned oats - not quick oats
Baking powder
Cinnamon
Eggs
Light / lite butter
Sweetener
Unsweetened almond milk / fat free milk
Salt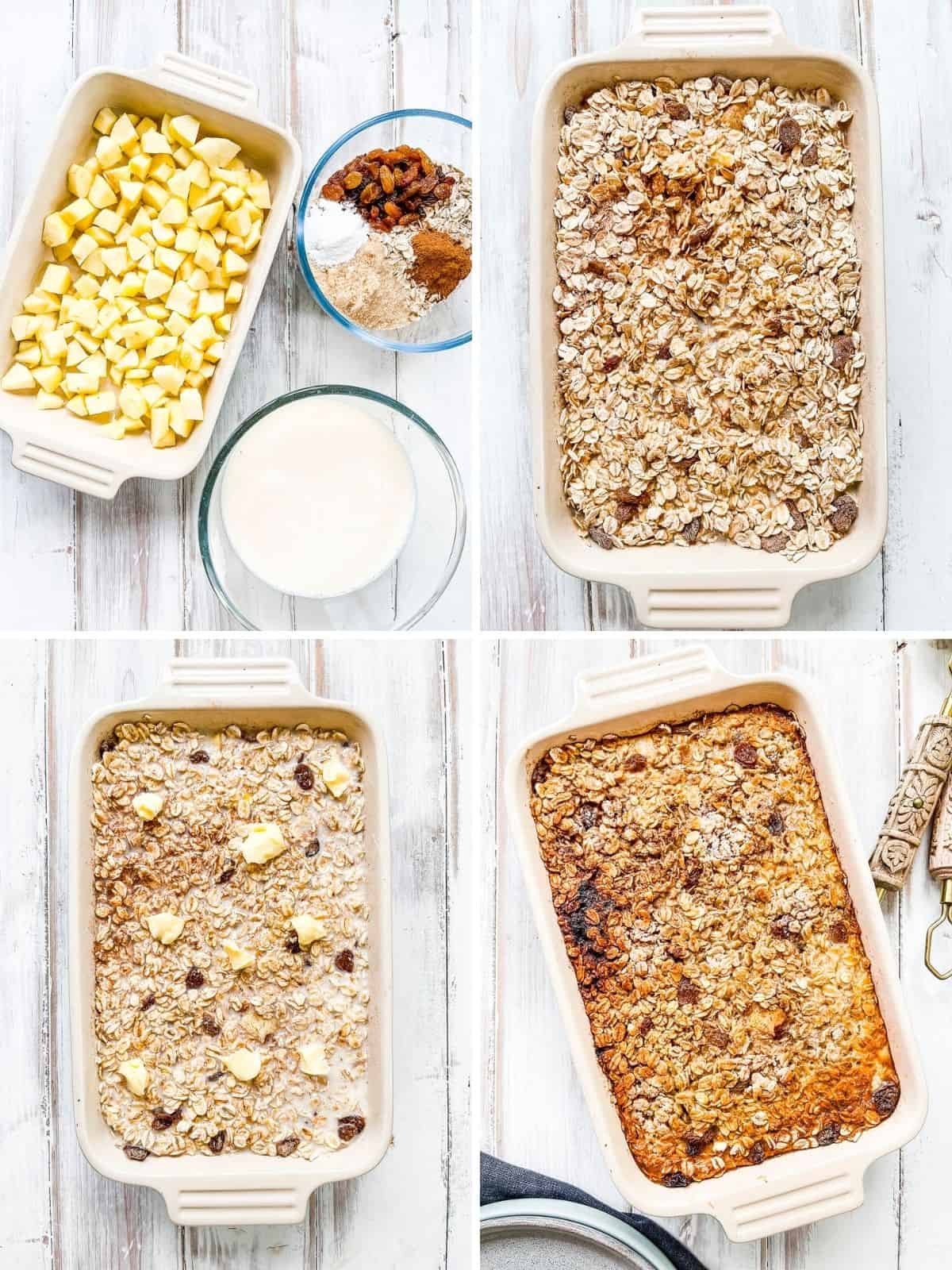 Preparing the Baked Oatmeal
This baked oatmeal is so easy to make.
Just whisk up the wet ingredients in one bowl and the dry ingredients in a separate bowl.
Layer the chopped apples on the bottom of a lightly greased dish, tip the dry oat mixture on top and then pour over the wet mixture.
Dot bits of the light butter over the top and bake!
Make Ahead Baked Oatmeal with Apples
This recipe is perfect if you are wanting to make some make ahead breakfasts.
It freezes perfectly!
Bake and cool the baked oatmeal, wrap the dish in plastic wrap and place in the freezer until it is needed. It will freeze for up to 3 months.
Before you're ready to serve it, remove it from the freezer and defrost for 12 - 16 hours in the fridge. Heat it up in the oven, covered in foil.
The baked oatmeal will also keep well in the fridge for a few days. I make the recipe, allow it to cool and then divide the dish into 6 portions. I can then wrap the portions separately.
I put a couple of the portions in the fridge for breakfast over following few days and the remainder of the portions I put in the freezer for a later date.
I warm through the individual portions by putting them in the oven for 5 - 10 minutes.
The freezer portions need to defrost before reheating but this only takes a few hours - or of course you could always defrost them in the microwave.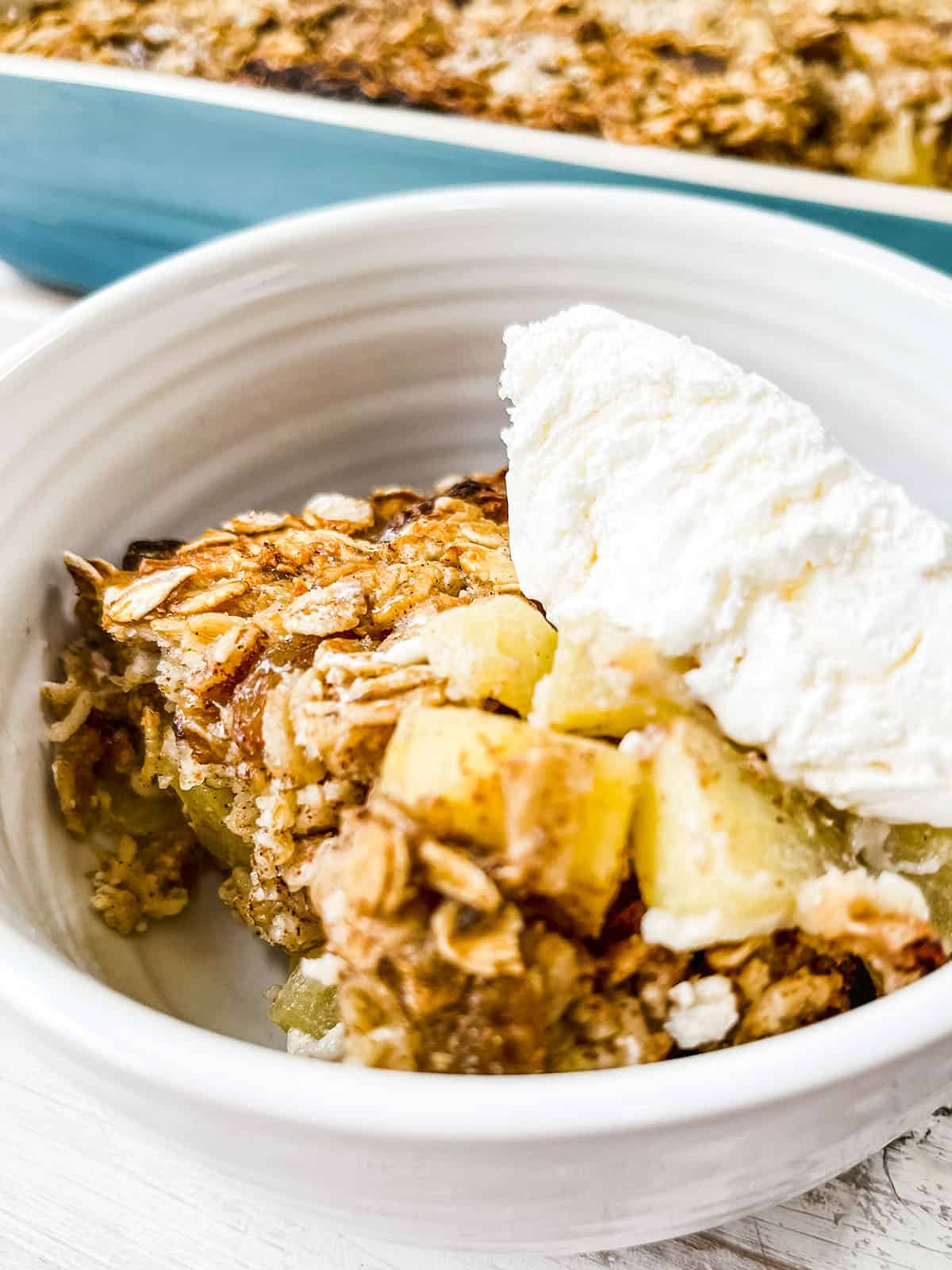 Serving suggestions
Serve hot or cold! Warm is good too!
I'll often serve this baked oatmeal with a spoonful of fat free Greek yogurt on top!
I don't always just eat it for breakfast though .... sometimes I will have a portion as a low point snack or even as a dessert!
If you're feeling really decadent a spoonful of Low Point Ice Cream or a spoonful of lite Coolwhip works really well on warm baked oatmeal!
Variations
If you click on the WW Personal Points button in the recipe card below, you can make changes to the recipe & see how the points change for you!
You can swap out the sweetener for sugar but this will most likely add 3 points per serving. Although I am not keen on using sweetener in my recipes I found that using sweetener in this particular recipe didn't change the taste and nor did it leave a nasty aftertaste. It also lowered the points significantly.
I used unsweetened almond milk in this recipe but you could use low fat milk if you prefer.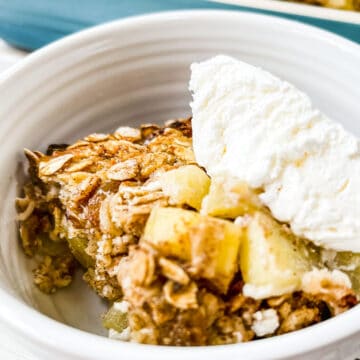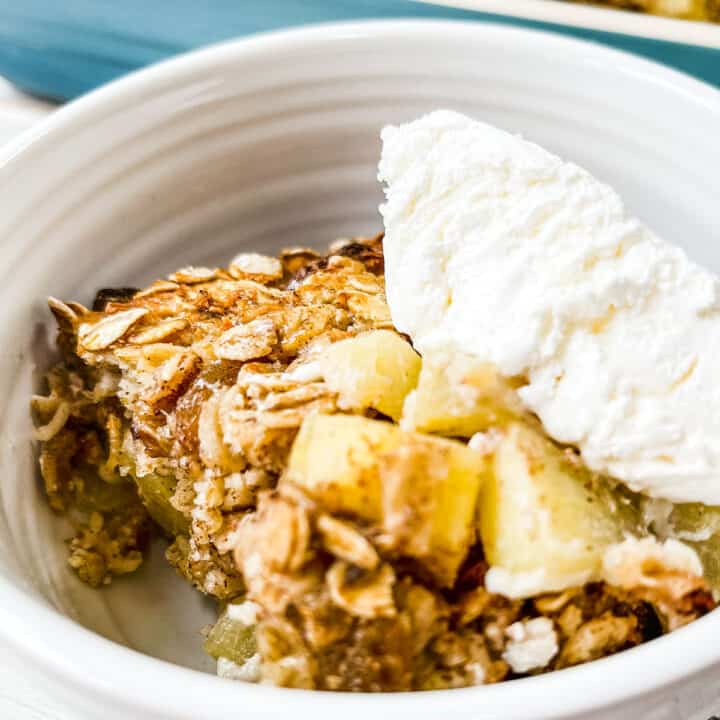 Baked Oatmeal with Apples
This delicious baked oatmeal breakfast recipe is low in Weight Watchers Points but will keep you satisfied for hours. Easy to make and freezer friendly!
Ingredients
2

cups

oats

old fashioned

¼

cup

sweetener

I used Lakanto Monkfruit Sweetener

¼

cup

raisins

1

tsp

baking powder

2

tsp

cinnamon

¼

tsp

salt

2

eggs

2

cups

unsweetened almond milk

1

tsp

vanilla extract

4

small

apples

1

tbsp

light butter
Instructions
Preheat the oven to 325°F / 160°C

Grease a 8 inch baking dish with a little of the light butter and set aside.

In a bowl, mix the oats with the sweetener, raisins, baking powder, cinnamon and salt.

In a separate bowl whisk the almond milk, eggs and vanilla extract together until smooth.

Peel and core the apples and dice into small bite sized pieces. Layer the apple pieces on the bottom of the greased dish.

Sprinkle the dry ingredients over the top of the apple pieces and then pour over the milk and egg mixture.

Dot the top of the mixture with small pieces of the remaining light butter.

Bake in the centre of the over for 40 - 45 minutes or until golden brown.
Nutrition
Nutrition Facts
Baked Oatmeal with Apples
Amount per Serving
% Daily Value*
* Percent Daily Values are based on a 2000 calorie diet.
More WW Breakfast Ideas
If you struggle for low Points breakfast ideas, take a look at these WW friendly breakfast recipes!