This Sausage & Apple Casserole is easy to make, is filling and works out at 5 SmartPoints per portion on Weight Watchers Blue, Purple and Green plans.
To find out how many Personal Points this recipe will be for you & to track it in the WW App, click on the blue button in recipe card below!
Serve with mashed potato or this zero point Roasted Butternut Squash Mash and garden peas for a satisfying, comforting & tasty low point Weight Watchers dinner.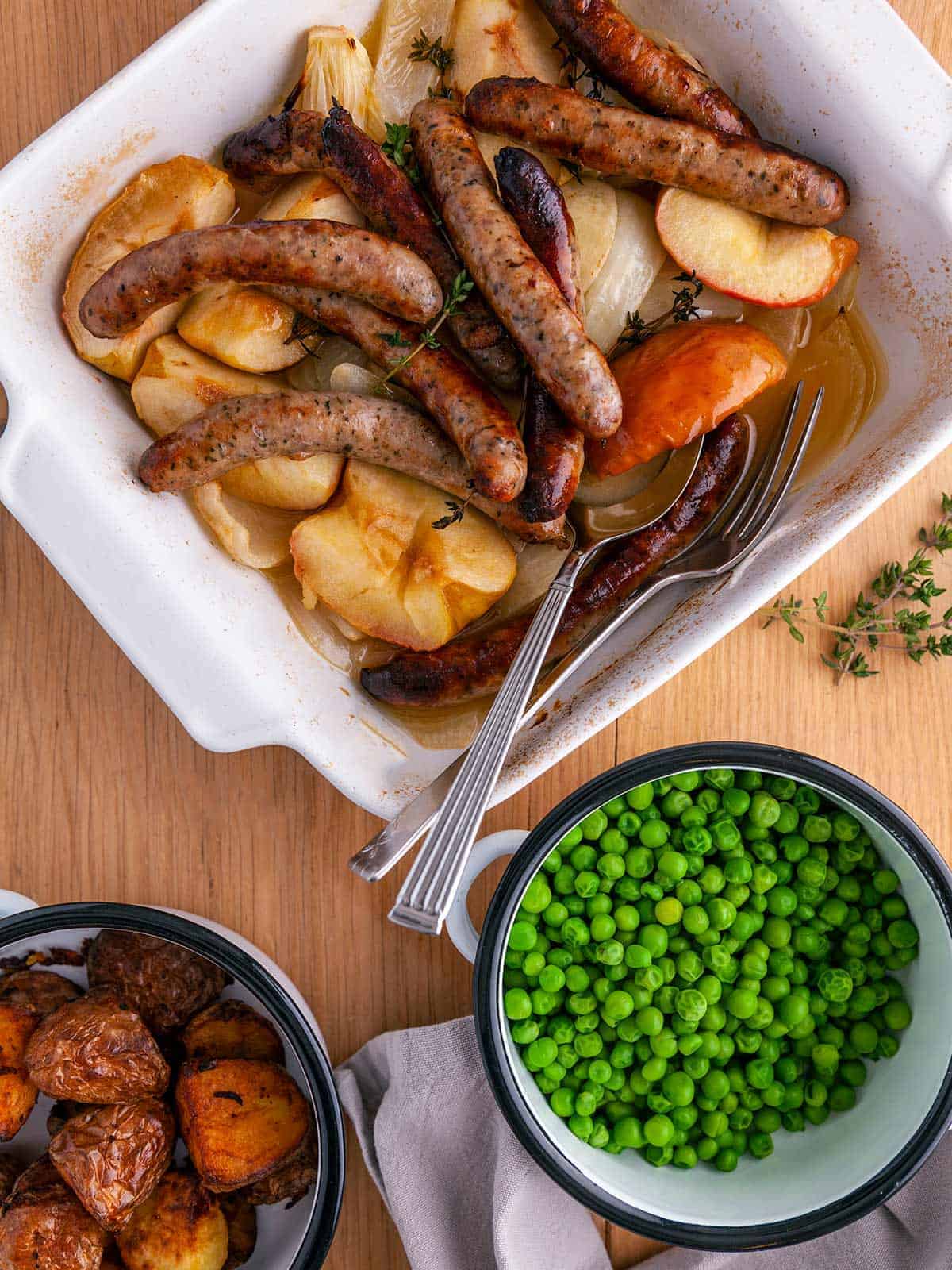 I love sausage casserole, especially on cold wintery days when only comfort food will do!
This combination of sausages cooked in cider with sliced apple & onion has been a popular dish in the UK for years.
Typically, the recipe would use pork sausages rather than chicken or turkey sausages.
However, to make this a low point recipe, I swapped out the pork sausages for some herby flavourful chicken sausages .... and it really works!
What sausages should I use?
I tend to use Heck Chicken Italia Chipolatas in this recipe. They are widely available in the UK and work out at 2 SmartPoints for 2 grilled sausages.
Sometimes I use chicken sausages from the butcher which I am assured are made purely from skinless chicken breast and lots of herbs and spices! Why not check out your local butcher to see if they do low point chicken sausages?
If you are in the US you could try Jones Dairy Farm Turkey Sausage Links or Applegate Natural Chicken & Sage Frozen Breakfast Sausage. The Jones Dairy Farm brand work out at 2 SmartPoints for 4 links and the Applegate brand work out at 2 SmartPoints for 2 links.
Can I use pork sausages instead?
Pork sausages are fabulous in this recipe - pork is a perfect partner for apple and cider.
However, pork sausages work out much higher in SmartPoints than turkey or chicken sausages due to the amount of saturated fat that they contain.
If you do substitute the chicken / turkey sausages for pork sausages be sure to rework the SmartPoints.
Which cider should I use?
The term cider means different things in different places.
In the UK, cider is the name for the alcoholic (usually fizzy) fermented apple drink.
Apple juice is what we call the non alcoholic (generally sweeter) apple juice drink - the one you drink for breakfast! If you drink the harder kind for breakfast, please do reach out to someone - there are plenty of places out there that really can help you! Just saying 🙂 x
In the US it's different. The term cider or apple cider is used for both the alcoholic and non alcoholic apple juice drink depending on where in the US you are.
For avoidance of doubt, I used a hard cider (the fermented, alcoholic drink kind). It is less sweet than apple juice but has roughly the same amount of SmartPoints per 100ml as the non alcoholic kind.
It is up to you what you use in this recipe - both taste great but it may be worth checking the SmartPoints first.
I used a dry cider which worked out at 8 SmartPoints for the whole recipe.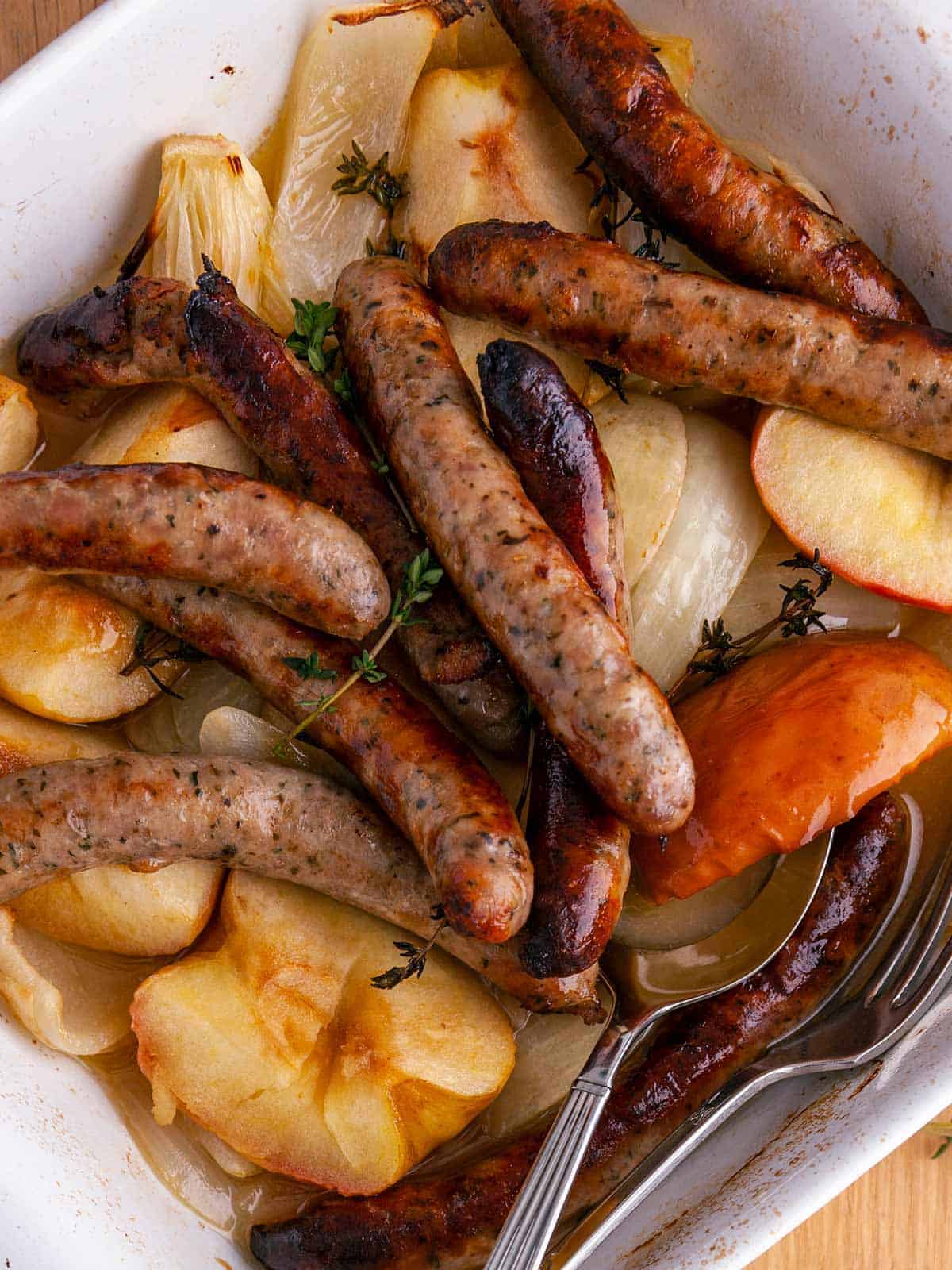 Which apples should I use?
Use sweet eating apples such as Pink Lady, Braeburn, Jazz, Fuji or Gala.
I don't drink cider can I use apple juice instead?
Yes - see above!
Serving suggestions
This casserole is delicious served with mashed potato or mashed butternut squash and garden peas.
I also love it with air - fried new potatoes.
More Weight Watchers Casserole recipes
If you like casseroles, you may like to take a look at these Weight Watchers friendly recipes.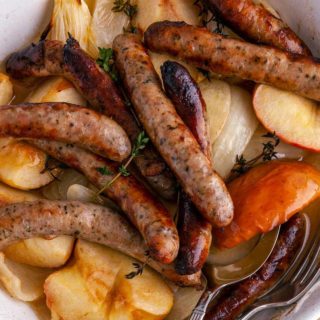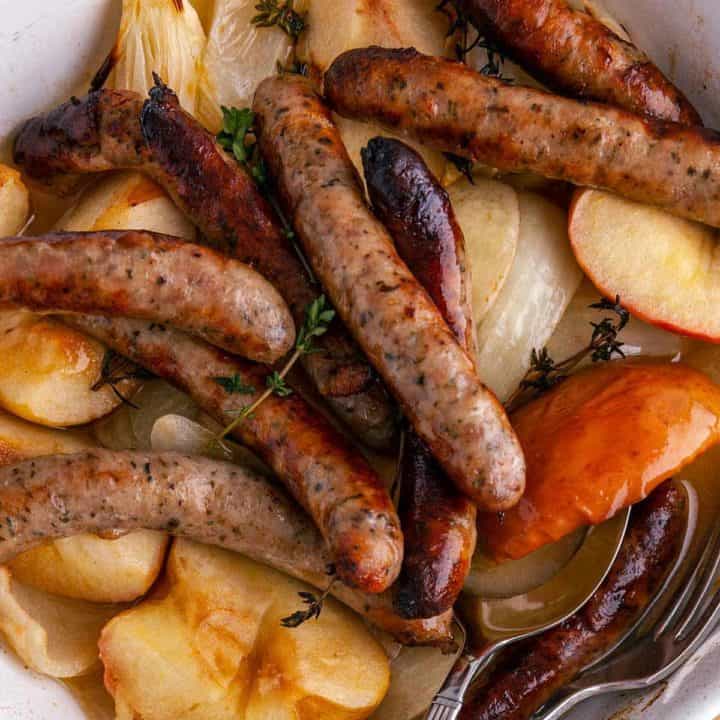 Sausage & Apple Casserole | Weight Watchers
This tasty Sausage and Apple Casserole is just 5 SmartPoints per serving on Weight Watchers Green, Purple & Blue plans. Easy to prepare and filling it makes a great low SmartPoint WW dinner recipe. Serve with creamy mashed potatoes and garden peas for the ultimate comfort food.
Ingredients
0.5

tbsp

olive oil

8

chicken / turkey sausages

see suggestions above

2

medium

apples

2

small

onions

1

clove

garlic

2

sprig

Fresh thyme

optional

2

cups

cider

(500ml)

Freshly ground black pepper

Sea salt
Instructions
Preheat the oven to 180° C / gas mark 4

Prepare the apples by removing the cores and cutting into eight.

Prepare the onions by peeling and chopping into large chunks.

In a large casserole dish heat half of the olive oil over a medium heat.

Add the sausages and cook for 6 - 8 minutes turning every few minutes till they brown. At this point you are not cooking the sausages through, just browning them.

Use a slotted spoon to remove the browned sausages from the pan and place them aside.

Add the remaining olive oil and the chopped onion to the casserole dish and fry for 6 - 8 minutes until they start to soften and brown.

Add the apple chunks and cook for 2 - 3 minutes until they start to colour,

Add the minced garlic and cook for a further 1 minute, stirring to make sure that it doesn't stick to the bottom of the pan.

Add the cider & stir, making sure that nothing is stuck to the bottom of the dish/.

Add the sausages back into the casserole dish and season with a little salt and pepper.

Add the thyme (if using) and give a final stir.

Place the casserole dish, uncovered, into the centre of the preheated oven and cook for 20 - 25 minutes until the sausages are cooked through, the onions and apples have softened and the juice has reduced slightly.

Serve and enjoy!
Notes
This casserole serves 4. Each serving contains 2 sausages and about ⅓ cup of apple, onion and juice.
Nutrition
Nutrition Facts
Sausage & Apple Casserole | Weight Watchers
Amount per Serving
% Daily Value*
* Percent Daily Values are based on a 2000 calorie diet.