These easy to prepare Breakfast Egg Muffins make a perfect Weight Watchers breakfast or tasty snack and come in under 90 calories per muffin!
They work out between zero and three Points on the Personal Points plan (depending on your Zero Point food choices). To find out exactly how many Personal Points each Breakfast Egg Muffin will be for you & to track it in the WW App you can click on the blue button in recipe card below!
If you are still following the SmartPoints plan then they are 1 SmartPoint per muffin on the Blue, Purple and Freestyle plans and 2 SmartPoints on the Green plan.
As well as being easy to make and being very versatile, they freeze really well! So get stocking your freezer full of these tasty, low point snacks.
These particular Breakfast Egg Muffins are made with chopped cherry tomatoes, fresh spinach and some low fat grated mozzarella.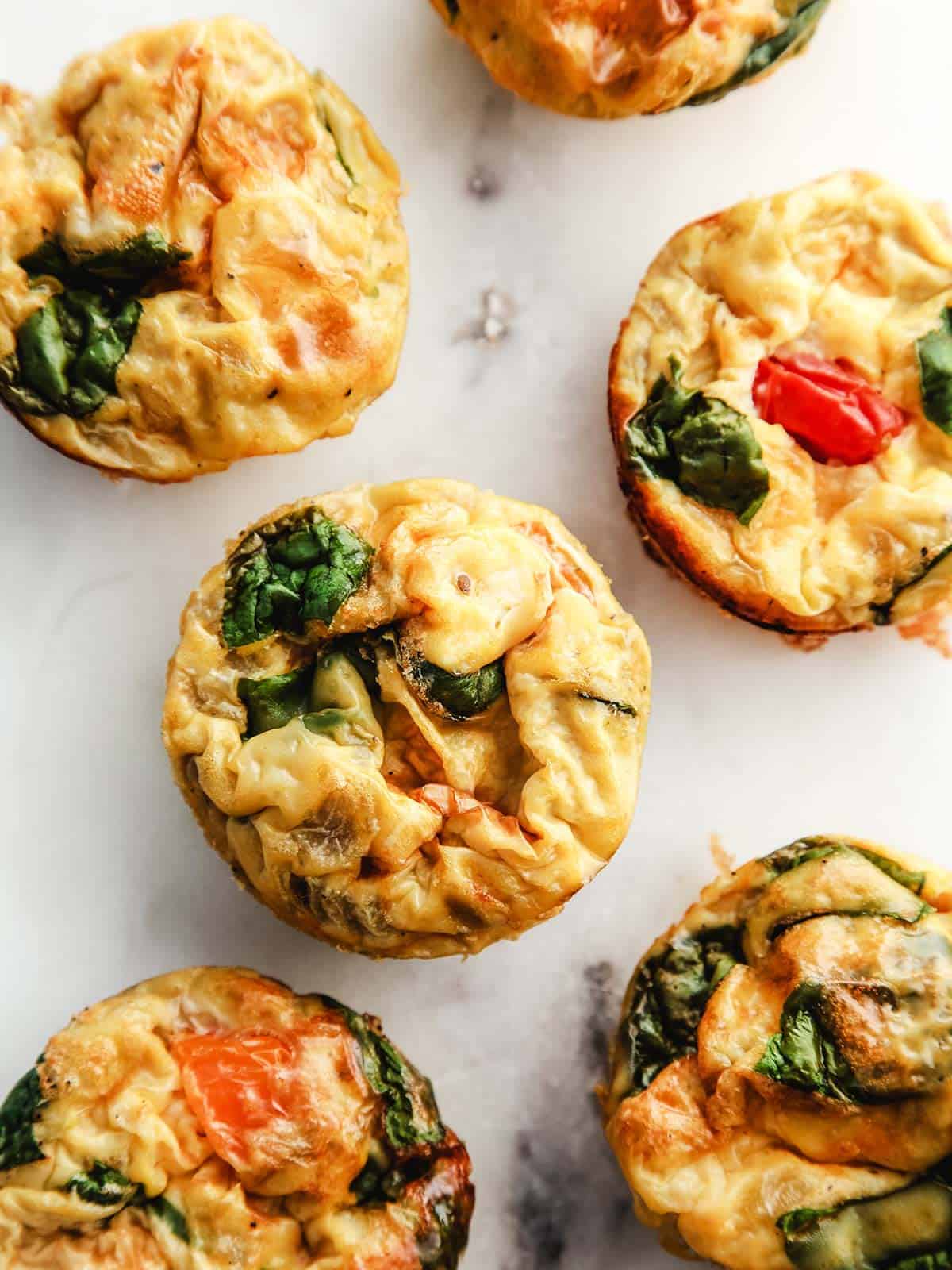 It's a great flavor combination, however, you could always mix it up a little and add a stronger flavoured cheese - a low fat mature cheddar for example or perhaps some low fat brie.
Just make sure that you work out the Points for the different cheese. The ½ cup of light mozzarella that I used worked out at 6 Points for the whole recipe. Your Personal Points may differ.
If you do want to swap in a different cheese why not take a look at this list of Low Point Cheeses for a little cheesy inspiration!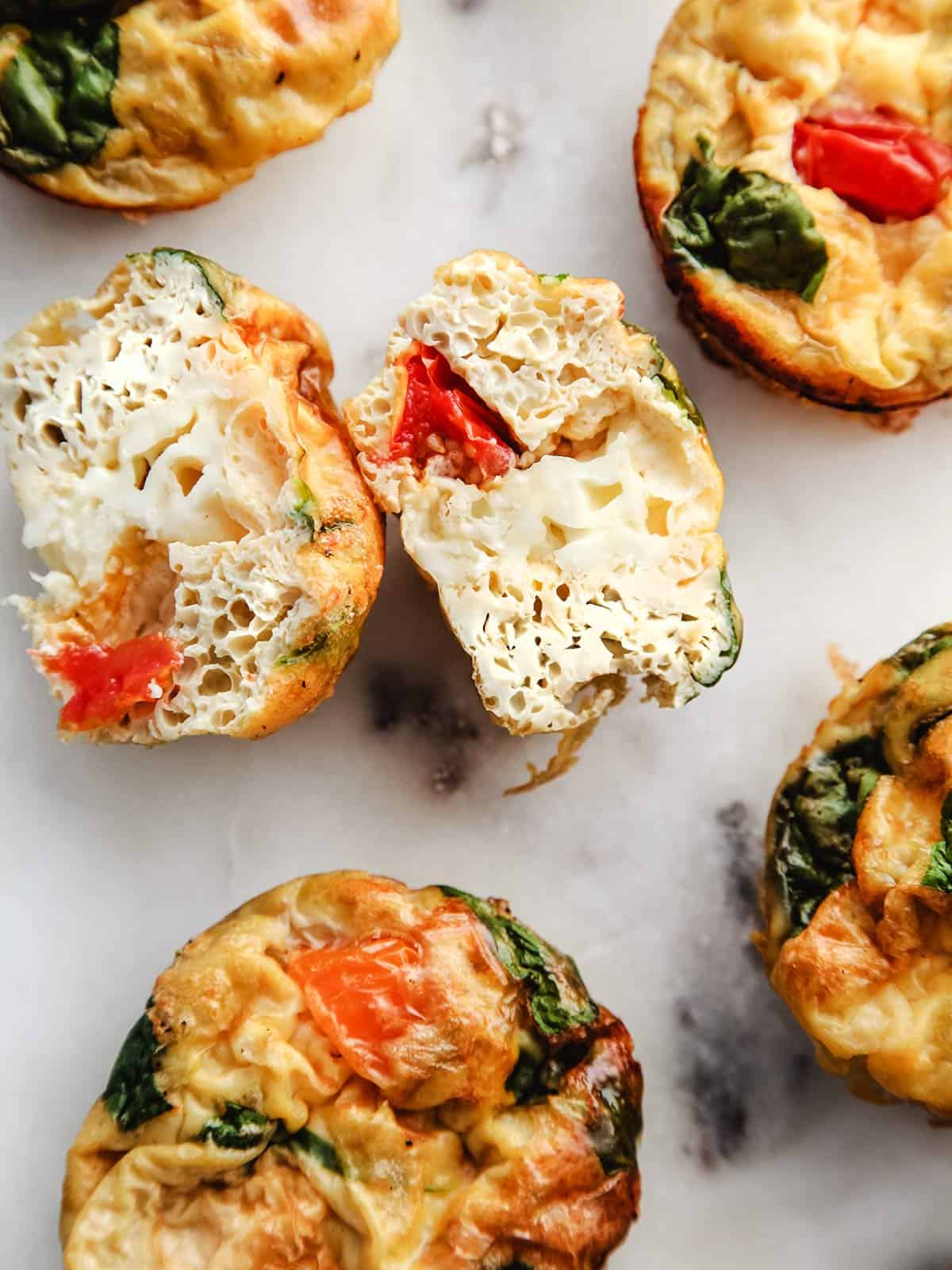 Tips for making Egg Muffins
Spray the muffin tin with a little calorie controlled spray oil.
You don't need to use a lot of oil - just enough so that each cup has a fine mist of oil making it easier to remove the muffins at the end of cooking.
I find that the best way of making sure that each muffins gets an equal amount of the ingredients is to make up the egg mixture in a jug. I then divide the chopped tomatoes, chopped spinach and cheese between the 12 muffin cups. I then pour the whisked egg mixture to about two thirds of the way up the cup.
Try not to open the oven whilst the egg muffins are cooking and have started to rise as they will deflate as soon as the oven door is opened.
Cook them in the centre of the oven until they have risen and turned a lovely golden brown.
Can you Freeze them?
Yes! They will keep in the freezer for up to 2 months.
I usually have a batch of egg muffins in my fridge for easy breakfasts or for a quick & tasty snack.
Once cooked and cooled thoroughly, I wrap them individually in plastic wrap. I then place them in a reusable freezer bag (I write the date and flavor on the bag - I don't like surprises 😀 !)
To defrost, I remove from the bag and plastic wrap and I wrap in a bit of kitchen paper. I then place the muffin in the microwave and warm it at 20 second intervals until it is warmed through.
More Weight Watchers Egg Recipes.
Anyone who has been following the WW program knows just how versatile eggs are.
They can be used in both savoury and sweet dishes and are nutritious and filling.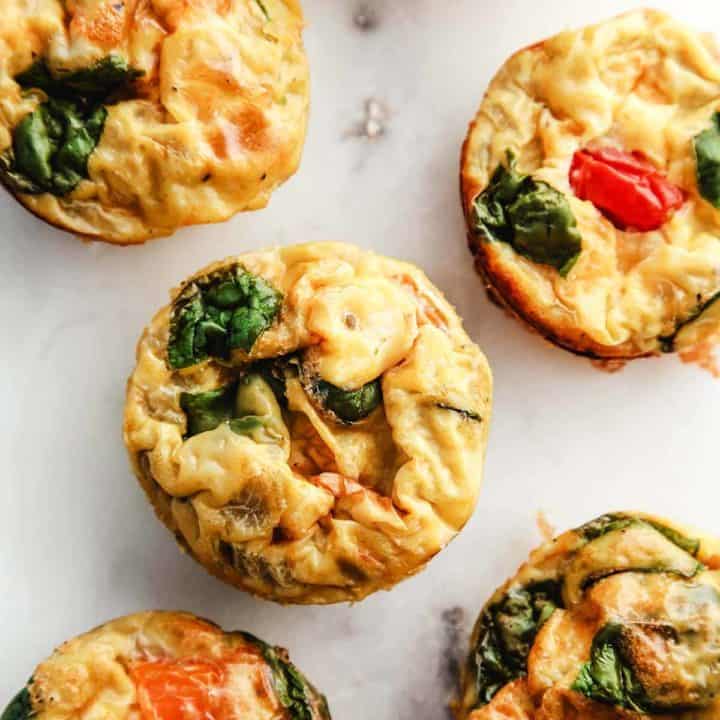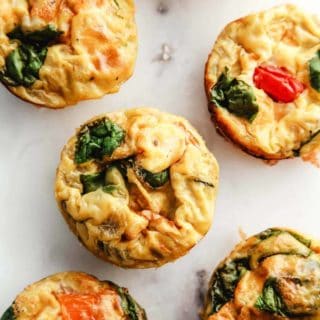 Breakfast Egg Muffins | Weight Watchers
Easy to make and suitable for home freezing, these Breakfast Egg Muffins make a perfect low point Weight Watchers Breakfast. Between 0 & 2 Personal Points depending on your particular choices (click on the blue button below to find out yours!) Just 1 SmartPoint per muffin on WW Blue plan & WW Purple plan and 2 SmartPoint on WW Green plan.
Ingredients
12

medium

eggs

½

medium

onion

chopped finely

1

cup

fresh spinach

(30g)

12

cherry tomatoes

1

cup

fat free mozzarella (shredded)

(120g)

Calorie controlled spray oil

Salt & pepper
Instructions
Preheat your oven to 180°C / 160°C Fan / 360°F / Gas mark 4

Spray & wipe a small amount of calorie controlled spray oil (such as Pam or Frylight) into a 12 cup muffin tin.

Chop the tomatoes in half and place 2 halves in the bottom of each cup of your muffin tin.

Roughly chop up the spinach and add a little to each of the muffin tin cups.

Divide the grated cheese between the 12 muffin cups.

In a large bowl, whisk up the 12 eggs until they are light and fluffy.

You can use either a hand whisk or electric whisk for this.

Add the chopped onion and stir to combine.

Season with a little salt and pepper and stir again.

Divide the whisked egg between each of the muffin cups. The mixture should come up approximately two thirds of the way up.

Give each of the filled cups a little stir to combine the ingredients.

Bake in the centre of the oven for 20 - 24 minutes

Remove from the oven when the muffins have risen and are golden brown.

The muffins should pop straight out of the muffin tin but if you have any difficulty removing them run a knife (or a small spatula) around the edge to loosen them.

Eat warm or cold.
Freezing Instructions
The muffins need to cool completely before freezing.

Wrap them individually in plastic wrap / Saran wrap / cling film.

Place in a freezer friendly bag and keep in the freezer for up to 2 months.
Reheating Instructions
Remove from the freezer and remove the plastic wrap.

Cover in a paper towel / kitchen roll and place in the microwave for 20 seconds.

After the initial 20 seconds, microwave in 10 second bursts until the muffin is warm through.

Nutrition
Nutrition Facts
Breakfast Egg Muffins | Weight Watchers
Amount per Serving
% Daily Value*
* Percent Daily Values are based on a 2000 calorie diet.