If you are looking for a Zero Point Jelly then you really can't go wrong with this easy WW jelly recipe.
Whether you are following the Green plan, Blue plan, Purple plan or the old Freestyle plan, this jelly works out at zero SmartPoints per serving.
Use the blue button in the recipe card to discover how many WW Personal Points this recipe is for YOU! Unless you are diabetic, it will probably work out at Zero Points still!
This strawberry jelly really is so simple to make and it's tasty too. So, if you are looking for a zero point spread to complete your breakfast table, read on!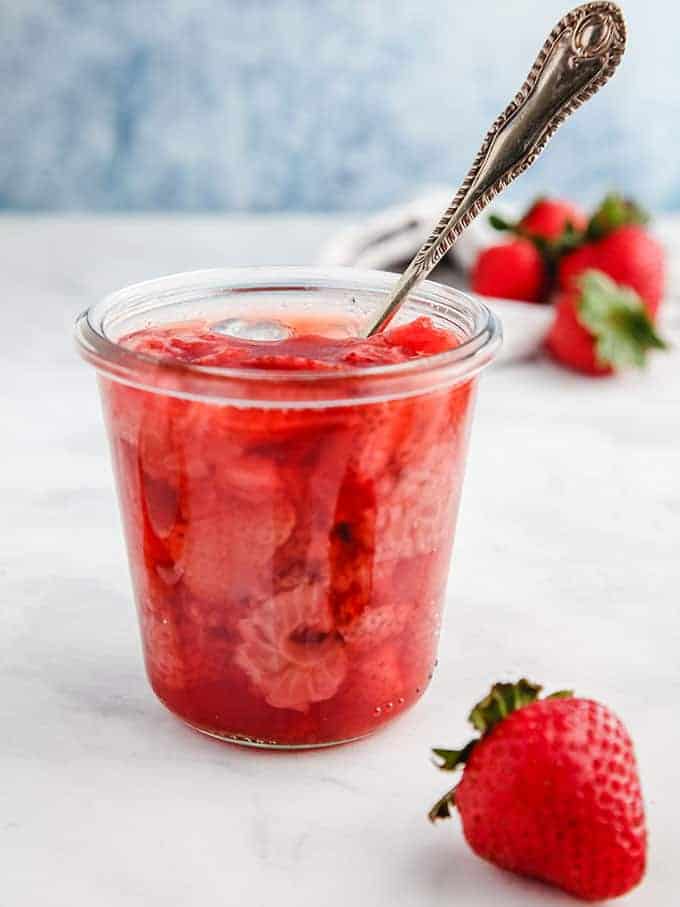 Store brought jelly (jam, spread, preserve or whatever you like to call it!) can be pretty high in SmartPoints.
Typically they are 3 SmartPoints per level tablespoon.
That's because store brought jelly contains stacks of sugar and little or no protein .... and anyone following the WW plan knows that's a lethal combination when it comes to the point value of foods.
Of course, you can always buy sugar free (or diabetic) jelly / jam from most large food stores and those tend to work out at one SmartPoint per serving.
However, most of the brands that I have tried so far have been a little bleurgh!
But sometimes I just crave some jelly smothered on a hot toasted bagel or mixed in to some natural yogurt for breakfast.
So I have started making this zero point jelly and experimenting with lots of different combinations of flavours.
The basic recipe to use is 2 cups of fresh (or frozen) fruit mixed with one 0.3 oz packet of sugar free gelatin powder (such as Jell-o or Hartleys). You can also mix in a little lemon juice to cut down on some of the sweetness of the aspartame.
This post may contain affiliate links. As an Amazon Associate I earn from qualifying purchases. Visit this page to see what that means.
How many WW points is sugar free jello?
Sugar free gelatin powders & crystals such as Jell-o or Royal Gelatin Dessert Mix & Hartley's work out as zero SmartPoints per serving on Weight Watchers Green, Blue, Purple and Freestyle plans.
Which flavored gelatin brand should I use?
I have tried the recipe using sugar free Jell-o and I have also made it using Hartley's Sugar Free Jelly Crystals. I haven't tried this particular recipe using the Royal brand but I can't see that it would make any difference to the outcome.
Can I use other flavors & fruits in this jelly?
Yes! Experiment with the recipe.
I sometimes add a handful of blueberries to this recipe with good results. I don't reduce the amount of strawberries that I use - I just chuck extra blueberries in for a thicker, fruiter jelly.
I've also made a raspberry version of this recipe - which was lovely!
Let me know if you try any good combinations!
I don't like the taste of sugar free jello - what can I do?
Ok! So here's the thing! If you don't like the taste of sugar free jell-o it is quite possible that you may not like this jelly recipe.
That's because it is made with sugar free jello : D It definitely has the aspartame taste that some people don't like with sugar free jell-o!
However, to overcome this a little, I add a teaspoon or two of lemon juice to the mix just to 'neutralize' the taste of the aspartame.
I have also found that when I use very flavorful fruit, the taste of the aspartame is 'softened'. So perhaps, make sure that you use fruits that you know have a stronger flavor.
I am busy trying out a zero point jelly recipe that doesn't use sugar free jell-o ... so watch this space!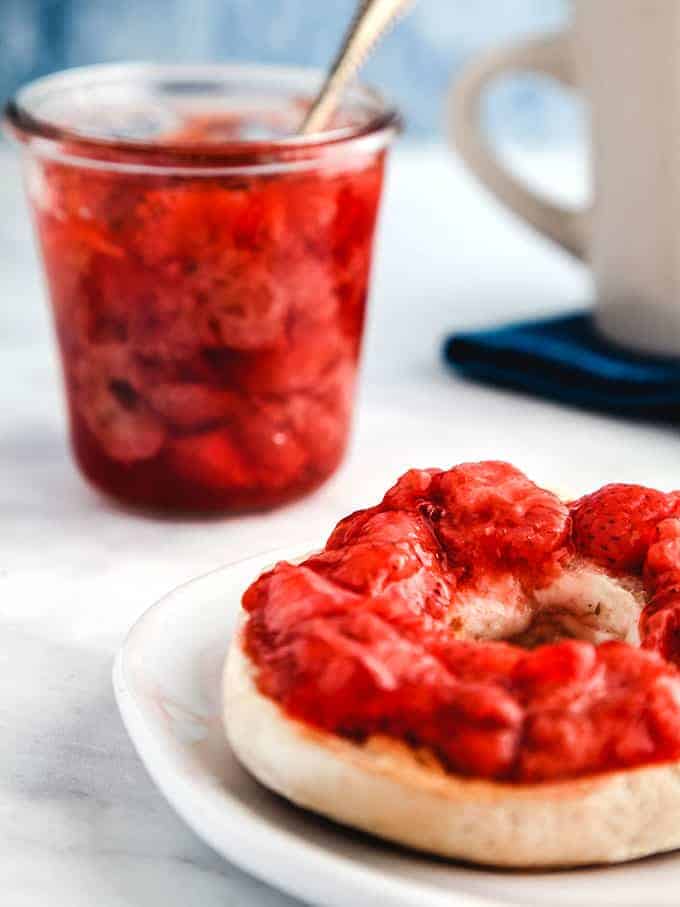 What is the consistency of this jelly like?
The consistency of the jelly really depends on the type of fruit that you use and how much you mash up the fruit whilst making it.
I like a chunkier jelly so I tend to roughly chop up all the strawberries before I add them to the saucepan. Once they are warming I use a wooden spoon to mash up half of them and then I leave the rest in chunks.
If you want a smoother jelly, use a potato masher to mash all of the strawberries to a pulp.
The jelly does tend to have a jello texture to it but I quite like that!
What size jars should I use?
This recipe makes approx 4 x 8oz jars of jelly.
I tend to fill a few smaller jars rather than one or two bigger jars as the jelly does not keep that well and I can't get through a big jar in one week!
How long does it keep in the fridge?
The jelly will last for up to a week in a sealed jar in the fridge. Any longer and it starts to go bad 🙁
Can you freeze this jelly?
Yes!
I place one jar in the fridge & freeze the other 3 jars for use at a later date.
Serving suggestions.
Toast a slice of one of these Low Point Breads and top with a generous serving of zero point jelly.
Smother on a toasted bagel thin for a real treat.
How about a swirl of zero point jelly mixed into your morning yogurt.
Or a dollop on top of your warm oatmeal / porridge.
If you are hankering after a PB&J sandwich then take a look at these Best Peanut Butters for Weight Watchers to find a low point PB for your zero point J!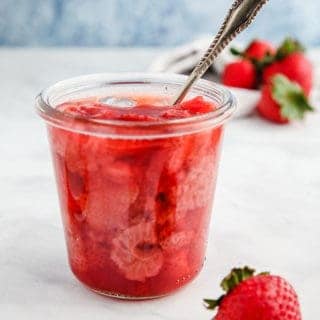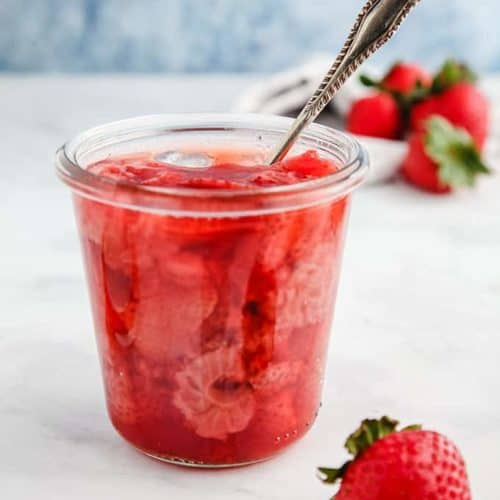 Zero Point Jelly | Weight Watchers
This zero SmartPoint strawberry jelly is perfect accompaniment to your breakfast bagel or toasted low point bread. It can also be used as a sweet & tasty addition to a bowlful of yogurt or porridge / oatmeal. The recipe makes approx 4 x 8oz jars of jelly. A wonderful zero point Weight Watcher recipe.
Ingredients
2

cups

strawberries

(400g)

1

cup

cold water

(250ml)

1

sachet

sugar free jello / jelly powder

(0.3oz) strawberry flavoured

1 - 2

teaspoon

lemon juice

optional
Instructions
Roughly chop up the strawberries and add them to a large saucepan.

Add the cold water to the strawberries and start to warm over a low heat.

Use a wooden spoon or a potato masher to mash up the strawberries a little.

I like to leave some chunks of strawberry intact as I prefer a 'chunkier' jelly but if you prefer a smoother jelly, mash them all up!

Sprinkle over the jell-o powder and stir in well so that it is thoroughly combined.

Add the lemon juice if using.

Turn up the heat a little till the mixture starts to boil making sure that you stir continuously to prevent it sticking to the bottom of the pan.

Once the mixture starts to boil, reduce the heat and slow simmer for 1 - 2 minutes.

Remove from the heat.

Pour into jars and leave to cool thoroughly before placing the lids on.

I would suggest using smaller jars and freezing some as this jelly does not last long in the refrigerator.
Notes
Makes approx 4 x 8oz jars.
The jelly does not keep for long so it is best to make up smaller jars and freeze some of them for use at a later date.
Nutrition
Nutrition Facts
Zero Point Jelly | Weight Watchers
Amount per Serving
% Daily Value*
* Percent Daily Values are based on a 2000 calorie diet.